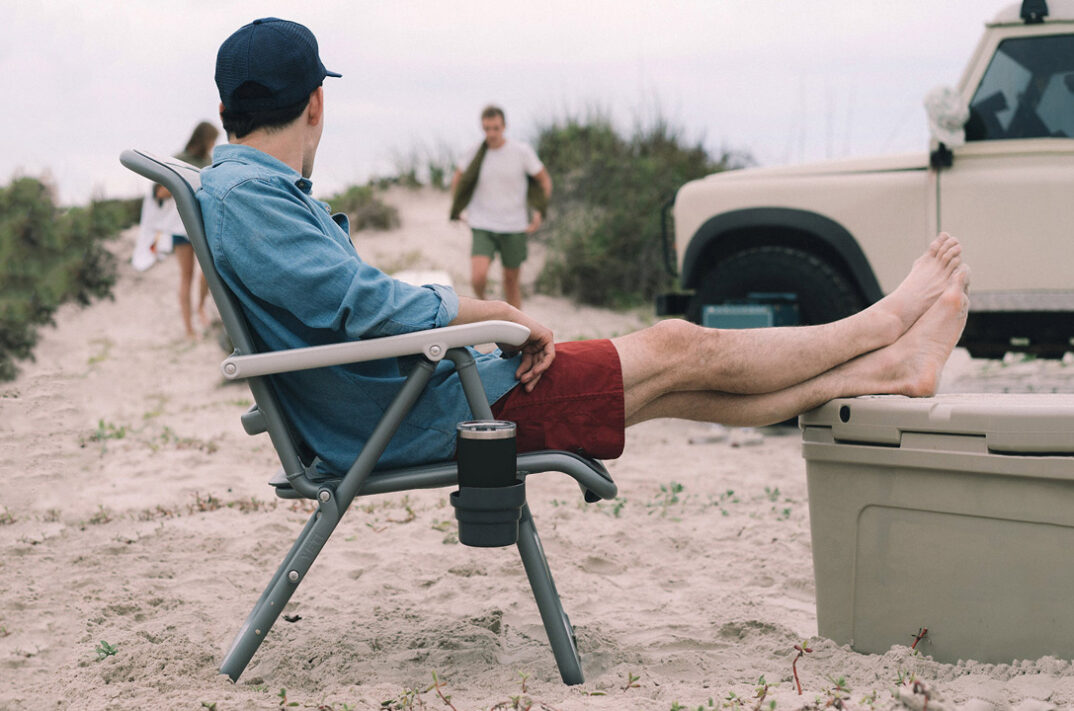 Enjoying the cool breeze at the beach with a cold one in hand is what many people crave after a long, arduous work week. But, you can't just go to the beach without any gear and expect to relax on the scorching sand. It would be a shame to ruin a sunny day next to the water because you lack the most important piece of summer gear: the beach chair. Sitting on your cooler or using a beach towel can't replace the comfort of a snug and supportive seat. That's why investing in an exceptional beach chair is the best way to go.
Beach chairs are taken for granted. Their importance is most evident when you're out on the shore and realize you need one. However, picking up any old chair for your behind isn't recommended, especially if you're looking for optimal comfort with your beach or camping chairs. The ideal beach chair should be portable, durable, lightweight, easy to transport, and equipped with features appropriate for your lifestyle. We've compiled a list of beach chairs that will help you sink in and relax before you dive back into the ocean.
Cascade Mountain Tech  Camp Chair
Constructed with breathable mesh fabric and cushioned armrests, you can melt right into Cascade Mountain Tech's folding chair under the breezy blue sky. The chair's frame is made of sturdy steel and aluminum, allowing it to hold up to 250lbs. It's also compact at just 21-inches high and 20-inches wide, which adheres to the requirements of most music festivals. When you're done getting lost in the music or relaxing at the beach, you can easily fold up this low-profile beach chair and stick it back into its carrying case.
Kijaro Dual Lock Portable Chair
Wherever you decide to post up at the beach with a good book, the Kijaro chair will provide you with a premium landing spot for your behind. The dual lock chair is made with durable ripstop fabric and includes two cup holders, an organizer with mesh zipper pockets, as well as a carry strap attached to the chair. Lock it open to enjoy the no-sag design or secure it shut to pack it up for your next adventure. With the strength to support up to 300lbs, the Kijaro portable chair has got your back.
Rio Gear Beach Classic 5 Folding Beach Chair
Rio's beach chair pops with visual flair and versatility with its five reclining positions, including a lay-flat option. With its 'Safe-Adjust' technology that's built right into the armrests, you'll never have to worry about pinching your fingers or hands when you make adjustments. It also comes with a built-in towel bar and wooden contoured armrests sealed with marine-grade coating to prevent scratching and provide protection from the elements. When you're all done baking under the sun, the chair's portable design and padded adjustable straps make it easy to carry back to your car.
ALPS Mountaineering King Kong Chair
Boasting a heavy-duty, powder-coated steel frame and 600D polyester fabric, ALPS Mountaineering's chair is deserving of the classic monster's epic name. In fact, it's strong enough to support up to a whopping 800lbs. It also features beverage holders and storage pockets on both armrests so you can settle in when you find the perfect spot under the sun to enjoy a cold beer. You can even store extra gear in the chair's back mesh pocket when you want to go for a dip. For easy transportation, the King Kong chair also comes with a convenient shoulder carry bag.
GCI Outdoor Waterside SunShade Chair
When the sun is shining bright and trying to melt your face off, you can get full coverage from UV rays with the GCI SunShade Chair. It features an adjustable sun shade canopy that provides you with full face coverage; however, if you want to feel the heat you can always collapse it. For customized comfort, the chair has three reclining options, so you can collapse onto the ventilated mesh backrest at your preferred angle. Although it weighs in at just over 10lbs, the SunShade chair can hold up to 250lbs.
Oniva Portable Folding Sports Chair
Oniva's lightweight, portable folding chair is perfect for beach-goers who tend to take plenty of gear to the shore. The chair has an accessories panel that includes various pockets to hold all your essential items like magazines, sunglasses, and cell phones. Constructed from dependable 600D polyester, the extra-wide seat complete with padded armrests can hold 300lbs. It also has an insulated bottled beverage pouch, a security pocket, and a fold-out side table. For more quality clues, the chair comes with a 'Built To Last' lifetime guarantee.
Rio Gear Ultimate Backpack Chair
Providing you with five reclining positions, including a fully lay-flat option, along with an insulated cooler, Rio Gear's Backpack Chair is a definite contender for best beach seat on the block. It is made out of rust-resistant aluminum tubing and textile mesh fabric, allowing it to hold up to 240lbs. For more stability, it has lace-up suspension and a ventilated textile sling that adjusts to the shape of your body posture for maximum relaxation.
REI Co-op Flexlite Chair
Save time packing and unpacking with the Flexlite chair thanks to its simple four-legged aluminum frame that's reminiscent of an easy-to-assemble pitch tent. It has a convenient mesh side pocket that can hold the current book your reading, your phone, or a flashlight. The breathable cooling mesh seat panel is snug and will drain and dry fast in case things get wet. For easy transportation, the portable beach chair comes with a helpful stuff sack.
Tommy Bahama Relax Logo XL Padded Event Chair
Created with supplemental padding and a wider seat, Tommy Bahama's event chair is one that you can sink into without a care in the world. The seat's 600D navy polyester fabric with PVC coating, comfy headrest, and padded cooler pouch on the backside will help you find peace while you work on your tan. To help you pop open those brews, it comes with a bottle opener that's attached to the zipper on the front pouch. And, although it's easy to carry around, it can hold up to 300lbs.
Alite X The North Face Dragonfly Chair
Alite and The North Face combined forces to bring you a limited edition camp chair that's featured in Alite's Homestead Collection. The unique 'Peyote Beige Birding Print' on the chair will help you stand out in a sea full of solid colors at the beach. Its unique look doesn't come without functionality, as this comfy seat sits higher up and more upright than other portable chairs. There's even a practical stash pocket to store your small accessories when you decide to dive into the ocean. Dedicated to crafting excellent products that last, Alite covers this foldable chair with a lifetime guarantee.
ENO Lounger DL Chair
If you're looking for exemplary relaxation under the sun, the ENO Lounger DL Chair is your best bet. The DL Chair is equipped with two adjustable legs that can be set at three or 10 inches high, a cup holder, two cargo pockets, and an integrated pillow. Furthermore, it features a stuff sack to store your essential items so you can enjoy the cool water. It's also super light, weighing in at just 4lbs.
Yeti Hondo Base Camp Chair
For those of you who want a beach chair that's practically indestructible, look no further than Yeti's rugged camp chair. Not only is it able to support over an enormous 3,000lbs, it's also bombproof. The frame is built from two layers of age-hardened aluminum and Diehard cast joints, which is traditionally used on cars, making it extremely durable. The mesh used on the chair is made from 'Easybreath mesh' with 'Flexgrid' technology, allowing it to keep its shape under enormous pressure. Finally, it has a 'Gridguard' over-mold, making sure the seams will never break or tear.
12 Best Men's Boardshorts
Now that you've picked up a reliable beach chair, it's time to grab a stylish pair of boardshorts. Take a look at our picks for the best men's boardshorts on sale now.