In general, when spending time off of the grid, one's loadout is limited to the gear that they can carry on their person. And while heading into the wilderness usually means having to forgo a great many of the creature comforts and amenities that we enjoy at home, rolling coolers allow users to enjoy the benefits and utility of a refrigerator from practically anywhere on the planet. Due to the game-changing nature of these items, rolling hard coolers have become increasingly popular with outdoor enthusiasts over the last few years.
This influx in popularity has ultimately given way to dozens of new rolling icebox models, and while this affords buyers more options to choose from than ever before, it has also made it increasingly difficult to sort through the sea of available offerings in order to hone in on the standout models that rise above the rest. So, with this in mind, we've hand-selected this curated guide to the best rolling coolers for outdoor adventures, delivering our picks for the latest and greatest rolling models on the market, along with what factors to consider when shopping.
Wheeled Cooler Qualities
Areas To Consider When Buying A Rolling Cooler
Just like with soft-sided coolers or backpack-style items, there are several factors that can hugely impact the overall quality and performance of a rolling cooler. Below, we'll briefly touch on five of the most pivotal areas to take into account before buying a new wheeled hard cooler.
Materials: Not unlike practically any other piece of outdoor gear, the overall quality of a cooler will largely boil down to the materials used to make it. Special plastics and composites are the most commonly-utilized constructions, though there are also outliers such as coolers made from recycled materials.
Construction: Just as important as the materials that a cooler is made from, is how the cooler was pieced together — i.e. the construction technique(s) used to craft it. While hard coolers can be produced in a myriad of different ways, rotomolded — or "rotational molding" — coolers have increasingly become the standard in recent years.
Insulation & Thermal Retention: While a cooler's strength and durability are primarily owed to its shell material and the construction method(s) used to create it, its performance capabilities — AKA how long it can keep its contents cold — mainly boils down to the type of insulation used to line its walls. Another factor that will play a major role in a cooler's thermal retention is its closure/closing system, as well as its gasket.
Physical Dimensions & Storage Space: Rolling coolers are obviously available in a wide range of sizes, though some boast markedly thinner walls while still affording stellar thermal retention. The best way to get a read on this area is to review the external dimensions of a cooler, and then compare these figures to the internal space.
Hardware & Components: Though its exterior construction and the insulation it's lined with will play the biggest role in a cooler's overall quality, there are some smaller elements that are still worth exploring. Areas such as the constructions used for latches, attachment points, handles, wheels, and axles, can all make a surprising difference when it comes to the overall user experience.
Coleman 316 Series 62QT Wheeled Cooler
Tipping the scales at just 12.15lbs, the 62-quart rolling model from Coleman's 316 Series is an affordable, albeit high-quality entry-level icebox. Made in America, this cooler's fully insulated lid and body also afford it the ability to keep ice frozen for five days in temperatures as hot as 90°F. Capable of accomodating more than 100 cans of your favorite beer or beverage, this model also features 6" all-terrain wheels, a recessed lip, a stain-resistant liner, swing-up handles, and a leakproof channel drain plug. The cooler's Have-A-Seat lid is also capable of supporting up to 250lbs, allowing it to double as a camp chair.
Outer Construction: N/A
Insulation: N/A
Volume: 62 Quarts
Igloo 90QT ECOCOOL Roller Cooler
Another affordable American-made cooler that offers five days of thermal retention, Igloo's 90-quart ECOCOOL Roller model is the world's first hard-sided cooler to be crafted from recycled materials. The cooler's shell is made from a recycled resin that's composed of a combination of post-consumer milk jugs and yogurt cups. In addition to boasting Igloo's MaxCold foam-insulated lid and body, this model also packs THERMECOOL foam that further bolsters thermal retention. The cooler has also received a ruler and a "media slot" molded into the lid, as well as a swing-up handle, a threaded drain plug, hybrid stainless steel latches, and oversized all-terrain wheels.
Outer Construction: Post-consumer Recycled Resin
Insulation: MaxCold & THERMECOOL Foam
Volume: 90 Quarts
Ozark Trail 52
Certified bear-resistant by the Interagency Grizzly Bear Committee, the Ozark Trail 52 is an incredibly rugged cooler that sports an air-tight, super-seal gasket that traps in heat — and keeps critters out, no matter how strong or determined they may be. Benefitting from a Microban antimicrobial treatment, the cooler features a one-piece roto-molded, UV-resistant exterior, an industrial-strength stainless steel locking plate with a built-in bottle opener, a garden hose-compatible oversized drain, reversible anti-slip feet, comfort grip-equipped heavy-duty handles, a revised cam latch design that's easier to open, a removable interior wire organization basket, and a lid that features an integrated fishing ruler and four recessed drink holders. This item is also backed by a half-decade warranty.
Outer Construction: Roto-Molded Plastic
Insulation: Polyurethane
Volume: 45 Quarts
Cobalt 55QT Roto-Molded Super Cooler
Rather than trying to reinvent the wheel(ed cooler), this model represents a fairly spartan and minimalistic icebox that epitomizes built-to-last construction, with a bear-resistant roto-molded body. What's more, its freezer-style air-tight gaskets and seals and lockable lid allow this Cobalt cooler to achieve a whopping ten days of ice retention. Other amenities include an integrated bottle opener, the brand's "no-fail" hinges, lockdown latches, non-skid feet, a rapid drain system, and removable tether handles.
Outer Construction: Roto-Molded Plastic
Insulation: N/A
Volume: 55 Quarts
KODI by H‑E‑B AT30 Wheel Cooler
Despite being the smallest model on this list by 40%, the KODI by H‑E‑B AT30 Wheel Cooler is just as durable and hardwearing as its larger rolling cooler counterparts, with a whitewater kayak grade, seamless roto-molded plastic shell that houses 2" of cold-locking foam insulation. Riding on a massive set of 8.5" (3.5" wide) all-terrain wheels shod in rubber-tread tires, this cooler also sports the company's proprietary LiftEase vacuum-released valve, plus an air-tight freezer-style gasket, T-handle latches, and front legs that have been reinforced into the item's frame, making an already rugged cooler all the more bulletproof.
Outer Construction: Roto-Molded Plastic
Insulation: Cold-Locking Foam
Volume: 30 Quarts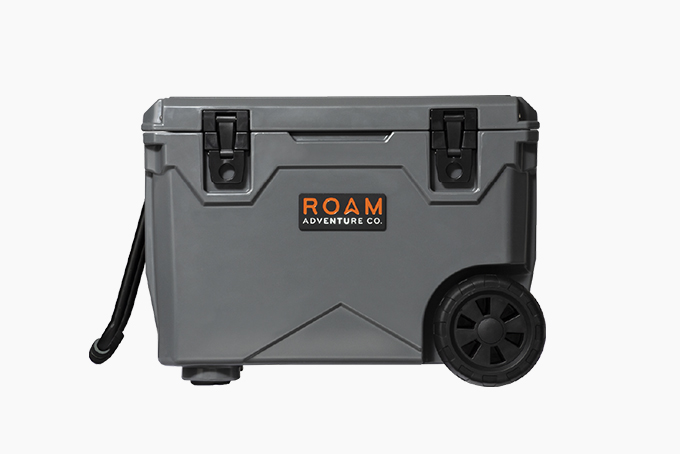 ROAM 50QT Rolling Rugged Cooler
Available in desert tan, OD green, or slate gray color options, the ROAM 50-Quart is a high-performance rolling cooler with an incredibly calculated design and a sleeker, more style-conscious shell. Insulated with low-density polyethylene fibers, this cooler boasts rope handles, steel hinges, latches that can be opened using just one finger, a padded aluminum grab handle, and rubberized wheels. Weighing only 28lbs — despite its 50-quart capacity — this ROAM cooler also comes protected by a lifetime warranty.
Outer Construction: N/A
Insulation: Low-Density Polyethylene Fibers
Volume: 50 Quarts
Pelican 45QW Elite Wheeled Cooler
Considering that Pelican produces what are unequivocally the world's most rugged hard cases for cameras and other outdoor gear, it's frankly unsurprising that the California-based company happens to make an equally top-notch line of hard coolers, with the wheeled 45-quart Elite series model being far from an exception. Made in America and backed by a lifetime guarantee, this cooler offers 10 full days of ice retention, thanks to its freezer-grade gasket and two inches of polyurethane insulation. Other highlights on this Pelican model include glove-friendly press-and-pull latches, heavy-duty wheels, molded-in tie-down points and grab handles, an integrated bottle-opener, non-marking non-skid feet, a molded-in lock hasp, stainless steel plate, a tethered, garden hose-compatible drain plug, and corrosion-resistant stainless steel hardware.
Outer Construction: Polyethylene
Insulation: Polyurethane
Volume: 45 Quarts
BrüMate BrüTank 55-Quart Rolling Cooler
While the BrüMate BrüTank may resemble your average roto-molded cooler, this 55-quart item conceals a separate, patented removable tank that allows users to serve 2.8 gallons of their favorite beverage straight from a keg-style tap. Protected by a five-year warranty, the BrüTank also features a built-in bottle opener, puncture-resistant all-terrain wheels, and a lid that's capped off with an EVA foam-bench top. Armed with seven days of ice retention, this cooler can also accommodate 48 cans (or a dozen bottles of wine or liquor). Plus, BrüMate also sells a wide array of accessories for the BrüTank, as well as a myriad of accompanying travel mugs, bottles, and tumblers.
Outer Construction: Roto-Molded Plastic
Insulation: N/A
Volume: 55 Quarts
YETI Tundra Haul Hard Cooler
Representing YETI's first-ever rolling cooler model, the Tundra Haul is a cutting-edge wheeled icebox that boasts a rugged roto-molded shell set of pressure-injected polyethylene insulation. On top of being produced in a trio of color choices, the Tundra series cooler is also available in 35, 45, 65, 75, 105, 110, 125, 160, 210, 250, and 350-quart sizes. Like BrüMate above, YETI also sells a myriad of optional accessories for this cooler including icepack inserts and a fishing rod holster, as well as a plethora of replacement parts, should you manage to somehow damage this cooler — after its generous half-decade warranty has ended, that is.
Outer Construction: Roto-Molded Plastic
Insulation: Pressure-Injected Polyethylene
Volume: 55 Quarts
Rovr Products RollR 60
Sold in multiple vibrant color options and backed by a five-year warranty, Rovr Products' RollR 60 is a certified bear-resistant roto-molded cooler that affords ten days of ice retention and can accommodate up to 60 cans of beer (plus 20lbs of ice). The cooler also boasts RollR all-terrain wheels set on 12.5mm stainless steel axles, high-density insulation, a dual MotoGrip handle, a DeepFreeze dry bin with two separate compartments, proprietary Bullseye latches, SureGrip feet, and a DualSpout plug. The use of AnchR pins also allows for the attachment of a slew of available accessories, including the RovR LandR bin that's sold with each unit.
Outer Construction: Roto-Molded Plastic
Insulation: High-Density Insulation
Volume: 60 Quarts
Speedbox Endurance-40
Used by Army Special Forces, Navy EOD, and Air Force Pararescue Jumpers, the Speedbox Endurance-40 is an insanely-rugged mil-spec cooler that was inspired by the modular container systems for palletized cargo that are widely used by America's armed forces. Measuring 33.46" L x 20.75" W x 26.25" H, this cooler features a 40-gallon (160-quart) capacity and a 300-lb cargo limit while weighing only 51lbs — and being able to support its own weight several times over.
Outer Construction: Roto-Molded Polymer
Insulation: Polyethylene
Volume: 160 Quarts
OtterBox Venture 65 Cooler + All-Terrain Wheels Accessory
Designed in Colorado and made in America, the OtterBox Venture 65 is an extremely-rugged cooler that forgoes most bells and whistles in favor of raw durability and performance. This item comes with an included dry storage tray and a bottle opener, however, OtterBox also sells an enormous slew of optional accessories — one of which is an all-terrain wheel set and frame that converts this hard-sided cooler into a rolling item. We should note that, when combined with the all-terrain wheel accessory, this two-item combo comes out to a combined MSRP of $600.
Outer Construction: Polypropylene
Insulation: Two-Part Polyurethane
Volume: 65 Quarts
The Best Solar-Powered Camping Gear Essentials
Looking to go further off-grid with your cooler in tow this camping season? Then be sure to check out our guide to the best solar-powered camping gear essentials for a more sustainable adventure.