Though it costs more upfront, opting to invest a bit more for a set of decent headphones will typically save you money in the long run, helping to ensure years of reliable use through the utilization of more premium materials, construction, and componentry. The higher MSRPs also almost always mean more competent performance, in terms of aspects like battery life and sound quality. To help shine a light on some of the finest available offerings within this price range, we've put together this list of the best headphones under $200.
Best Headphones Under $200
Best Starter Headphones

Marshall Major IV

Best Tavel Headphones

Sony WH-CH720N

Best Headphones for Music

Audio-Technica ATH-M50xBT2

Best Headphones Overall

Beats Solo 3 Wireless

Best Noise Cancelling Headphones

JBL Live 660NC
What to Expect from $200 Headphones
Two hundred dollars is something of the perfect Goldilocks amount when shopping for headphones. The price point allows for some truly exceptional, high-end models that afford the latest and greatest in features, comfort, performance, and sound quality, without requiring you to invest an arm and a leg. Access to offerings from some of the world's most elite brands can also be had for this number, which is particularly noteworthy considering many of these sub-$200 models hugely benefit from cutting-edge hardware and tech that's trickled down from even more top-shelf models from these same companies.
is $200 a lot for headphones?
$200 is nothing to scoff at, but when it comes to headphones, this is a great starting price if you want a pair with all the bells and whistles (ANC, long battery life, solid sound quality). For our guide, we've kept the picks in the $100-$200 range, as this price range covers a variety of solid headphones built for multiple situations. If you're on a budget, there's nothing wrong with the $100-$150 picks, but you might miss out on some features.
What to look for
Sound Quality: In this range, you don't have to worry too much about getting solid audio quality (good bass response, midrange, and treble performance), so you should really be focused on what you're using the headphones for. In a professional studio setting, you want a flat sound without any added bass or other extras. For traveling, you may want headphones that can go a bit louder.
Noise Cancellation: For those traveling or working in busy environments, Active Noise Cancellation (or ANC) is extremely helpful. Even if you just enjoy an uninterrupted listening experience, it may cost extra, but it's almost always worth it. Passive noise cancellation can also be effective and is pretty common in closed-back headphones.
Battery Life: If you're going with wireless headphones, make sure you get a pair that has enough battery life for your needs. A good minimum to look for is ~25 hours, which most headphones in this range easily meet.
Connection: The picks in this guide will either be wired or a wireless/wired hybrid. Having a wired option is convenient because it doesn't require charging and often gives you better audio fidelity. Some headphones may offer multipoint connection, which basically means you can connect to multiple devices at once.
Fit: This guide will be focused on over-ear and on-ear headphones, but many of these companies have earbuds for a similar price with comparable specs if you prefer that kind of fit.
Marshall Major IV
Pros
Classic style
Insane 80 hour battery life
Built-in mic for calls
Can charge wirelessly
Best Starter Headphones: Marshall produces some of the most iconic audio gear in existence, famously employing its distinctive old-school design language and professional-grade sound. And a modern interpretation of this formula can be seen in the British firm's Major IV headphones: a reimagined version of a vintage Marshall model that now sports a slimmer, lower-profile 3D hinge design, rebuilt ear cushions, and partially exposed wires with reinforced rubber dampers. Unlike the normal button-control setups, the Major IV packs a multidirectional control knob that can be used to adjust volume, control playback, and turn the headphones on or off. There's also a built-in microphone for controlling a smart assistant or fielding calls.
The Marshall IV Voice's battery packs a wildly impressive 80 hours of life on a single charge, too. In addition to its potent battery and vintage-inspired outward appearance, what earns this model a place on this list is its superb sound quality, with a 20Hz to 20kHz frequency range coming from proprietary, custom-designed 40mm dynamic drivers.
Battery Life: 80 hours
Noise Cancellation: None
Connection: Bluetooth
Type: On-ear
Sony WH-CH720N
Pros
Really good sound quality and noise-cancellation for the price
Adaptive sound mode
The lightest headband for Sony noise-cancelling headphones
Multipoint connection
Cons
Battery life is good, but could be longer
Best Tavel Headphones: Sony's WH-CH720N is another thoroughly modern pair of headshells that pack an impressive host of features and amenities into an accessibly-priced pair of headphones. The battery offers as many as 35 hours of music playback time and is compatible with quick charging (3 minutes for an hour of playback). The WH-CH720N's noise-canceling tech scans your surroundings to block out external noise and optimize audio, and this same tech is also called upon for calling, with the Sony gadget's microphones also getting this feature. They're also compatible with Amazon's Alexa and can be used for hands-free control of the smart assistant.
Collectively, these features all make the WH-CH720N an absolutely stellar choice for those in the market for a quality set of work-from-home headphones or travel headphones, as these aforementioned amenities not only allow for improved calls and video chat experiences, but these headphones also look fantastic resting on a headphone stand alongside a desktop and keyboard, and have the lightest headband out of any over-ear Sony noise-cancelling headphones.
Battery Life: 35 hours
Noise Cancellation: Yes
Connection: Bluetooth
Type: Over-ear
Audio-Technica ATH-M50xBT2
Pros
Very good audio quality
Wireless version of the OG studio monitors
Alexa compatibility
Dedicated internal headphone amp
Cons
No ANC, but these are designed for unencumbered audio
Best Headphones for Music: Not unlike Marshall, Audio-Technica's headphones tend to carry a very similar visual theme, with the Japanese brand possessing a distinctive signature aesthetic across its over-ear offerings. While it's no less attractive, the Tokyo firm's ATH-M50xBT2 is a redesign of A-T's ATH-M50X studio cans in a sleeker, more modern configuration. Although the headphone's outward appearance may have slightly changed, the company's hallmark high-level audio remains in the mix, with the ATH-M50xBT2's high-fidelity 45mm drivers (made of rare earth magnets and copper-clad aluminum wire) providing a high-resolution frequency response range.
These headphones feature AK4331 advanced audio DAC and a dedicated internal headphone amp, as well as an internal lithium polymer battery that gives the headphones 50 hours of music playback time. You're getting dual mics for crisp calls, and compatibility with Alexa for added convenience.
Battery Life: 50 hours
Noise Cancellation: None
Connection: Bluetooth, USB
Type: Over-ear
Beats Solo 3 Wireless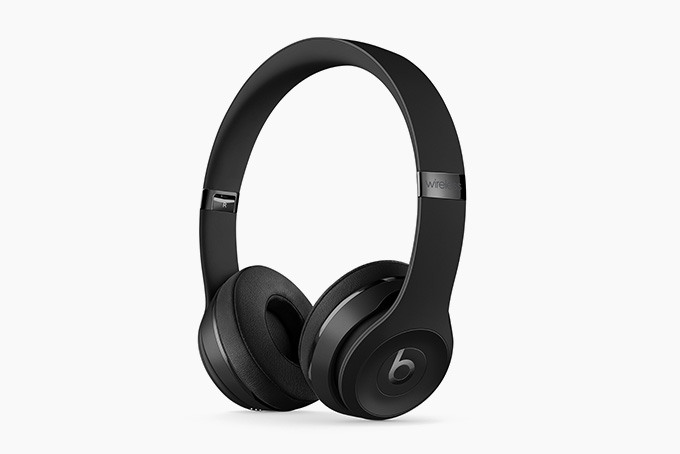 Pros
Equipped with Apple's W1 chip
Adjustable ear cups
Spatial audio
Convenient foldable design
Cons
No ANC (but you're getting the W1 chip, which the Studio Pros don't have)
Best Headphones Overall: Beats refers to its Solo 3 Wireless model as its "Classic All-Day Headphones," and for good reason. The battery powering this wireless over-ear model allows for up to 40 hours of music playback, plus it's Fast Fuel compatible, which means after being plugged in for only five minutes, a completely drained battery can yield a full three hours of playback time. The shells and headband have been designed together to firmly grip the wearer's head, without becoming painful or uncomfortable after prolonged periods of time (something made possible by the Solo3's extended battery life).
The headphone's acoustics have been fine-tuned, resulting in award-winning audio quality with deep bass, crisp highs, and minimal distortion, even when played towards the higher end of the Solo 3's fairly extreme decibel range. And, like the first entry on this list, the Solo 3 boasts a folding design along with a travel case for carrying the headphones when collapsed.
Battery Life: 40 hours
Noise Cancellation: No
Connection: Bluetooth, USB
Type: On-ear
JBL Live 660NC
Pros
Custom call volume and mic input
JBL Signature Sound
Very good ANC
Voice assistance
Best Noise Cancelling Headphones: Though Beats By Dre has admittedly developed a solid reputation for producing bass-heavy sets of headphones, JBL is definitely a brand that should be considered if you're interested in a super deep low-end range. And while the Live 660NC's audio quality is a major selling point, the wireless pair of over-ear shells have a lot more going for them, such as a battery that yields an incredible 50 hours of music playback, and state-of-the-art noise-canceling technology with Ambient Aware and TalkThru, so vital sounds and communications can still be heard, while wind, traffic, and other ambient noises are drowned out.
On top of the extended battery life, the headphone's decently rugged construction and collapsible hinge design make the Live 660NC an ideal choice for long-range travel. And, while it wouldn't be unreasonable to think that the 50-hour battery and bevy of audio, NC, and transmission components would make for a rather hefty set of headshells, this JBL item manages to weigh it at a very reasonable 9.3 ounces (or 0.58lbs).
Battery Life: 50 hours
Noise Cancellation: Yes
Connection: Bluetooth, USB
Type: Over-ear
The Best Headphones You Can Get for Under $100
Looking for a quality pair at a more accessible price point? Our guide to the best headphones under $100 boasts a dozen seriously-solid sets that can be had for a reasonable sum.