As far as seasonal garb is concerned, the wool sweater is one of the classiest yet under-appreciated garments in a man's wardrobe. Many see the wool sweater as an overly heavy piece of outerwear that exists to be an agent of heatstroke and a harbinger of itchy discomfort. However, we argue the opposite. Like any piece of clothing, wool sweaters can be stylish, comfortable, and versatile; and there are even many that are lightweight and breathable — not to mention completely absent of any itchiness.
This guide is a celebration of the wool sweater, as well as a curated ist of our favorite examples on the market. Before we get into it, however, it's worth noting the different types of wool used to make a sweater, as wool itself is a broad term that comes in a variety of different forms from a spattering of different animals.
The 11 Major Types Of Wool
Variety Is The Spice Of Life
There is a multitude of different types of wool out there, however, you can really pare them down to 11 major types. Not every wool type is represented in this list, however, it's important to know that the wool world is a vast one that sports many different weights, textures, and price points.
Alpaca: Alpaca wool comes from the alpaca, which is native Peru, Argentina, Bolivia, Ecuador, and Chile. Their wool is some of the most luxurious on the planet, and it is extremely soft due to the small diameter of each fiber strand. This small diameter within their hair fibers makes alpaca wool warmer, stronger, and more water repellent than sheep's wool.
Angora: Angora wool comes from the Angora rabbit (not the Angora goat which produces mohair wool). Angora wool is a soft and fluffy fiber that retains the most heat and has incredible moisture-wicking ability. Due to its silky softness and fragility, Angora wool is often compared to Camel hair wool.
Camel Hair: Camel hair is exactly what you think it is. This wool is a luxurious and fine wool with fantastic heat retention abilities. It sports a natural golden-brown color and is typically combined with other more accessible types of wool to make it softer and more economically practical.
Cashmere: Cashmere comes from the cashmere goat, which is native to Tibet, Mongolia, Myanmar, Bhutan, Nepal, India, and well, the Kashmir region. It is incredibly soft and lightweight, making it a luxurious choice for constructing garments. Cashmere is famously expensive to source because the cashmere goat produces a small amount of wool per year, and the scarce wool it does produce can't be sheared directly; it must be combed out.
Lambswool (AKA Virgin Wool): Lambswool comes from a baby sheep's first shearing when it's only several months old. Due to its nascent age, this is the softest, lightest wool the sheep will make in its life. Lambswool is lusciously smooth, soft, hypoallergenic, and has anti-wrinkling properties.
Melton: One of the toughest and warmest wools in the world. It comes from sheep and usually has a small amount of nylon blended into it in order to augment its strength and durability. Melton contains thick wool fibers, which adds to its wind-resistant and water-resistant capabilities, making it one of the most versatile wools out there.
Merino: Merino wool comes from the Merino sheep, and as far as versatility is concerned, Merino ranks among the best types of wool to use. The merino fibers produce a fine, shiny wool that is soft to the touch and great for regulating body temperature in both cold and hot weather, making it a popular option for performance wear.
Mohair: Mohair wool comes from the Angora goat. It is far tougher and more durable than the wool produced by the Angora rabbit, and it is far more lustrous and easier to dye, making it a go-to fabric for textiles. Despite being relatively lightweight, Mohair wool provides surprisingly good insulation.
Shetland: Shetland wool comes from the undercoat of sheep native to Scotland's Shetland Islands. It is a popular choice for knitting due to its durable but soft nature. Aside from it being lightweight and warm, Shetland wool offers one of the widest ranges of natural colors of any breed of sheep.
Vicuña: The vicuña is an animal related to the alpaca and llama. It's the rarest, finest, and most expensive wool in existence as not only are the vicuña limited in quantity, but they also produce very little wool per year. In ancient Andean civilization, vicuña wool was so lauded for its softness and warmth that it was reserved for royalty.
Qiviut: Qiviut wool comes from the undercoat of the Arctic muskox. Despite its superfine texture and near unrivaled softness, qiviut is eight times warmer than sheep's wool but stronger than Angora wool, making it a popular choice for those in the textile industry to work with it.
Uniqlo Extra Fine Merino V-Neck Long-Sleeve Sweater
It's safe to say that Uniqlo is pound-for-pound the best bang-for-your-buck brand right now. Their casual V-Neck has a super soft 19.5 ultra-fine merino wool construction, making it lightweight and smooth to the touch. Even better, Uniqlo's sweater features a special press-processing to prevent pilling, which gives this handsome sweater an added dimension of durability.
Gap Merino Shaker-Stitch Mockneck Sweater
Gap is a staple brand that makes high-quality, accessible products, and this sweater embodies that ethos. Its shaker-stitch pattern provides a flattering texture for the wearer, while the addition of the mock neck collar adds some elegance to its silhouette. It has an acrylic and merino wool construction along with a 5% addition of alpaca wool for a flair of luxuriousness.
L.L.Bean Classic Ragg Wool Sweater, Full-Zip Flannel-Lined
L.L.Bean is a brand that needs no introduction. If you're looking for a great-looking and casual sweater that'll keep you warm, then their Classic Ragg Wool Sweater is right for you. It is made of 100% lambswool, which is as soft as it is insulating, and for an added layer of warmth, the sweater even features a flannel lining to keep you warm, cozy, and stylish all winter long.
Bonobos Washable Merino Crew Neck Sweater
Bonobos is a phenomenal brand that offers a wide range of upscale-casual, modern clothing. Their merino crew neck sweater epitomizes their design approach as it is lightweight, versatile, and can be worn on its own or as part of an ensemble. It comes in nine colors and sports a hidden contrast color stripe on its inside neck trim to highlight the 1×1 ribbed crew neck collar.
Everlane Felted Merino Hoodie
Everlane just does outerwear right. Their felted merino hoodie features a merino wool construction that employs pre-washed and boiled yarn so it softens and shrinks to create a denser fabric with all of wool's upsides. Its streamlined silhouette parallels the no-frills design that the folks at Everlane used while designing this effortlessly cool and versatile hoodie.
Schott Wool Blend Icelandic Sweater
Schott is an American-based standout in the sweater space for good reason. The Icelandic sweater is an ideal pullover that's made with wool blended with nylon and acrylic for durability and added coziness. Moreover, its shawl collar and use of geometric woven patterns make it a stylish, classy, and eye-catching piece of outerwear for anyone looking to break up the monotony of their monochromatic wardrobe.
Banana Republic Italian Marbled Popover Sweater
Banana Republic is famous for their sweaters. Gap Inc.'s luxury brand really hit it out of the park when they designed a popover sweater that alchemizes luxury, comfort, and sustainability. The yarn used to make this sweater comes from recycled wool sourced from pre-consumer offcuts and scraps, courtesy of Italy's famous Filpucci mill. Its elongated shawl collar further adds to its comfort while also providing a level of luxury and elegance.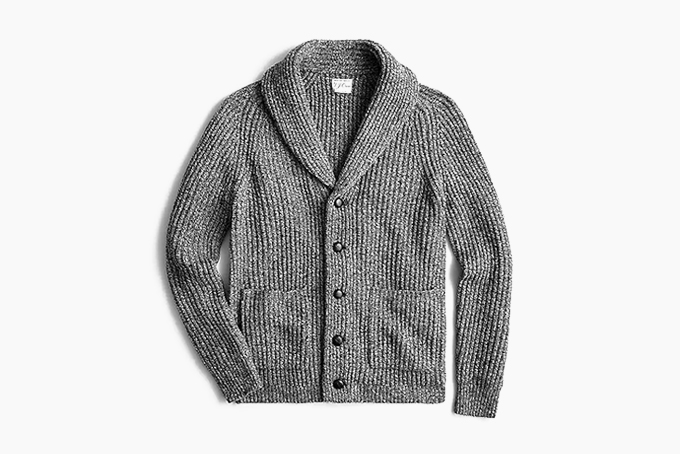 J.Crew Rugged Merino Wool Cardigan Sweater
Anyone who isn't a fan of cardigans needs to look up J.Crew's rugged offering. Their cardigan sweater is a wonderful outer layer for those looking to add a casual yet stylish punctuation mark to their everyday ensemble. It features a wool and nylon blended construction that emphasizes form, function, and comfort. Even better, it was crafted in a fair-trade facility.
Patagonia Recycled Nylon and Wool-Blend Sweater
Leave it to Patagonia to design a gorgeous sweater that's also good for the planet. This particular Patagonia sweater features a construction that contains 70% recycled wool and 26% recycled nylon. The blend is also finished with hand-linked trims so the sweater can hold its shape. It's a phenomenal choice when looking for a lightweight base layer to wear.
Orvis Donegal Button Mock Pullover
We try not to be sensational when writing product descriptions, but Orvis' Donegal Button Mock Pullover is a dangerously comfortable sweater. This chunky knit button mock pullover gets its crafted-at-home feel from Donegal wool yarn that is also infused with flecks of earth tones to create a mélange effect. It also sports a gorgeous three-button placket with a substantial cotton twill tape that makes it as beautiful to look at as it is comfy to wear.
Taylor Stitch Everett Sweater
One of our favorite brands is back at it again, this time with a beautiful sweater made with chunky 14-gauge merino wool yarn that will regulate your temperature well into the dead of winter. The Everett sweater features an understated yet elegant silhouette and a tricolor knit birdseye design that's visually striking and stylish. It's a classy, dressed-up sweater that can be worn virtually everywhere for almost any occasion.
Buck Mason Herdsman Turtleneck
It'd be an act of sartorial sacrilege to make a "best outerwear" list of any kind without the inclusion of Buck Mason's Herdsman turtleneck sweater. The Herdsman features a hardy 5-gauge wool construction that's soft to the touch, but heavy enough to keep you warm in the bitter cold. It's constructed with merino yarn that has also been rounded in cashmere for added comfort and softness.
Filson 4GG Heritage Crewneck Sweater
Filson's crew neck sweater shows why they're a staple brand in the fashion space. The silhouette of this sweater toes the line of rugged masculinity and elegant style, and it sports raglan sleeves to increase the wearer's range of motion. It features a construction made of 4-gauge wool from sheep born and raised in the U.K., which makes it breathable and insulating even if it gets wet.
Polo Ralph Lauren Shawl-Collar Fair Isle Wool Sweater
Sweaters should be able to have fun, wintry patterns without being loud and tacky. Thankfully, this Fair Isle wool sweater from Polo Ralph Lauren accomplishes this feat with an intarsia-knitted sweater that's 100% wool and 200% classy. Its classic, Fair Isle pattern will add a great pop of color to your wardrobe, and its button-embellished shawl collar elevates this stylish offering with an elegant flair.
Canada Goose Patterson Merino Wool Sweater
It only makes sense for a company that's known for making stellar outerwear to design a fantastic sweater. Canada Goose's Patterson sweater is made in Italy using pure merino wool that's soft to the touch and provides you with enough insulation to tackle Canada-cold winters. Furthermore, its sleeves feature ribbed trim, which offers a fun textural contrast to its streamlined silhouette.
Incotex Slim-Fit Shawl-Collar Virgin Wool Sweater
Another Italian-made staple that's as gorgeous as it is comfortable and versatile. Incotex's slim-fit sweater is a lighter option that offers a more flattering and form-fitting design than most sweaters in the space. It features a virgin wool construction in a soft grey mélange that will make the wearer feel like he's wearing a stylish blanket.
Rag & Bone Reversible Wool-Jacquard Sweater
Leave it to rag & bone to make a sweater that's as stylish on the inside as it is on the outside, literally. Their offering is multicolored jacquard-woven with a distinctive birdseye pattern. It's made of 100% wool and sports an understated silhouette that lets the cool birdseye design do the talking. On one side of the sweater, the design is more uniform in color and features a stripe pattern, while the other side has brighter colors and an almost jigsaw-like pattern.
Todd Snyder Canadian Cardigan Sweater
Todd Snyder makes some of the most stylish clothes on the market, and this handsome cardigan exemplifies their creative firepower in spades. Their design team worked closely with the Canadian Sweater Company to hand-knit a modern take on the classic Cowichan sweaters, and the result is nothing short of stunning. It features two welt pockets, a two-way zipper with leather pull, a 100% wool construction, and a shawl collar to add an extra layer of comfort. Even better, it comes in three dapper colorways: Cedar Green, Black, and Oatmeal.
Tom Ford Slim-Fit Wool Rollneck Sweater
Tom Ford is an iconic designer and industry titan in the fashion world. His chic slim-fit wool rollneck sweater is the perfect form-fitting base layer for those looking to wear something that's equally light and luxurious. It's spun from 18-gauge camel wool that is as smooth on the eyes as it is to the touch. The slim-fit design lends to an understated, uniform, and subtly elegant silhouette, which showcases the opulent golden-brown color of the camel hair yarn.
Brunello Cucinelli Striped Cable-Knit Alpaca and Yak-Blend Sweater
Our last pick is an exercise in opulent indulgence, and we'd expect nothing less from a designer as luxurious as Brunello Cucinelli. For sweaters, it can be difficult to be opulent without conceding taste and style, but boy does this sweater toe that line well. While its cable stitch and contrasting stripe pattern tipping are traditional, its blend of alpaca and yak wool isn't, in the best way possible. The two types of wool harmonize to create a sweater that feels as comfortable as it is luxurious. If the alpaca and yak wool blend wasn't enough, the trim of this magnificent sweater employs a blend of virgin wool, cashmere, and silk, making the sweater soft and extravagant throughout its entirety.
12 Best Men's Winter Hats That Aren't Beanies
While sweaters certainly do a great job of keeping your upper body warm during the colder months, they won't do much for your head. So to help you out in that department, have a look at our guide to the best winter hats (that aren't beanies).