One of the beauties of running lies in the purity of the experience. It's a true turnkey activity in which you can simply throw on some clothes, slip into a pair of shoes, grab your keys, and head out the door. After that, the world is your playground, because all that's required is a stretch of road, your own two legs, and the drive to keep moving forward. It should come as no surprise then that the sport has seen tremendous growth over the course of the pandemic, with more and more active enthusiasts joining the ranks of runners to stay fit and stave off that cabin fever. In fact, now more than ever, running is having its moment.
That being said, your choice of footwear has the potential to make or break your running career. For though a pair of shoes may seem like the best thing since sliced bread for someone else, that's not to say that they're guaranteed to work as well for you. On the contrary — they could just as easily sideline you with a serious injury as they could help you nab that next PR. As such, when buying the best running shoes for your needs, you have to consider things like cushioning, fit, and stability. Moreover, you should also determine what exactly you require from your footwear. For instance, if you're attempting to tackle a tempo workout in some high-stack, max-cushion trainers, you'll only slow yourself down with the softness and extra weight. And don't even think about trying to use those speed-day shoes for recovery runs — they'll have you moving far too fast to feel fresh for your next workout. Regardless of your particular requirements, you can bet that we've got you covered with our guide to the best running shoes for men.
Jacks Of All Trades
Daily Trainers
Daily trainers are shoes that can be used for pretty much everything, including gentle recovery jogs and high-intensity tempo sessions. While they may not be as specialized as some other offerings, it's always great to have a pair of these kicking around in your shoe rack.
Atreyu Base Model
In the midst of widespread indoor lockdowns, race cancellations, and shoe shortages, Austin-based Atreyu was one of the running industry's few silver linings to emerge from 2020. Designed to offer runners everything they need and nothing they don't, the Base Model is a truly minimalist take on the dependable daily trainer. So, while it may not offer the flash and filigree of its more expensive alternatives, the reduced weight (6oz) and ultra-cushioned EVA midsole are bound to put a smile on your face stride after stride.
New Balance Fresh Foam Beacon V3
Ask any experienced runner what they use for logging most of their weekly miles and chances are good that it'll be a shoe from the Beacon series — they're that good. Building on the legacy of its two predecessors, V3 really puts the 'v' in versatility thanks to its responsive yet soft Fresh Foam midsole and foot-hugging Ultra Heel design. Overall, they're comfortable at a range of slower paces and lively enough for the occasional tempo effort.
Altra Rivera
In a market dominated by aggressive drops and narrow-fitting uppers, Altra is something of a dark horse with its balanced cushioning and foot-shaped shoes. That being said, it's much more than a marketing gimmick; it's a combination that makes for one of the most natural running sensations around. When it comes to the Rivera, the slightly slimmer silhouette and accommodating Innerflex outsole make it an easy transition from typical trainer designs.
HOKA One One Mach 4
Until recently, many runners passed on the Mach in favor of one of HOKA's more cushioned models, meaning that it was largely overlooked and thus, unloved. However, with version four, the brand seems to have found its stride, because it's barely been two months since launch and it's already one of the hottest-selling shoes of the year. Taking inspiration from the brand's world-class carbon-plated race-day shoes, it incorporates a propulsive Profly midsole and an early-stage rocker geometry to give your runs an extra boost of speed.
Under Armour UA Flow Velociti Wind
If you're a data-driven junkie and you're looking to take a tech-forward approach to your training, you can't go wrong with the Flow Velociti Wind. That's because it features an integrated Bluetooth chip that gives you access to Under Armour's real-time Form Coaching technology. Add to that a lightweight all-in-one Flow sole, a breathable Warp mesh upper, and a secure but supple fit and you have all the makings of a shoe ideal for racking up miles no matter the speed.
Ultra-Plush Recovery Shoes
Max Cushion
As you'd expect, max-cushion shoes are those that ride on a meaty slab of midsole foam, making for one of the plushest running sensations you can buy. It's worth noting that because of their high stack height, they tend to be a good deal heavier than tempo shoes and even daily trainers.
Saucony Endorphin Shift
Saucony's Endorphin line comprises three shoes that are each intended for a different style of running. While the Speed and the Pro are best-suited to fast workouts and race-day efforts, the Shift makes for quite the high-mileage hog. That's because it clocks in at a towering 34/38mm stack height, with a hefty portion of PWRRUN cushioning that's plush, springy, and easy on your legs. What's more, it's also incredibly stable through each step thanks to external heel support and a FORMFIT midfoot wrap.
Topo Athletic Phantom 2
While Topo Athletic is a bit of a niche offering when compared to the running industry's most popular brands, that's not to say that their products are any less put-together. Rather, as you'll find with the Phantom 2, the Massachusetts brand is more than capable of making a quality cushioned trainer. For instance, the engineered mesh upper is free of overlays and made with a wide toe box, ensuring that your feet stay cool, comfortable, and free of blisters. And because it rides on a ZipFoam core, it's surprisingly responsive given all of the midsole material.
Asics Glideride 2
After years upon years of making almost exclusively geriatric GEL shoes, ASICS has finally reclaimed its spot amongst the running greats. All in all, it's proven to be quite a comeback story, and it's one that began with the original Glideride, a highly-cushioned model with a forefoot plate to promote forward momentum. For the encore act, ASICS has tweaked the formula on its scientifically-proven, energy-saving shoe — giving it a better-fitting upper, a smoother ride, and a more durable outsole.
New Balance Fresh Foam 1080v11
Technically, New Balance has another high-stack model marketed towards long distances called the Fresh Foam More. However, we prefer the 1080v11 — it makes for a markedly more versatile shoe. Because while it may have a generous helping of Fresh Foam X beneath that stretchy knit upper, it's as happy at a gentle jog as it is during a fast fartlek. Light, bouncy, and packed full of pop, this is one shoe that'll have you feeling fresh out the door and keep you that way until you return.
adidas Ultraboost 21
In the past, the Ultraboost has been pretty hit or miss with the running crowd, for despite its street-ready style, it's generally considered to be too heavy for a card-carrying performance shoe. Even still, adidas' Boost foam remains one of the most cushioned and responsive midsoles on the market, and the UB 21 makes the experience even better because of features like the added LEP stability system and the grippy Continental rubber outsole. Oh, and since it's made with a recycled Primeblue upper, no virgin polyester was used in its construction.
Pedal To The Metal
Uptempo
Uptempo running shoes are like the racier relative to daily trainers. They're typically very light in their construction, and they're increasingly featuring an integrated carbon plate for a bit of extra propulsion.
Skechers GOrun Razor+
Put all your preconceived notions of Skechers aside, because one run in the Razor+ is bound to blow you away. The OG version really rocked the running world with its exceptionally lightweight construction and lively Hyper Burst cushioning. For the Razor+, the brand has upped the ante considerably, adding more midsole material, overhauling the upper, and fitting the outsole with some Goodyear rubber for improved grip and stability.
Reebok Floatride Run Fast 3
Reebok's Floatride models are one of the industry's best-kept secrets; if more runners were willing to give them a try, they'd be shocked at what they'd been missing out on. In any case, don't sleep on the Run Fast 3, because the Floatride Foam midsole is as responsive as they come, and the mono mesh construction makes for a comfortable, secure fit. Fast enough for tempo days yet durable enough for everyday wear, these are bound to add some energy to your training routine.
Brooks Hyperion Tempo
Although Brooks flopped pretty hard with the launch of Hyperion Elite, the more affordable Tempo model proved to be the brand's saving grace. That's because whatever the former lacked — like soft cushioning, a durable construction, and effective energy return — the latter more than made up for with its bouncy DNA Flash midsole and its stretch-woven performance upper. In fact, the Tempo has proven so popular since its debut that Brooks eventually revised the $250 Elite to make it more like its stablemate.
adidas Adizero Pro
In anticipation of the 2020 Summer Olympics, adidas rolled out a series of plated shoes designed to promote fast running in both training and race applications. As the younger sibling to the record-breaking Adios Pro, the Adizero Pro comes heaped with a performance pedigree. Up top, it features a Celermesh wrap with an internal fit system that's designed to alleviate pressure whilst still providing a secure lockdown. And when it comes to the midsole, you'll find that the combination of Boost and Lightstrike along with an added Carbitex plate is more than enough to keep you moving efficiently and at pace.
Nike Air Zoom Tempo Next% Flyknit
When Nike first dropped the AlphaFly Next%, it altered the course of running forever — podiums became expected, world records were shattered, and athletes started clocking times the likes of which the sport had never seen. The Air Zoom Tempo Next% Flyknits borrow a lot of their tech from those game-changing shoes, including some Zoom Air forefoot pods, a responsive composite plate, and even a layer of plush ZoomX foam. In other words, this means that they're primed for going fast, a true purpose-built training tool that'll have you racking up one PR after another.
Correcting Your Errors
Stability
Stability shoes were originally designed to help runners struggling with overpronation (an inward roll of the ankle). As such, they'll almost always come with some sort of corrective mechanism, whether that's in the form of a heel clip, a guide rail, or even a specially engineered shape.
Brooks Adrenaline GTS 21
As the product of more than 20 years of continuous refinement, it's safe to say that the Adrenaline GTS is one of the best stability shoes you can buy. With each iteration, Brooks has worked to improve not only the quality of the movement correction technology but also the fit and feel of the last and tongue. For version 21, the Seattle-based running brand has fitted the shoe with a full-length DNA LOFT midsole and a more spacious upper, additions that ensure smoother transitions from heel contact to toe-off as well as a considerably more accommodating fit.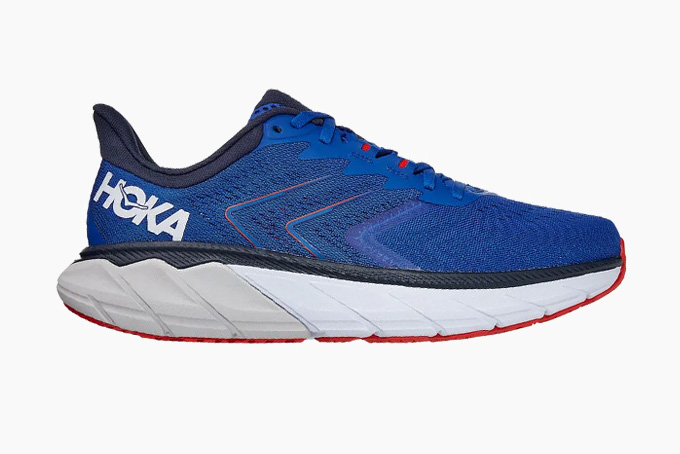 HOKA ONE ONE Arahi 5
Although stability trainers used to be almost exclusively clunky and dead-feeling underfoot, these days, they're far more similar to neutral runners in terms of their lightness and overall ride quality. In the case of the Arahi 5, this proves especially true, because it's built around an EVA J-Frame for support with a rockered forefoot geometry to promote a quick turnover. And that's not all; thanks to the Arahi's newly-designed engineered mesh upper and flared heel design, the foot comfort is the best it's ever been.
Saucony Guide 14
After a series of false steps with the Guide 12 and the Guide 13, Saucony finally righted the shoe's wrongs with the release of the Guide 14. For starters, the upper is tremendously improved over the brand's previous ISO fit setups, offering a slipper-like experience that makes properly-tensioned lace-ups easier and more secure. Underneath, Saucony has also gone to great lengths to revise the midsole geometry, giving the Guide 14 a dose PWRRUN foam and a medial TPU guidance frame to provide a soft yet stable ride. Whether you're in need of the support or not, this is one shoe that's well worth your while.
Mizuno Wave Horizon 5
Just when you think that Mizuno was on the brink of irrelevancy, the brand goes and injects some life into its lineup with the development of an all-new ENERZY foam. For the Wave Horizon 5, the material makes the shoe far springier than its predecessors, because the U4icX midsole is softer underfoot and the U4icX lasting board adds a touch of poppy comfort. Rounded out by a jacquard mesh upper, a waved foam support structure, and a durable carbon rubber outsole, the result is a shoe that redefines what stability can be.
Nike React Infinity Run Flyknit 2
Nike made some pretty bold claims upon the release of the first Infinity Run, a shoe that was designed to keep runners injury-free while also offering unmatched high-mileage durability. For the most part, the shoe was able to deliver on its promise; however, its heel slippage and lateral movement meant that it was pretty polarizing on foot. Thankfully, the Big Swoosh has remedied any issues found with the original, reworking the upper with a more traditional lacing pattern and fitting the collar with some extra padding for improved security. Sure, Nike may be best known for going fast, but as it turns out, the brand can also make a solid stability shoe.