What's the first thing that comes to your mind with the thought of aviator sunglasses? Is it Don Draper, the entire cast of Top Gun, or just fighter pilots in general? Well, no matter who or what it is, the beauty of this timeless silhouette lies in its off-screen history, having been around for nearly a century and originally crafted with U.S. Army pilots in mind. Considering these shades have ultimately stood the test of time, it's only right for us to shed some much-needed light on the best takes on this essential tactical-inspired accessory.
There is an endless number of sunglasses manufacturers that need to be accounted for this summer, many of which have proven to be adept at emulating the aviator's unmistakable style, evoking a sense of coolness that few other silhouettes are capable of capturing. As a result, we chose to narrow down the absolute best pairs of aviators from both a fashion and heritage perspective, going to show this is a pair of sunglasses that will simply never die as long as people hope to look fly (or, you know, actually fly). Without further ado, let's take a look at our guide to the 10 best aviator sunglasses you should be wearing all summer long.
The Best Aviator Sunglasses
The Starters

Warby Parker Belmar

The Safe Pick

Ray-Ban Aviator Classic

The Classic Pick

American Optical Original Pilot

The Most Stylish Sunglasses

Persol PO0649

The Best Military Sunglasses

Randolph Engineering Aviator

The Best Retro Sunglasses

Garrett Leight Convoy Sunglasses

The Best Japanese Sunglasses

Dita Midnight Specia

The Grail Pick

Jacques Marie Mage Jagger
The History of Aviators
Aviator sunglasses are classically American, with roots in the U.S. Military dating back to the early 20th century when the first iteration was designed by Bausch & Lomb. In 1929, B&L, along with an Air Corps Colonel, worked together to create sunglasses designed to reduce distractions for pilots. Specifically, to keep fog and blue light from the sky at bay. The first aviators contracted by the US military were made by American Optical for the Army Air Corps in 1935, and B&L's silhouette would finally go public in 1937. Ray-Ban enters the scene in 1939 with a redesigned version of the sunglasses (with help from B&L), and would help make aviators one of the most iconic (and one of the first widely popular) sunglasses – and they still are to this day.
what to look for
Function: If you plan on driving or hiking, then you'll likely want polarized lenses (more on this below). But if you're just interested in style, then it's not as big of a deal.
Polarization: Polarized lenses reduce glare from the sun and light reflecting off other surfaces. As stated above, if you're driving or doing anything where vision is very important, then polarized lenses are best.
UV Protection: It's likely that whatever sunglasses you get will have some sort of UV protection (99% and 100% is ideal) to protect the health of your eyes.
Lens Color: When the aviators we know today were first developed in the '30s, the original lens color was green because it reduces glare and blue light (which was extremely helpful for pilots). So if you want that classic look, then green is the move.
Who looks good in aviators?
One of the best aspects of aviators, besides their classic style, is that they can fit well with most face shapes. But square, oval, and heart-shaped faces are the ideal shapes.
How to style aviators
Aviators are quintessentially American, so other US staples like white tees and blue jeans will complement them well. You could also throw on a bomber to get that Maverick look, or wear them this summer on the beach with a camp collar shirt.
Warby Parker Belmar
Pros
Reasonably priced
Stainless steel frames
Cons
Single bar may not be your thing
The Starters: Warby Parker serves as a solid start in any eyewear category, and the Belmar stays true to this quintessential silhouette. These sturdy shades are impressively durable thanks to their razor-thin, stainless steel construction, precisely-cut temples, and Akulon-coated screws. For added convenience, the Belmar can even accommodate most prescriptions with its polarized polycarbonate lenses, easily configured directly from WP's website.
Polarized: Add-on
UV Protection: 100%
Ray-Ban Aviator Classic
Pros
One of the most iconic Ray-Ban frames
A lot of variants to choose from
Cons
A little smaller than most aviators
The Safe Pick: This might be the first aviator silhouette that comes to mind, and for good reason. Ray-Ban's iconic pair of sunglasses invented the form and have been around since 1937. Fusing classic aviator styling with the American-Italian label's brand of meticulous craftsmanship, these shades come available in a whopping 13 different colors, and that's not including the opportunity to customize a pair to your liking.
Polarized: Add-on
UV Protection: 100%
American Optical Original Pilot
Pros
American heritage brand
Made in USA
The Classic Pick: American Optical finds itself in a similar realm to Ray-Ban from a heritage perspective, having been around since 1833 and creating timeless styles ever since. The brand's Original Pilot has served as a go-to choice for American military pilots since hitting the scene in the late-'50s, and they were even the first sunglasses worn on the moon. The shades boast AO's proprietary SkyMaster Glass lenses, offering 100% UVA and UVB protection, smudge-resistant coating, and anti-reflective capabilities. Polarized versions are also available for reduced glare.
Polarized: Add-on
UV Protection: 100%
Persol PO0649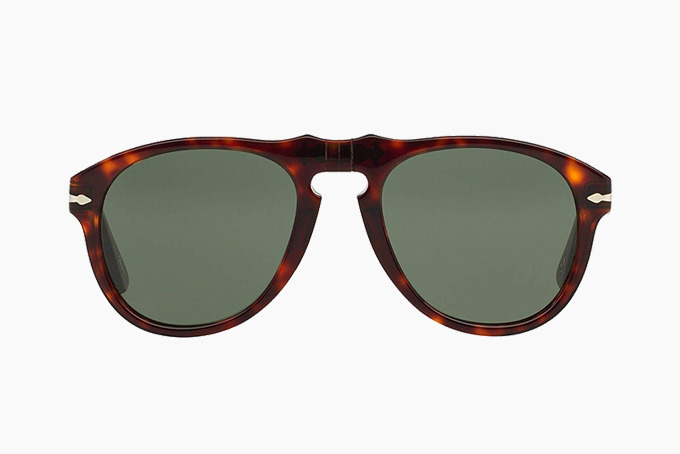 Cons
A little heavier than other options
The Most Stylish Sunglasses: In a similar vein to the previous two picks, Persol's iconic PO0649 shades are some of the most well-known sunglasses known to man, with them and their folding 714 counterparts having been worn by the likes of everyone from Steve McQueen to Anthony Bourdain. These acetate glasses come available in a wide variety of colors and sizes so you can tailor the timeless silhouette to your liking. Rounded out with the Italian manufacturer's proprietary crystal lenses and trademark arrow decoration, there is no room for error with this chic take on the aviator, and so has been the case since 1957.
Polarized: Add-on
UV Protection: 100%
Randolph Engineering Aviator
Pros
Handcrafted in the USA
Favorite of the US Military
Cons
Can be a little small on some people
The Best Military Sunglasses: Randolph's handcrafted collection of sunglasses is one of the niche world's most well-made, and its chic pair of aviators exudes this notion wholeheartedly. As a testament to American heritage — they've been a U.S. Military favorite since their 1980s introduction — and timeless style, the specs come available in a variety of different colors, including some with jewelry-quality 23k gold plating and Randolph's signature SkyTec glass lenses that utilize a proprietary anti-reflective and Blue Wave lens tech, deeming these a perfect pair to wear when you're out on the road.
Polarized: Yes
UV Protection: 100%
Garrett Leight Convoy Sunglasses
Pros
Stylish
Stainless steel frame
The Best Retro Sunglasses: Garrett Leight makes classically West Coast glasses with sustainability in mind. The label's recent (2022) GREEN collection introduced a biodegradable and sustainable acetate, and GL works hard to reduce its greenhouse gas emissions. Not only is the brand environmentally conscious, but style conscious as well, which you can see in the '80s-inspired Convoy Glasses. They have a stainless steel frame, nose pads with adjustable arms, and an angular shape that'll take you back to simpler times.
Polarized: No
UV Protection: 100%
Dita Midnight Special
Pros
Made in Japan
Titanium frame and temples
Cons
Some may want polarization
The Best Japanese Sunglasses: DITA is one of the most popular boutique eyewear manufacturers, and the Japanese brand's Midnight Special serves as one of its most coveted options overall. Its frame and temples are composed of glistening titanium, with its side lens rim finished off with diamond detailing for an extra touch of luxury. Most importantly, these provide immaculate protection thanks to 100% UVA- and UVB-blocking lenses with an anti-reflective coating.
Polarized: No
UV Protection: 100%
Jacques Marie Mage Jagger
Pros
Retro style
Titanium frame
The Grail Pick: Jacque Marie Mage's mystique is indisputable. Charging such exorbitant prices for an essential product usually comes as the result of impeccable craftsmanship, and the L.A.-based label's limited catalog puts that on full display. The bewilderingly exclusive Jagger shades are composed of a silver beta-titanium frame, then rounded out with a custom nose pad and 4-base lenses with an anti-reflective treatment. Sturdy composition aside, these are simply some of the coolest-looking frames around, embodying '70s-era club life to the fullest. The Jagger comes available in three chic colors: blue, green, and a tropical shade of orange.
Polarized: No
UV Protection: 100%
Runner UPs
More Great Sunglasses to Consider
Maui Jim Mavericks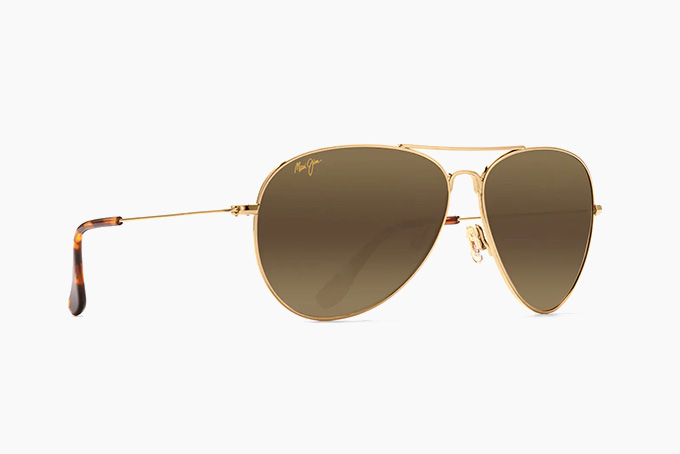 Maui Jim's fanciful Mavericks sunglasses — which may or may not be named after Tom Cruise's character from Top Gun — stay as true to the silhouette as any brand can, implementing MJ's signature lens elements without sacrificing the aviator's integrity. By using a pair of MauiGradient lenses and implementing the proprietary PolarizedPlus2 tech to deliver the most natural colors possible, these Illinois-made shades are the perfect choice to rock on the beaches of Maui or the streets of New York — and just about anywhere else, too.
Polarized: Yes
UV Protection: 100%
Salt Optics Francisco
SALT is a brand that is well aware of what it takes to ward off the sun's pesky rays. When you account for its California roots and Japanese manufacturing, owners get the best of both worlds, as these are some of the most stylish, well-made sunglasses around. That said, the Francisco is one of the boutique's most popular choices, and it's crafted from top-tier materials like aerospace-grade Japanese titanium and beta-titanium. What's more, these shades boast oleophobic and hydrophobic coatings, meaning they repel oil and water to stay stain- and smudge-free.
Polarized: Yes
UV Protection: 100%
The Best Leather Jackets for Men Right Now
Looking for more classic American staples? Then our leather jackets guide is your best bet.