Modern sportbikes offer ultra-competent performance capabilities, rivaling that of six and seven-figure supercars in terms of acceleration, top-speeds, and cornering, while literally costing a small fraction of the price. These are unmistakably race-derived machines that have been engineered for the track, with full suites of aerodynamic bodywork, low-mounted clip-on handlebars, high-gearing, and powerbands that offer the majority of their oomph near redline. And while these elements make for a ridiculously fun motorcycle on the track, they're far from conducive to street riding.
Often stripped down and modified versions of existing fully-faired sports models, naked motorcycles retain the high-performance nature of sport and superbikes, while being more practical for the road. Their clip-ons are replaced by single-piece handlebars that result in a more comfortable upright riding position, easily-damaged full fairings are shed and replaced with street-fighter-style items, and engines are retuned and gearing is lowered for better torque and acceleration at the cost of lower top speeds, which you'll seldom if ever use on the street. Offering the perfect blend of performance and utility, naked bikes are produced by practically every manufacture, so we've taken the time to pare down the abundance of available models within the segment to bring you this guide to the best naked motorcycles.
The Best Naked Motorcycles Rundown
Best Entry-Level Naked

Kawasaki Z400

Best Middle-Weight Naked

Triumph Street Triple RS

Best Retro-Inspired Naked

Suzuki Katana

Best Overall Naked

Ducati Streetfighter V4 S

Best Electric Naked

Damon Hyperfighter Colossus
A Brief History Of The Naked Motorcycle
How Crashed Sport Bikes Birthed The Most Popular Moto Segment
Just like with scramblers, cafe racers, and a host of other moto genres that have come before it, the naked bike class was essentially the result of manufacturers mimicking a popular customization trend. In the years following the release of the first modern sportbike in the mid-1980s (with Suzuki's original GSX-R750), fully-faired, road-legal race replicas experienced a tremendous influx in popularity, especially with young, thrill-seeking riders.
Unsurprisingly, motorcycles capable of supercar performance metrics being piloted by teenagers resulted in a fair amount of wrecks. With thrashed bodywork, bent clip-ons, limited financial resources, and a continued desire to ride, a lot of the young owners of these bikes simply removed the damaged fairings entirely, mounted on a set of wide, MX-style bars, tacked on the cheapest available road-legal headlight, and got back on the road. This type of bike became known as a "Street Fighter" (an example of which can be seen in the photo directly below, in which a Honda CBR1000RR has been transformed into a streetfighter).
As Street Fighters became more and more prevalent in the motorcycle world, aftermarket companies began offering headlights, waspish, suspended tail sections, and other parts made specifically to serve the naked sportbike market. The naked class was also spurred on by models like the Ducati Monster, which took an existing sportbike frame (888) and engine (900SS) and built a markedly more "streetable" motorcycle around them. Shortly after its launch, the Monster became one of the Italian firm's all-time best-selling models, prompting other manufacturers to follow suit. Today, naked motorcycles constitute one of the most popular segments in existence, as well as a good chunk of the new bikes you'll see out on the road.
What Exactly Is A "Naked" Motorcycle?
Technically speaking, any motorcycle that doesn't have a full fairing is considered a "naked," as the term's in reference to a motorcycle's lack of bodywork. Having said that, the naked monicker is more in reference to superbike or sportbike models that have been rid of the majority of their bodywork, retuned and regeared, and outfitted with handlebars and foot controls that allow for an upright riding position. In the photo directly above, we can see a fully-faired superbike model (in this case Aprilia's RSV4 1100 Factory) alongside its naked counterpart (the Tuono 1100 Factory).
Largely inspired by turn-of-the-millennium era, garage-built street fighters, many modern nakeds employ aesthetic designs that are essentially "nakedized" versions of existing superbikes. A more accurate term would probably be "naked sportbike." It's also worth mentioning that "naked" doesn't necessarily mean entirely devoid of bodywork, and rather denotes the distinct lack of a front fairing or panels that cover the engine. Nakeds also typically lack the tall windscreen that superbike riders hide behind on the straights. So, now that you've got a solid understanding of this two-wheeled genre, let's dive into our picks for the best naked motorcycles that you can buy.
Standards & Streetfighters
What Should I Consider When Buying A Naked Motorcycle?
If you've never purchased a motorcycle, it can be a bit intimidating knowing what to look for when shopping. Knowing this from firsthand experience, we've pieced together this condensed guide on the main factors one should take into account when buying a naked bike.
Size & Weight: The size and weight of a motorcycle will play a major role in determining its maneuverability, agility, speed ,and acceleration, as well as how conducive it is to new riders. Heavier motorcycles will offer better stability — especially at freeway speeds — however they lack the flickability of their lighter, smaller displacement counterparts. Smaller bikes are more nimble, but this agility comes at the expense of stability. We also urge any new riders to opt for a model no larger than 500cc (and with no more than two cylinders).
Engine: As the heart — and soul really — of any motorcycle, a bike's engine is of extreme importance, being directly responsible for the vehicle's performance and how it rides. When reviewing this area, you'll want to consider the engine's displacement (size in cc/ci), cooling system, number of cylinders, layout, and cam and valve systems. Horsepower and torque figures provide a more objective sense of an engine's power and potency. 
Running Gear: While an engine is responsible for a motorcycle's speed and acceleration, a two-wheeler's cornering abilities and stopping prowess are both owed to the vehicle's running gear — or components. When looking into this area, you'll want to examine a bike's suspension and braking hardware, along with smaller elements such as handlebars, levels, foot-pegs, etc.
Tech & Connectivity: Not unlike cars, motorcycles have recently been bestowed with an ever-increasing amount of high-tech features. This includes everything from onboard GPS to smartphone connectivity to onboard diagnostics, as well as electronic rider aids such as cornering ABS, multiple ride modes, traction control, wheelie control, engine braking control, launch control, etc. While typically reserved for more premium models, these smart features have become increasingly commonplace in the moto space. 
Cost Of Ownership: It isn't just a motorcycle's MSRP that needs to be considered when purchasing a bike. Just like with a car, you'll need to factor-in the cost of maintenance and insurance — expenses that cost significantly more when dealing with more premium, high-end bikes. Additionally, you'll also want to set aside a decent chunk of change to buy a riding gear loadout or two.
Ergonomics: Unlike their fully-faired counterparts, naked bikes tend to boast markedly more relaxed riding positions that see clip-ons swapped out for bars set on risers, and high-mounted rear-sets jettisoned in favor of lower-set pegs that together with a lower seat create a more relaxed rider triangle. It is worth noting that ergonomics can very easily be modified via the addition of just a few aftermarket parts.
The Best
The Latest & Greatest Naked & Streetfigher Motorcycles
Kawasaki Z400
Pros
Approachable & new rider-friendly but allows for ample growth
Is both freeway & 2-up-capable
Powered by parallel-twin engine
Offers great value & is cheap to run/maintain
Comes w/ ABS, LED lighting, & slipper clutch as standard
Does 0-60 in 4.3 seconds (quicker than a Porsche Macan Turbo)
Cons
Doesn't have USD fork
Ugly stock exhaust
Not offered in KRT Edition or RR version (unlike Ninja 400)
Best Entry-Level Naked: A naked version of Team Green's Ninja 400, the Z400 is a more powerful alternative to the majority of entry-level segment options, offering a bit more get-up-and-go that ensures new riders won't quickly outgrow the thing. On top of gaining some added displacement over the normally 250-300cc-sized single-cylinder mills found on most beginner motorcycle models, the little Z is kicked along by a parallel twin that allows for a top speed of nearly 120mph. A 30.9" seat height makes it easy to get a foot down, too.
Equipped with a slipper clutch, the Z400 is good for more than 50mpg — even with the most spirited of riding — and a range of over 180-miles on a single tank. The Z400's aesthetics are also largely based on that of the larger displacement members of Kawasaki's Z range, giving the entry-level model the appearance of a bigger machine.
Full-Faired Equivalent: Ninja 400
Engine: 399cc Air-Cooled DOHC Parallel-Twin
Power: 49hp / 28ft-lbs
Weight: 363.8lbs (Wet)
Origin: Japan
MSRP: $5,399
Triumph Street Triple RS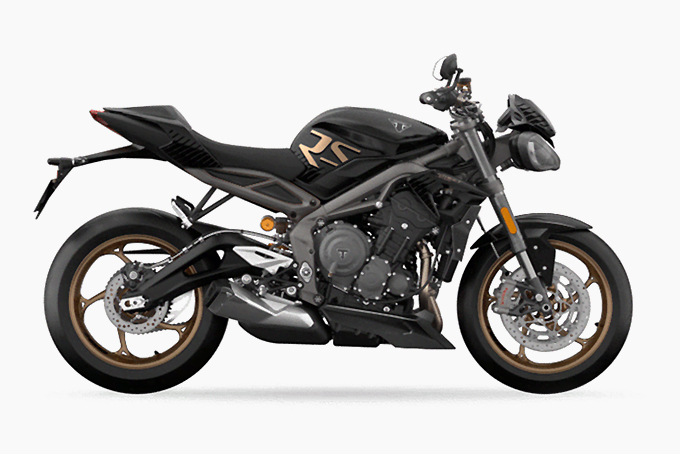 Pros
Fantastic hooligan bike that's insanely fun to ride
Equipped w/ numerous carbon fiber parts
Makes for stellar track weapon
Loaded w/ top-shelf Brembo brakes & Öhlins suspension
Powered by newest-gen Moto2-derived triple
Cons
Lacks top speed of four-cylinder bikes (though makes up for it in acceleration)
Performance can inspire license-jeopardizing riding/behavior
Best Middle-Weight Naked: While it's a notoriously fun motorcycle, the Street Triple's bug-eyed appearance has traditionally rubbed a lot of people the wrong way, though the latest iteration of the "Striple" has made tremendous strides in the aesthetic design department, with a now sleeker, more cohesive and complete-looking model — including a legitimately attractive LED headlight configuration with daytime running lights. The potent 765cc inline-three inside the Street Triple is the same engine that's currently used across the entire Moto2 class and makes for license-jeopardizing amounts of fun in the saddle.
Of the existing Street Triple models, the track-focused, top-of-the-line variant is the RS-spec, which gets numerous upgrades including a quick-shifter as standard, 41 mm Showa Big Piston fork, Öhlins STX40 mono-shock, Brembo M50 monoblocks, belly pan, rear tail cowl with competition-style "bum-stop," and numerous carbon fiber bits. Equipped with a top-shelf TFT display, this model has an optional accessory that allows for connectivity to the Triumph app and lets the handlebar-mounted buttons control a GoPro or a smartphone's music playback.
Full-Faired Equivalent: Daytona 765
Engine: 765cc Liquid-Cooled DOHC Inline-Three
Power: 121hp / 58ft-lbs
Weight: 366lbs
Origin: England
MSRP: $12,995
Suzuki Katana
Pros
'80s inspired design based on K5-K8 GSX-R1000 platform
Offers (fairly) modern literbike performance in retro-inspired package
Super unique wedge-shaped design
Features advanced tech package
Equipped w/ top-shelf Brembo Monobloc calipers
Cons
Ugly stock exhaust
No longer available in some markets
Expensive price considering based on K5-K8 Gixxer platform
Best Retro-Inspired Naked: Originally unveiled in 1981, the Suzuki Katana was an icon of its era, with a distinctive wedge half-fairing that left little doubt as to the time this model was born out of. The Katana remained in production through the mid-aughts, though by the time the Hamamatsu firm pulled the plug on the bike, it'd become a far cry from the highly-recognizable first generation. So, when Suzuki released an updated version of the iconic Japanese motorcycle in 2019, riders were excited to see the manufacturer opted to stay true to the Katana's original design while bestowing it with a few modern aesthetic tweaks with sharper lines all around and a belly pan to round out the bottom of its silhouette.
At the heart of the new Katana is a modified version of the engine from the 2005-2008 model year Gixxer 1000, which, despite being a decade and a half old, hasn't grown long in the tooth. Modern performance, 1980s style, what's not to love?
Full-Faired Equivalent: GSX-R1000 ('05-'08 Gen)
Engine: 999cc Liquid-Cooled DOHC Inline-Four
Power: 147hp / 80ft-lbs
Weight: 474lbs (Wet)
Origin: Japan
MSRP: $13,499
Ducati Streetfighter V4 S
Pros
Fantastic-looking, ultra-aggressive naked Italian superbike
Features state-of-the-art tech & rider assist packages
Powered by MotoGP-derived V4 engine
Has winglet-equipped aero kit
Makes over 200HP, does 180mph, and 0-60 in 2.9 seconds
Cons
Expensive price & running costs
Best Overall Naked: Ducati previously sold naked, streetfighter-versions of its 848 and 1098 superbikes, though they were pulled from production around 2015. However, with the introduction of Ducati's recent V4-engined flagship Panigale model, the Italian firm is once again offered a Streetfighter in its lineup, and it's even more stunning than its predecessor. Sporting a Panigale tail and tank, and a modern interpretation of a streetfighter-style headlight, the naked Duck gains an angular belly-pan and radiator shrouds accompanied by aerodynamic winglets that generate approximately 20lbs of downforce at 93mph and roughly 75lbs at 186mph.
And with top speeds exceeding 195mph, these numbers are far from hypothetical. Crowned "Most Beautiful Bike" at EICMA 2019, (against some stiff competition), the Streetfighter derives its winglets and V4 engine design from Ducati's MotoGP program and keeps the latter in check via a sophisticated suite of electronic rider aids. The model's S-spec also gains Ohlins suspension and a few other performance parts that one would want on a 200hp+, 200mph motorcycle.
Full-Faired Equivalent: Panigale V4 S
Engine: 1,103cc Liquid-Cooled DOHC 90° V4
Power: 208hp / 90.4ft-lbs
Weight: 392lbs
Origin: Italy
MSRP: $27,795
Damon Hyperfighter Colossus
Pros
Extremely high-performance fully-electric naked superbike
Has 200hp, 170-mph top speed, & 2.7-second 0-60mph time
One of the smartest & most technologically advanced motorcycles on earth
Features onboard camera & radar systems
Equipped w/ top-shelf Brembo brakes & Ohlins suspension
Best Electric Naked: The Damon Hyperfighter Colossus is a state-of-the-art naked superbike equipped with remarkable performance capabilities and a 360° camera and radar system. Powered by Damon's HyperDrive system — the world's first monocoque-constructed, all-electric, multi-variant powertrain — the Hyperfighter Colossus boasts 200hp and 147.5ft-lbs of torque, translating to a 170-mph top speed and a 0-60mph time of 2.7 seconds.
On top of a 146-mile range, the Colossus-spec Hyperfighter also features top-shelf Brembo brakes and Ohlins suspension, a TFT display, and a single-sided swing-arm.
Full-Faired Equivalent: Hypersport HS
Engine: Proprietary Electric Motor
Power: 200hp & 147.5ft-lbs
Weight: 440lbs (Wet)
Origin: America
MSRP: $35,000
The Rest
Noteworthy Runner-Up Options
BMW S1000R
A decade-ago when BMW Motorrad released its S1000RR model, it revolutionized the superbike sector, with the potent Bavarian four-banger boasting a suite of ultra-cutting-edge electronics that genuinely made you a safer, better, and faster rider. A few years later in 2014, the German brand unleashed the naked version of the S1KRR that got the same frame, running gear, gearbox, and, liter-sized inline-four, though the latter of which has been massaged and retuned to make for a more streetable package. This means lowered gearing and more low-to-mid range oomph, allowing for better acceleration off the line at the cost of a lower top-speed – though, at nearly 160mph, the single R's maximum velocity is nothing to scoff at.
And while the full, asymmetrical shark-grilled fairing is no more, the roadster retains the superbike's bevy of impressive electronics, with launch control, a pit lane limiter, multidirectional quick-shifter, automatic stability control, and adjustable ABS that includes a race mode.
Full-Faired Equivalent: S1000RR
Engine: 999cc Liquid-Cooled DOHC Inline-Four
Power: 165hp/ 84ft-lbs
Weight: 452lbs (Wet)
Origin: Germany
MSRP: $13,945
Kawasaki Z H2
The first forced-induction production motorcycle to emerge since the "Turbo Wars" of the 1980s, Kawasaki's Ninja H2 (and mind-blowing track-only H2R) takes blistering performance to a new level, bestowing the standard 1,000cc inline-four superbike engine with a supercharger that allows for 200hp and just over 100-ft-lbs of torque. More recently, Team Green has unleashed a naked version of the supercharged four-banger designed to be a more practical and approachable machine as a whole.
You still get traction control, multiple ride modes, launch control, Kawasaki Cornering Management, a slipper clutch, electronic cruise control, and IMU-regulated ABS, though the exorbitant track-focused suspension and brakes on the Ninja H2 have been replaced with more road-oriented pieces of running gear. On top of being more ideal for pretty much every riding applications outside of the race track, these changes are partially responsible for the naked H2 coming in at a full $12,000 less than its fully-faired counterpart.
Full-Faired Equivalent: Ninja H2
Engine: Supercharged 998cc Liquid-Cooled DOHC Inline-Four
Power: 200hp / 101ft-lbs
Weight: 527lbs (Wet)
Origin: Japan
MSRP: $18,500
Aprilia Tuono V4 1100 Factory
Italian for "thunder," Aprilia's Tuono is a top-shelf naked model based on the Noale company's RSV4 superbike. To develop this two-wheeled scalpel, Aprilia turned to its Grand Prix racing program, which is the winningest European motorcycle company still competing in MotoGP with nearly 300 race wins and over three-dozen manufacturer's titles to its name. The base model Tuono is a truly stellar machine, good for taking on daily commutes, long-distance rides, canyon carving, and even the occasional track day.
Having said that, if you plan on spending the lion's share of your time in the saddle in the twisties or at your local race track, then we'd definitely recommend opting for the top-of-the-line Factory-spec Tuono. Alongside a bevy of carbon items, the 1100 Factory features Ohlins-developed Smart semi-active suspension, which offers multiple setting modes, as well as customizable tuning for different situations and speeds. And, while this last point is admittedly a bit subjective, Aprilia's current V4 produces one of the most beautiful exhaust notes of any engine on the market today.
Full-Faired Equivalent: RSV4 1100 Factory
Engine: 1,077cc Liquid-Cooled DOHC 65° V4
Power: 175hp / 89ft-lbs
Weight: 407lbs
Origin: Italy
MSRP: $19,599
MV Agusta Dragster 800 RR
MV Agusta unquestionably produces some of the most stunning motorcycles in the world, consistently seeing its bikes voted "Most Beautiful" at high-profile motorcycle shows. And the elite Italian brand's Dragster 800 RR is far from an exception. From the single-sided swing-arm that puts those gorgeous Kineo wheels on display to the stacked triple pipe exhaust to the angular radiator shrouds and headlight to the wholly unique seat with its open-mouthed taillight and negative space beneath its saddle, every aspect of the Dragster's design is simply breathtaking.
That's far from all the thing has going for it though. The bike comes with a full suite of modern electronic aids and top-shelf running gear. And, like any good triple should, the F3 engine packs an enormous punch and makes for an insanely torquey and smile-inducing riding experience. This may come at the sacrifice of a crazy-high top speed, though it makes for a far more enjoyable machine on the road. However, that's not to say the Dragster isn't right at home at the track, be it a road race course of the drag strip.
Full-Faired Equivalent: F3 800
Engine: 798cc Liquid-Cooled DOHC Inline-Three
Power: 140hp / 65ft-lbs
Weight: 370lbs
Origin: Italy
MSRP: $19,998
VYRUS 987 C3 4V
The most powerful production motorcycle in existence upon its release, the VYRUS 987 C3 4V is a Ducati-powered, hub-center-steered masterpiece that perfectly encapsulates the term "rolling exotica." Built around an Omega chassis that's entirely CNC-machined from aluminum billet, this high-dollar model is fitted with GP-grade componentry throughout and is draped in all carbon fiber bodywork. The boutique Italian firm's experience in premier class and Moto2 racing has afforded them an ability to build bikes that are as high performance as they are interesting to take in with the eye.
This is largely thanks to the ultra-lightweight billet frame and hub-center setup, which enables the 987 C3 4V to tip the scales at around the 350lb mark, which is pretty bonkers considering the size and power of its engine. And while these machines don't come cheap, it's important to note that each unit is bespoke and built to the specific customer's specs, and desired finishes and accessory options. Plus, for an extra €10,000 (roughly $11,800), VYRUS offers a supercharged version of the 987 C3 4V that increases horsepower by 27.
Full-Faired Equivalent: N/A
Engine: 1,198.4cc Liquid-Cooled DOHC 90° L-Twin (Ducati 1098 R Engine)
Power: 165hp / 99.6ft-lbs
Weight: 350.5lbs
Origin: Italy
MSRP: $77,000
The Best New Superbikes
Want to check out a few more performance-focused sportbikes? Then be sure to cruise over to our guide to the best superbikes for a look at today's latest and greatest fully-faired, road-legal track weapons.