Just like with cars, in motorcycling's infancy, goggles were widely utilized by riders, though as time marched on and new full-face helmets and visor-equipped 3/4 models began appearing on the scene, goggles largely fell out of favor in mainstream moto circles and would primarily be relegated to the off-road riding realm. For decades, things remained this way, however, not long after the turn of the millennium, modern-retro motorcycles would see a tremendous influx in popularity, giving way to not only a host of cafe racer, bobber, and scrambler models, but also an ever-growing selection of vintage-inspired riding gear to accompany these old-school-looking production bikes — very much including riding goggles.
The moto world's continued proclivity for all things retro means there are now more moto optics options to chose from than ever before. So, while this can make for a more intimidating shopping experience, the good news is that there is a small handful of models that stand head and shoulders above the competition, affording superior comfort, vision, protection, and technology. And it's this shortlist of products that we'll be exploring today in this guide to the best motorcycle goggles currently on the market.
The Best Motorcycle Goggles
Best Affordable Goggles

Biltwell Overland 2.0 Goggles

Best Mixed-Use Goggles

100% x Deus Barstow Goggles

Best Boutique-Made Goggles

Fuel Motorcycles FXS Goggle

Best Competition-Grade Goggles

100% Armega HiPER Mirrored Lens Goggles

Best Off-Road/ADV Goggles

Klim Edge Off-Road Goggles

Best Tear-Off Goggles

Fox Racing Vue Stray Roll-Off Goggles

Best Motocross Goggles

Oakley Airbrake Goggles

Best Heated Goggles

509 Aviator 2.0 Ignite Goggles
Eyeball Fortification Options
The Benefits Of Goggles Over Glasses
When purchasing moto eyewear there are two main options, glasses or goggles. Both will perform the same task of shielding your eyes from the wind — and usually the sun —, however, goggles offer the added benefit of a seal against the wearer's face, resulting in better protection from not only the wind, but also water, dirt, pebbles, mud, and other grime. On top of offering better adjustability and a more precise and snug fit, goggles are also a better choice for more off-road-focused riders, as they afford superior protection and coverage and almost always come in much more durable forms.
Attributes For Excellent Eyewear
The Most Important Factors To Consider When Buying Riding Goggles
Though there are dozens of different factors and variables to take into account when shopping around for riding goggles, at the end of the day, there are really only a few key areas one needs to think about before pulling the trigger on their purchase. So, with this in mind, we've briefly broken down each of these key elements directly below.
Helmet Type: Modern sunglasses will comfortably fit underneath the vast majority of moto lids, though the same can't be said for riding goggles. Goggles require either a 3/4 or enduro-style helmet with an open eye-port that can accommodate a goggle's frame and an area for running the strap around the back of the shell. For these reasons, you'll want to use your helmet (or helmets) as something of a jumping-off point to guide your moto goggle purchase.
Lens Construction: One of the most crucial factors to consider on any pair of moto-specific goggles is the lens type. Often composed of materials like polyurethane, crystal, and polycarbonate, quality lenses will typically boast anti-scratch and anti-fog protection. However, what ultimately distinguishes moto eyewear from regular run-of-the-mill items is the former's immense resistance to breaking and shattering. Many of these lenses are also offered in clear or tinted versions and in a variety of colors, a good number of which are mirrored or reflective.
Light Protection: On top of wind, dirt, and grime, motorcycle eyewear has to shield its wearer from the sun's rays. This means employing both tinted lenses, many of which offer UV protection. Widely utilized by endurance racers, there are also yellow-tinted lenses that are proven to bolster contrast and reduce eye fatigue. Today's sector also includes goggles with adaptive Transitions-style photo-chromatic lenses that darken when exposed to sunlight.
Lens System: Different lens colors and tints are intended for different conditions. Well aware of this, most of today's moto goggle brands now offer models with easy-to-use quick-release lens change — or "lens retention" — systems that allow the wearer to swap out different lenses on the fly, as needed.
Frame Construction: Next to the lens material and retention system, the most important part of a pair of goggles is undoubtedly the frame that they are constructed around. Just like with the lenses themselves, the companies making today's moto goggles typically utilize materials that are lightweight yet incredibly rugged and immensely resistant to shattering. This includes rugged polycarbonates, advanced composites, and proprietary constructions like NXT — the latter of which is an insanely shatter-resistant material that's often used to produce helicopter windshields.
Style: While you should be considering areas such as lens and frame constructions, there's nothing wrong with letting your decision be at least partially guided by your aesthetic taste. The good news here is that modern moto goggles tend to come in a relatively enormous range of color options and different designs. There are also tons of different straps that can be swapped out, all boasting different patterns and designs. It's also worth exploring some of the limited-edition versions of existing goggles from moto lifestyle brands like Deus Ex Machina, Troy Lee Designs, and Fast House.
Padding & Seal: A goggle's overall comfort and seal are both owed to the type of padding used. It's common for today's goggles to employ multi-layer, multi-density foam padding that increases comfort while keeping the elements out.
Technology: Alongside photochromatic lenses, there are quite a few other proprietary lens types and technologies that are utilized in today's industry such as Oakley's PRIZM and 100%'s HiPER and PEAKPOLAR lens tech.
Additional Features: For more specific or hardcore riding applications — such as winter riding or racing — manufacturers offer ultra-specific pairs of riding goggles that come equipped with special features. This includes posts for competition-style tear-offs and rolling or heated lens systems, just to name a few. If you plan on racing or taking on a lot of cold-weather riding, we'd highly recommend looking into goggles that come equipped with some of these supplementary features.
Safety Ratings: More than merely claiming to be shatterproof, many of today's most reputable motorcycle goggle manufacturers have received official government safety certifications or ratings that give a more objective sense of a given model's safety or shatter resistance — with the most common of these being the standard CE rating.
Biltwell Overland 2.0 Goggles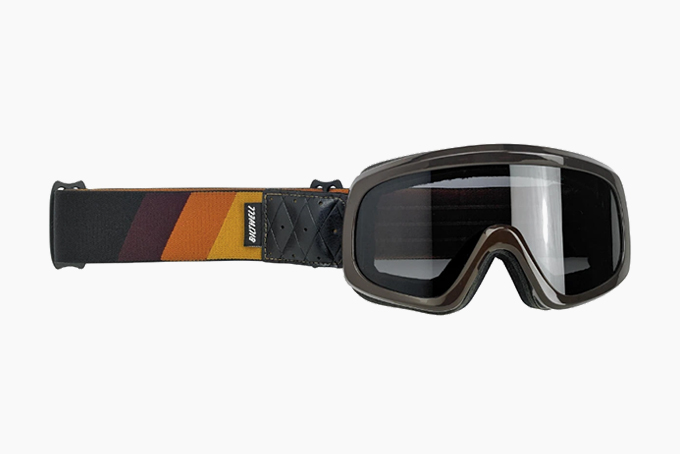 Pros
Offers great bang for your buck
Crafted around low-profile injection-molded polyurethane frame
Has ultra-shatter-resistant injection-molded, CNC laser-cut polycarbonate lens
Produced in 10 color options
Equipped w/ 3-phase BioFoam eye port padding w/ quilted fleece Lycra at touch points
Cons
Lacks premium fit & finish of more expensive pairs
Best Affordable Goggles: Biltwell's take on a top-shelf pair of high-performance riding goggles, the Overland 2.0 is comprised of an injection-molded thermoplastic frame paired with CNC laser-cut polycarbonate anti-fog lenses and a three-phase BioFoam eye-port padding setup with sweat-wicking quilted fleece Lycra touchpoints. Sold with a clear replacement lens, and a poly carrying sack, these CE-rated goggles also sport a woven elastic strap with embossed synthetic leather mounts with hand-stitched detailing.
Frame Construction: Injection-Molded Thermoplastic
Lens Material: Polycarbonate
100% x Deus Barstow Goggles
Pros
Vintage-inspired goggles w/ modern performance
Fitted w/ metal strap adjusters
Boasts genuine leather & suede strap trim
Excellent comfort thanks to triple-layer fleece-lined face foam
Best Mixed-Use Goggles: One of the most popular and influential retro-style goggles of all time, 100%'s Barstow model combines old-school aesthetics with the eyewear outfit's typical array of modern materials and construction techniques. Offering ample ventilation and protection from the elements, the Barstow features anti-fog and anti-scratch Dalloz Optics lenses, an embossed frame pinstripe with a genuine metal vintage snap, a triple-layer fleece-lined face foam configuration, and a strap with leather, canvas, or suede trim. As one of the most popular pairs of riding goggles on the market, 100%'s Barstow goggles have been produced in a slew of limited edition variants, including multiple LE models done in collaboration with Deus Ex Machina.
Frame Construction: Polyurethane & Metal
Lens Material: Dalloz Polycarbonate
Fuel Motorcycles FXS Goggle
Pros
Made in Italy
Has comfort foam w/ COOLMAX layer
Curved UV-protective lens is light sensitive & auto-tinting
Inspired by vintage beach race goggles
Cons
Unknown frame construction
Best Boutique-Made Goggles: Born out of a collaboration with Scalpers, Fuel Motorcycle's new FXS Goggle is a modern pair of moto eyewear that's inspired by the optics worn by 1950s beach racers. Italian-made, the FXS Goggle (short for Fuel x Scalpers) boast a multi-density foam padding setup with a COOLMAX layer, and a curved, UV-protective lens that is light sensitive and will automatically darken when exposed to sunlight. On top of featuring swappable straps, these goggles also come fitted with a silicone strip on the back of their stock strap that keeps it from slipping around the back of the wearer's helmet.
Frame Construction: N/A
Lens Material: Polycarbonate
100% Armega HiPER Mirrored Lens Goggles
Pros
High-performance goggles made specifically for racing
Constructed around bonded, dual-injection frame construction
Boasts force air intake ports
HiPER tech is injection-molded into shatterproof lenses
Sold in over a dozen color options
Cons
Not ideal for on-road use
Best Competition-Grade Goggles: The latest and greatest top-shelf pair of off-road-specific riding goggles from the undisputed leader of the moto optics space, 100%'s Armega goggles boast an impressive array of envelope-pushing features such as a bonded, dual-injection frame construction with contouring compression seal technology, force air intake ports, a sweat collection management and drainage system, and a perforated triple-layer face foam setup. Paired with an ultra-wide 48mm strap with silicon bead grips, these goggles also pack 100%'s proprietary HiPER contrast-enhancing 2mm-thick shatter-resistant lens that's set on a six-point locking tab quick-change system.
Frame Construction: Co-Molded Two-Piece Dual-Injection
Lens Material: Polycarbonate
Klim Edge Off-Road Goggles
Pros
Fantastic materials & build quality
Off-road goggle w/ innovative 2-part frame design
Boasts moisture-wicking face foam padding
Has clever quick-release magnetic side lock lens retention system
Cons
Somewhat expensive price (though well worth it)
Best Off-Road/ADV Goggles: The Edge Off-Road Goggles are touted by Klim (pronounced "climb") as being the world's first pair of frameless riding goggles. Offering a class-leading field of view, the Edge features a fog-free dual-pane lens with 3M gaskets, a quick-release slide-locking magnetic lens locking system, and thru-lens foam-filtered vents supplemented via perimeter frame vents. Boasting an ANSI Z87.1 impact safety rating, these UV-protective goggles also feature a streamlined design that reduces the buildup of snow or mud.
Frame Construction: Two-Part Outrigger
Lens Material: Polycarbonate & Cellulose
Fox Racing Vue Stray Roll-Off Goggles
Pros
Boasts integrated roll-off system
Also great for competition use
Has TruLock lens swap system
Features 360-degree venting hugely mitigates fogging
Cons
Extremely limited lens & frame color options
Rolls-offs cover less of visor than tear-off post strips
Best Tear-Off Goggles: Meeting ANSI Z87.1-2010 and EN1938:2010 standards for impact resistance, the Fox Racing Vue Stray Roll-Off Goggles is a competition-grade pair of MX goggles that are constructed around an outrigger frame composed of ABS and nylon and backed by a soft TPU faceplate that conforms to the contours of its wearer's face. On top of Fox's TruLock lens replacement system, an included dark gray lens, a silicone-backed 45mm strap, and 360-degree ventilation, sweat-wicking three layer molded foam, and antilog-treated injected polycarbonate lenses, these goggles also features an integrated 45mm roll-off system that instantly clears away any dirt, mud, or debris that's collected on the goggles with just the twist of a knob.
Frame Construction: Nylon & ABS Outrigger
Lens Material: Injected Polycarbonate
Oakley Airbrake Goggles
Pros
Rugged high-performance MX/SX goggles
1st ever MX design w/ pure Plutonite lenses
Uses Oakley's Switchlock technology
Sold in huge number of color options & patterns
Best Motocross Goggles: Another thoroughly cutting-edge take on a pair of MX goggles, the Oakley Airbrake consists of a rigid exoskeleton frame with a flexible O Matter faceplate, a moisture-wicking triple-layer fleece face foam setup, and pure Plutonite lenses mounted on the Switchlock quick-change system with an F3 Anti-fog coating. Both ANSI Z87.1 and END 1938-certified, this pair of goggles is also available with Oakley's proprietary PRIZM lens tech and is compatible with the eyewear brand's Race Ready 5mm Roll-Off canisters (two of which are included with each pair sold). This particular pair was born out of a collaboration between Oakley and Troy Lee Designs.
Frame Construction: Composite
Lens Material: Plutonite
509 Aviator 2.0 Ignite Goggles
Pros
High-end goggles w/ built-in heated lens system
Also great for snowmobiling & winter & alpine sports
Uses brand's 5MAG lens retention system
Outrigger configuration designed to pair w/ 509 helmets
Best Heated Goggles: When looking to engineer an ultra-advanced pair of off-road riding goggles for cold-weather conditions, 509 turned to a military-derived lens-heating technology, ultimately giving way to the second generation Aviator goggles. Built around a soft frame, these goggles sport a heated Ignite Toric Lens, the brand's 5MAG lens retention system, and a DC fan to further bolster airflow and anti-fogging capabilities. Capable of heating the inner lens to 104° F, this system also has multiple power/heat modes and up to five hours of battery life.
Frame Construction: N/A
Lens Material: Polycarbonate
The Best Motorcycle Sunglasses
Interested in checking out some additional moto optics options? Then be sure to head over to our guide to the best motorcycle sunglasses for ride-ready shades that can be used in or out of the saddle.