On the surface, motorcycles are simply an economical mode of transportation, however, over the more than century-long history of motorized two-wheelers, there's been no shortage of beautifully-designed models that are more akin to rolling pieces of art than they are simply a means of getting from A to B. Markedly more minimalistic than cars, scoots tend to put much of their engines and componentry on full display, requiring a markedly greater level of stylistic harmony between form and function.
So, while there's no shortage of keen-eyed individuals that have penned thoroughly iconic bikes over the years, there does exist a small handful of professionals that stand above the rest thanks to their innovative, influential, or just downright gorgeous designs. And it's this group of people that we'll be exploring today in this guide to the best motorcycle designers of all time.
Tadao Baba
Tadao Baba is a revolutionary Japanese motorcycle designer that played a key role in ushering in the modern supersport genre. Fresh out of high school, an 18-year-old Baba was hired by Honda Motorcycles in 1962 — less than a decade after the brand's inception — working his way up to the R&D department before later becoming a test rider, and then finally being handed the reigns to Honda's new sportbike project at the latter end of the 1980s. Also the winner of the 1970 Japanese 125 championship, Baba would use CAD technology to design the game-changing Honda CBR900RR (i.e. the first-generation Fireblade), delivering a 600cc i4 sportbike that weighed in at under 190kgs (418.87lbs) — favoring agility and cornering over raw straight-line speed, which was the trend at the time.
Oberdan Bezzi
Hailing from Italy, Oberdan Bezzi has been drawing motorcycles since he was a kid. Largely self-taught, Bezzi's designs would eventually capture the attention of local motoring magazines and then later big-name moto marques. Today, Bezzi churns out concept motorcycles on a near-weekly basis, and, despite the volume of his work, he still manages to deliver some seriously world-class designs, many of which combine unmistakably old-school aesthetics with modern motorcycle platforms. For contractual reasons, Bezzi can't actually reveal which production models he's penned, though we do know the list is fairly extensive and includes working for some of the biggest motorcycle brands on the planet.
Willie G. Davidson
William Godfrey Davidson — better known simply as "Willie G." — was born with motorcycles in his blood. The son of (the former) president of the Harley-Davidson Motor Co. William H. Davidson and the grandson of the MoCo's co-founder William A. Davidson, Willie G. served as the Black and Orange's senior vice president and chief styling officer, while also heading up H-D's Wauwatosa, Wisconsin-based Product Development Center — which was actually named after Willie G. Widely credited for helping to introduce the "factory custom" genre of motorcycles, Willie G. Davidson's tenure at Harley included designing the cruiser company's FXS Low Rider, FX Super Glide, and the legendary XLCR (with the "XL" denoting its Sportster base and the "CR" standing for "cafe racer").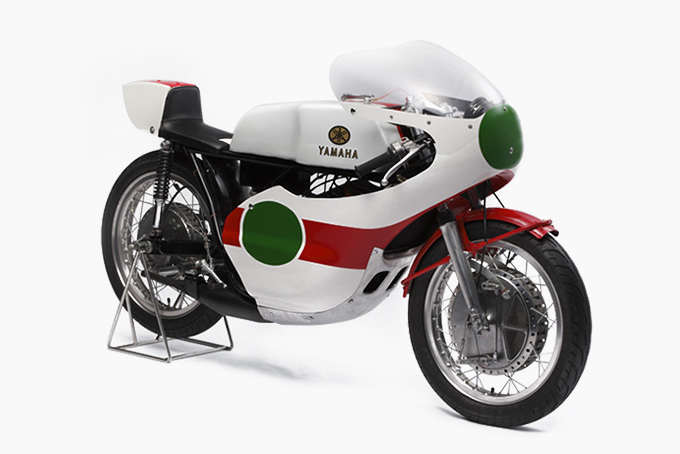 Kenji Ekuan
While probably best known for designing the iconic red-capped, teardrop-shaped Kikkoman soy sauce bottle that adorns the tables of thousands of restaurants across the globe, Kenji Ekuan's industrial design career also saw him penning numerous game-changing motorcycle models, namely for Yamaha. While working for the Japanese moto maker, Ekuan would be responsible for the Tuning Fork Company's VMAX muscle cruiser, as well as the wildly-successful two-stroke TZ series race bikes. What's more, Ekuan's prolific industrial design career also included him being the force behind Japan's iconic Komachi bullet train, as well as the author of the book, The Aesthetics of the Japanese Lunchbox.
Gianandrea Fabbro
No one individual has played a bigger part in developing Ducati's latest generations of superbike than Gianandrea Fabbro. After the mixed reception that the Bologna brand's 999 model received, Ducati tasked Fabbro — who is now a senior designer at the brand — with penning a successor to the triple-nine, ultimately giving way to the much more popular 1098 — a thoroughly modern design that was markedly more true to its Tamburini-designed 916 superbike predecessor. On the heels of the 1098, Ducati then tapped Gianandrea to come up with its next generation of superbike, resulting in the Italian outfit's current flagship platform, the utterly beautiful Panigale — an unmistakably Italian motorcycle that looks fast standing still.
Miguel Galluzzi
Easily one of the most highly-regarded moto designers in history, Miguel Angel Galluzzi built a name for himself when he designed the first-generation Ducati Monster — a wildly popular model created using largely off-the-shelf components. Galluzzi's career carries into more modern times as well, with the award-winning designer also being responsible for the creation of Moto Guzzi's California 1400 and V7 Racer, as well as Aprilia's Dorsoduro, Tuono, and RSV4 superbike. Galluzzi now heads up the Piaggio Advanced Design Center in Pasadena, California, where he is responsible for overseeing the industrial design of Moto Guzzi, Aprilia, and Derbi — all brands that, like Vespa, fall under the greater Piaggio umbrella.
Oscar Hedström
Born in Sweden in 1871 before immigrating to Brooklyn, New York at the age of nine, Carl Oscar Hedström was a pioneering engineer and designer who first honed his skills working at a watch shop before later applying his newfound mechanical expertise to the creation of bicycle components and motorized two-wheelers. Around the turn of the century, Hedström would meet cyclist George M Hendee of Springfield, Massachusetts — a chance meeting that would lead to the pair eventually launching the Hendee Manufacturing Company — an outfit that we now know today as Indian Motorcycle. In the Spring of 1901, Hedström would complete the first working prototype of a (pre-)Indian motorcycle — kicking off a long line of watershed motorcycle models and solidifying his position as one of the most legendary moto designers of all time.
Doug Hele
Born in Birmingham in 1919, Douglas Lionel Hele was a highly innovative and massively influential motorcycle designer that played a pivotal role in creating the British motorcycle industry and bolstering its global reputation as a market leader. Though Hele worked for Douglas, BSA, and Triumph, he's probably best remembered for being the force behind Norton's utterly game-changing Featherbed-framed Manx racer. Additionally, Hele also designed the fairly game-changing Norton Dominator, plus he was responsible for helping to improve upon the parallel-twin engine of the Triumph Bonneville T120. Interestingly, toward the tail-end of his career, Hele also briefly worked as an automotive designer for Ford.
Phil Irving
Vincent motorcycles were wildly ahead of their time, absolutely blowing away the competition and remaining ahead of the curve for several decades. The bikes' phenomenal performance capabilities were primarily owed to the brilliant design of their frame and engines — game-changing items penned by one Phil Irving. On top of working for Velocette, the latter end of Irving's career also saw him designing and developing engines for mid-'60s era Formula One race cars. In 1976, Irving was also awarded an MBE from Queen Elizabeth II, which should give some sense of how significant this man's design career truly was.
Mitsuyoshi Kohama
Mitsuyoshi Kohama is another massively important Japanese motorcycle designer, being the person responsible for bringing Big Red's ridiculously exotic, oval piston-equipped NR750 superbike to market — an insanely groundbreaking model that even helped inspire Ducati's 916. Kohama's career at Honda also saw him design numerous other iconic sportbikes such as the VFR750, the Japanese-market NS400R, and the RC211V MotoGP prototype race bike — the two-wheeled track weapon that's laid the foundation for Honda's current crop of MotoGP missiles.
Ola Stenegärd
Originally born in Sweden, Ola Stenegärd is another renowned and impactful motorcycle designer that not only boasts world-class design chops, but also a tremendously diverse range of styles. Stenegärd previously worked for BMW Motorrad, penning the first generation S 1000 RR superbike, as well as being the force behind the Bavarian brand's wildly successful — and custom-friendly — R nineT. More recently, Stenegärd has taken a position serving as the Director of Design for Indian Motorcycle and is now helping the Polaris-owned outfit better position itself in the modern world — and take an increasingly large share of the cruiser market.
Massimo Tamburini
If we were forced to select a single individual to crown as "the best motorcycle designer of all time," it would almost certainly have to be none other than Massimo Tamburini. Frequently touted as the "the Michelangelo of motorcycles," Tamburini is renowned the world over for his quintessentially exotic and unmistakably Italian designs, such as the MV Agusta F4 and the legendary Ducati 916. Tamburini was also one of the three founders of Bimota alongside Valerio Bianchi and Giuseppe Morri — with the marque's monicker being a combination of the first syllables of the founders' surnames, with Tamburini being responsible for the "ta" portion, naturally. Shortly before passing away in the Spring of 2014, this legendary designer also penned his namesake superbike, the ridiculously premium, track-only T12 Massimo.
Shunji Tanaka
Around the turn of the millennium, Kawasaki was looking to break away from the bulbous and round-edged bikes of the '90s and lean into a new, more modern, sharper, and more aggressive direction with models like the Ninja 650 (or ER6N) and ZX-6R. These Team Green bikes were penned by designer Shunji Tanaka, who is praised for his outstanding designs as well as his lasting influence on contemporary models. Interestingly, Tanaka — who sadly recently passed away in late December of 2021 — is also highly regarded in the automotive space, as he was also responsible for penning the first-generation Miata during his time working as Mazda's Chief Designer.
Pierre Terblanche
If you've generally been a fan of Ducati's motorcycle lineup since the turn of the 1990s, then you're almost certainly a fan of Pierre Terblanche, as this South African-born British designer has been responsible for a slew of game-changing Ducks. This includes the track-only, 916-inspired Supermono, the first-generation Multistrada (DS), the Sport Classic (and PS1000LE), the MH900e, the 999 superbike, and the Hypermotard, just to name but a few. Terblanche has also designed ultra-exotic muscle cruiser bikes for Confederate (now known as Curtiss), and in 2019 was also called upon by Blackstone Tek to pen the company's absolutely stunning HyperTEK electric motorcycle.
Craig Vetter
Only the second American designer on this list, Craig Vetter may not have designed all that many production bikes, though his contribution to motorcycling is as immense as it is undeniable. An entrepreneur as well as a noted designer, Vetter is best-known for his unique style of ultra-aerodynamic bodywork such as his "Windjammer" fairing. What's more, alongside his range of bodywork and motorcycle parts, Vetter was also the force behind both the Kawasaki KZ1000 MKII-based "Mystery Ship" and the equally beautiful and idiosyncratic Triumph X-75 Hurricane — the latter of which boasted a striking triple-stacked exhaust setup and a single-piece tank, seat-pan, and side panels item — further demonstrating Craig's brilliant eye for design when it comes to penning bodywork.
The 12 Best Automotive Designers of All Time
Interested in doing some additional reading on some more of the most heralded vehicle designers in history? Then be sure to cruise over to our guide on the best automotive designers of all time for a look at a dozen of the most legendary individuals ever to pen a car.