Whether you are a driver or just a spectator in the crowd, racing is an experience unlike any other. Besides the adrenaline-triggering, heart-pumping action and the variety of racing styles, the sport isn't bogged down by venue standardization. Go to any football, soccer, hockey, or basketball stadium and you'll be looking down at what is – for all intents and purposes – the exact same field, rink, or court. And while that's great for keeping competition fair, it doesn't offer much in the way of variety. Not the case with racetracks. Each one is distinct and unique in its own way. Even NASCAR tracks come in different shapes and lengths.
Furthermore, since racing is a primarily outdoor sport, there's also the added benefit of getting to enjoy the environment that surrounds the tracks. It gives them character outside of just their shape and length. Travel across the United States and you'll find beautiful tracks in every locale, from the sun-drenched California wine country to the wooded hills of the northeast. So, if you're looking to hop on your bike, get in your car, or you just want to see some folks go really fast, the following courses are the best race tracks in America.
Circuit Of The Americas
Just outside of downtown Austin, Texas, this 3.41-mile track is situated on 1,500 acres of rolling hills. And, although it is home to what is now the only USA-based F1 race – the United States Grand Prix – this facility offers far more than just open-wheel racing. In fact, people travel here from far and wide to watch the X Games, MotoGP, the FIA World Endurance Championship, sports car championships, and more. It even hosts a number of non-racing events, including large scale concerts in its Austin350 Amphitheater – which is fitting, considering the city is the world's live music capital. Whether you want to watch some fast pace motor vehicle racing, catch your favorite bands, or even take to the track on your bicycle (an experience offered every Tuesday night), you can do it all at the Circuit of the Americas.
Location: Elroy, Texas
Length: 3.427 Miles
Racing Type: F1, Endurance, Motorcycle/Superbike, EV
DAYTONA INTERNATIONAL SPEEDWAY
Florida is home to a lot of racetracks. So it's saying a lot that this is – by far – the state's most famous. Not only is it home to the Daytona 500, but it has consistently been hosting championship-level races for more than half a century. For reference, Dale Earnheardt Sr. – arguably the greatest NASCAR driver of all time – won a total of 34 races at this Daytona Beach track across his career. Needless to say, this speedway might just be the most historically significant stock car track in the United States, with Indianapolis its only true competitor. Daytona International Speedway also appeared in the 80s movie Days of Thunder (starring Tom Cruise), is one of the locations to host the Richard Petty Driving Experience, and offers private track rentals for events on non-race days.
Location: Daytona Beach, Florida
Length: 2.5 Mile Tri-Oval, 3.56 Mile Sports Car Track, 2.95 Mile Motorcycle Course, 1,320 Foot Flat Track
Race Type: NASCAR, Sports Car, Motorcycle, Kart, Powerboat
INDIANAPOLIS MOTOR SPEEDWAY
Famous for housing the Indy 500, this Indiana raceway is heralded as the "Racing Capital of the World." And while you could argue either for or against that moniker, there's no denying the significance of this track to the racing industry. Not only has there been racing events hosted there going as far back as 1909 (with their first event, believe it or not, being a balloon race), but the venue has been home to everything from motorcycle championships, to NASCAR, to Formula 1, and plenty of stuff in-between. In fact, Indianapolis now also hosts one of the coolest racing spectacles to behold currently: the Red Bull Air Race. If you happen to be in the Indianapolis, Indiana area the next time the Red Bull Air Race is in town and you've never seen plane racing, you should absolutely try to check it out. Trust us – it's incredible.
Location: Indianapolis, Indiana
Length: 2.5 Mile Rectangular Oval, 2.605 Mile Infield Road Course
Race Type: NASCAR, F1, Open-Wheel, Motorcycle, Vintage
LIME ROCK PARK
Nestled in the woodlands of Litchfield County, Connecticut, Lime Rock Park has been in continuous operation since 1957 – making it the longest-operating road racing circuit in America with the exact same track as when it originally opened. It's also the venue out of which the Skip Barber Racing School (one of our picks for the best driving experiences) is offered. While it is relatively short – measuring at just 1.5 miles of track – it's also a deceptively difficult course to drive well that traverses both hills and dales throughout its length. And while it played host to a number of big-name professional drivers (including Mario Andretti, Dan Gurney, and Skip Barber), it was also one of Paul Newman's favorite tracks to drive after he fell in love with the sport following some leading rolls in some car movies.
Location: Lakeville, Connecticut
Length: 1.5 Miles
Race Type: Varying Automotive & Motorcycle
LAGUNA SECA
Just over 20 miles from the nearest beach and less than two miles off the Monterey Salinas Highway in California sits the over 2.2 miles of beautiful paved track known as Raceway Laguna Seca. Famous for a blind crest leading into a 3-story drop turn – called The Corkscrew – this racetrack plays host to everything from F1 racing events, to the Superbike World Championship, to individual driving experiences, and plenty of other offerings both professional and amateur. And while its name was recently changed to reflect its primary sponsor, this historical track has been in operation since 1957 – making it one of the longest continually-operating tracks in the United States. If you're visiting the west coast and you either want to watch some racing or perhaps get out on the pavement yourself, there are few places as superb as Laguna Seca at which to do it.
Location: Salinas, California
Length: 2.238 Miles
Race Type: Varying Automotive & Motorcycle
ROAD AMERICA
Established in 1955 – making it older than both Raceway Laguna Seca and Lime Rock Park – this racetrack is about halfway between Milwaukee and Green Bay in a town called Elkhart Lake in Wisconsin. The 640-acre grounds feature a legendary 14-turn road circuit, a Motorplex for both karting and super moto, and the Road America Motorcycle and Advanced Driving Schools. On top of that, this track also plays host to a number of different driving experiences, an off-road track, zip-lining, a disc golf course, and both foot and cycle courses. But don't worry if being a spectator is more your speed, because there's an ever-rotating host of professional racing events which you can attend throughout all 12 months of the year. In fact, you can even buy a season pass that will get you onto the grounds year-round regardless of the event.
Location: Elkhart Lake, Wisconsin
Length: 4.048 Miles
Race Type: NASCAR, Sports Car, Superbike, Off-Road, Varying Automotive & Motorcycle
SONOMA RACEWAY
Second only on the west coast to Laguna Seca, Sonoma raceway is a brilliantly designed 2.52-mile 12-turn road course built into the hills of California's wine country. It also features a 1/4-mile drag strip; has hosted racing's biggest and brightest including Mario Andretti, Dale Earnhardt, Jeff Gordon, Dan Gurney, and more; and features an average of 340 days worth of track activity every year – making it one of North America's busiest racing facilities. The track also offers a whopping 160 feet of elevation change from its highest point to its lowest, while the greater facility is also used as a recycling drop-off, houses 4,000 sheep used to maintain the grounds, and has been in operation for over 47 years.
Location: Sonoma, California
Length: 2.52 Mile Main Circuit, 1.95 Mile Chute Circuit, 440 Yard Drag Strip, 2.22 Mile Motorcycle Circuit,
Race Type: NASCAR, Sports Car, Superbike, Off-Road, Varying Automotive & Motorcycle
UTAH MOTORSPORTS CAMPUS
There are few facilities in the world as comprehensive as the ones at the Utah Motorsports Campus. Not only does UMC have a full host of road tracks, but it's got a series of off-road courses, a kart center, serves as festival grounds, and even offers up some on-foot obstacle course events. Not to mention it is out of UMC that Ford runs their Performance Racing School – a comprehensive series of courses for new Ford vehicle owners and fanatics where you can drive Mustangs, the brand's BOSS 302 race car, and their F-150 Raptor. And it helps that this series of tracks and driving experiences is nestled within sight of the Rocky Mountains, because the only thing that makes driving on an excellent course is getting to do so with beautiful vistas all around you.
Location: Tooele, Utah
Length: 4.486 Mile Main Circuit, 3.048 Mile Outer Circuit, Two 2.2 Half-Circuits, Off-Road Course
Race Type: Varying Automotive & Motorcycle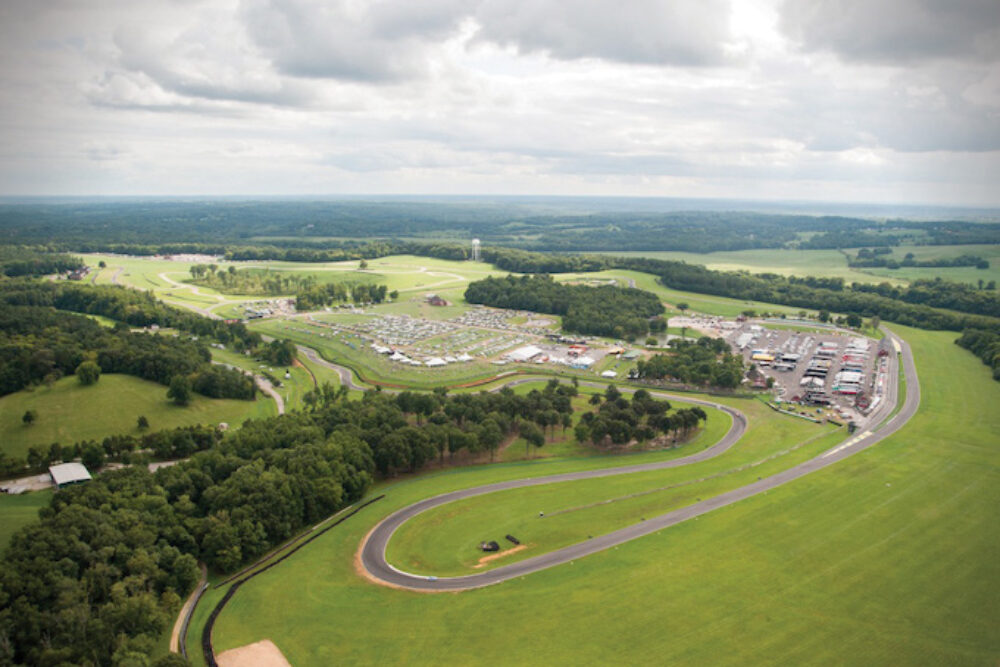 VIRGINIA INTERNATIONAL RACEWAY
At the Virginia International Raceway, 3.27 miles of pristine track runs through the lush green countryside on 1,300 acres of land at the Virginia-North Carolina border. Although it started off as a humble local paved racetrack, the space has since transformed into one of the largest and best motor vehicle facilities in the nation. In fact, VIR plays host to an industrial park that houses the SoVa Motion Vehicle Lab, operated by the Virginia Tech Transportation Institute. Even better, this series of courses is also a popular testing location for everyone from NASCAR to the Sports Car Club of America. As if that wasn't enough, there's even an on-site shooting range, a spa, and a few full restaurants (in conjunction with normal concessions).
Location: Alton, Virginia
Length: 3.27 Mile "Full Course," 1.1 Mile "Patriot Course," 2.25 Mile "North Course," 1.65 Mile "South Course"
Race Type: Varying Automotive & Motorcycle
WATKINS GLEN INTERNATIONAL RACEWAY
Located at the southern tip of Seneca Lake in upstate New York in a town with which it shares a name, Watkins Glen International Raceway has hosted races as far back as 1948 – back when races had to take place along public roads. It wouldn't even get its own fully-paved permanent track until 1956. But, since then, it has been one of the all-time most popular American racing courses for professionals, amateurs, and spectators alike. In fact, this facility is widely known as the Mecca of North American road racing. It features a number of different configurations of varying length, which can be changed in accordance with race requirements and vehicles used, and – as is the case with many of these large-scale driving facilities – it has also served to host a number of different events, including concerts featuring the likes of The Allman Brothers Band, the Grateful Dead, The Band, and more.
Location: Watkins Glen, New York
Length: 3.4 Mile Grand Prix Course, 3.40 Grand Prix Course With Inner Loop, 2.454 Short Course,
Race Type: Varying Automotive & Motorcycle
The Best Road-Legal Track Cars
Ok, so now you where you're heading, but you still need a car to hit the track. Be sure to check out our guide to the best road-legal track cars.