Though named for stealth, sneakers can make a loud statement about who you are and what you value. Sneakers, or trainers, can be bold and dynamic, or they can discreetly dance the line between professional and leisurely. They can be artfully integrated into all kinds of outfits. Even a suit and tie ensemble can be punctuated by the right pair of sneakers. The versatility of sneakers is matched only by the diversity of aesthetics available on the market today.
In terms of price, a pair of sneakers can run the gamut. A good pair of sneakers should be an investment worthy of much consideration – but that doesn't necessarily mean paying a high price. Plenty of companies outside the conventional consortium of athletic apparel offer shoes that are comfortable, uniquely stylish, and cheap. Avoid the hurtles of overpriced footwear with this list of the 15 best sneakers under $150.
25th Anniversary Sandlot PF Flyers
To many, Benny "The Jet" Rodriguez's PF Flyers from the 1993 classic "The Sandlot" symbolized speed, and the magic and whimsy of being a kid. Benny's character put stock in the PF Flyers avowal that he would "run faster, jump higher" with these shoes. To celebrate the film's 25th anniversary, PF Flyers released a limited edition commemorative colorway. These stylish sneaks even come in a dilapidated box to replicate Benny's cherished make-due cleats that made him a sandlot legend. Just like "the Jet," the allure of these classics will never die.
Chuck Taylor All Star Canvas High-Tops
Chuck Taylor was a decent basketball player, but his iconic status really originates from his skill as a salesman. Taylor managed to convince an entire generation that his canvas and rubber high tops were the secret ingredient to elevate them to stardom on the hardwood. Though as athletic apparel, they are archaic and cumbersome in comparison to the synthetic mesh with which Nikes and Adidas are now made, Chucks still have a clean vintage look as a lifestyle sneaker.
People Footwear The Nelson
People footwear makes shoes for the people, by the people. Designed for comfort – and for those who shirk the foot-prisons known as socks – these knit sneaks are little sweaters for your feet. But don't fret the sweaty implications. A patented Supercush sock liner is removable and washable, should there be a stench afoot.
Native AP Mercury Liteknit
The Greek courier-god Mercury was equipped with angelic little wings on his feet to keep him light on his feet, so that he could fly amongst the celestial bodies. We lesser apes with unadorned ankles are forced to take the next best option – the AP Mercury LiteKnit Sneakers from Native. The highly breathable, permeably-knit Mercury's do their best impression of the messenger god's winged boots, by being lithe and light as a feather.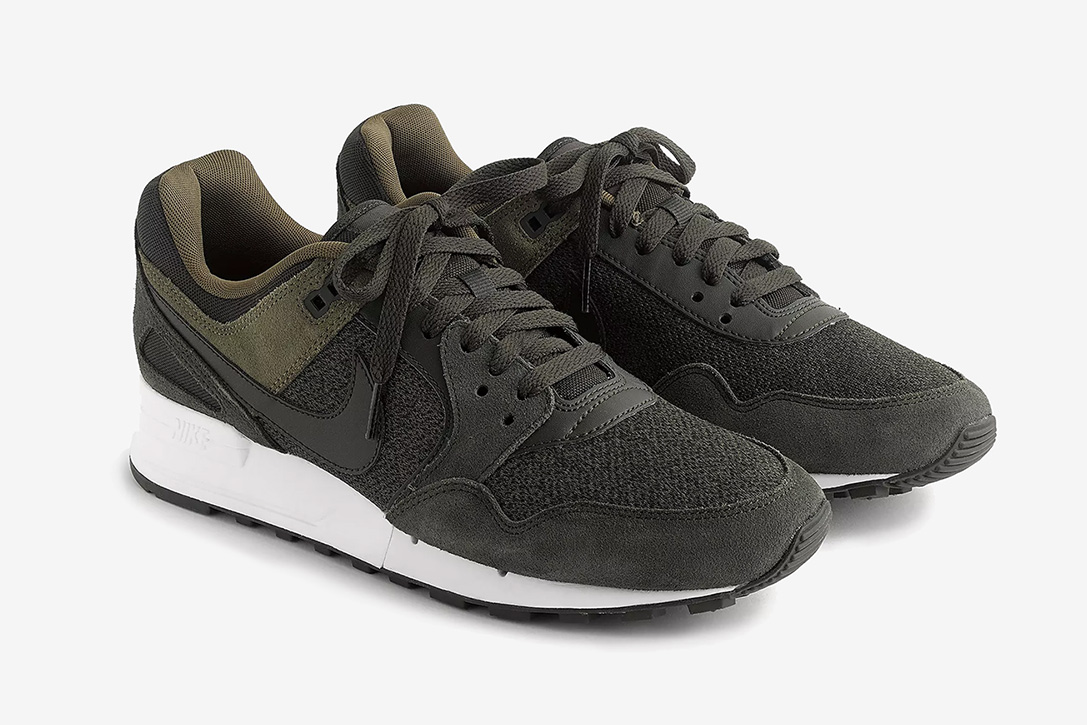 Nike Air Pegasus
Another shoe named for a winged deity, the Nike Air Pegasus is leaving the stable of the Nike archives and coming back after a three-decade hiatus. Among the toughest running shoes on the list, the Nike Air Pegasus will carry you with colt-like muscularity across trails and hikes, along with treadmills and tracks.
All Birds Tree Runners
All Birds offer a natural alternative to the synthetic materials that constitute most shoes these days. Made from an organic Eucalyptus tree fiber, wearers of All Birds will be arboreally enlivened by the comfortable, breezy material. Make like a tree, and leave your old, synthetic sneakers behind for new photosynthetic ones.
Greats The Rosen Perforated
The Rosen Perforated sneaker from Great boasts durability of super-heroic proportion. Though not infused with Marvel hero Black Panther's signature element Vibranium, The Rosen Perforated's outsole is forged of Vibram rubber, the same durable stuff that forms the mold of most hiking toe-shoes.
Vans White OG Old Skool
Founded in 1966, Vans are a fixture on the feet of skaters – and people who generally appreciate a comfortable, classic shoe. These low-top, grained leather all-white vans are definitively OG and authentically old school. A versatile sneaker, rock these vans with your Thrasher tee or a button-down, skinny jeans or slacks.
SeaVees Racquet Club
The Racquet Club Resort in Palm Springs, California was a star studded sinecure that often hosted stars like Paul Newman and Marilyn Monroe in the 1950s and '60s. The stars of the tennis circuit passed through, too, and SeaVees has produced a tennis shoe to toast the icons of yesteryear, both the athletes and the idols. The raw but sporty sneaker is swathed in a steel-colored suede for a timeless appeal. These SeaVees are good for any occasion, whether you're rallying, or rubbing elbows with the elite.
Tretorn NYLITEXAB4
Tretorn's Nylite sneakers have the spartan aesthetic of a Vans authentic, with an added utility: when hit with direct light, these shoes become luminescent. Daytime wear offers a minimal versatility, while nighttime wear will set your outfit off (or make you an obvious obstacle for passing cars during a late-night jog).
New Balance 247 Luxe
The New Balance 247 Luxe supplies luxury, 24/7 with its foam interior and pig suede exterior. The patented REVLite midsole cushioning make the 247 Luxe's feel like walking on a cloud, inducing comfort for everyday wear and athletic use.
Nike Air Max 90 Leather
The Nike Air Max 90 is as classic as Coca-Cola. The astronomic-inspired design has been beloved by sneakerheads since it first launched in 1987. While maintaining the essentials of its exterior – designed by legendary Nike designer Tinker Hatfield – the inner environs of the Air Max have been updated for comfort, to keep wearers' feet aerated and cool in the all-leather sneaker.
Adidas I-5923 Shoes
These meshed-out Adidas sneakers are revamps of retro archivals from the 1970s, when Adidas came into its own and finally surpassed Converse as the premier name in basketball shoes (before inevitably being overtaken by Nike in the '80s). These runners feature a molded-foam sole and a breathable mesh upper so this sneaker can groove with your foot.
Shoes Like Pottery O1JP
Shoes Like Pottery prides itself on its meticulous and personal craftsmanship, and the OJ1P is an exemplar of that attention to detail. These canvas sneakers are the artisanal cheeseburger to Chuck Taylors' Big Mac – hand stitched in Japan, kiln-fired, and branded with a wax stamp style sole decal, the Shoes Like Pottery O1JP are sculpted for style and comfort.
Converse x John Varvatos Chuck II Herringbone
John Varvatos is a menswear designer known for his tasteful and urbane apparel. But underlying his refined products, there has always existed an unrestrained, frenetic energy, which Varvatos attributes to his passion for Rock 'n Roll. Using the Chuck Taylor II as his Canvas, Varvatos crafted a sneaker that pays homage to the austere rawness of rock. An insole made of Nike Lunarlon cushioning is wrapped in perforated microsuede and fabric lining, to let you rock out in comfort.