While different forms of hunting sometimes require vastly different types of gear, there's at least one constant each and every hunter should carry along with the rest of his haul: a knife. While folding blades are excellent for everyday carry applications, they leave much to be desired when it comes to the great outdoors. As a result, we are firm believers that any hunter worth his mettle should make sure that his cutting tool of choice is a fixed blade.
However, even with the style of blade narrowed down that far, there are a lot of options available for purchase — many of which that are cheap in their overall quality and construction. To ensure that you're getting the best bang-for-your-buck (no pun intended), we've put together the following list of the best hunting knives for the great outdoors. Most of these were designed specifically for hunting applications and some of them have a few extra tricks up their sleeve, but — whatever the case — they all make superb tools to be used in "the chase."
The Best Hunting Knives
Best Value Knife

Morakniv Companion Fixed Blade Knife

Best Affordable Knife

Gerber Moment Fixed Blade Knife

Best Tactically-Inspired Knife

KA-BAR Becker BK2 Campanion Fixed Blade Knife

Best Vintage-Style Knife

Case Large Buffalo Horn Hunter Knife

Best Bowie-Style Knife

Buck Knives 119 Special Heritage Series Fixed Blade Knife

Most Unique Hunting Knife

Helle Knives Arv Traditional Scandinavian Fixed Blade Knife

Best Overall Knife

Benchmade 15002-1 Saddle Mountain Skinner Fixed Blade Knife

Best Boutique/American-Made Knife

Montana Knife Company The Blackfoot Fixed Blade 2.0
Fixed Vs. Folding
A Quick Primer
Whether you're a die-hard hunter or you're just looking for a solid outdoor-focused cutting tool, you might be wondering why we are so against putting folding blades on this list. After all, there are so many really excellent folders on the market — many of which make great trail companions. Well, the reason is simple: folding blades have a lot of moving parts.
Moving parts means there's more of a chance for them to fail while you're using them — be that by breaking at the pivot point or by becoming jammed with mud, dirt, sand, or even blood and guts. Even knives that are easy to field strip still require much more attention than the most basic of fixed blade knives. It is for this reason that we believe the best hunting knives, simply by virtue of their fuss-free construction and simplicity of maintenance when compared to folders, must be fixed blade knives.
A Hunter's Edge
The Main Factors To Consider When Buying A Hunting Knife
As far as knives go, the blades made for hunting tend to be fairly straightforward. With that said, there are still a few factors that are crucial to take into consideration prior to making your purchase. Below, we'll briefly touch on the most crucial areas to think about before pulling the trigger on buying a hunting knife.
Size: Unlike bushcraft and survival knives – which admittedly can be used for hunting, especially in a pinch — hunting knives don't need to be massive, and in fact only need a blade length of a few inches to get most jobs done when used for hunting applications. Typically, most hunting knives will have blades spanning somewhere between 2" and 4", with some being slightly larger.
Blade Profile: Whether its a drop point, a spear point, a trailing point, a clip point, or sheepsfoot, or a tanto, the shape of a hunting knife's blade will play a major role in the type of tasks that it best lends itself to, as profiles with more pointed tips will offer better-piercing abilities but won't offer the same level of integrity or strength as a tanto.
Blade Steel: The type of steel that a hunting knife's blade is composed of will directly determine how tough it will be, how well it will resistant corrosion, and how well it will hold an edge — as well as how easy it will be to resharpen that edge, as the properties that make for these harder blade steels and enable them to have better edge retention also make them more difficult to sharpen.
Blade Thickness: Because hunting knives are engineered for hard use, it helps to have a blade with a decent thickness, as this will allow for a more rugged and structurally-sound knife. It is worth mentioning, however, that a thicker blade will also hinder cutting prowess, though so long as the blade is kept sharp, this shouldn't be a major issue.
Handle Material: The type of construction used to craft a hunting knife's handle will play a huge role in the handle's overall strength and durability, as well as its grip — though this latter area is also owed to whether or not the handle construction has been bestowed with any type of texturing or pattern to bolster traction.
Craftsmanship: While the materials that comprise a knife are important, so too is how well and how carefully those materials have been constructed, pieced together, and finished. There are undoubtedly large knife companies that undeniably produce excellent, finely-crafted hunting knives, though it's very seldom that the bigger players in this space can compete with the meticulous craftsmanship offered by boutique brands — though again, there are definitely exceptions.
Sheath: An unprotected blade is likely to be damaged or to cause an injury, and as fixed blades, without the ability to be folded up, hunting knives pretty much always require a sheath. For this reason, practically every halfway-decent model on the market comes paired with a sheath of some kind, however, these sheaths can massively range in quality, as well as in construction, with these items being crafted fro everything to CORDURA to leather to Kydex to nylon.
Ease Of Servicing: Unlike EDC knives, hunting knives are routeinyl exposed to all manner of dirt and grime. As such, hunting knives that have serrated — or partially-serrated — edges, lanyard holes, skeletonized handles, or other small openings or recesses, will ultimately be more difficult to clean and service. As a result, it's important to look at a knife and think about how easy it will be to clean, service, and sharpen after being used in the field — as proper maintenance plays a key role in the longevity of any outdoor blade, with hunting knives being far from an exception.
Warranty & Factory Servicing: As much as we enjoy sharpening and servicing our own knives — and trust us, we really do — there's nothing quite like having a well-used and well-worn blade returned to its former glory with a full factory refurbishment and edge. And, while it's typically only offered by the more premium brands or on more high-end models, the MSRP of quite a few hunting knives includes the ability to send the thing back to the factory for free refurbishment, cleaning, and sharpening ay any time. Most will even reshape the blade if needed. There are also some brands that offer these services for a fee — albeit one that's well worth it every few years if the knife is getting frequent use. A great many of the best hunting knives on the market also come backed up by generous, often lifetime warranties, as well.
Morakniv Companion Fixed Blade Knife
Pros
Outdoor knife offering unbeatable bang-for-your-buck
Price includes polymer sheath & lifetime warranty
Sold in 12+ different color options
Made in Sweden
Cons
Very thin blade at only 0.10"
Lacks fit & finish of more premium knives
Polymer sheath's fit wears & loosens over time
Best Value Knife: Don't let this cutting tool's laughably low price fool you, as it's still one of the best outdoor knives of all time, period. Honestly, nothing you can find out there has quite as much value at such a low cost. From its comfortable and ergonomic rubberized handle to its Sandvik stainless steel blade, this knife is dependable across the board — whether you're hunting large or small game, waterfowl, or even just fishing. And while you might think a part of this knife's value comes from its easy replaceability, you should also know that it comes with a limited lifetime warranty against manufacturing defects. That way, if it fails you through no fault of your own, the brand will replace it for you, free of cost.
Blade Steel: Sandvik 12C27
Handle Material: Rubber
Overall Length: 8.60"
Gerber Moment Fixed Blade Knife
Pros
Full-tang mid-sized hunting-specific knife sold at very fair price
Blade features gut hook
Sold with included nylon sheath
Rubberized handle is comfortable & affords stellar grip
Cons
Unspecified, presumably bottom-shelf blade steel
Best Affordable Knife: Offering pretty unbeatable bang-for-your-buck, the Gerber Moment Fixed Blade Knife is a sub-$30 blade that comes backed by a lifetime warranty. Designed specifically for outdoor use and hunting applications, the Moment is comprised of a drop point blade fitted with a textured rubber handle. Spanning 8.63", this full-tang knife also features an integrated lanyard hole and an included nylon scabbard. And while we prefer the fixed blade version for reasons outlined above, Gerber does produce a folding knife that's nearly identical to the fixed blade version (save for the holding blade obviously) known as the Freeman Guide Knife.
Blade Steel: Stainless Steel
Handle Material: Rubber
Overall Length: 8.63"
KA-BAR Becker BK2 Campanion Fixed Blade Knife
Pros
Has ultra-beefy 0.25" thick blade
Handle shape & material affords fantastic grip
Offers ample durability & versatility for a variety of outdoor uses
Made in America
Best Tactically-Inspired Knife: While most folks know Ka-Bar best for their mil-spec fighting fixed blade knives, that's far from all the brand makes. And, while you could certainly get away with using their USMC Fighting Knife for hunting applications, we think their Becker BK2 Companion is a bit more suited to the task. Designed by Ethan Becker, a top-tier knife designer and maker, this beefy full-tang fixed blade was specifically made with outdoor applications in mind. It's got a full-tang 1095 Cro-Van steel blade, which is as reliable as it is easy to sharpen, mated to an ultra-durable Ultramid handle. It also includes a glass-breaker tip on the hilt, comes with a hard shell black nylon sheath, and was made here in the USA. Really, what more could you ask for?
Blade Steel: 1095 Cro-Van Steel
Handle Material: Ultramid
Overall Length: 10.50"
Case Large Buffalo Horn Hunter Knife
Pros
Classically-styled knife made using traditional handle materials
Designed specifically for hunting & outdoor use
Made in America
Protected by lifetime warranty
Best Vintage-Style Knife: Traditionally speaking, the best hunters in the world try to make a habit out of using every part of the animals they kill — including the bones. Case's Large Buffalo Horn Hunter knife is a modern throwback to that attitude and a fitting tribute coming from an American brand that's been in the game for more than a century at this point. This stunning knife also gets major style points for its saber-style Tru-Sharp surgical steel blade, which goes perfectly with its sturdy natural handle and premium leather sheath. Of course, along with the brand's legendary quality, this knife also has their lifetime warranty, so you never have to worry about it letting you down.
Blade Steel: Tru-Sharp Stainless
Handle Material: Horn
Overall Length: 9.0"
Buck Knives 119 Special Heritage Series Fixed Blade Knife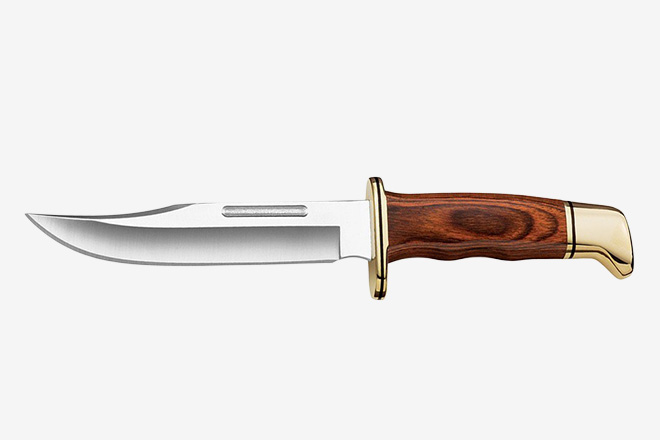 Pros
Classic Bowie-style blade made from modern D2 steel
Clip point blade offers excellent piercing prowess
Beautiful fit, finish, & trim
Cons
Unnecessarily large
Handle would benefit from texturing
Best Bowie-Style Knife: With a name like Buck Knives, you'd expect this brand to have at least one good hunting knife in their repertoire — and you'd be absolutely right. In fact, they have quite a few. Our absolute favorite, however, has to be the 119 Special. From its incredibly gorgeous cocobolo wood and aluminum handle to its bowie-style clip-point D2 steel blade, this cutting tool is the perfect balance between style and substance. And they didn't stop there; this thing is also perfectly balanced for the ultimate in cut control, comes with a high-quality snap-fastening premium leather sheath, is proudly made in the USA, and has a lifetime warranty. Truly, it doesn't get much better than this iconic heirloom blade.
Blade Steel: D2
Handle Material: Cocobolo Wood & Aluminum
Overall Length: 10.5"
Helle Knives Arv Traditional Scandinavian Fixed Blade Knife
Pros
Traditional Scandinavian knife design
Fitted w/ decorative handle
Blade comprised of carbon core laminated between 18/8 stainless steel
Made in Norway
Cons
Decorative handle is devoid of texture & lacks grip
Most Unique Hunting Knife: If there's a group of people you can trust to make solid outdoor hunting gear, it's the Scandinavians — as they've been doing it and doing it well for generations at this point. And while you might expect the descendants of Vikings to prefer hulking battle axes, you'll actually more frequently see arguments made for smaller, purpose-driven tools. Helle's Folkekniven hunting knife is one such argument. Featuring a stunningly beautiful curly birch wood and staghorn wood handle with leather spacers mated to a sturdy and reliable triple-laminated 18/8 stainless steel blade, this compact outdoor cutting tool is a gorgeous addition to any outdoor gear loadout. It also comes with a simple, but handsome simple leather sheath — ideal for both belt and backpack carry.
Blade Steel: High-Carbon & 18/8 Stainless Steel
Handle Material: Birch, Staghorn Wood, & Leather
Overall Length: 7.50"
Benchmade 15002-1 Saddle Mountain Skinner Fixed Blade Knife
Pros
Super premium take on a hunting knife
Offers excellent ergonomics & grip
Extremely durable thanks to stellar build quality
Features full-tang blade composed of top-chef CPM S90V steel
Cons
Expensive price
Sheath not MOLLE compatible
Best Overall Knife: The Benchmade 15002-1 Saddle Mountain Skinner Fixed Blade Knife is a premium outdoor hunting knife made from a spare-no-expense material selection. Measuring 8.70" overall, the Saddle Mountain Skinner features a top-shelf full-tang CPM S90V blade culminating in a 4.20" drop point profile with a plain edge that benefits from the use of Benchmade's proprietary SelectEdge technology. The knife features Richlite handles paired with orange G-10 liners and a stonewashed blade finish, plus is sold with an orange Boltaron sheath that matches said G-10 liners. Jimping at the base of the blade provides improved grip for harder tasks while the same texturing at the mid-point of the blade's spine affords grip for finer applications. In typical Benchmade fashion, this knife comes at a financial premium, though the immense quality and craftsmanship make this fixed blade's MSRP worth every penny.
Blade Steel: CPM-S90V
Handle Material: Richlite & G10
Overall Length: 8.70"
Montana Knife Company The Blackfoot Fixed Blade 2.0
Pros
Expertly-designed compact yet utilitarian knife
Made in America in small batches
Outstanding build quality & materials
Produced in multiple blade steel options & handle colors
Price includes Kydex sheath & free factory refurbishment for life
Cons
Could benefit from a slightly-thicker blade
Expensive price
Best Boutique/American-Made Knife: Crafted by hand in small batches in Montana, the Montana Knife Company Blackfoot Fixed Blade 2.0 is an ultra-rugged and ultra-premium boutique-made knife designed by master bladesmith John Smith. Spanning just 7.75" overall, the knife was designed to be compact and lightweight yet extremely utilitarian, with a 3.5" blade composed of either CPM MagnaCut or Parkerized, cryogenically treated 52100 high-carbon ball-bearing steel. Sold with an included click-in Kydex sheath with a reversible quick-attach belt clip, the full-tang American-made blade construction comes cloaked in a set of G-10 handles that are offered in a variety of color choices. And, while it does come at a premium price, this knife not only boasts excellent quality and a top-notch fit and finish, but its price also includes MKC's free "Generations" program which will clean, sharpen, and repair, and (if needed reshape), the blade of this knife for life — literally guaranteeing a lifetime of use.
Blade Steel: 52100 High-Carbon Steel (Or CPM MagnaCut)
Handle Material: G-10
Overall Length: 7.75"
The Best Bushcraft Knives
Want to check out an additional selection of ultra-rugged outdoor-ready blades? Then be sure to head over to our guide to the best bushcraft knives for a handpicked list of incredibly tough and remarkably utilitarian bush-focused fixed blades.