Whether performing skilled labor or grunt work, those who work with their hands are abundantly aware of how crucial it is to protect these vital extremities, be it from impacts, cuts, vibration, abrasions, or cold weather. And when it comes to fortifying your fingers, knuckles, and palms, nothing beats a proper set of work gloves. Having been utilized by countless generations across a host of different industries ranging from heavy-machinery mechanics to ranch-hands to dockworkers, there's a diverse array of different types of work gloves currently on the market, all varying in their intended application and overall quality.
So, in order to help you sort through the multitude of today's work gloves, we've scoured numerous segments within the sector to help bring you a comprehensive guide to the finest work gloves money can currently buy. So, whether you're looking for a highly-cut-resistant pair for metalworking, a dexterous pair for fine-tactile work, a warm set of work mitts for readying an arctic base-camp, or anything in-between, this list of the best 15 work gloves has got you covered.
The Merits Of Hardwearing Wearables
What to consider when buying work gloves
Unlike most regular or winter gloves that simply protect your paws from dirt, grime, and cold-weather, work gloves have to be able to perform these feats while simultaneously standing up to the rigors and stresses of daily use. For this reason, the quality of the materials and construction used in a work glove is of extreme importance, as this is what largely determines their overall lifespan and how well they withstand daily wear and tear.
There are numerous types of work gloves, each differing in their intended application. A glove's application is what determines which amenities and features it has, such as cold-weather gloves that boast insulation and/or weatherproof membranes, or reinforced palms and stitching for repeated daily lifting. And, while work gloves need to be extremely durable and robust, they can't overly-inhibit tactile feel and dexterity to the point where it becomes difficult to work with your hands and perform your necessary tasks.
Certain applications require specific degrees of protection, and while terms like "abrasion-resistant" are helpful, it's far more useful getting an objective metric such as an EN 388 or ANSI cut, abrasion, or impact rating. These certifications explain the exact strengths and limits of these aforementioned protective areas. There are also some modern work gloves that offer supplementary amenities, such as increased grip, or added support/ wrist protection when lifting heavy objects. It's also well worth keeping an eye out for ultra-rugged materials like Dyneema and Kelvar.
Versatility is another area that should be taken into consideration when shopping for a work glove. While this purchase should primarily be guided by your intended application, it never hurts to consider a work glove's potential secondary uses, as the right model will also easily double as a mechanic glove, camping glove, winter hiking glove, or even motorcycle gloves when in a pinch or in need of a second pair for a pillion.
Carhartt Insulated Suede Work Glove
There are some timeless winter workwear items with such efficient designs, that they've gone largely unchanged for generations, with one such example being Carhartt's Insulated Suede Work Glove. The American outfit's take on a classic ranch-style work glove, these manual labor mitts sport a classic silhouette but are made from the Carhartt's signature duck cotton canvas, supplemented by suede reinforced palms, fingers, and knuckles, and a polyester lining. 100-grams of 3M Thinsulate insulation enable these gloves to stand up to cold-weather work conditions while reinforced stitching and stripe-designed backs and safety cuffs complete the package.
Carhartt Chore Master Glove
Designed to withstand the abuse of hard daily use, the Chore Master Glove features heavy padding and reinforcement to the areas of a glove that face the most frequent and intense wear and tear. This means a cotton, polyester, leather, polyurethane blend construction fortified via palms and thumb patches reinforced with inserts made from Carhartt's System 5 synthetic suede. There's also an upper elastic wrist closure supplemented by an adjustable hook and loop wrist-closure that keeps the gloves firmly in place even under heavy lifting or during twisting motions.
Flylow Tough Guy Glove
Aesthetically-inspired by 1970s-era work gloves, this offering from Flylow combines old-world materials and craftsmanship with modern technology and construction. Built around a hand-worked pigskin leather shell backed by a SnoSeal water-repellent treatment, these vintage-inspired gloves feature ribbed cuff wrist closures to trap in heat and Spaceloft micropuff insulation to retain it. The materials allow the glove to protect its wearer from the bitter cold, scratches, and mild impacts, without compromising dexterity. The aptly-named Tough Guy Glove is also protected by a limited lifetime manufacturer warranty.
Uline S-15355 Heavy Duty Gription Gloves
The heavy-duty member of Uline's Gription Glove lineup, these indoor/out-door appropriate gloves were specifically designed to perform lifting applications. The glove sports an ultra-grippy synthetic hexagonal finger and palm pattern, TPU finger and knuckle protection, and stretchy, breathable backs, but what really sets these gloves apart from other modern items on the market, however, are their wraparound padded Velcro wrist straps, which act similarly to weight lifting gloves and provide extra support and leverage when lifting heavy items.
MCR Safety MC503 UltraTech Mechanics Gloves
In certain applications such as metal fabrication or when working with rusty cars, boats, or buildings, cut protection can be of extreme importance, and when it comes to a contemporary work glove that offers unrivaled slash resistance without coming at the cost of precise tactile feel, it truly is hard to beat MCR Safety's MC503 UltraTech. The open-cuff glove features a pull-tab, wing thumb, premium goatskin palm, and an ultra-cut-resistant lining that calls on DSM Dyneema Diamond Technology. The entire glove also boasts TPR protection on the knuckle and finger backs, and DuPont Kevlar reinforcements in the glove's high-stress areas.
Biltwell Work Gloves
Part motorcycle glove and part work glove, this three-season item from motorcycle gear brand, Biltwell is made from heavy-duty cowhide with double-layered suede palm panels, moisture-wicking 9oz fleece tricot half-liner, and vibration-mitigating padding, all backed by single and double-needle polyester stitching throughout. Also available in brown and black color options, the gloves have adjustable wrist openings with embossed leather closures and elastic gathers, and accordion baffles on the middle and trigger fingers, adding equal parts style and functionality.
The North Face Summit Work Glove
The North Face's Summit Work Gloves inject materials and construction techniques used in the outdoor brand's hardwearing mountaineering and outdoor jackets to deliver a high-performance leather work glove designed for low-temperature applications. The outside of the glove is equipped with a pebbled cowhide leather shell and palm, while inside the wearer is protected from the cold thanks to a polyester brushed tricot lining and 60-grams of PrimaLoft Silver insulation. These gloves are also offered in multiple colors, are machine-washable, and are backed by a lifetime warranty.
Mechanix Wear Durahide M-Pact Insulated Driver F9-360
Though Mechanix Wear is best known for its immensely popular mechanic gloves, the company makes a host of high-quality products for other applications as well, including work gloves. This particular offering provides robust protection from just about anything you could face on the job site, with heavy TPR knuckle, finger, and thumb guards with ANSI Level 2 impact protection, PrimaLoft 100g Gold performance insulation to keep your hands warm even in sub-zero weather, and shell and internal HPPE liner construction made from Mechanix Wear's proprietary DuraHide Resist Leather which affords (EN 388) Level 4 abrasion resistance and ANSI A9 cut resistance.
Filson Original Goatskin Glove
While cutting-edge technologies and construction techniques do admittedly allow for some stellar offerings, sometimes proven designs, bolstered by fine materials and American craftsmanship can ultimately yield something equally, if not even more impressive results, case in point being Filson's Original Goatskin Gloves. Made in America from fine-grain, Grade-A, American-sourced goatskin leather, these timeless work gloves feature an elastic wrist opening for easy donning, winged thumb design for increased an unrestricted range of motion, and seamless palms for added comfort when gripping and lifting.
Danner Glove Bison
When Danner Boots set out to create a line of hardwearing American work gloves, rather than starting from scratch, the company joined forces with Centralia, Washington's Geier Glove Company, calling on the fabled glove brand's more than nine decades of experience to deliver a heritage brand-quality work mitt. Made in America from American ranch-raised bison leather, the construction's material is soft, yet extremely durable, lending itself particularly-well to vigorous daily use. Danner also offers a handful of additional gloves, including lined models, as well.
Hestra Skullman Work Gloves
Sporting the classic silhouette of a ranch-style glove, Hestra's Skullman Glove is a versatile item completely adorned in ethically-sourced goat leather that is tanned using natural tannins like those found in tree bark, seeds, and leaves. Light padding throughout makes them more conducive to all-day use, while the glove's pastel cuff affords them a unique appearance. And, while these are unlined gloves, they can be ordered in a size or two too large in order to fit a glove liner underneath for added warmth when needed.
Mountain Hardwear Route Setter Alpine Work Gloves
Working with freezing hands in frigid conditions isn't just unpleasant, it's downright painful. But when the job needs to be completed regardless of how far the needle plummets, it's best to have an extra-warm pair of gloves like Mountain Hardware's Route Setter Alpine Work Gloves. Ultra-rugged, these gloves are constructed from a 330D plain nylon weave with goat leather palms with Dyneema overlays in high-stress areas and Kevlar-threaded reinforcements. Unparalleled warmth comes from the glove's use of PrimaLoft Gold synthetic insulation with Cross Core technology that's backed by NASA-developed Aerogel. And, despite their bulky appearance and immense warmth, these gloves still provide pretty solid dexterity.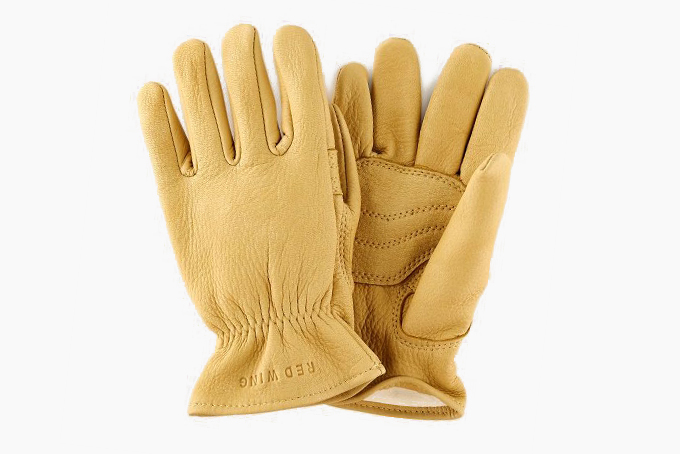 Red Wing Heritage Lined Buckskin Leather Glove
Exuding the same craftsmanship and heritage quality as the American brand's legendary footwear lineup, Redwing Boots' Lined Buckskin glove is a premium winter work glove with 40-grams of Thinsulate lining. Available in four colors, the glove is made from chrome-tanned 3.25oz buckskin leather with reinforced palms with dual buckskin overlays. Pinched fingertips for added dexterity and durability and double-stitching in the glove's high-stress areas round out this impressive made-in-America offering.
Give'r 4-Season Gloves
Thoroughly modern gloves with an old-school work glove aesthetic, the Give'r 4 Season Gloves use a unique blend of premium leather and synthetic technologies to produce a multi-layered wearable that can insulate its user from 300-degree heat and sub-zero temperatures alike. Tested and developed in some of the world's toughest locales before being manufactured by hand in America, this glove's protective abilities are made possible thanks to a Thinsulate liner, synthetic insulation, and a cowhide leather exterior that's tanned for weather-resistance before being given a Hipora membrane, collectively making them windproof, waterproof, and even impervious to hot coals.
Deus Ex Machina Darby Wipe Gloves
A hardwearing work glove from the custom motorcycle and lifestyle powerhouse that is Deus Ex Machina, the Darby Wipe Glove is a modern iteration of a classic minimalistic work glove. Made by hand in Japan and sold in black or the traditional work glove yellow/gold hue, the Darby wipe is constructed from Napa cowhide leather and features elastic cuffs, reinforced palms and trigger finger overlays, double-stitching in key stress areas, and subtle debossed "DEUS" branding on the cuffs. The gloves get their name from a soft microfiber-like strip that runs the entire length of the glove from the cuff to the tip of the trigger finger, providing a means of brushing off sanded-down Bondo or wood-shavings or simply wiping the sweat from your brow.
The 25 Best Men's Workwear Essentials
With your glove situation sorted, you're going to want to start building out the rest of your workwear wardrobe, and when in the market for new workforce wearables from head to toe, there's no better jumping-off point then our guide to the best men's workwear essentials.