Mar 21, 2022
Category: Gear
When the refreshing autumn air gives way to bone-chilling winter weather, many runners will see this as a sign to take their training indoors — or, in some cases, wait it out until spring. And while treadmills in and of themselves are perfectly useful pieces of equipment, given consistent enough usage, they become monotonous, mind-numbing hamster wheels. It's pretty much an unavoidable reality and one that can prove quite taxing when it comes to your motivation to stay consistent. Sure, we all have our mornings when we don't feel like going on a run, but it's a slippery slope that can quickly undo all of your hard-earned progress.
So, instead of treating winter training as something to be avoided, you should view it as an exception to the expected. But in order to keep up your running routine throughout the cold, you need to have some shoes that are up to the task. Any old runners won't do — they have neither the proper materials nor the right amount of traction to keep you upright and running safely. Rather, you need some shoes that are warm, water-repellent, and — most importantly — grippy. Obviously, your specific requirements will differ based on where you live, but overall, winterized running shoes are pretty similar in principle. Below we've broken down some considerations to get you started, before diving into our picks for the best winter running shoes.
Equipping Yourself For Success
What To Watch For
When it comes to shopping for winter running shoes, it's not as easy as looking at stack heights and midsole materials. Rather, you also have to consider what kinds of season-specific features they include. What follows are some important considerations to keep in mind during the buying process.
Traction: Above all else, you need to get a shoe with plenty of all-weather traction, because it only takes one false step for you to wind up injured and out of commission for the upcoming spring race schedule. The key here is to look for models with a deeply lugged, evenly spaced outsole pattern — too close and you won't get much grip; too far apart and you'll be skating between each stride. While they don't necessarily need to be trail-specific, these days, road shoes are using less and less outsole rubber (if not forgoing it altogether) in order to save on weight. Needless to say — you'll be incurring unnecessary risk if you decide to use these on anything less than perfectly dry pavement.
Weatherproofing: Anyone who's run in the rain will tell you — sodden shoes are a squelchy annoyance on the best of days and a blister-inducing nightmare on the worst of them. Given the unpredictability of winter weather, it's to your advantage to invest in a model with some added weatherproofing provisions. Not only will you save yourself the frustration of trying to avoid puddles; you'll also keep them from becoming too cold when the temperature starts to take a dive. It's worth noting that although many shoes on the market will use GORE-TEX for their breathable yet heat-retentive properties, there are plenty of in-house alternatives that'll get the job done just as well.
Coverage: Insulation on its own isn't enough — you also have to consider the type of coverage a shoe provides. That's because once water gets inside, no amount of GORE-TEX (or any other performance fabric, for that matter) will be enough to ensure your feet stay warm and dry. Many winterized running shoes will come with some sort of extended heel collar for a bit of extra coverage. In many cases, this will closely resemble that of a hiking boot; however, shoe manufacturers are beginning to use materials that are much more akin to a second skin, overlaid on top of the laces and secured with a fastener above your sock line. The former tend to offer more support while the latter makes for a much more natural running motion.
Fasteners: By and large, most running shoes will stick to traditional laces with slight variations in material and eyelet pattern. And it's for good reason: it's proven to work. Even still, BOA and other alternative fastener designs are seeing increasing application amongst running shoes for their ease of adjustability and, where our guide is concerned, their winter-ready reliability. To put it another way — if you've ever tried to untie a set of ice-encrusted laces with gloved fingers, you'll know that it's all but an impossible task. If you find yourself frequently barreling through snowdrifts, we can't stress enough how much better-suited a shoe with some BOA dials will be.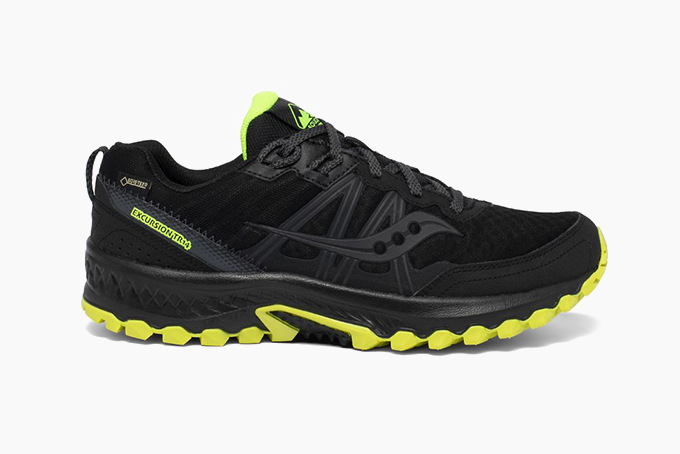 Saucony Excursion TR14 GTX
Just because you're looking to keep up your running routine year-round doesn't mean that you have to spend a fortune on some shoes that are up to the task. On the contrary, with its GORE-TEX insulation, 6mm outsole lugs, and protective mesh upper, the Excursion TR14 comes with everything you need to hit the snow — at just $100. And because it rides on Saucony's VERSARUN cushioning, your feet will stay fresh and protected through each step.
Nike Pegasus 37 Shield
Nike's weatherized Shield series continue to rank amongst the better winter-ready running shoes on the market. This one takes the 37th iteration of the venerable Pegasus and adds to it a durable water repellent shroud as well as some reflective laces to keep you visible. What's more, it features Nike's Storm-Tread, a specially textured outsole that uses micro grooves and multidirectional shapes to shed water and keep you making consistent pavement contact. Think of these puppies as tires for your feet.
Merrell Nova 2 GORE-TEX
Were you to pair the comfort of a running shoe with the durability of a hiking boot, the result would be the Merrell Nova 2, an offering that gives you the best of both worlds without the unwanted compromise. So, in addition to a lightweight EVA midsole and a heel-mounted Merrell Air Cushion, it also comes with a rock plate for protection, a Vibram TC5+ outsole for traction, and a GORE-TEX membrane bonded with an InvisibleFit construction (meaning it feels like any standard running shoe).
Topo Athletic Ultraventure Pro
If you're unfamiliar with Topo Athletic, allow us to turn you onto the brand with the Ultraventure Pro. Underfoot, you'll find a midsole made from 3-piece ZipFoam, a material that's as responsive and springy as it is structured and supportive. And when it comes to the lug pattern, it uses Vibram's Megagrip — the gold standard in wet weather grip and confident footing throughout slippery conditions. Sure, it doesn't come with the insulated upper of our other picks, but it features strategically placed mesh for excellent drainage ability.
Asics GEL Trabuco 9 G-TX
Although Asics was once on the verge of industry obsolescence, it's since had a running shoe renaissance in which nearly every one of its offerings has seen a major overhaul. The GEL Trabuco 9 GTX is one such shoe, with a new design that includes a new rockered outsole, an up and downhill lug pattern, as well as a rock protection plate. Add to that a DUOMAX support system for lateral stability and a waterproof GORE-TEX upper to keep your feet dry, and the result is a shoe that's well-equipped for whatever the weather has in store.
HOKA Challenger Trail Low GORE-TEX
Given its roots in high-cushioned ultra-ready trail shoes, HOKA is a brand that's all too familiar with runners who train no matter the weather. Their Challenger Trail Low GORE-TEX is a case in point, for it pairs a Nubuck leather upper with a GORE-TEX bootie underneath, ensuring that it's not just durable and hard-wearing but also waterproof and breathable. And because it rides on an early-stage meta rocker geometry, an oversized EVA midsole, and an all-terrain 4mm lug pattern, it makes for a great door-to-trail option, equally at home on the pavement as it is out in the rough stuff.
New Balance Fresh Foam 880v10 GTX
Sure, New Balance Fresh Foam 880v10 GTX may be a shoe intended for all-weather training, but it's much more than a one-trick winter pony. That's because it's based on New Balance's 880v10, a dependable daily trainer for racking up miles no matter what speed. In practice, this means it sports a lightweight Fresh Foam midsole for superior cushion, a textile upper for a comfortable instep, as well as a blown rubber outsole for improved rebounding. And of course, because it comes with GORE-TEX fabric and Invisible Fit technology, it's fully waterproof and exceptionally breathable.
Brooks Cascadia 15 GTX
With each iteration, the Brooks Cascadia is a trail shoe that's grown increasingly durable, protective, and smooth-riding, so it should come as no surprise that version 15 would be the best one yet. Turns out, it's also chock full of winter-ready features, such as a sticky TrailTack outsole, front and rear gaiter attachment points, and even a lace keeper to keep things neat and tidy. And thanks to its incorporated Brooks' Pivot Post System, it's both incredibly stable and also impressively versatile over any and all terrain.
Salomon Sense Ride 3 GTX Invis Fit
Salomon is one of the biggest names in trail running, and it's pretty easy to see why with offerings like the Sense Ride 3. Underfoot, it includes a full rubber Contagrip outsole, allowing for confident traction no matter the conditions. What's more, it sports Salomon's trademark Quicklace system, an addition that makes for easy adjustment with just a single pull. Top it off with a SensiFit construction for a secure feel and GORE-TEX insulation for added waterproofing, and you have a shoe that's ready for the worst winter has to offer.
Inov-8 Terraultra G270
At first glance, Inov-8's Terraultra G270 might not seem like a shoe ripe for winter running; however, in that respect, you'd be wrong. Because the outsole is made from graphene-enhanced rubber, it's incredibly grippy and long-lasting. In fact, compared to other compounds, it's proven to be 50% stronger, harder-wearing, and more elastic. And that's not all — thanks to the Terraultra G270's water-dispersion channels and forefoot flex grooves, it not only efficiently sheds moisture underfoot but also actively molds around obstacles for improved agility.
Altra Lone Peak All-Wthr Mid
While most people are hesitant to try running in higher-cut shoes, the extra coverage makes them an excellent winter weather option. And besides, with its responsive EGO midsole, natural FootShape design, and balanced zero-drop cushioning, Altra's Lone Peak All-Wthr Mid is one hiker-inspired shoe that's more than runnable. Plus, thanks to its dense Duratread rubber and canted Trailclaw lugs, you can rest assured knowing that you'll have superior grip from step to step. And because it features an interior eVent bootie, it's completely weather-resistant.
Under Armour Hovr Phantom 2 Coldgear Reactor
If you're looking to make strides in improving your running efficiency, look no further than Under Armour's Hovr Phantom 2 Coldgear Reactor. Thanks to its built-in Bluetooth connectivity, it's compatible with UA MapMyRun, allowing for both in-depth data tracking as well as real-time form coaching. And when it comes to its winter-readiness, the Hovr Phantom 2 has protective provisions in spades, with ColdGear Reactor insulation to keep your feet toasty and a UA Storm upper to make sure that water beads right off.
La Sportiva Blizzard GTX
As its name implies, La Sportiva's Blizzard GTX is a shoe that comes with everything you need to make it through dark days of winter and into the mild mornings of spring. For starters, a stretchy ankle gaiter prevents unwanted moisture ingress and a TPU toe cap protects against unseen obstacles in the snow ahead. Underneath, it features a grippy outsole with removable metal spikes for guaranteed grip over ice. Less of a running shoe than it is a winter-ready workhorse, La Sportiva's Blizzard GTX is one offering that can't be beaten.
Icebug NewRun BUGrip GTX
For most manufacturers, winterized running shoes are more of an afterthought than they are essential. However, Icebug is an exception to the rule, because it doesn't just have a couple of winter-ready runners — its entire lineup was created with slick conditions in mind. Take the NewRun BUGrip GTX, for instance. It pairs a GORE-TEX upper with an easily-adjustable BOA dial, a combination that makes for nigh-on unrivaled cold weather preparedness. And because it rides on a wide base with 17 steel studs in the sole, they'll keep your feet firmly planted and glued to the ground.
Adidas Terrex Agravic TechPro Trail
Although the Adidas Terrex Agravic TechPro Trail carries quite the premium when compared to our other picks, it's one offering that's well worth the added expense. That's because it offers features like a high-cut water-repellent sleeve upper, a BOA Fit System closure, and a grippy rubber outsole made by none other than Continental Tires. And because Adidas used its Boost foam for the midsole, you better believe that the Terrex Agravic is comfortable as all get out underfoot.
The 10 Best Running Jackets For Men
Winter running shoes are just one way you can prepare yourself for cold weather training; however, you'll also need some outerwear to protect your upper body. Rather than continuing to running in that tired old college hoodie, check out our guide to the best running jackets for men.
HiConsumption is reader-supported. When you buy through links on our site, we may earn an affiliate commission. Learn more