The winter weather can be harsh on your body, especially if you're an unwavering runner who doesn't stop making rounds around your neighborhood even when it's freezing. Many people focus on covering up their legs and grabbing a snug hoodie, which makes absolute sense, but don't sleep on keeping your hands warm. Keeping your hands warm and protected with quality winter running gloves will keep them serviceable and prevent your skin from cracking.
When it comes to running gloves, you can drown in the options available. So, we've decided to give you a hand and gather the best gloves for winter running. In our search, we focused on identifying pairs with comfortable materials, sweat-wicking capabilities, and sufficient ventilation. We've taken into consideration numerous brands and models, filtering pairs that are the most suitable for cold-weather runners. Whether you're training for your next full marathon, preparing for another 10K run, or just continuing your morning mile ritual, you'll find a pair of gloves suitable for your training regimen.
The North Face Runners 2 Etip Gloves
These mid-weight gloves will keep your hands heated, so you can still feel your fingers after a long cold-weather run. They're made with weather-resistant fleece with a lightweight soft-shell at the back for protection against moisture and wind. To ensure you can get solid a grip on your phone and any other small everyday essentials, the gloves feature silicone prints at the palms. Rounding out the features to make these some of the best gloves you can get your hands in are pull-on webbing loops, brushed fleece for wiping your nose, and reflective logos for night visibility.
Smartwool Merino 150 Gloves
Smartwool's cozy Merino 150 gloves are mid-weight warmers to keep your hands from freezing. These breathable, soft gloves have a second-skin feel and are made of durable core-spun merino fibers for longevity. They also have a touch-screen compatible thumb and index finger, in case you need to respond to important text messages, skip to the next track on your run playlist, or snap a selfie. Weighing in at just 2.5 oz, these gloves won't weigh you down so your running motion won't be interrupted.
Zensah Smart Running Gloves
Using advanced fabric technology, Zensah's lightweight Smart Running Gloves are ideal for athletes looking to clock in some miles during the winter. They'll prevent your fingers from freezing, as well as allow you to operate your smartphone on the go. They're made with a four-way stretch proprietary Zensah fabric for ideal breathability. For your convenience, Zensah also added silicone grips on the palms of the gloves and a microsuede section on each thumb to wipe your nose, in case of cold-weather leakage.
Tracksmith Inverno Gloves
When the temperature takes a dive during the winter, gloves are an everyday necessity for runners looking to chase their personal records. Crafted from a warm, sweat-wicking fabric from Italy, Tracksmith's Inverno Gloves will keep your hands toasty. If you run on a daily basis, it's more than likely you have a running app to log your fitness data. Tracksmith took that into consideration when making these gloves, as they have touchscreen-friendly thumbs and fingers. In addition, the fabric is reversed at certain sections so you can use the brushed side to wipe away sweat without scratching your skin.
Castore Williams Gloves
Built for relentless athletes who don't let a little bit of cold weather keep them indoors, Castore's Williams Gloves are perfect for outdoor running sessions. The gloves have padding in select locations for additional warmth and neoprene finger covers so you can use your smartphone while you're covering ground and burning those calories away. The water-repellent gloves have a durable, snug fit with breezy ventilation to prevent clammy hands.
Saucony Ulti Mitt
Featuring wind- and water-resistant DWR-coated outer mitts for winter weather protection, in addition to thermal interior gloves, Saucony's Ulti Mitt is a convertible hand-warming option for runners. They have conductive index fingers and thumbs so you can control your smartphone with no issues, soft fleece nose wipes, extended cuffs for warmth, magnetic fasteners to keep them together, and reflective logos to keep you visible during night runs. You can count on these gloves to keep your hands comfortable when the weather gets chilly.
Lululemon Resolute Runner Gloves
Lululemon is always a reliable source for fitness gear, so you can rest assured their running gloves will serve you well. Their proprietary fabric entitled 'Rulu' is naturally breathable and softer than fresh bread. The gloves have four-way stretch flexibility so you can move your fingers with ease and touchscreen-friendly fingers so you can pick the perfect song based on your ideal level of intensity. When you don't need them, you can snap them together so you won't lose them. And they stylish reflective lines to help keep you visible at night if you really don't mind the cold.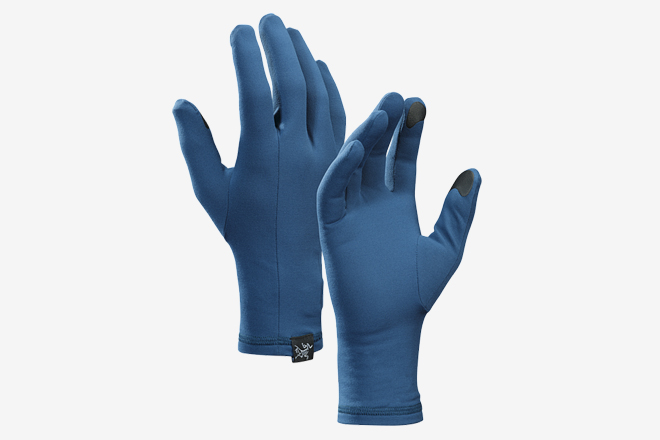 Arc'teryx Rho Glove Liners
The lightweight Arc'teryx Rhoe Gloves are easy to take along with you and shove in your pocket, but functional enough to keep your hands from suffering during cold winter runs. They're made from 'Torrent 190' fabric for a stretchable, breathable fit. They also wick moisture away well and have a next-to-skin fit for ideal functionality. You can wear these gloves solo or use them as a secondary layer under shell gloves. The gloves even have sensor pads so you can use your smartphone without any problems.
Ashmei Merino Gloves
In the design process of these gloves, thermoregulation was the focal point of the project. Ashmei's Merino Gloves uses terry-looped merino to solve the problem of hands getting too sweaty with gloves on. Thanks to the design, these gloves will keep your hands from freezing, providing you with just the right coverage during the winter time. For further convenience, Ashmei's gloves have sticky silicone grips so you can grip your smartphone, as well as screen-compatible fingertips so you can swipe and text.
Icebreaker Quantum Running Gloves
Made almost completely from merino wool, Icebreaker's Quantum Running Gloves are a soft and cozy option to keep your fingers from freezing while you chug along to the finish line. They regulate the temperature of your hands and resist odors. For improved breathability, dry time, and a better fit, these gloves also use lycra. Each glove is made with grip prints on the index, finger, thumb, and palm so you can grab your essentials and go. To sweeten the deal, these gloves come with a limited lifetime warranty.
Nike Aeroshield Running Gloves
Nike's breathable waterproof winter running gloves have a sleek, contemporary design and a flexible feel to keep your hands relaxed. It's all in the details and Nike has covered every single one, as these gloves are touchscreen compatible, have fleece sections on the thumbs to wipe your nose, and reflective accents to keep you visible in low light. The gloves are also well ventilated so your hands won't get clammy. With a perfect blend of polyester, nylon, polyurethane, and spandex, these gloves will be able to keep up with whatever winter route you run.
Patagonia Wind Shield Gloves
The famous backcountry gear company Patagonia knows a thing or two about life outdoors, so you know their Wind Shield Gloves are reliable. These lightweight gloves are built for cold running and uphill routes. They have a built-in stink-resistant 'Polygiene' to fight off odor and they're made from breathable, windproof material to keep your hands comfortable. The gloves also allow you to work your touch-screen phone when the world calls. And, they also have a durable chamois on the palms and fingers for excellent grip.
12 Best Winter Running Tights
Now that you've picked out a pair of gloves to keep your fingers warm and functional, it's time to add to your winter run gear. Check out our picks for the best winter running tights to keep your legs from freezing.