Traveling can be one of the simplest — or most complex — parts of the holiday season, depending on how you prepare. That's why you should always pack light, efficient, and optimal. However, it can be difficult to choose the perfect arsenal of items to take with you on your next flight, drive, or train ride, due to constraints on luggage size. Luckily, there are a number of essential accessories that can help to make your trip a bit more intuitive.
Whether you're heading across the country on an airplane, traversing the boundaries of your state of residence via locomotive, or throwing your bags in the back of a car for that next distant drive, having a suite of dependable items can be a gamechanger. Below, we've curated a list of the vital items to give you an edge on this holiday season, while adhering to an affordable, sub $50 price point. Go ahead, take your pick.
Matador Travel Earplugs
Traveling can be a little chaotic. Fall into a state of zen with these 32 dB noise-reducing memory foam earplugs from Matador.
Huckberry Merino Wool Face Mask
Support the health of others and yourself with Huckberry's stylishly-contrived Merino Wool Face Mask.
Peak Design Small Packing Cubes
Peak Design's Small Packing Cubes offer the perfect compact storage solution for wandering souls, thanks to their tear-away main openings, internal dividers, and compression zippers.
W&P Virtual Happy Hour Cocktail Kit
W&P's comforting cocktails make their way onto our travel lists every single year, and 2020 is no exception. Take the edge off of your train ride or flight with the brand's pre-packaged Virtual Happy Hour Cocktail kit.
Stanley Classic Easy Fill Flask
If you're interested in some of the heavier liquors on the market, you'll be able to keep them protected and at-the-ready with Stanley's durable stainless steel flask — an eight-ounce container that's great for a night under the stars.
Byredo Suede Rinse-Free Hand Wash
Bringing your own suite of sanitizing products on your next trip might be a smart idea this holiday season, so make sure that you do it right. Byredo's rinse-free Sweet Almond Oil handwash gets the job done without the mess (or harshness) of its competitors.
Nomad Airpod Case V2
Everybody's favorite pair of earbuds just got a bit more stylish with the addition of Nomad's sleek and stylish vegetable-tanned Horween leather V2 case.
Paravel Fold-Up Belt Bag
Paravel's Fold-Up Belt Bag can store all of your essential items as a stylish hip or cross-body holder. Whenever it's not in use, pack it down into its own wallet-sized pouch to cut down on bulk.
Yeti Rambler 24oz Mug
Ensure that your favorite warmed beverages are kept at an optimal temperature with Yeti's 18/8, kitchen-grade stainless steel mug.
Rustico Sidekick Leather Cord Wrap
Keeping track of your cords can be a nuisance when you're hopping from airport to airport. Organize your most important cables and tech accessories with Rustico's premium, top-grain leather Sidekick wrap.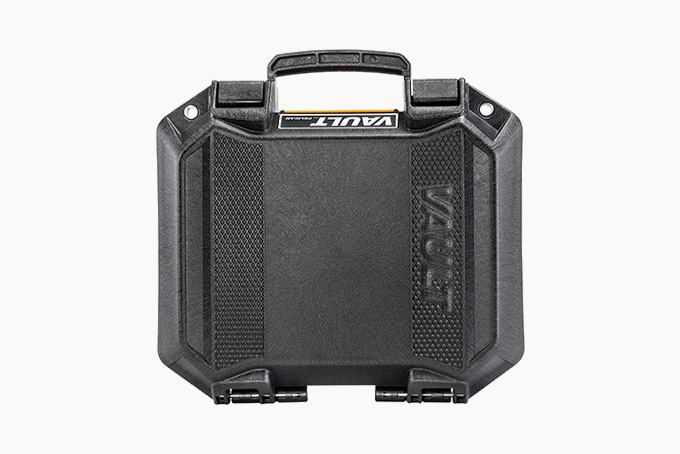 Pelican Vault Small Case
For those items and accessories that are a little more expensive, turn to Pelican's Vault case to keep them protected during your voyage. Each enclosure boasts a high-impact polymer construction, making it resistant to dust, weather, and crushing.
Uncharted Supply Co. 'Triage' First-Aid Kit
We never plan for the unexpected. That's why we need to be prepared for anything. Thanks to Uncharted Supply Co.'s Triage First-Aid Kit, you'll be able to travel with peace of mind, thanks to its perfectly-curated selection of survival essentials.
Manduka Recycled Wool Blanket
Sleeping on a flight can be one of the best ways to pass the time. Instead of dealing with uncomfortable temperatures and moderate discomfort, throw Manduka's Recycled Wool Blanket into your bag; you'll be able to utilize its cozy, recycled wool blend to make your trip a bit more bearable.
JBL Live 400BT Headphones
Tune into your favorite podcasts, Spotify stations, or playlists with JBL's signature sound Live 400 BT headphones. These affordable, over-ear listeners feature the brand's lauded 40mm drivers, Talkthru technology, and Ambient Aware noise suppression.
Wanderlust USA
Inspire your next big trip with Wanderlust USA — an archive of overview maps, spectacular photography, and stories from over 30 of North America's most beloved hikes
The 20 Best Gifts For The Jetsetter
Hit the skies with a handful of items that'll change your outlook on in-transit comfort. Head over to our guide on the best gifts for the jetsetter, where we run through a roster of our favorite flight-savvy favorites.