Though camping normally means roughing it and going without a number of basic creature comforts and day-to-day amenities, car camping opens the door to a host of gear and equipment that wouldn't normally be considered if you were hiking into camp on foot. This allows for an array of items that can make for a much more comfortable trip, as your kit isn't limited to what's being carried on your back, and is now only confined by how much weight your engine can pull.
And the addition of some of these items make a world of difference on a camping trip, bolstering comfort and cleanliness, and providing a markedly more refined experience. For this reason, car camping can also serve as a great means of dipping one's toes into the world of the great outdoors, especially for those adverse to going without modern amenities. this obviously does come at a slight cost of having less of a connection with nature, though we'd say there is a time and place for both kinds of camping (hoof-in and drive-in). So, with this in mind, we've poured through our gear, checked the market, and have brought you this thorough list of the 25 best car camping essentials.
Sea To Summit 10L Folding Bucket
Without the benefit of plumbed in water, camping requires finding ways to transport water around your campsite, whether it be for cooking, filling a shower tank, or whatever other water-necessitating tasks you may be undertaking. And while far too many novice campers overlook this area, we've spent enough nights in the woods to know just how helpful a proper large water transporting vessel truly is, which is why we're starting this list off with Sea to Summit's Folding Bucket. Also available in a larger 20-liter size, this soft-sided, collapsible bucket is constructed from BPA-free, nonabsorbent, food-grade thermoplastic urethane-coated nylon with welded seams, a 420D nylon handle, and a 420D bottom panel that affords the bucket a stable base when filled. With its non-rigid form when empty, this 10-liter bucket can easily be packed away in a highly-compact size.
Slime 50107 Emergency Flat Tire Repair Kit
When venturing out into the mountains or desert to do some car camping it's imperative that you take the necessary measures to ensure you don't get stranded in a remote location. This means bringing along a means of jump-starting a dead battery, extra fuel should the tank run dry, and some method for patching a punctured car tire. And it's this latter issue that this product from Slime remedies, with the offering including both a bottle of tire sealant and a tire inflator that can re-inflate a flat in just three minutes. Wildly easy to use (even by the least mechanically-minded/"handy" of individuals) this system doesn't require any additional tools, and you don't even need to jack the flat tire up off the ground. Based on the ridiculously accessible price point of this item, there really is no excuse not to add one of these to your car camping loadout.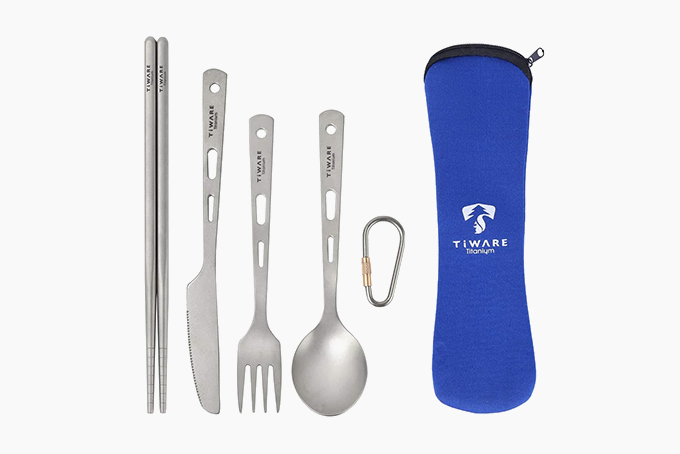 TiWARE Titanium Cutlery Set
Cutlery sets are another staple in the camping kit arena, though not all are created equal. When shopping for a set of eating utensils for camping, it's important to find a set that's durable, well-made, and easily packable/storable, which is why we're such big fans of this set from TiWARE. Made from the brand's signature lightweight and hardwearing material, this set includes a titanium knife, fork, spoon, and pair of chopsticks, as well as a carabiner (also titanium) to link them all together, and a compact carrying pouch. And, while this set may be a tad costlier than many of its stainless steel counterparts, it was legitimately designed to last a lifetime and is consequently backed by TiWARE, who stands behind the product with a 100% satisfaction or money-back guarantee.
GSI Outdoors Gourmet Kitchen Set 11
The days of camp food consisting of hot dogs cooked on a stick and cans of chili heated in a fire are behind us thanks to offerings like the Gourmet Kitchen Set 11 from GSI Outdoors. A pivoting spoon and spatula made from high-temperature Nylon 6-6, collapsible whisk, scrubber, scraper, camp towel, and cutting board constitute the kit, all of which fits neatly into a travel case made from ballistic nylon. The kit even includes a fully-waterproof salt and pepper shaker, as well as a pair of mini condiment bottles for bringing along your favorite BBQ or hot sauce. Add a stove, knife, and a pot or pan and you've got everything needed to whip up a gourmet camp-cooked meal.
BioLite HeadLamp 200
As implied by the name, this headlamp packs a 200-lumen output that can run for up to three hours on its Lithium-ion battery (which is recharged via a micro-USB port) or up to 40 hours while utilizing the lowest of the 200's four light settings, which also includes a red light and a strobe function. What really sets this headlamp apart, however, is how amazingly slim and lightweight it is, tipping the scales at just 50-grams and boasting a silhouette that's narrower than the width of a than the diameter of a penny — a design made possible by integrating the headlamp's electronics directly into its performance fabric band — which is decorated in a subtle topographical-inspired graphic. IPX4-rated for water resistance, this BioLite headlamp's LED light can also pivot out from its ultra-low-profile housing.
Wacaco Minipresso GR Portable Espresso Machine
Heading out into the great outdoors means leaving behind a great many creature comforts from our day-to-day life. A host of compact and cutting edge new camping gadgets are changing this however, one of our favorite of which is the Wacaco Minipresso. Without requiring any battery or electricity, this manually-operated espresso maker can pump out 50ml (1.6oz) of high-octane morning joe. Using its integrated scoop, you simply add in ground beans, fill the tank with hot water, and give the thing a few pumps to pressurize the device, and then flip it upside-down in order to draw out freshly-brewed espresso that's served in a receptacle that doubles as a travel cup. The company also sells a variety of attachments and accessories, including an upgrade that doubles its output capacity to 100ml (3.2oz).
Purist 32oz Founder Water Bottle
Staying properly hydrated while out in the field is an absolute must, so when heading into nature it's essential to bring a sufficient amount of water needed for the duration of your trip. And, while there's no shortage of stellar vacuum-insulated water bottles on the market, very few products in this segment can come close to Purist's Founder bottle. The Founder boasts an unmistakably high-quality fit, finish, and feel, with its matte-coated surgical-grade stainless steel vacuum-insulated construction that boasts a unique unbreakable glass finish. Beautifully-designed in California, the bottle sports an equally-high quality solid stainless steel carrying handle flips up from the cap to provide a convenient attachment point. Also offered in smaller 18oz and 10oz sizes, this premium water bottle comes in a variety of attractive colors and is available with regular twist-off or "Union Top" (aka sippy-spout) lid.
GCI Outdoor RoadTrip Rocking Chair
There are few things quite like kicking back and enjoying the majesty of nature from a good old fashion rocking chair. And, while lugging a traditional wooden rocker out into the woods is obvious outside the question, this folding chair from GCI Outdoor is the next best thing. Backed by a limited lifetime warranty, this camping chair can handle up to 250lbs thanks to a durable steel and aluminum hybrid frame and guided track system. The chair's two-piece seat and backrest setup, coupled with the use of mesh paneling, also allows for solid ventilation and airflow, even on hot days. Weighing just shy of 13lbs, this 26" x 24.8" x 39.8" rocker collapses into an 8.1" x 9.1" x 43.3" form that slips into its included carrying case.
Wavian Authentic NATO Jerry Can
Whenever heading out into nature, it's always best to be a little over-prepared, taking the necessary insurance measures to help prevent you from getting stranded. And one staple insurance item is the classic jerry can. This particular jerry can is touted as being the "highest spec steel jerry can in the world." Made in Europe, fully-rustproof, and both EPA and CARB-compliant, this military-grade fuel cell is built to authentic NATO-grade. The 5-liter sealed cell dispenses fuel via a bayonet-style quick-release nozzle and boasts a dual-pan construction and wide-channel breather that allows for easier pouring. Measuring 17.4" x 11.9" x 5.5", this jerry can also fit inside the vast majority of standard 4×4-style fuel-can racks.
KingCamp Folding Aluminum Camping Table
Whether performing first aid, assembling or readying kit, or dressing, cooking, or preparing a meal, there's no shortage of essential uses for a solid table while car camping, and this offering from KingCamp ticks all the right boxes. Weighing a bit over 14.5lbs, this table provides 42" x 28" of heat-resistant surface space, which is enough room to comfortably accommodate six adults. Capable of supporting more than 175lbs of weight, this locking table is made from lightweight yet durable aluminum alloy with an anode oxidation treatment — helping to prevent rust or any other corrosion — that's constructed around a steel frame. The table is also sold with a carrying bag for when it's all folded up, breaking down to a size of just 42.5" x 9.1" x 4.3".
MY MEDIC MyFak First Aid Kit
Spending time out in nature can be unpredictable, and the unfortunate reality is that accidents can and will happen, which is why a first-aid kit is such an essential piece of kit for anyone spending time off the grid — car campers very much included. And, this civilianized take on a military medic field kit includes everything you need to patch up an injury while out in nature, including a bevy of first-aid essentials like a tourniquet, non-adherent gauze, QuikClot, wound-closure strips, Povidone wipes, burn dressing, aspirin, Dramamine, Endurolytes Fizz Tablets, Ammonia Wipe, a nasal airway (and lube), as well as a host of medical tools like a needle puller, surgical scissors, and a variety of scalpels and sutures. Sold in five colors including black, OD, and Coyote, this entire OSHA/ANSI and FSA/HSA-approved first aid kit comes in a military-inspired waterproof 600D nylon bag with MOLLE webbing and D-ring attachments.
Lodge Cook-It All
With a vehicle doing the hauling, car camping has the added benefit of being able to bring along pieces of kit that would normally be left at home, and with a weight that's just shy of 31lbs, the Cook-It-All from Lodge Cast Iron is one such offering. Like all the Tennessee-based company's traditional offerings, the Cook-It-All is made from damn-near bulletproof preseasoned (oiled) cast iron, though, rather than standing as a single item, this product combines a 6.8-quart wok/skillet with a reversible 14" grill/griddle into a single cast iron item. Capable of being heated by coals or a direct flame, the Cook-It-All can heat up chili, stew, or whatever else you want to make inside its wok, while simultaneously providing enough heat to still cook food on the 14" griddle that doubles as the wok's lid.
NEMO Tempo 35 Sleeping Bag
Backed by a lifetime warranty, this modern sleeping bag from NEMO is fairly unique, designed specifically for "side-sleepers," with additional space around the elbows and knees for unrestricted sleeping. With a temperature rating of 35 degrees Fahrenheit (2 degrees celsius), this bag is stuffed with extremely lightweight yet warm Stratofiber #8482 synthetic fibers stuffed inside a 50D polyester taffeta lining. Outside, there's a DWR-treated 50D ripstop polyester shell that features a number of zippered pockets for quick and easy access to essential items like a flashlight or smartphone, plus an integrated pillow pocket with snag-free zipper. Sold in regular (72") and long (78") sizes, the Tempo 35 stores away in an included stuff sack when not being used.
Spot Gen3 Satellite GPS Messenger
While the remote, off-the-beaten-path-nature of camping means you get to enjoy all of the peace, beauty, and tranquility of nature, it also means that help might not be a simple phone-call-away. And, should the worst happen, the ability to contact the outside world for help can mean the difference between life and death. The (third-generation) Spot 3 Satellite GPS Messenger is one such lifeline, relying on satellite technology to deliver SOS messages and precise GPS locations to first-responders that are accurate to within five meters. It can also send live-tracking feeds/updates to friends, family, or team members, with customizable tracking rates ranging from every 2.5 minutes, up to hourly (using motion-activated or continuous tracking). Super durable and completely weatherproof with an IPX7 waterproofness rating, the Spot 3 offers double the battery of the Spot 2, relying on four AAA batteries to afford its 17 days of battery life. Like smoke detectors, this is one of those insurance-style items that you're far better off having on hand and not needing, than needing and not having.
NEMO Helio LX Pressure Shower
Camping — even car camping — has never really gone hand-in-hand with stellar hygiene or grooming routines. Typically, this is just one small sacrifice made to enjoy the great outdoors, though, with NEMO Equipment's Helio LX camp shower, you can enjoy the perks of a pressurized shower. Rather than relying on gravity, this camp shower sits on the ground. Its 5.8-gallon tank is then pressurized via a foot-pump, which expels water up through the shower's (included) 7' neoprene hose. And, thanks to a cleverly-sealed design, a few occasional pumps is enough to keep the shower pressurized for up to 10 minutes. Sold in a compact and ventilated carrying case, this camp shower — like all NEMO wares — is also backed by a lifetime warranty. And, in addition to showering, this item is also great for hosing off muddy gear before packing it away at the end of your trip.
REI Co-op Kingdom Cot 3
Most backpackers wouldn't even entertain the possibility of hauling a 20lb cot on their backs, however, when you're arriving at your campsite by vehicle, you open the door up to a world of markedly more comfortable sleeping accommodations. Case in point being this luxurious offering from REI Co-op. Built around a collapsible/folding powder-coated steel and aluminum chassis with three sets of legs that can handle up to 300lbs of weight, this plush camping cot boasts a padded, quilted top made from a quick-drying, water-resistant, polyester fabric. Instead of merely keeping you up off the cold ground, the Kingdom Cot 3 cradles your body, affording comfort and helping to prevent accidental roll-outs. This cot also has a twist-knob that allows the locking multi-position back to be set, making it perfect for lounging by the fire, as well.
DEWALT DXH12B Portable Heater
While the harsh winter months can be an abrupt end to your camping season, this feature-laden tent heater from DEWALT allows you to extend your annual time in the outdoors. While arguably too heavy to be conducive to backpacking-style camping, this 14lb steel-cased heater spits out a cool 12,000 BTU's that can heat 450-square-feet of enclosed space for up to seven hours (on a single can of propane). And, on top of its heating abilities, this DEWALT item also features a 20V battery (from the FLEXVOLT or MAX battery families) that powers the tent heater's handle-integrated LED light bar and trio of device-charging USB ports. The level of heat being generated can be regulated using the heater's twistable knob setup, and it has several built-in safety features including kill switches activated via a tip-over sensor or oxygen depletion sensing system.
Rhino-Rack LB350 350L PVC Luggage Bag
If you've got more gear than your car can accommodate — or if you plan on sleeping inside of your car and simply need to free up some of the cabin's real-estate — rooftop carriers and bags are a great way to go. And while roof-mounted cargo boxes have historically been king in this realm, there are a number of characteristics that make their soft counterparts well worth considering. These are often easier to mount and don't require standard roof racks, they're often made from lighter (yet equally durable) materials, and best of all: they can be folded up and stowed away when not in use. Offered in a handful of shapes and sizes, this rooftop luggage bag from Rhino-Rack is completely weatherproof, made from 500D, fiber-reinforced poly-canvas tarpaulin paired with welded seams and water-resistant zippers shrouded by protective Velcro overlaps. This 350-liter bag also securely hugs the roof of your car, being held down with UV50+ straps backed by heavy-duty Duraflex buckles.
YAKIMA SlimShady Awning
If you spend the lion's share of your time cooped up in an office, studio, or warehouse, it can be easy to forget just how much of a tole the sun can take on you, beating down for prolonged periods until setting behind the horizon. Fortunately, the folks over at YAKIMA are well-aware of this aspect of the outdoors and have consequently introduced a handful of products to help block out the sun's rays, one of the most popular is the playfully yet accurately-named: SlimShady. Constructed from ultra-rugged polyurethane-coated 420D nylon fabric, this well-made, fully-waterproof awning utilizes universal mounting hardware that fits the vast majority of factory and aftermarket roof-racks. Starting out as a 6.5' sleeved case, the SlimShady unfurls into a sheet that provides 42 square feet of protection from the sun and fully sets up without the need for any tools or additional equipment. These are also great for when you have to cook in the snow or rain. And, with SKS Lock Cores, you don't have to worry about the awning getting stolen.
Jetboil Genesis Basecamp Camping Cooking System
A brilliantly-designed product engineered by passionate and experienced mountaineers, the Genesis Basecamp system from Jetboil cleverly fits an entire camp kitchen into a highly-compact, 8.5" x 10.75" nesting and folding package. Dual burners fold up (daisy-chain-style) and fit into the kit's five-liter "FluxPot," which is then capped off by an included 10" ceramic-coated non-stick frying pan (and lid) — all of which fits into a hardwearing carrying case which includes a compartment for the system's fuel regulator. And, with a pair of 10,000 BTU burners, this camping stove system can heat a full liter of water in just over three minute's time — a feat it can perform an impressive 48 times from a single 1lb bottle of propane. It can also consistently perform this feat even in harsh weather conditions as low as 20-degrees Fahrenheit (or -6 degrees celsius).
DMOS Delta Survival Kit
Shovels are another overlanding and car camping staple that come in handy in a myriad of backwoods situations, from making a fire pit to crafting a latrine, to digging out a stuck vehicle. And when shopping for a shovel to add to your car camping kit, it really is hard to do much better than the Delta Survival Kit kit from DMOS Collective. Fully-sized at 25" x 12" x 4", this folding shovel — which is offered in five color choices — is made in America from high-quality aluminum. But the kit doesn't end with the brand's Delta model shovel, as it also packs an electronic LED emergency "Power flare" and a NOCO Genius Boost 1,000A Lithium-Ion jump-starter, so you don't get stranded in the woods with all your gear should your car's battery die on you. And, all of the contents of this handy kit can be neatly stored away in its included MOLLE GP-compatible, multi-compartment, US-made storage bag constructed from ultra-hardwearing ballistic-grade 1,000D nylon.
ACLIM8 COMBAR Pro
Hefty weight is typically a strike against camping gear, though when you're driving into camp and don't have to hoof your kit in on foot, it opens the door up to heavy gear that you might not otherwise consider, like the COMBAR. This beefy 3.36lb military-spec multitool features a knife, hammer, axe, and spade, all built into a single versatile package. Inside the rugged the Elite-spec COMBAR/s handle, there's also an internal magazine housing a supplementary hand-saw and fixed-blade knife, giving the COMBAR even more utility. The to-shelf Elite version also includes an equally-hardwearing polymer holster and a glass-reinforced nylon carrying case.
Garmin Overlander Off-Road GPS
While car camping does offer the luxury of driving right up to your campsite, it can sometimes be difficult navigating the subnetwork of dirt and gravel roads that lead to these sites, especially after the sun has gone down. And that's exactly where Garmin's Overlander Off-Road GPS unit comes into play. Released over the Summer of 2019, this WiFi-connected gadget offers a 7" full-color TFT display and urban and off-road topographical maps, as well as preloaded directories of countless campsites, parks, and reserves (in North and South America). On top of being able to be linked to a 4×4's backup camera, this GPS unit can also pair with Garmin's InReach satellite communicators to receive weather forecasts, to send two-way texts, or to enable interactive SOS alerts. Extremely rugged, the Overlander is IP5X-rated for dust, fully-weatherproof, and meets the MIL-STD-810G standard, while inside, the GPS unit possesses a host of onboard sensors including an altimeter, barometer, compass, and even a sensor to detect pitch and roll (aka superbike-style lean-angle sensor).
Yeti V Series Cooler
Vacuum-insulated water bottles have long been the standard in the refillable cell segment, lauded for their rugged nature coupled with their stellar ability to insulate their liquid contents from outside temperatures, keeping cold drinks cold and hot drinks hot for up to 24 hours and 12 hours respectively. This freshly-unveiled offering from Yeti takes traditional vacuum-insulation and applies it to the company's first-ever vacuum-insulated cool. Absolutely perfect for car camping, this unpowered hard cooler can keep all of your food chilled and fresh for the duration of a short weekend trip. And, with its brushed stainless steel construction and cast aluminum hinges, you can be sure this cutting-edge cooler can stand up to quite a beating. Just like with water bottles, we expect vacuum-insulation to soon be the standard in the camping cooler industry.
iKamper Skycamp Mini
One of the newest items on this list, iKamper's Skycamp Mini is one of the most adaptable roof-top tents on the market. Capable of taking on any season, the tent is made from a polyester 150D (PU 3000mm) mated to a 300gsm poly-cotton exterior lining supplemented via a double-layered aluminum honeycomb insulation system. Suitable for comfortably housing two adults, the iKamper Skycamp Mini fits a wide range of cars, (not just the Mini Cooper) including smaller models, as the product's moniker suggests. In addition to offering an array of customizable color options, the company also sells a bevy of attachments for this roof-top camping tent including various racks and connected awnings. Best of all,(once mounted to the roof) this entire tent can be set up in just one minute, so you can spend more time enjoying the wilderness and less time fiddling around with tent poles, stakes, and rain flies.
The Ultimate Guide To Overlanding
Looking to take your car camping experience to the next level? Then it might be time to dip your toes into the adventurous world of overlanding. If this isn't an area that you're familiar with, we'd suggesting delving into the fundamentals in our comprehensive guide on how to start overlanding.