When it comes to keeping yourself clean, using the right soap is pivotal in maintaining exceptional hygiene. Smelling good and staying clean throughout the day revolves around what you use in the bathroom. Cologne and aftershave are sidekicks at best when it comes to your scent, so using a low-end body wash just won't cut it.
Perhaps you still use a bar of soap, and that's okay, but some people prefer the liquid variety. Using a body wash is much more efficient, as you can lather up a body scrubber with the wash gel to make sure you cover every spot. However, it can be a pain to pinpoint a well-blended body wash with just the right ingredients to keep you fresh. So, we've utilized our scouring powers to curate a list of the best body washes for men. Guys that work hard need the top-shelf shower gels because you don't want to keep the sweaty scent of your workday as a souvenir when the clock strikes 5 pm.
Ingredients Matter
Skincare Starts In The Shower
It may seem like all body washes are the same, but that's simply not the case. There are a few things to keep an eye out for when you're shopping for a remarkable body wash. You'll want to make sure it can do a tremendous job at keeping your skin moisturized, so it should contain ingredients like emollients. Additionally, going for body washes with skin-beneficial ingredients, such as glycerin and aloe vera, is a good look. And the more natural ingredients in the liquid body soap, the better it will be for your overall health. Now that you have a general overview of what to look for, let's jump into the list.
American Crew 3-in-1 Tea Tree
If you need an all-in-one body wash to cleanse every inch of your body, American Crew's 3-in-1 Tea Tree will do the trick. You can use this versatile body wash for men as shampoo and conditioner, as it washes away dirt and oil, leaving your skin and hair feeling soft. And you'll be left with an incredible scent that's not too overpowering.
Every Man Jack 2-in-1 Body + Face Wash
Every Man Jack makes a reliable lineup of products to uphold amazing hygiene. Their 2-in-1 Body + Face Wash removes salt, sweat, and chlorine effectively, purifying your body of the much its gathered from the great outdoors. It also has aloe, glycerin, and jojoba oil to moisturize your skin, making it smooth to the touch, restoring it to its natural texture.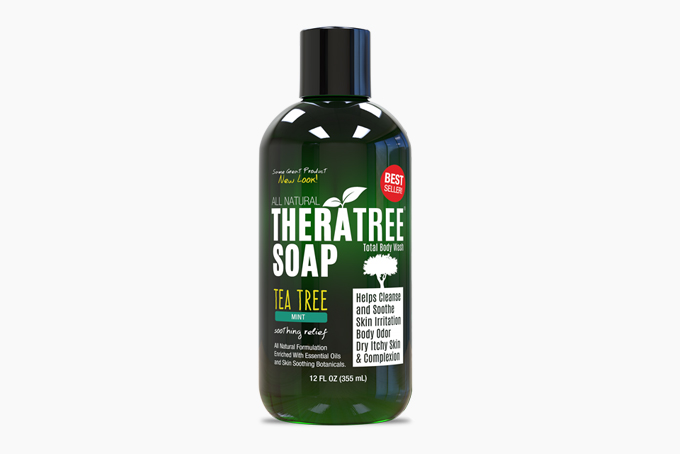 Theratree Soap
Theratree's soap is harvested by hand sustainably in small batches using 100% therapeutic-grade tea tree oil. The natural formula washes away dirt from the surface of your skin while its nourishing botanicals soothe your body. It contains Aromatherapy-grade essential oils trusted for centuries as a natural remedy for skin and complexion problems, as well as body odor.
Kiehl's Body Fuel
Infused with vitamin C, vitamin E, menthol, caffeine, and zinc, Kiehls' Body Fuel will sanitize you thoroughly, preparing you for the next day ahead. It can also be used as shampoo thanks to its ability to remove extra oil and sweat from all types of hair. If you want a comprehensive body wash, grab a bottle of Kiehls' blend, apply it generously, and rinse away to feel brand new.
Old Spice lasting Legend Dirt Destroyer Body Wash
You probably know Old Spice for their comedic and odd commercials, but don't let that distract you from their incredible products. Their Lasting Legend Dirt Destroyer body wash utilizes ingredients with deep-cleansing power to eliminate the dirt and grime of the day. After using this American-made body wash, you'll exit the shower feeling refreshed and smelling like a million bucks, and, according to Old Spice, you'll be "100% more awesome.
Rugged & Dapper Body Wash
Perfect for all skin and hair types, Rugged & Dapper's Dual Purpose Power body wash contains natural ingredients, including oregano, tea tree oil, rosehip oil, and olive oil. This men's body wash will give you a deep clean and leave you with a manly scent after a long day at the gym. Rugged & Dapper gives you a 100% satisfaction guarantee that their solution will cleanse your hair and body of grime, odor, and unwanted oil from head to toe.
Jack Black Turbo Wash Energizing Cleaner
Doing double-duty as a body and hair cleanser, Jack Black's Turbo Wash is a sulfate-free solution that gets rid of dirt and bacteria without drying out your delicate skin. It contains rosemary extract to battle bacteria, arnica extract to reduce pain and swelling, and eucalyptus to invigorate your skin. And it contains shea butter, which has essential fatty acids to hydrate your skin and hair for a silky smooth feel.
Brickell Invigorating Minty Body Wash
Getting rid of dirt and sweat from your dermis without drying out your skin is what Brickell's body wash does best. It's packed with aloe vera and glycerin to keep your skin moisturized and healthy, so you can look and feel good. The paraben-free soap leaves you smelling minty fresh after a tough day on the grind.
Clinique Happy For Men Body Wash
Clinique is well-known for providing the world with skincare and hygiene products that will keep you fresh throughout a challenging day. Their daily-use foaming body wash and shampoo leaves your skin feeling unbelievable and gives your a citrusy scent of lime and mandarin throughout the day. Ignite your body with Happy For Men body wash and enjoy feeling pure.
Anthony Invigorating Rush Hair & Body Wash
Anthony's body wash for men packs three ingredients that bring your skin back to life after a long, grueling day at work. It has eucalyptus extract that stimulates your body, Canadian balsam to soothe your skin, and birch leaf extract for a refreshing feeling. This Esquire Award-winning body wash for all skin types is sure to leave you feeling fresh.
Molton Brown Black Peppercorn Body Wash
Flush away the day's dirt with Molton Brown's Black Peppercorn body wash for men. It contains a variety of ingredients to invigorate your body, including ginger, vetiver, basil, coriander, and black pepper, leaving you with a refreshing fragrance. Use it during your morning shower or relax in a soothing bath at the end of the day.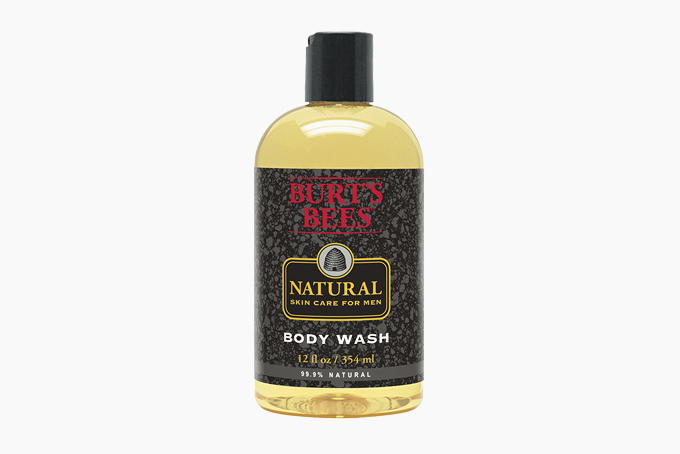 Burt's Bees Natural Skin Care For Men
Give your body an invigorating wake-up call by lathering it up with Burt's Bees Natural Skin Care For Men body wash. It's made from a naturally cleansing blend featuring coconut oil, leaving you with a warm forest scent. The body wash is also packing vitamin B, soy proteins, and essential minerals to feed your skin what it needs for longevity.
The 10 Best Men's Natural Deodorants
Once you're out of the shower and feeling fresh thanks to quality body wash, keep the good hygiene up throughout the day. Check out our list of the best men's natural deodorants and keep smelling fresh while on the grind.