Jun 1, 2022
Category: Style
With winter winding down and summer fast approaching, there's never been a better time to update your wardrobe items of yesteryear. Sure, the entirety of your short-sleeved collection doesn't have to meet its untimely demise, but there's one summertime staple, in particular, that you should think about mulling over.
The V-Neck is a simple but stylish garment that's helped to round out many a man's arsenal since it was introduced in the 1960s, but today, it's become even more well-known as a do-it-all tee that you can use with virtually any outfit. Whether you're adopting the V-Neck for layering purposes, using it to accent a grander ensemble, or wearing it alone, this lightweight essential is the perfect way to kick off the summer in style. Below, we've outlined a handful of our favorite options from brands we know and trust, so that you don't have to do the job of finding them on your own.
Everlane V-Neck Tee
Everlane might not be the first name you think of when looking for high-end fashion, but when it comes to stylish men's essentials, they're one of the finest proprietors around. In this case, the company's v-neck tee kicks off our list as an affordable, all-encompassing offering crafted from 100% cotton at the company's Los Angeles factory. It might not be a traditional fit, but this slimmed-down variant is sure to give an edge when paired with any garment, calling upon a middleweight demeanor, durable construction, and fabric that gets softer as time goes on.
Los Angeles Apparel Fine Jersey V-Neck
Los Angeles Apparel takes pride in its American-made manufacturing process, and with menswear essentials like the Fine Jersey V-Neck adorning its shelves, it's no wonder why the company has fostered such a devout following. This NAFTA-compliant garment boasts a 100% combed ring-spun cotton construction, resulting in ultra-soft composure, long-lasting comfort, and durability that won't fade after a few wears and washes. As one of the company's staple garments since 1999, the Fine Jersey V-Neck is a surefire hit that doesn't show signs of impediment. And if you ask us, we'd bet that it's not going anywhere soon.
Alternative Apparel Organic Pima V-Neck
Alternative Apparel's Organic Cotton V-Neck is a premium offering that bridges the gap between the world of lesser-known menswear essentials and the world of high-end imported gear, calling upon a well-sourced Peruvian Pima cotton to create something deviant from the modern market. This 100% organic offering is high on style, acting as a second skin that's form-fitting and soft, while GOTS certifications and a WRAP-certified manufacturing process help give you peace-of-mind when making a decision on your next tee.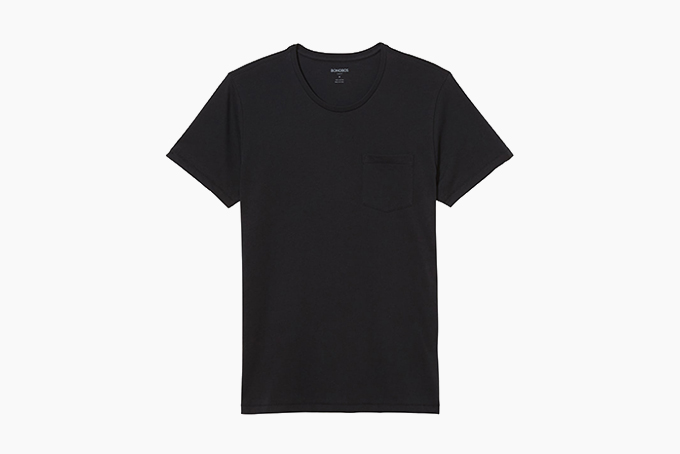 Bonobos Soft Everyday V-Neck
Bonobos' Soft Everyday tee is an interesting addition to this list, as it's not entirely a v-neck, but not entirely a crew-neck, either. This 100% cotton offering forgoes the immediately-recognizable "v" styling that characterizes the garment, opting instead for a curved (yet v-esque) neckline that pays homage to its counterparts. The unison of a more classic silhouette and its modernized v-neck counterpart is novel, to say the least, but as a hybrid that doesn't fulfill either role perfectly, it's earned a spot on our list due to sheer abnormality.
Brooks Brothers Garment-Dyed V-Neck
At its foundation, Brooks Brothers trade in the creation of high-end menswear, giving the brand's Garment-Dyed V-Neck even more clout when it comes to everyday wear. Like the vast majority of other items on this list, it calls upon a 100% cotton construction but opts to include interesting additions like red chain stitching, garment-dyed fabric, and an embroidered fleece logo to keep things simple, but stylish. If you're looking for a tasteful v-neck to sport alongside a smartly-tuned blazer or overcoat, this is an attractive route to take.
American Giant Classic V-Neck Tee
American Giant has become a household name within the menswear community over the past decade. As such, its dedicated approach toward everyday essentials has become even more well-noted, shown here through the company's Classic V-Neck Tee. This subtle, but streamlined option boasts a classic jersey silhouette, a comfortable ribbed v-neck collar, and interior neck taping to promote near-seamless transitions from its neck to its shoulders. Better yet, its durable 100% cotton construction is reinforced by double-needle straddle-stitching to keep give it some extra oomph when it comes to quality.
prAna V-Neck Tee
prAna's V-Neck Tee is a testament to a simple design, channeling attributes and characteristics from the industry's finest proprietors, and elaborating upon them to create something special. This basic offering boasts an organic cotton/recycled polyester construction, lightweight jersey design, comfortable standard fit, and Fair Trade-certified manufacturing practices to keep it conscious. To round things out, a minimalist-approved woven label has been attached to the shirt's left sleeve, providing the perfect amount of visual deviation.
Mott & Bow Classic V-Neck
Mott & Bow might not be a name you see around here often, but the company's 100% Classic V-Neck is in-line with some of our favorite offerings. This Peruvian essential has been tight-knit to give it additional gumption when used on a day-to-day basis, while a garment-dyed manufacturing process gives it that attractive worn-in look without months of actual wear. When it comes to fit, Mott & Bow's classic garment straddles the line between slim and loose, making it the perfect middle ground for stylish wearers. Oh, and it's already preshrunk, so you won't have to worry about dealing with that after the dreaded first wash.
Buck Mason Slub Curved Hem V-Neck
Buck Mason's Slub Curved Hem V-Neck brings the company's heritage aesthetic into the realm of unassuming basics. Like its more complex offerings, this simplistic garment boasts a tasteful construction (and design) that makes it an instant classic, including a comfortable, but durable 100% slub cotton fabric, textured ridges, and loose styling that's meant to deviate from the industry's traditional offerings. If you still question Buck Mason's devotion to breaking the norm, the USA-made garment also boasts a "v" that's half an inch higher than any other v-neck on the market, giving it a firm leg to stand on when it comes to uniqueness.
Scotch & Soda Classic V-Neck
Scotch & Soda's Classic V-Neck is an essential item that's sure to round out your clothing collection. This slimline, stretchable garment calls upon the company's minimalistic embroidered detailing, logo, and v-neck to keep things clean and concise, while a 95% cotton/elastane mix promotes adaptable, form-fitting use. If you're looking for a versatile tee that been designed to take on a handful of different uses, wardrobes, and tastes, the Scotch & Soda Classic might be for you.
Mack Weldon Silver V-Neck
Mack Weldon prides itself on the creation of man's most vital clothing, and now, they've stepped into the realm of modern style with the Silver V-Neck. This stylish offering is crafted from a premium Supima Cotton, Polyester, and Lycra blend, giving it a comfortable composition that makes all-day wear a breeze. But it's the shirt's antimicrobial qualities that make it stand out from the rest, helping it foster the approval of travelers, businessmen, and individuals who like to go a bit longer than necessary between washes.
Rhone Element V-Neck
Rhone's durable Element V-Neck was made to compete with the industry's finest offerings, and it does so with an air of class and composure. This sophisticated tee calls upon long-staple Pima cotton for an ultra-soft feel, while relying on SilverTech threads to promote odor reduction over the course of wear. While the Element was made for athletic activities, the stretchy Pima/Polyester/XT2 Polyester garment is also pretty well-off in the looks department, making it a viable option for both the health-conscious or fashionable man.
Vince Pima V-Neck
Vince's Pima V-Neck is yet another ultra-soft offering that utilizes a comfortable, 100% cotton construction to keep its wearer happy, while also providing clean-cut linework, finished edges, and a low-profile silhouette that pairs well with a plethora of other tops. This layer-ready essential holds true to the brand's commitment to excellence, and thanks to its perfected layering capabilities, there's never a moment when the refined garment might seem unwarranted.
Goodlife Supima Classic V-Neck
Goodlife's Supima Classic V-Neck is a summertime short sleeve that's been adapted to take on the genre's most refined traits. Calling upon an American-sourced Pima cotton composition to keep its silhouette both wrinkle-resistant and in-shape, this supremely-soft essential is perfect for the versatile men's wardrobe. Thanks to its uniquely-weighted drape and ribbed collar, the Goodlife Supima is an ideal garment for use alongside other clothing staples, including sweaters, alternative tees, and jackets.
James Perse V-Neck
James Perse's aptly-named V-Neck rounds out our list as a quintessential offering that emphasizes simplicity. This relaxed icon boasts an inset V-Neck trim, cleanly-tailored bottom hems and sleeves, and a supplemental knit that's made extra-soft, thanks to specially-treated cotton fibers. The result? A breathable, comfortable garment that retains its shape and drape, while remaining effectively lightweight. And since each fashionable V-Neck is made right here in the USA, you know that you'll be getting the quality you deserve.
The 35 Best Men's Summer Style Essentials
A great-looking V-Neck isn't the only thing you're going to need if you want to stand out during the year's hottest season, so head over to our guide on the best men's summer style essentials to dive into a list of our favorite garments and accessories.
HiConsumption is reader-supported. When you buy through links on our site, we may earn an affiliate commission. Learn more