Sep 11, 2019
Category: Style
Summer might be wrapping up relatively soon, but that doesn't mean that the season's essential style staples are on their way out. Whether you're the type of person who likes to wear jeans and long-sleeve shirts in the heat of the day or don a pair of sandals during the winter, your preferences are really none of our business. But one thing's for sure, the slip-on shoe is one fashionable piece of footwear that's welcomed at any time of the year.
The slip-on shoe isn't confined to just one season, making it a jack of all trades when it comes to stylish implementation. As one of the most simplistic silhouettes on the market, it's become a legendary addition to any guys wardrobe, offering versatility, adaptability, and an err of tasteful class that's hard to beat. With so many options out there, it's difficult to narrow down your selection to just a few standout pieces of footwear; so, we've scoured the space for the best slip-on shoes for men, and taken the initiative so that you can spend less time searching, and more time doing. Check out our favorite silhouettes below.
Etnies Langston
Etnies has been a dominant force within the action sports footwear world for years now, creating some of the most renowned shoe silhouettes for skateboarding and BMX. While the vast majority of the brand's offerings are made to withstand the wear and tear of daily riding, the Langston slip-on proves that they've got the chops to create the perfect lounge shoe, as well. It features a low-profile vulcanized outsole, die-cut EVA insole, and a fully deconstructed upper, giving it a relaxed look that's hard to beat. Etnies' comfortable egg-crate midsole has also found its way into the Langston, offering wearers exceptional comfort throughout the day.
Native Jefferson
Native is talented when it comes to the creation of ultra-affordable, minimalist footwear, and the Jefferson slip-on is a testament to that. It draws inspiration from the industry's most iconic slip-on shoes while blending a bit of the company's own tastes into the mix. A full-vegan construction complements the Jefferson's lightweight EVA upper, lining, and sole, which provide indescribable comfort throughout the day. Like Native's other footwear offerings, these subtle slip-on shoes feature a breathable, minimalist silhouette, allover perforation, and antimicrobial properties to battle against unwanted odor.
Saturdays NYC Falla Crepe
Saturdays NYC is at the top of the food chain when it comes to relaxed summer styles; naturally, that also includes footwear. The brand's Falla Crepe slip-on is a timeless, espadrille-style example that proves that even the most simplistic construction, design, and orientation can make a dramatic impact on one's wardrobe. The Falla's understated crepe rubber sole pairs effortlessly with a 100% cotton canvas upper, offering wearers a sleek, subtle, and sumptuous slip-on that's sure to please, regardless of application.
Toms Heritage Canvas Baja
If there's one name that's become synonymous with the term "slip-on" over the past decade, it's Toms. The philanthropic super brand has fostered the genre's growing popularity with a number of simplistic offerings, and the Heritage Canvas Baja looks to complement it, just the same. As part of the company's Topanga Collection, this aesthetically-pleasing slip-on features a number of redeemable properties, including a double-sided elastic gore, high-rebound Ortholite cushioned insole, and a vulcanized rubber outsole crafted alongside the shoe's black heritage canvas upper. Better yet, for each pair that's purchased, the company will give back to communities-in-need, courtesy of their various humanitarian efforts.
Vans Classic Slip-On
Vans needs no introduction when it comes to iconic footwear, and the brand's classic Slip-On style is equally prolific. Not only was the Slip-On one of the company's first introductions to the footwear realm, but it also helped to set the foundation for this generation's most influential footwear, giving it a storied history that's neigh unbeatable. The transcendental shoe features a recognizable low-profile silhouette, and utilizes a comfortable canvas upper, elastic side accents, and the brand's iconic waffle outsole, giving consumers a stable, surefire platform for everyday wear.
PF Flyers Center Lo
You can't get any more nostalgic than PF Flyers, and thanks to the company's subtle, but noteworthy Center Lo slip-on, it's easier than ever to grab one of history's most iconic styles just in time for summer. They feature a vertically-ribbed toe guard, 10-ounce canvas upper, and dual-elastic goring for intuitive donning and doffing. On the exterior of the shoe, a padded collar complements the shoe's lace-free silhouette, providing the perfect contrast to its unique Posture Foundation insert. If you're looking for an essential piece of footwear that will pair well with virtually every garment in your wardrobe, look no further than the Center Lo.
Nike SB Zoom Stefan Janoski
Nike's original SB Zoom Stefan Janoski has quickly become one of the industry's most iconic skate shoes, pairing a stylish, awe-inspiring silhouette with adaptable capability. The platform is such a hit that the monolithic shoe company decided to reinvent the shoe in a slip-on version, which features a bespoke, built-in Zoom Air unit, sock liner, and rubber outsole for exceptional comfort throughout the day. Like the original, you'll be able to use these for all your skating needs, while having the perfect pair of low-profile sneakers to use downtown, at the movies, or while meeting the parents.
Converse One Star CC Slip-On
Converse is another well-known entity within the classic footwear realm, and while you'll be hard-pressed to find a shoe as iconic as the Chuck Taylor, the One Star CC slip-on comes shockingly close. These great-looking shoes feature a durable rubber-backed suede upper, die-cut star detailing, and a comfortable OrthoLite insole that's been accented with CX foam for enhanced reinforcement and cushioning. Whether you're heading out to the skatepark, or making a quick jaunt to your favorite grocery outlet, the One Star CC slip-on is sure to turn some heads.
Rivieras Classic Marine
Rivieras Classic Marine is a bit of a dark horse here, but thanks to its established 1950s style, canvas upper, and comfortable orientation, it's earnt a spot on our list of quintessential slip-ons. These colorful variants are comprised of an ultra-durable canvas, terry cloth lining, and a sheepskin inner sole that exudes an aura of tasteful choice. On their exterior, you'll find a great-looking natural gum rubber outsole for improved traction on a variety of surfaces, making them an attractive choice for those who are looking for a pair of well-rounded slips.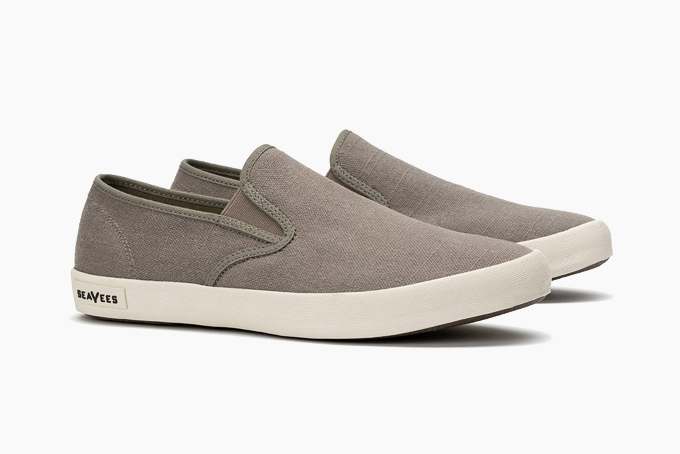 SeaVees Baja
SeaVees is all about timeless composure, and thanks to the company's laid-back Baja slip-on, you'll be able to procure a pair of the finest shoes on the market. Its vintage-inspired silhouette features a subtle twin gore design, a contoured foam footbed, and low-pro rubber foxing to keep you looking and feeling your best, with minimal effort. The company's infatuation with the surf culture of Baja California led to the creation of these laid-back shoes, helping them to embody a healthy dose of stress-free composition, construction, and composure.
SeaVees Hawthorne
For SeaVees' second appearance on our list, we're looking at the stylish Hawthorne slip-on. Not only does this established variant utilize a smooth poplin twill fabric, but it also pulls a number of revered characteristics from the company's alternative slip-ons, including a modernized twin gore design, high-profile rubber foxing, and a contoured foam footbed for exceptional comfort. The shoe's herringbone molded grip-lock outsole, however, is exclusive to the Hawthorne, which was inspired by the timeless styles of mid-60s California surf culture.
Vans Twill
Much like Vans' original Slip-On, the company's Twill Slip-On Pro is a timeless icon that's served to shape the landscape for alternative silhouettes. As you might expect, the addition of sturdy canvas and suede uppers, UltraCush HD sock liners, and a single-wrap foxing tape places these shoes squarely in the realm of performance, elaborating on the aesthetic qualities of the original. Additional DURACAP reinforcement rubber underlays have been implemented in different high-wear areas of the Twill, alongside a capable Pro Vulc Lite construction, bringing buyers the quintessential skate slip-on for use on and off the board.
Frye Ludlow
Frye's Ludlow slip-on is the definition of a calm, collected piece of footwear. On the exterior, you'll find a healthy amount of the company's renowned canvas, complementing the implementation of aesthetically-pleasing elasticated siding, a thick rubber sole, and a quality-focused architecture that's decidedly Frye. If you're looking for a pair of tasteful slip-ons that transcend the realm of style and will pair well with virtually every outfit you can throw at them, the company's Ludlow silhouette is a surefire addition to any guy's arsenal.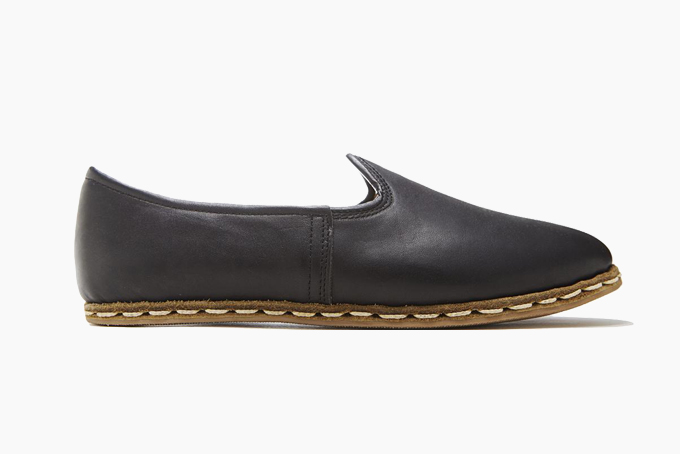 Sabah Beirut
Sabah's Beirut slip-on is a classic shoe, in its own right. It comes dressed in Beirut Black — the first colorway that the company had ever produced — and has been tested throughout the world's harshest environments, conditions, and ecosystems thanks to the company's owner, Mickey. Not only are the Beirut a testament to timeless, long-lasting style, but they feature a tasteful leather composition that's sure to age like a fine wine, giving you a pair of classy shoes that won't let you down when it comes to essential summer style.
Common Projects Suede Slip-On
Common Projects is no stranger to the creation of the industry's most definitive shoes, and the company's Suede Slip-On is no different. These handsome sneakers illustrate CP's commitment to timeless style, thanks to the implementation of signature metallic-gold-stamped numbers on their exterior, a rounded toe with elasticated gore insets, padded collar, and pull tab, and a classic white midsole that's sure to turn more than a few heads as you traverse the blacktop. To add a touch of luxury, the Suede are also lined with leather and feature a Margom rubber sole for the ultimate in capable composition, and traction. If you're in the market for a pair of subtle slip-ons that are more than ready to take on all your stylish qualms, look no further than Common Projects' bespoke example.
The 15 Best Men's Shorts For Summer
Now that you've found the best slip-on shoes for everyday wear, pair them with a set of great-looking legwear from our guide on the best men's shorts for summer.
HiConsumption is reader-supported. When you buy through links on our site, we may earn an affiliate commission. Learn more