Heading off-grid without any way to communicate might seem like a dream for some; but for those of us who enjoy the added security of a direct connection to our inner circle, there are ways to keep family, friends, peers, and acquaintances in the loop. While traditional smartphones often fall short due to the constraints placed on their range, data, coverage, and networking capabilities, satellite phones have been devised to fill the deep, dark niche, providing common users with voice, text, and tracking options that span the farthest reaches of the globe. Since satellite communication companies are a bit of a rare breed, it's not difficult to find out which handheld options take up the majority of the market, but like anything, there are a select few that stand out among their brethren due to capability, compatibility, durability, and accessible connection.
Within the satellite-savvy space, names like Garmin and Iridium are likely to ring a bell. As the two most prominent providers of GPS and satellite communications, they've become mainstays within the world of navigation, allowing travelers far and wide to pinpoint their location, send SOS messages in the event of an emergency, and keep family and friends "in the loop" through periodic signaling. In recent years, however, a handful of up-and-coming ventures have gained access to the realm of satellite-based communications, providing a more robust market for buyers who are looking to add yet another safety-focused device to their off-grid arsenal. Below, we'll give you a brief overview of the industry's two branches — messengers, and handheld phones — and dive deeper into what you need to look for when determining which one is the right fit for you. So, without further adieu, let's hit the trail.
What's The Difference?
Voice vs. Messaging
Before we dive into the small but complex world of handheld satellite communicators, we need to understand the differences between the genre's two most notable sectors. For many of us, the choice between a messenger and a voice-capable satellite phone might seem obvious, especially if we're focused on direct peer-to-peer contact. But what are the advantages of a smaller, more intuitive device? And why are larger phones sometimes a hindrance, instead of an advantage?
First, we'll part the fog harboring one of the genre's most divisive secrets: when it comes to voice communications, regardless of what a manufacturer/provider promises, touts, or boasts, signals can (and will) drop. If you're planning on having a long, two-hour conversation with your loved ones while you're at the farthest reaches of the planet, you're in for a bit of a surprise. These devices don't always work as advertised, and while they're a vital accessory for any would-be adventurer, you need to make sure to keep your optimism in check. The reality of the situation is that satellites won't always offer viable coverage in the area that you decide to travel to, nor will they be able to provide a clear, worry-free connection each and every time you dial home. In fact, these larger options — as gratifying as they might be — often come with some downsides, including large, cumbersome layouts, unintuitive interfaces, heavier weights, and reduced packability.
Small SMS-oriented platforms, on the other hand, bring only baseline communications to the table for interested parties. You're not going to be able to hear a family member's voice, call home for a loved one's birthday, or seal that business deal that you couldn't get to before you departed on your trip. Instead, they trade the promise of vocalized peer-to-peer communication for a more stable ecosystem. Instead of relying on approved connections and signals sent from satellites that are within range of the device, these SMS-based messengers can send texts, SOS beacons, and GPS locations without a clearly-defined connection. Plus, they're a lot easier on the wallet, thanks to streamlined SMS services that don't rely on per-minute pricing like their voice-savvy counterparts. Round that out with a smaller, more compact silhouette (which is often the case with satellite messengers), and you'll be able to communicate just as easily with your family and friends, without all the hindrances that we've mentioned above — obviously, at the expense of tangible exchange.
Regardless of your choice, you can't go wrong with the acquisition and implementation of a satellite communicator, especially if you're an avid traveler. So, now that we've cleared up some of the initial preconceptions about satellite devices, let's take a look at the offerings that have proven their worth within the space.
SpotX 2-Way Satellite Messenger
SpotX's 2-Way Satellite Messenger isn't a full-fledged communication platform like some of the more robust offerings we'll outline in our guide, but for the price, it's an invaluable tool that every adventurer should at least consider before traversing the earth's furthest expanses. To keep things compact, minimal, and out-of-the-way, the SpotX adopts a 6.5 x 2.9 x .94-inch silhouette, allowing it to be packed neatly alongside important gear that you might need for the trail. Instead of relying on your smartphone to send messages to contacts, this unique device can be paired with via Bluetooth, allowing you to utilize its satellite GPS tracking, SOS features, and texting capabilities. But if you aren't one to rely on a mobile device while outdoors, don't fret — the SpotX will allow you to do all of the above, while still being able to utilize its built-in compass, programmable waypoints, GEOS Qwerty Keyboard, and 2.7-inch backlit display. It's even IP67 rated, meaning you won't have to worry about dust, impact, and water.
Type: Messenger/GPS Tracker
Weight: 1.0 lbs
Subscription: $12/Month
Garmin InReach Explorer+
No guide regarding satellite and GPS communications would be complete without the inclusion of Garmin. The iconic nav company made a name for itself through the optimization and implementation of the genre's first personal GPS devices, and these days, it offers buyers a well-rounded selection of reliable off-grid trackers, messengers, and communicators. The InReach Explorer+, for example, is one of its primary offerings. It boasts 100% global Iridium satellite coverage, two-way text messaging, and an internal SOS that will notify the closest national search and rescue monitoring center should you run into trouble. If your motive is to share your location with family and friends on a regular basis, it'll do that, too. But what makes the Garmin InReach Explorer+ so special is its Earthmate app integration, allowing you to download (and preload) maps, reference NOAA charts, and utilize aerial imagery for easier navigation. If you don't want to bring your phone off-grid, that's ok — the device has everything you need to gauge your surroundings, including a digital compass, altimeter, accelerometer, and IPX7 dust- and water-resistance rating.
Type: Messenger/GPS Tracker
Weight: 0.50 lbs
Subscription: $12/Month
Thuraya XT-Lite
Thuraya's XT-Lite is the first of its kind on our satellite-savvy list, offering users a dependable dual GSM system complete with voice and messaging capabilities. Instead of relying on spotty cellular coverage and worrying about the existence of dead zones while out and about, this well-rounded device brings the world's most powerful satellite network to your fingertips, allowing you to stay in touch with family and friends in a much more tangible way. The only downside, however, is that of the 160 countries (or two-thirds of the globe) that Thuraya's network supports, America isn't one of them. That's not the biggest deal-breaker, since it's likely that you'll be using this whenever you head to the world's farthest boundaries, but it's definitely something to consider if you're looking for a satellite phone that won't leave you in the dark as your travel through the vastness of North America. That aside, users will still revel in one of the largest and strongest networks in the world, with the ability to access an address book, alarm, calculator, calendar, call log, stopwatch, and world timer at the touch of a button.
Type: Dual GSM/Voice
Weight: 0.33 lbs
Subscription: Post-Paid SIM/Per-Minute
Globalstar GSP-1700
Globalstar's GSP-1700 satellite phone was conceptualized to keep you connected wherever your travels take you, with an emphasis on nautical endeavors. Whether you're looking to exchange kind words with your friends and family or attend to immediate business with a colleague or cohort, this odd-looking device has been built to take on areas where spotty coverage is an absolute. Since we're on the topic of its size and stature, it's worth noting that, aside from its abnormal antenna, the GSP-100 is, in fact, small, sleek, and packable, making it an attractive proposition for travelers who want to keep their phone/messenger size to an absolute minimum. But its aesthetic isn't what makes it special. Instead, it's the device's crystal-clear CDMA digital voice quality, which offers one of the most refined connections on the market, fast data exchange rates of up to 9.6 kilobytes-per-second, and positional location services that allow for the reference of longitude and latitude directly from your handheld GSP. If you're planning on staying in an out-of-reach area for longer than expected, you'll even be able to acquire a local phone number, should you feel so inclined.
Type: Messenger/Voice
Weight: 0.44 lbs
Subscription: $50/Month
Inmarsat IsatPhone 2
The Inmarsat IsatPhone 2 is, perhaps, the coolest looking satellite phone in our guide. We know that aesthetics don't mean much when you're headed off-grid, but if they did, this would be the phone that we pack in our travel bags each and every time. Even without its sly exterior, it's still one of the most dependable satellite handhelds around, offering users a robust suite of options to stay connected at the farthest reaches of the planet. Whether you're a fan of voice calls, SMS messages, or positional tracking, this GPS-savvy device allows you to pinpoint your location from virtually anywhere on the globe, aside from polar regions. That aside, you'll be able to partake in messaging and crystal-clear call quality wherever you are, without accruing nasty roaming charges. The Inmarsat IsatPhone 2 is as dependable as it looks, thanks to its long-lasting lithium-ion battery, USB integration, and IP65 dust- and water-resistance rating, which has been tested in the world's harshest climates to ensure adequate protection in temperatures ranging from -20°c to +55°c.
Type: Messenger/Voice
Weight: 0.70 lbs
Subscription: $60/Month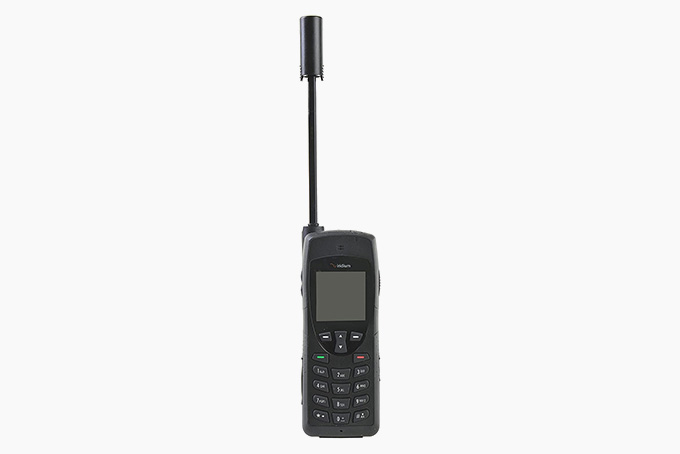 Iridium 9555
Iridium might as well be recognized as the golden standard for satellite communications, and the price of its basic handheld devices is a testament to that. With one of the world's most dependable networks and unparalleled quality/construction principles, the Iridium 9555 makes its debut on our list at an eye-popping $990 for the base model. The fact that it looks like a phone from the 1980s doesn't do it any favors. But where the 9555 shines is in its reliability. It utilizes an industrial-grade design for streamlined durability that's second to none, while also boasting a smaller, more intuitive footprint that trims the fat from some of the genre's more robust offerings. When it comes to Iridium's entry-level phone, simplicity is key, offering out-of-the-box functionality, a recognizable (and easy-to-navigate) user interface, and email/SMS/voice capabilities that can connect you from anywhere in the world. Despite its archaic appearance, the 9555 just works — and for many, that's what they're looking for when headed to a faraway land.
Type: Messenger/Voice
Weight: 1.0 lbs
Subscription: $60/Month
Iridium 9575 Extreme
The 9575 Extreme is Iridium's second offering on our list, and for good reason. Where the aforementioned 9555 was developed for the common traveler, the 9575 Extreme is truly an echelon above. It's been built for the most rugged, challenging areas on the planet, and tested under the most stringent standards known to man. As such, it's acquired the highest ingress protection (IP) rating possible — MIL-STD 810F — and has adopted an illuminated, water-resistant keypad, robust battery, and military-spec construction for those who want to head off-grid without worrying about the longevity of their gear. With the 9575, you'll be able to access Iridium's standard suite of SMS, Email, and Voice in temperatures ranging from -10 °c, all the way to +55 °c, ensuring that almost all of the world's ecosystems remain scalable.
Type: Messenger/Voice
Weight: 0.54 lbs
Subscription: $60/Month
Thuraya X5 TOUCH
We're rounding out our guide with the Thuraya X5 Touch — a contemporary satellite phone that isn't too far removed from the landscape of modern smartphone offerings. If you're an adventurer who wants more from their off-grid device, this is the most attractive offering on the market today, thanks to its advanced omnidirectional satellite antenna, seamless walk-and-talk functionality, and modernized frequencies, taking advantage of 2G/3G/4G networks wherever you decide to go. While it might not be as rugged as the Iridium 9575 Extreme, it holds its own when it comes to MIL standard adherences, thanks to its IP67 dust-, impact-, and water-resistance rating, Gorilla Glass touchscreen, and hearty construction. There's also Wi-Fi connectivity, Bluetooth, NFC, and a dual SIM satellite, allowing you to swap between service types whenever you move in and out of terrestrial coverage. As stated by the manufacturer, this is the phone of choice for individuals who regularly depart on NGO deployments and government missions within out-of-range sectors, offering adaptability, functionality, and style to the forefront. But if you're a common traveler who wants the best of the best, don't worry — the X5 TOUCH still brings all of the traditional aspects of satellite communication technology to the table.
Type: Messenger/Voice
Weight: 0.57 lbs
Subscription: Post-Paid SIM/Per-Minute
The 6 Best Hiking GPS Trackers
Headed to your favorite trail and think that a voice-savvy satellite tracker is overkill? Check out our guide on the best hiking GPS trackers, where we run through the genre's smaller, more intuitive offerings for those quick jaunts at your local.