As the pandemic continues to demolish our summer fitness plans, more and more people are heading into the great outdoors to escape from society. Taking a trip to our favorite trail, swimming area, or climbing spots can help us to take our minds off of everything that's going on in the world, reduce stress, and reset for another long week at the office, but when our weekends are compromised by closures and shut-downs, there's only so much we can do. Luckily, there's still cardio-based endeavors that we can take part in to keep us in shape.
While many of the inner-city trails have closed (or been severely crippled), many of our favorite outdoor areas, including state parks, have remained open. Aside from the natural assumption that courtesy reigns supreme, we've been able to get outside, take a day trip to our favorite locations, and hike our worries away. Naturally, this leaves the door open for a variety of trail-based workouts, of which, cardio is likely the most prominent. Around the world, individuals have either picked up or enhanced their hours on the trail, running, jogging, and trekking their way to a healthier future. Below, we've listed some of the most lauded running rails in the United States, focusing primarily on community input, reviews, and popularity. So, if you've been looking for a challenging new trail to take on this summer, or you're hoping to add another to your bucket list, don't be afraid to dive right into our guide.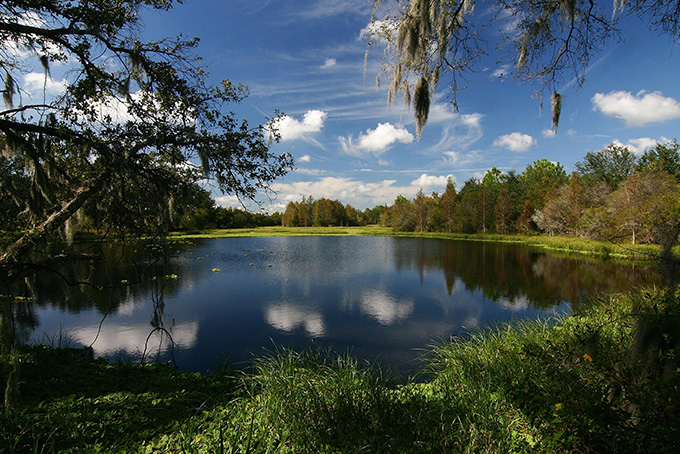 Alafia River State Park Big Loop
Although Alafia River State Park's Big Loop is a favorite destination for Florida's mountain biking community, there are a handful of trails and cuts that can be utilized by hikers and runners. This unique loop spans 6.4 miles of the state's most beautiful terrain, offering views of wildlife, aquatic animals, and fauna, while still providing plenty of shade to escape the heat. Since the trail remains relatively flat throughout, with only a 147-foot elevation gain at its highest point, Big Loop is a heavily-trafficked route that's become a favorite among the state's runners. If you're ever nearby, you should drop in and see what the trail has to offer.
Location: Lithia, Florida
Approximate Distance: 6.4 miles
Appalachian Trail
If you're an avid runner and you haven't dreamt of taking on the Appalachian Trail, we don't know what to say. Beyond its historic lineage, the trail is one of the most diverse (and challenging) in the United States, offering runners over 2,180 miles of sprint-worthy pathways, cuts, and segments. Obviously, it spans multiple states, making it a favorite destination for a wide range of different runners, hikers, and mountain bike enthusiasts, and depending on the time of year you show up, you'll be treated to some of the east coast's most pleasant traits, including fall colors, springtime foliage, and summer's balmy (but great-feeling) breezes.
Location: Georgia/Maine
Approximate Distance: 2,182 miles
Barn Bluff Trail
Barn Bluff is a 2.9-mile out-and-back trail system located near Red Wing, Minnesota, and as one of the most outdoor-oriented communities in the country, you can bet that it's moderately trafficked at virtually every point of the year. Aside from offering fantastic views for hikers and trail-runners, this unique loop boasts two different sections — a north, and south — that provide plenty of opportunities for visitors to partake in the admiration of seasonal wildflowers, wildlife, and semi-challenging trails. There are even several sections where elevation change is so prominent, ropes need to be used as precautionary measures. However, once you make it to the top, spectacular panoramas of the Mississippi River and Red Wing await.
Location: Red Wing, Minnesota
Approximate Distance: 2.9 miles
Charles River Path
Boston's Charles River path might be more urban than the rest of the trails on our list, but that doesn't make it any less commendable. As the go-to running area for Tracksmith's team members, this 27.7-mile path cuts through some of the most awe-inspiring areas of Massachusetts' Cambridge area, providing various activities, trails, and rest areas for those who are looking to make the trek. Runners will be exposed to various points of interest, including a number of waterways, bridges, expansive wildlands, and lookouts. Sadly, due to Boston's weather, the trail operates at capacity from March to October. During the other months of the year, temperatures drop well below advisable levels, meaning that most of the cardio-savvy locales are stuck indoors.
Location: Boston, Massachusetts
Approximate Distance: 27.7 miles
Dale Ball Trails
New Mexico is home to many great trails, but Dale Ball stands out as one of its most prominent. This amazing network of pathways is split into a handful of different regions, with the northern section taking precedence over the others, thanks to its manicured, 4.9-mile length. For those who love to keep track of their times, each section of the trail is marked with mileage and location, allowing you to pace yourself for increasingly-efficient jogs. Plus, with a number of twists, turns, and switchbacks, you won't get bored as you make your way further down the path. Either way, runners are treated to an amazing, mid-grade cardio experience, which is only amplified by the serene views of pinyon and juniper.
Location: Santa Fe, New Mexico
Approximate Distance: 4.9 miles
Deschutes River Trail
If you're a fan of the PNW, you'd better add the infamous Deschutes River Trail to your list of bucket list runs. This amazing 14.5-mile track features everything that people love about the northwest, including idyllic vistas, bridges, waterways, and forested areas that offer shade on a consistent basis. For the most part, the path operates at a 2% grade, making it a prime location to train your cardio and put in some miles. But, wherever things get tough, you'll be able to take a quick break on one of the trail's many points of interest, where the charm of one of the nation's most beautiful areas will certainly captivate.
Location: Bend, Oregon
Approximate Distance: 14.5 miles
Devil's Bridge Trail
Devil's Bridge Trail might not be one of the longest treks on our list, but it definitely one of the most awe-inspiring. At a meager 1.6 miles in length, it's perfect for a quick jaunt when time is of the essence. But what makes this trail truly unique is its end-point — a natural rock bridge that stretches out from the cliffside, and towers 54-feet above the desert floor. Aside from impeccable views of the surrounding area, Sedona's trail system offers far more in terms of attractive traits, especially since it's often one of the coolest places in the state to train year-round. If you don't feel like heading out onto the towering, rock-made monument, don't worry; there are also a number of forks, cuts, and trails that branch off from the main pathway, allowing you to explore the floor of the desert (below the bridge), should you feel so inclined.
Location: Sedona, AZ
Approximate Distance: 1.6 miles
El Moro Canyon Loop
Spending any time in Laguna Beach's Crystal Cove State Park, and want to get in a quick cardio session? The El Moro Canyon Loop has you covered. Not only does this 5-mile trail offer serene views of the surrounding wildlife, foliage, and ocean, but it's also one of the most moderate trails in the area, allowing runners to traverse over 800 feet of elevation gain in one fell swoop. Since the lower-leg of the loop is established along the wildflower-filled coastal plateau, you'll also find that the views at the beginning (and end) of your route will act as a celebratory "gift" for completion, motivating you to bask in the cool, calm breezes that sweep up and over its face.
Location: Laguna Beach, California
Approximate Distance: 5 miles
Finger Lakes Trails
Located near Hector, New York, the Finger Lakes Trails are a prominent destination for many of the state's most avid runners. Every year, the Twisted Branch 100k takes place amongst the trail's plentiful routes, so you can rest assured that virtually every pathway has been traversed, and trialed before you set foot on the slippery singletrack. Traversing over 24.7 miles through the state's forested woodlands, these routes are heavily trafficked during the spring, as well as early and late summer, where wild strawberries and blackberries can be found in droves. Over the course of the run, you'll find many points of interest, but since the route cuts through many different properties and private lands, it's recommended that you stick close to the beaten path, and respect your surroundings.
Location: Hector, New York
Approximate Distance: 24.7 miles
John Muir Wilderness Big Pine Lake
The John Muir Wilderness is home to a plethora of interesting areas, points of interest, and trails. The most prominent, however, is Big Pine Lake. Located near Bishop, California, this 16.2-mile trail climbs approximately 4,051 feet into some of the country's most beautiful wildlands and climaxes at a loop overlooking the area's crystal-blue mountain lakes. Since the trail has become a popular destination due to geotagging, you can expect to find a large number of individuals using the trail during the recommended spring and summer month, but luckily, there aren't too many reasons why your run should be hindered. Keep in mind, however, that this hike is rated as one of the toughest in the nation, so tread lightly — you don't want to misstep one of the pathway's more technical areas.
Location: Bishop, California
Approximate Distance: 16.2 miles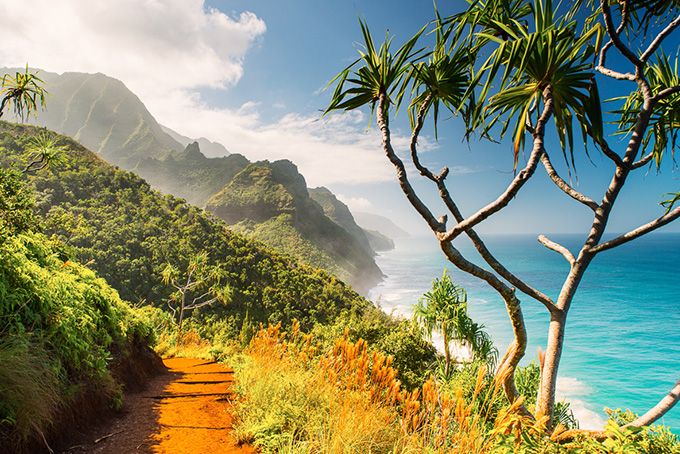 Kalalau Trail
Kauai, Hawaii's Kalalau Trail is one of the most iconic destinations in the states, let alone the world. This beautiful 19.1-mile trail spans the northern coastline of the island, and features some of the most breathtaking views on the planet, thanks to its immense cliffsides, mountain ranges, and flowing waterways. As you traverse Kalalau, there are plenty of opportunities for rest and relaxation at one of the trail's many lushly vegetated areas, waterfalls, or rock formations. The only downside, however, is that you'll have to make reservations to use the trail in advance, due to rules put in place by Hawaii's State Park association. Regardless, it's worth the effort, and if you ever find yourself on Hawaii's Kauai island, it's an area that you'll have to see to believe.
Location: Kauai, Hawaii
Approximate Distance: 19.1 miles
The Long Trail
Want to run your heart out in the quintessential, mist-covered forests of the east coast? Vermont's "Long Trail" is for you. While the name might be a bit misleading, this 5.1-mile trek is a beautiful traverse the spans along the state's Canadian border, and hosts various steep inclines, ascents, ridgelines, and rock formations. As such, it's recommended that runners and hikers who take on the route are cognizant of their surroundings, especially since these surfaces are often slippery due to rain, mist, and dew. Once you get past the more "adversarial" traits of The Long Trail, however, it can be quite the experience. Throughout, trail goers will be exposed to plentiful greenery and wildlife, including the area's iconic wintergreen, spruce, and beech trees, as well as, pine, birch, and red squirrels.
Location: Winhall, Vermont
Approximate Distance: 5.2 miles
McKenzie River Trail
We're heading back to the PNW for Eugene, Oregon's McKenzie River Trail. As the name suggests, this beautiful 26.5-mile expanse traverses some of the most beautiful, pine-covered country in the world. And the best part? It follows one of the state's most prominent rivers, meaning that you'll be able to jump in for a quick cool-off, should you feel the need. Aside from offering a laid-back, 2% grade for much of its length, and ranking relatively high alongside some of the country's most "runnable" trails, you'll also be able to stay overnight. The McKenzie River Trail is linked to a number of different campsites and resort areas, making it a prime destination for those who want to train, but enjoy their time on the trail for longer than a sprint can provide.
Location: Eugene, Oregon
Approximate Distance: 26.5 miles
Mesa Trail
Colorado is home to some of the United States' most wondrous mountain ranges, and if you've never been to Boulder, you're about to find a perfectly good reason to book a flight. Aside from the beautiful forested areas and plentiful waterways surrounding the town, it's also home to the Mesa Trail — a 6.3-mile trek that's been equated to roughly a half marathon. Runners are taken on a journey of discovery through a handful of the trail's mixed grassland/prairie areas, eventually leading to peaks and vistas that offer idyllic views of the valley below. Like many of the parks and trails in the wildernesses of Colorado, you'll also be treated to a menagerie of different wildlife, including Peregrine Falcons, hawks, mule deer, and coyotes.
Location: Boulder, Colorado
Approximate Distance: 6.3 miles
Poison Spider Mesa
Moab is a bucket-list destination for many an adrenaline junkie. If you haven't already visited for a 4×4 marathon, a romp on a friend's dirtbike, or a sandrail expedition, then you'll be happy to hear that the area's Poison Spider Mesa caters to trail-going runners and hikers. While it's not the most viable for foot traffic (due to Moab's reputation for motorized vehicles), you'll be able to partake in a 13.5-mile run within some of Utah's most mesmerizing expanses. Whether you're a fan of large, natural rock structures, desert-like landscapes, or rivers that create small, oasis-like escapes along the way, you'll find Poison Spider Mesa to be right up your alley — once you get past the motorists and off-road drivers, that is.
Location: Moab, Utah
Approximate Distance: 13.5 miles
Potawatomi Trail
As one of the most classic loops on our list, Michigan's Potawatomi Trail is a preferred top for both amateur and professional runners. Not only does this 17.5-mile trail boast some of the state's most beautiful wildland, but it's also relatively well-groomed, easy to traverse, and friendly to newer hikers/runners. While making your way through many of the area's deciduous forest, you'll stumble across wildlife, waterways, bridges, and fresh-water wells, providing a true, old-timey experience for those who are more akin to going off-grid. A word of warning, though. While making your way the trail's plentiful oak, maple, and hickory-covered pathways, be aware of your surroundings — Potawatomi is also a high-profile destination for mountain bikers, so be courteous and keep your head on a swivel.
Location: Pinckney, Michigan
Approximate Distance: 17.5 miles
Tahoe Rim Trail
Nevada's Tahoe Rim Trail is a monstrous trek that hosts the annual Tahoe Rim 100, each year, and while its 51.2-mile loop might seem daunting, it's still somewhat plausible for experienced runners. If you're up to the challenge, you'll be treated to a true high elevation alpine (and sub-alpine) forest trail, passing through lakefront vistas, plateaus, and rocky hillsides to earn your stripes. While the majority of the pathway is situated at 6% grade, various portions take a sharp uptick to around 36%, meaning that you'll have to come prepared for moderate traversal. As such, grippier, more durable shoes are recommended.
Location: Incline Village, Nevada
Approximate Distance: 51.2 miles
Tiger Mountain State Forest
Tiger Mountain State Forest is home to many interesting trails, but the one that we're focused on is the (oddly-named) Poo Poo Point. This 7.5-mile pathway is a quintessential PNW trail, chock full of overarching pines, ferns, and foliage. There's also a number of isolated relaxation areas, creek crossings, bridges, and points of interest, providing a gateway into views of the area's plentiful wildlife. If you're worried about taking on the sun, never fear — the entirety of Poo Poo's run is situated within tree cover, meaning that you won't have to slather on the SPF to battle skin damage. But be careful, you never know if that leaf you brushed up against might lead to a more compromising skin condition.
Location: Seattle, Washington
Approximate Distance: 7.5 miles
The 12 Best Trail Running Shoes For Men
Now that you've found the perfect trail to add to your bucket list, head over to our guide on the best trail running shoes for men, where we hone in on the footwear that you'll need to complete your mission.