Feb 7, 2022
Category: Gear
Running shoes have gotten crazy good over the past several years. After Adidas introduced their Boost technology in 2013, it kicked off a cushioning arms race among major footwear brands that is still raging today. And while your feet no doubt appreciate all of the high-end tech that's made its way into your running shoes of late, your wallet definitely does not. All that R&D is expensive, and running shoes routinely creep into $150+ territory these days — with examples costing over $200 becoming more and more common. But the good news is that it's still possible to find a quality pair of running shoes below $100 — if you know where to look. And since you're currently reading this guide to the best running shoes under $100, you've already gotten the hard part out of the way.
For our list of the best running shoes under $100, we selected the top options from all of the leading brands that compete in this price bracket. You'll discover picks from Nike, Adidas, Saucony, New Balance, and more, along with a brand or two with which you may not be familiar. What you won't find, however, are any shoes currently on sale whose retail price is above $100. The shoes in this guide are all legitimately priced at $100 or less at retail, which means you won't have to worry about their price shooting above $100 after some sale ends. So now that we've got those expectations out of the way, here are the 12 best running shoes under $100.
New Balance Fresh Foam Arishi V3
One of the top cushioning technologies at New Balance is their supremely plush and lightweight Fresh Foam, and that's what you'll find in the midsole of these runners. You also get an engineered knit upper that keeps things light and flexible. Those characteristics even carry over to the outsole, too, where you'll find an innovative cored rubber structure that moves with you and gets rid of unnecessary weight. Overall, it's a lot of tech and comfort packed into the lowest-priced shoe on this list.
Atreyu The Base Model
Joining the crew of heavy hitters in this lineup is Austin, TX-based startup Atreyu. The brand favors simplicity above all else, offering well-made affordable shoes that eschew the bells and whistles of larger brands. What you're getting is an ultralight (6 oz.) runner with a form-fitting sock-like upper, a one-piece EVA foam midsole, and a thin TPU overlay for added durability. And while the shoes are already a steal at $75, frequent runners may appreciate the brand's subscription service, where you'll pay just $55/pair to get fresh kicks delivered every two months.
Under Armour Charged Impulse Knit
Under Armour may not have caught up to competitors Nike and Adidas yet when it comes to their footwear offerings, but with efforts like the Charged Impulse Knit, it's only a matter of time. These are specced out like true luxe runners but priced like entry-level sneakers. The breathable full-knit upper molds to your foot and just screams quality, while the proprietary Charged Cushioning utilizes compression molded foam to absorb impact and provide superb responsiveness. The outsole trims rubber where you don't need it to save weight and adds extra rubber where you do to increase durability.
Adidas Astrarun
Nearly a decade since it made its debut and changed the cushioning game forever, Boost remains tough to beat. There may or may not be some cushioning systems out there that best it, but no one will ever complain about having Boost cushioning in their running shoes. The trouble is, Boost is tough to find in a shoe for under $100, but that's exactly what you get with the Astrarun. The shoe combines the King of Comfort Boost with another of Adidas' cushioning systems, Bounce, making the Astrarun excel at both comfort and energy return.
Nike Winflo 8
Like their chief rival Adidas, Nike tends to save their top technologies for their pricier offerings. But once in a while, something like the Winflo 8 slips through the cracks offering impressive features at a bargain rate. These kicks combine a thick Cushlon foam midsole with heel and forefoot Zoom Air units, providing both a plush ride and a springy step. There's also a translucent upper over a Flywire lacing system for a secure fit with loads of style. These shoes look like they cost a lot more than they do, though you'll rarely be moving slow enough to notice.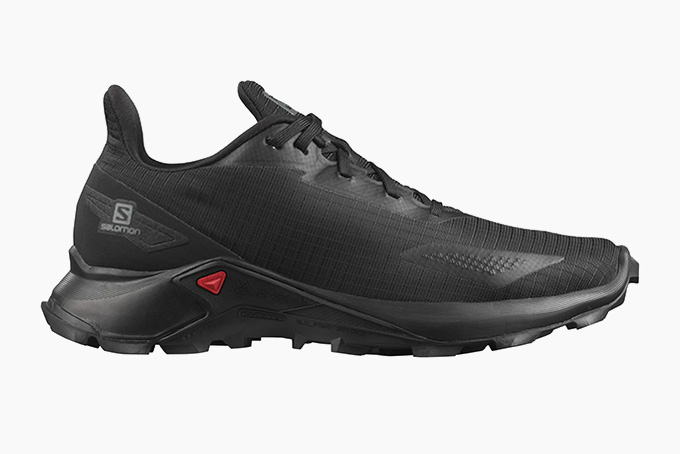 Salomon Alphacross Blast
While Salomon does make road running shoes, the brand is best known for crafting rugged trail running shoes for their French Alps home. For the most part, their footwear definitely lands on the higher end of the price spectrum, but the Alphacross Blast surprisingly gives you the full Salomon experience for less than a Benjamin. The shoes have the brand's trademark Chevron Lugs made of their Contagrip TD rubber, proprietary EnergyCell foam cushioning, and an abrasion-resistant ripstop upper. In other words, they're perfectly suited for your next run in the Alps.
Asics GT-1000 10
Asics GT-1000 is a modern running shoe classic, as the brand has been churning them out to critical acclaim for a decade now. This iteration is the tenth-anniversary edition of the shoe, and Asics has gone all out to celebrate by packing the shoe with proprietary tech. There's Asics' signature GEL cushioning in the heel for shock absorption which is complemented by a lightweight Flytefoam midsole for softer landings. There's also a DuoMax medial support system for added stability, along with an engineered mesh upper that adjusts to your foot's natural shape. Happy anniversary indeed.
Brooks Launch GTS 8
Brooks is quite possibly the most underrated brand on this list. They don't get much of the glory, but if you know, you know. And if you don't know, then it's time you learned: Brooks makes some of the best running shoes on the planet. These tech-filled wonders are solid all-'rounders with a cooling air mesh upper that eliminates the need for an inner bootie, Brooks' unique GuideRails "holistic support system" for stability, and BioMoGo DNA foam — the brand's lightest cushioning material — in the midsole.
Merrell Trail Glove 6
Like Salomon, Merrell is a brand that specializes in crafting off-road footwear, and they're darn good at it. The sixth version of their fan-favorite Trail Gloves are a minimalist trail runner's dream, offering a barefoot experience for that natural, back-to-nature feel on the trails. They also give back to Mother Earth in other ways, with 100% recycled laces, a 65% recycled mesh upper, a 40% recycled mesh liner, and 30% recycled rubber in the outsole. And though they're heavily recycled minimalist runners, they still manage to pack in some high-end tech like a rock plate, a Vibram rubber outsole, and an environmentally-friendly — and comfy — BLOOM algae performance midsole.
Reebok Floatride Energy 3
The latest installment in Reebok's acclaimed Floatride Energy series, the 3 outfits runners with a suite of high-end features not often seen at this price point. Sure, you might find one or two similar features elsewhere, but rarely do as many top-level specs as this find their way into a hundred-dollar shoe. These kicks boast a carbon rubber outsole that shrugs off abrasions and is extremely durable, a quality knit upper that's both breathable and flexible, and proprietary Floatride Energy Foam cushioning that's infused with nitrogen to be super lightweight and responsive.
Saucony Axon
Over the past few years, a big emerging trend among running shoes is "maximalist" cushioned shoes that pair super-thick and soft midsoles with rocker designs, making for a plush and easy ride. These types of shoes from brands like Hoka One One and Nike tend to be extremely expensive, but longtime runners' favorite Saucony have managed to make a budget version of such a shoe. The Axons pair Speed-driven geometry with an ultra-thick PWRRUN foam midsole, giving you the maximalist ride you're looking for. They also feature a durable carbon rubber outsole, meaning these comfy kicks will be rocking with you well into your future runs.
Topo ST-3
Topo is a cult-favorite brand among runners, and the ST-3 is one of their most popular and highly-regarded shoes. Lucky for you, it only costs $100. This is the brand's most minimalist road running shoe, so if you don't like much getting between you and the feel of the road, then this is for you. The 16 mm stack height/0 drop platform makes them as neutral as can be, while the knit construction and counter-free collapsible heel continue the minimalist feel through the upper. Not just for running, the ST-3s also make great gym shoes and travel shoes thanks to their neutral build and packability, potentially stretching your $100 bill even further.
The 20 Best Running Shoes For Men
All of the shoes in this list are great for running, but let's be honest: there are better running shoes out there if you have the budget to spend on them. That's why we've put together a guide to the best running shoes for men with no price restrictions, giving you a thorough rundown of the absolute best runners in the industry.
HiConsumption is reader-supported. When you buy through links on our site, we may earn an affiliate commission. Learn more