Feb 27, 2019
Category: Tech
If you're a casual computer-user who only ever uses a desktop for work or to check your email, you've probably not given much thought to your PC's peripherals. If you're a coding freelancer, digital designer, or hardcore gamer, however, you might pore over every part of your computing experience to make it as satisfying and streamlined as possible. And for those who fall into that latter group, mechanical keyboards are almost a must-have.
The biggest downside to mechanical keyboards is undoubtedly their noise. The clicking of the keys can be so loud and annoying, you might find yourself hearing it in your sleep. And if you work around other people, it's almost certainly worse for them. Thankfully, there's an answer to be found in quiet mechanical keyboards. A much smaller sub-category, the options are fairly limited. But there are still a few that stand out amongst the pack. You'll find the winners here on our list of the eight best mechanical keyboards.
A Brief History Of Keyboards
A Quick Primer
If you were around for the early days of the computer industry or you're a programmer or lifelong video game fanatic, you might already know what mechanical switches are. For those who don't, allow us to illuminate the subject. Most modern keyboards, especially those that are included with the purchase of a computer, come with keys that function via dome-switches — a fairly reliable, yet inexpensive mass-market technology that use a large rubber pad beneath the keyboard's keycaps with bubbled "domes" that collapse with each press of a key — not entirely dissimilar to those found on the lids of fast food soda cups — and connect the circuit that sends that key's signal to the computer itself.This technology allowed for greater typing accuracy, a longer lifespan, and a very satisfying tactile click. The big downside with these switches is that they don't feel very responsive or satisfying and, over a relatively short span of time, the domes will become even less responsive ("mushy" is the insider term) and eventually cease to function altogether.
Before the invention of dome-switches — which came about in the mid-1990s — keyboards had mechanical switches. On a mechanical keyboard, each individual key had its own complete mechanism underneath that offered resistance, often spring-loaded, that required a specific amount of pressure to be actuated. In turn, this technology allowed for greater typing accuracy, a longer lifespan, and a very satisfying tactile click. The downside of these types of keyboards is that they're bulkier, heavier, and — at least at first — a good deal louder than their dome-switch counterparts.
Mechanical keyboards didn't die out, however. They just grew a bit rarer, used primarily by industry insiders and PC fanatics. Recently, they've seen a bit of a renaissance — which we credit to a wider array of options and switch styles. One of the biggest downsides of mechanical keyboards has been somewhat done away with in recent years: their noise. Once an unavoidable drawback, now there are many offerings that feature much quieter switches that are at least as noiseless as their dome-switch brethren, making for an altogether better typing experience, regardless of whether you're writing emails, computer code, or playing your favorite game.
Mechanical Keys Made Quieter
Switch Types
There are a few major keyboard switch manufacturers — with Cherry being the most prominent and often considered the industry standard — but the names of their offerings can be a bit confusing and aren't actually related to their functionality most of the time. What's important to know, however, is that mechanical switches fall into two larger categories: linear and tactile. Tactile can also be separated into two smaller sub-categories: quiet and clicky. We've outlined these categories, large and small, below.
Linear: These switches offer a consistent level of resistance when pressed, allowing for reliable keystrokes. But they do not offer the same satisfying "click" as found with tactile varieties. They are, however, the most consistently-quiet offering.
Tactile Quiet: Made to offer the feel of a click but without the associated noise, tactile quiet key switches operate with spring-loaded resistance that offers a non-audible bump when pressed down fully, but at a far lower volume than traditional "clicky" switches.
Tactile Clicky: Using the same spring-loaded resistance as their quiet brethren, tactile clicky switches are the original type of mechanical switch and are also probably the most altogether satisfying both physically and audibly to the user. Unfortunately, for those in close proximity to the keyboard user, they're often considered exceedingly loud, distracting, and annoying.
It's important to note that of the following varieties, none of the offerings on our list are considered "clicky," as that defeats the purpose. Rather, the selections are either linear or tactile quiet — which are noted beneath each description — as these are the only ones that can be considered quiet enough to make the cut.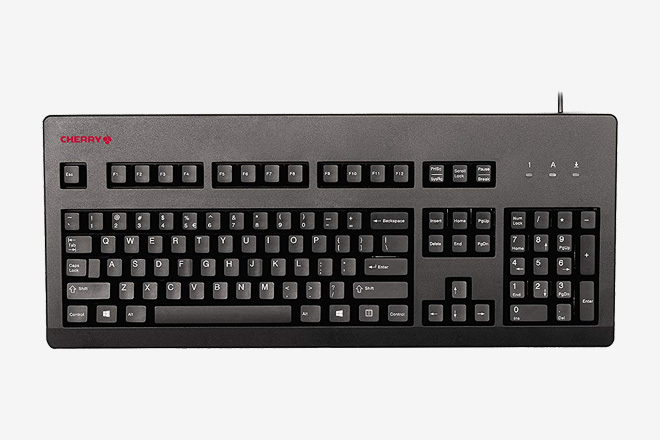 CHERRY G80-3000 Mechanical Keyboard
While they set the industry standard when it comes to high-end switches, that's not all Cherry manufactures. In fact, they also offer complete keyboards built by the brand from the ground-up. What's especially enticing about this particular offering is that it includes their MX Black silent switches, which are some of the quietest on the market. It's also dirt- and dust-resistant, features a simple USB plug-and-play format, and is compatible with a wide range of operating systems — both Mac and PC.
Key Type: Linear
Switches: Cherry MX Black
SteelSeries Apex M750 Mechanical Keyboard
As mentioned, Cherry set the standard for mechanical switches, but they're not the only brand in the game. The SteelSeries Apex M750, for instance, uses their own high-end linear offerings from Gateron, called QX2 — which are comparable to Cherry's MX series. What also sets this particular keyboard apart is that it's made from a durable and lightweight aluminum alloy and has a customizable RGB lighting system that can be synced to Discord (a popular gaming messaging app) or made to react to in-game events — like low ammo, low health, in-game kills, and more.
Key Type: Linear
Switches: QX2
Filco Majestouch 2 TKL Mechanical Keyboard
Proof positive that not every mechanical keyboard has to be some over-the-top, rainbow-colored gaming device, Filco's Majestouch 2 TKL Mechanical keyboard is a much more toned down offering that still boasts top-of-the-line features otherwise. It's also the only one on our list that gives the customer their pick of the litter in regards to which switches are built into it. While the offerings are specific to Cherry, you can choose between five different options. We really like the MX Silent Reds — which are an even quieter version of Cherry's fan favorite offering. It's also worth noting, this particular offering doesn't feature a 10-key pad, but those keyboards are available for a slightly higher price.
Key Type: Linear or Tactile
Switches: Cherry MX Brown, Black, Blue, Red, or Silent Red
Logitech G513 Mechanical Keyboard
Logitech is one of the few brands on this list (perhaps the only one) we might call a "household name." And that's not just because of their wide range of peripherals, though their catalog is very deep. It's also because a lot of what they make could be categorized as industry-leading. Their G513 mechanical keyboard certainly fits into that realm with its RGB fully-customizable lighting, memory foam palm rest, USB passthrough, aluminum construction, and Romer G linear switches. The one downside with this one: it's only compatible with Windows operating systems.
Key Type: Linear
Switches: Romer-G
CORSAIR Strafe MK.2 Mechanical Keyboard
While we'd be a bit hesitant to call a $100+ keyboard a "budget-friendly" option, this one is certainly the least expensive quiet mechanical keyboard that's worth your time. Corsair has a habit of making excellent gaming-focused gear that's on the more inexpensive side of the spectrum when compared to the competition. The Strafe MK.2 is no exception — with Cherry MX Red switches, RGB customizable lighting, a USB passthrough port (for your headphones, mouse, or otherwise), and macro fully-programmable keys. It can even store your custom profiles onboard with 8MB of dedicated storage.
Key Type: Linear
Switches: Cherry MX Red
Matias Quiet Pro Mechanical Keyboard
One of the few brands that have their own proprietary key switches, Matias has made some bold claims — like that their Quiet Pro switches are actually quieter than Cherry's Blue and Brown offerings. But you can be confident in that claim, as they've actually done a sound test that's posted on their site. On top of their keys being as quiet as dome-switch varieties, this keyboard is also available in Windows or Mac editions, desktop and laptop varieties, and offers some of the best tactile feedback in the industry.
Key Type: Tactile
Switches: Quiet Click
Das Keyboard 4 Mechanical Keyboard
While it certainly looks a bit more toned-down than the other options on our list, don't discount the Das Keyboard 4 quiet mechanical keyboard. On top of its satisfying quiet tactile switches, this is one of the best options on the market in regards to typing speed and accuracy — as it features anti-ghosting technology and full n-key rollover. On top of that, it offers dedicated media controls and an oversized volume knob so you can switch tracks or crank up your music on-the-fly without any fuss. Finally, it boasts a magnetic removable footbar that doubles as a ruler.
Key Type: Tactile
Switches: Cherry MX Brown
Razer BlackWidow Elite Mechanical Keyboard
Razer is undeniably the most prominent name in gaming-focused peripherals — and they actually make their own phones and laptops, as well. When it comes to keyboards, however, their top-tier option is the BlackWidow Elite. Available with your choice of three proprietary switch options (Orange, Yellow, or Green), this fully-programmable quiet mechanical keyboard is durable enough to survive through over 80 million keystrokes. Better still, while this keyboard offers onboard storage for your personalized profiles, it also has cloud storage, so you can access your personal settings from anywhere. It's no wonder this keyboard has won so many awards.
Key Type: Tactile
Switches: Razer Orange
10 Best Lightweight Laptops
For some folks, especially those who are on the go, a desktop is not a feasible computing option. But not all laptops are what we'd call "commuter-friendly," despite their folding format. If you're the type who needs a sleek and portable computing device, turn to our list of the best lightweight laptops.
HiConsumption is reader-supported. When you buy through links on our site, we may earn an affiliate commission. Learn more