Aug 6, 2019
Category: Gear
It's easy to lug a big-cased, heavy-bezeled grandfather-clock-esque timepiece around and seem masculine. It's the equivalent of driving a steel-bolstered 4×4 or an ultra-fast sports car. While some might suggest there's some kind of compensation mechanism at work, most will simply stare in awe at the car or truck as you fly by, a contented smile on your face, feeling like a badass of Mcqueenian proportion.
We're not knocking wearing a large-dial watch, or driving a sports car or souped-up truck for that matter. Not by any means. We encourage it. IN fact, some of the best watches on Earth come exclusively in cases 42-47mm. If it's your style, rock it proudly. We are simply making the case that it takes a man who is truly bold, truly secure, to wear something of a slighter design. A small watch invokes an appearance demure dapperness, a more Bondian aesthetic. Someone who pays attention to the small things, someone meticulous and reserved, but an individualist; bold without being brash, confident but not showy. If you feel like this description resonates with you, cultivate that aesthetic – from the wrist out – with these 20 Small Men's Watches Under 38mm.
Seiko 5 Automatic
The Seiko 5 Automatic is a good place to start if you're looking to break into the small-watch game softly. At just around $65, it's no major investment to investigate what a smaller timepiece lifestyle invites. A stainless steel case and black canvas strap offers a classic, timeless style, and a handsome, scratch-proof watch face suits any occasion. Luminescent hands and a day of the week and date display offer the rudimentary features required of a timepiece. Minimalist in style and size.
Case size: 37 mm
Case thickness: 11 mm
Citizen Strap Eco-Drive 180 Day-Date
A simple and bold timepiece, the Citizen Strap Eco-Drive offers a militaristic motif, perfect to be paired with your favorite NATO strap. At just 37mm in diameter and 9 mm in thickness, the Eco-Drive is an extremely innocuous wear. Subtle, not too flashy, this black watch is for utilitarians. Not to knock the aesthetic – it doesn't glint with diamonds or an excessively shiny bezel – but it's a serviceable and attractive watch for everyday wear.
Case size: 37 mm
Case thickness: 9 mm
Timex Navi Harbor
The design for the Timex Navi Harbor was created as part of the Timex Archive project, in which styles from the annals of Timex's 164-year history were rediscovered and reinvented. Inspired by military style and the great outdoors, the Navi Harbor is built to travel any terrain with you. A matte black finish harbors the perfect amount of shine, and the Navi is eye-catching without being gaudy. A highly legible dial and domed crystal makes this watch a beautiful buy for under $300. A no-frills and smooth look for anyone looking for a solid, affordable timepiece.
Case size: 38 mm
Case thickness: 11 mm
A-11 WWII Military Watch
The A-11 is a storied military watch, with its own special place in history. Known as the watch that helped win the war for the Allied forces, it was the official timekeeper for the Allied soldiers, keeping them in perfect synchronicity. With a nearly identical look, this recreation of the A-11 allows you to keep a piece of horological history around your wrist at all times. With a 24-jewel self-winding automatic movement and a solid stainless steel case, the durable A-11 is the timepiece you want with you in the trenches.
Case size: 36 mm
Case thickness: 11.5 mm
Seiko Automatic Divers Watch
The Seiko Automatic Divers Watch is a beautiful diver's watch that doesn't make too big of a splash – and doesn't weigh you down like an anchor. This 37 mm dial watch is far smaller than the big Omegas and Rolexes and others of the ilk, with Big Ben-esque watch faces. A smaller stainless steel case and band offers the same look but made more compact. Still, the same submarine capabilities hold true, as the Seiko is water resistant to 200M. Lumibrite hands glow powerfully even at the primordial depths of the ocean floor, and scratch resistant hardlex crystal defends your watch from the urchins and other pokey creatures down below.
Case size: 37 mm
Case thickness: 11.5 mm
Braun AW10
Sheer and minimalist, this all black Braun AW10 is handsome and supremely subtle. Designed by Messrs Dietrich Lubs and Dieter Rams as a rendition on the classic AW 10 watch from Braun's archives, this watch casts Bauhaus vibes from a smaller watch case. Created by Lubs and Rams in 1989, the AW10 was Braun's first ever analogue watch. The pair reunited to commemorate the milestone, and the result is a new classic. Made with scratch-resistant mineral glass, a black dial, white indices, and a flash of orange-yellow on the second hand, one can imagine wearing this compact beauty around his wrist as he cruises the Autobahn.
Case size: 33 mm
Case thickness: 7.2 mm
Hamilton Khaki Automatic
Nothing beats a handsome stainless steel case, a black dial, and a tawny leather watch band. The Hamilton Khaki provides a timeless and handsome look in a smaller package. Hamilton Calibre H-10 automatic movement keeps the clock ticking, and ticking, and ticking – the Khaki automatic has an 80-hour power reserve. Tough sapphire crystal takes the Hamilton to a higher echelon of scratch defense than the previous watches on the list.
Case size: 38 mm
Case thickness: 11.5 mm
Marathon Milspec Divers Watch
This Divers Watch from Marathon is not pulling your leg when it says milspec. Unlike most watches claiming a relation to the military, this Marathon watch is actually manufactured in accordance with US Government Specifications, and is issued and worn by troops in Iraq and Afghanistan. Some of those specs include self illuminated 24/7 tritium gas tubes that are guaranteed to stay glowing for 25 years, and having SAR (search and rescue) features and water resistance up to 300 meters. Vanilla-scented vulcanized rubber straps keep your wrist from soaking up sweat. This Marathon Milspec lives up to its name – both of them – in that it's built for the long haul.
Case size: 36 mm
Case thickness: 13 mm
Shinola The Guardian
Shinola is a beloved name in the watch and leather sphere. Their boldly legible watch faces generate an all-American look, fitting for a brand that prides itself on staying true to its Detroit roots. The Guardian is Shinola's smallest-cased men's watch at 36mm, a far cry from the iconic Runwell's robust 47mm case. But that doesn't mean a sacrifice in quality. Like its bigger brother, the Guardian has a stainless steel buckle, a bold Arabic numeral dial – the Guardian boasts a midnight blue dial – and the same Argonite quartz movement to drive movement, and a trademark Horween leather strap to tie it all together. Where the Guardian differs, aside from the smaller case size, is the square-rectangular shape – it's the only one in Shinola's catalogue. A beautiful pumpkin crown rests on top, emboldening the underlying azure and giving the Guardian a dazzling look.
Case size: 36 mm
Case thickness: 10.8 mm
Junghams Max Bill Chronoscope
With a beautiful, simple and understated design, the Junghams Max Bill is the perfect white-dial watch for a minimal look. A sturdy but light (just 2.9 ounces) build gives the watch a wieldability that is absent in thicker-dialed timepieces. The Max Bill is billed as a dress watch, and this elegant little watch will be the perfect complement at any black tie affair.
Case size: 38 mm
Case thickness: 10 mm
Christopher Ward C60 Trident Pro
You don't see nearly enough blue dials on wrists these days. The beautiful deep blue look of the dial and case on this Christopher Ward Trident Pro harken to the ocean depths in a way befitting of a diver's watch. It also comes in a bold orange, but that's a slightly less versatile piece. Boasting excellent craftsmanship for mid-tier price, the C60 is a dazzling and dapper diver's watch that doesn't weigh your wrist down like a ship anchor.
Case size: 38 mm
Case thickness: 12.7 mm
Zodiac Olympos Automatic
This limited edition re-release of Zodiac's killer 1961 Olympos Automatic watch, this beautiful new version offers an awesome austerity with its stark black "mystery dial," that doesn't brandish numbers. Doubling down on its muted motif, the Zodiac Olympos is just 37.7 mm in case diameter. A beautiful, manta ray-shaped stainless steel case backs up the dial in unique fashion. The perfect watch to exhibit some demure dynamism on your wrist.
Case size: 37.7 mm
Case thickness: 11 mm
Oris Divers Sixty-Five
The Oris Divers Sixty-Five is a ticking, whirring time capsule. The Sixty Five resuscitates the iconic diver's watch that first appeared in Oris's collection a half century ago. Brought up to modernity with 21st century watchmaking techniques, the case is constituted of anti-corrosive stainless steel and bubble-curved sapphire crystal. A special anti-reflective coating reduces underwater glare, so you can more accurately time your dives.
Case size: 36 mm
Case thickness: 12.8 mm
Weiss Automatic Issue Field
A limited edition of their staple self-winding timepiece, this 38 mm Weiss Field Watch only has 50 pieces in its lot, each built by hand. It's also the product of surprisingly high-tech construction; Weiss partnered with a local aerospace firm to create a coating method to reduce the air-drag in self-winding. (It's all about the minutia when it comes to a quality timepiece, I guess) Made from 150 Swiss parts, and some American components too, the Weiss Field Watch is a worthy mini-machine for your wrist.
Case size: 38 mm
Case thickness: 13 mm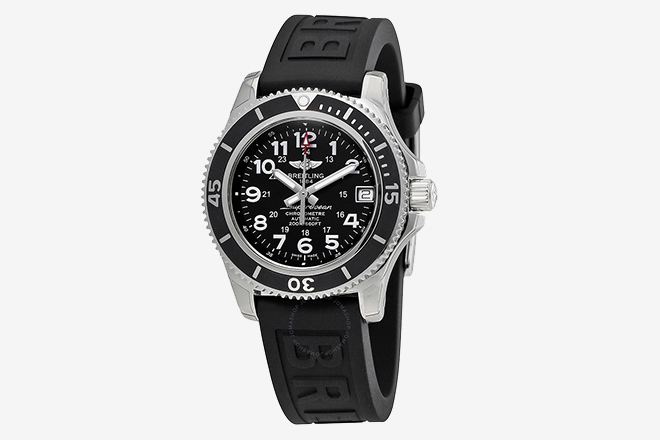 Breitling Superocean II Automatic
Once you cross that $2K threshold, you get what you pay for – and this Breitling Superocean II Automatic is expertly crafted and more than reliable. The 36 mm x 11.5 mm watch case on this Breitling Superocean won't have you sinking to the bottom. The Superocean II is the second generation of the brand's mainstay. A less stylized version of the original Superocean that emerged in 1957, though it may it look like a straightforward luxury watch, the Superocean II is definitively a serious diver's watch, too, water resistant to 200 meters.
Case size: 36 mm
Case thickness: 11.5 mm
Tudor Black Bay
The Heritage Tudor Black Bay watch, at just 36 mm in diameter, makes a bold, declarative statement. With a black dial based on the Tudor divers' watches of the 1950s, the Black Bay is classically good-looking. It also sports the characteristic angular hands known as "snowflake hands" that first appeared in Tudor's 1969 catalogue.
Case size: 36 mm
Case thickness: 10.25 mm
Hublot Classic Fusion
The Hublot Classic Fusion features a titanium case with a brushed top case, and black dial, giving it that raw, sheer metal look that oozes masculinity. Coming in 45, 42, 38, and 33 mm, Hublot runs the gamut in terms of sizing for its beautiful titanium timepiece. One can generally trust the quality of an upper-echelon Swiss watchmaker like Hublot. It's called The Classic as it draws its design inspiration from early Hublot models from the 1980s, with certain modern updates, like the incorporation of ceramic and titanium into the watch construction.
Case size: 38 mm
Case thickness: 10 mm
Omega Speedmaster
Slightly smaller and simpler, the Omega Speedmaster retains the magnificence – and the immense magnitude of the Speedmaster legacy – in a smaller case. The legendary watch that went up with the Apollo 11 crew, strapped to Buzz Aldrin's wrist has been slightly scaled down for this collection, but still sports a stainless steel case and bezel and tachymeter scale along a black aluminum ring, along with rhodium-plated indices and hands. The watch is driven by Co-Axial Calibre 3330, and is self-winding. Though it's not infused with moon rocks, this Speedmaster will still have you over the moon.
Case size: 38 mm
Case thickness: 14.7 mm
Rolex Datejust
Rolex is certainly one of the biggest names in timepieces. However, wearing such a name is a hefty task to pull off – so perhaps it's best to smart small. The Rolex Datejust allows you to do just that, while still brandishing the iconic features that make a Rolex a Rolex. The stainless steel case and Rolex oyster bracelet are plenty of statement for a watch with just a 36mm diameter. Rolex isn't just an aesthetic accessory, of course – the Datejust is also an excellent watch, with Automatic movement and a 50-hour power reserve, scratch Resistant Sapphire, and silver-toned hands that glide over the Roman numeraled dial.
Case size: 36 mm
Case thickness: 11.7 mm
Baby Blues: 18 Best Blue Dial Watches
Feeling blue? None of the watches on this list suit your particular taste? By checking out this list of the 18 best blue dial watches, and get cured.
HiConsumption is reader-supported. When you buy through links on our site, we may earn an affiliate commission. Learn more