Aug 23, 2019
Category: Style
Chinos and jeans are timeless staples of menswear, providing a basis for almost every outfit we have in our arsenal. But as summer begins to influence the type of clothing we can wear, it becomes all-the-more apparent that breathable, relaxed fits are more than preferable. Years ago, when shorts were first invented to battle the woes of summertime heat, nobody could have guessed that they'd take over our seasonal wardrobe as one of the most versatile garments around, solidifying their place as an essential piece of attire for fashion-focused men.
Like their full-legged counterpart, shorts have fallen victim to an oversaturation of styles, shapes, and genres, making them just as complex to understand. From chino, khaki, and jean variants, all the way to technical new fabrics like ripstop nylon, the space has become inundated with interesting offerings that are primed and ready to steal your hard-earned cash. But, as with most things, the search for the perfect short is somewhat time-consuming. What style should you buy? What's up-to-date? Who should you trust? All of these are valid questions that can make short shopping an arduous process. Luckily, we've compiled a handful of our favorite offerings below, so you don't have to.
Uniqlo Chino
There's not much to say about Uniqlo's Chino short, aside from the fact that it's one of the most affordable, comfortable, and diverse offerings on the market today. Like many of the company's essential items, the Chino boasts a durable composition, a variety of colorways, and a minimalist principle that's decidedly Uniqlo. From blue, yellow, brown, and black, all the way to interesting colors like teal green, and olive, you'll find that these basic shorts are the perfect pair for a life spent in the sun.
Purchase: $30
Everlane The Air Chino
Everlane is yet another company that focuses on the manufacture of essential wares, and the brand's Air Chino is a surefire staple for summer. These athletically-inclined peripherals are still fashion-oriented but feature a lightweight 4.2-ounce cotton poplin construction, 4% stretch, and classic four-pocket style to provide adequate storage. Whether you're spending your day hiking to the nearest swimming hole, or traversing the concrete jungle, Everlane's Air Chino shorts are made to keep you comfortable.
Purchase: $48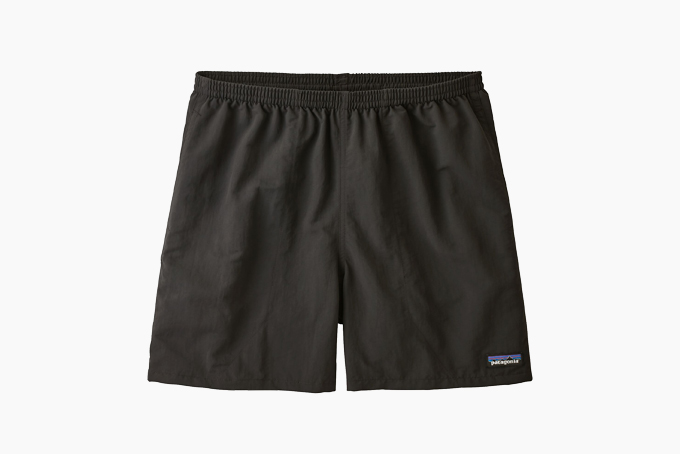 Patagonia 5" Baggies Short
Patagonia specializes in the creation of technical outdoor gear, but that doesn't mean that their simplified offerings are any less laudable. The company's 5" Baggies Short is a testament to sustainable design and features a 100% recycled nylon construction, DWR (durable water repellent) treatment, and an elasticized waistband to keep things as simple as possible. As the perfect cross between swim shorts and a traditional summer style, the Baggies utilize a rugged design that's both quick-drying and durable, alongside vertical side pockets to reduce drag while you're splashing around in the nearest body of water.
Purchase: $55
J.Crew 9-Inch Short
J. Crew's 9-Inch Short is another entry into the realm of minimalist essentials, offering wearers a pair of durable, but comfortable shorts for athletic use. These unique shorts were conceptualized to perform on and off the tennis court, with the company's lead designer citing the need for a pair that could easily transition between country club play, and meeting up with friends afterward. Inevitably, the cotton/elastane 9-Inch was born, gifting players a fashionable, yet specialized garment that focuses solely on bespoke stretch.
Purchase: $65
Taylor Stitch Après
Taylor Stitch is at its best when it's focusing on original summer garments, and the Après short is an affirmative reminder of that. These lightweight cotton shorts were designed to keep wearers cool, while also looking the part, and feature a Raindrop Camo pattern to keep things interesting. On their exterior, you'll find four functional pockets, a comfortable elastic waistband, and dark horn buttons for the ultimate accent. To keep on-trend with the brand's other offerings, each pair is made from 5.5-ounce 100% organic cotton, promoting both sustainable manufacturing principles, and lifelong wear.
Purchase: $69
Saturdays NYC Ritchie Solid
Saturdays NYC have an eye for style, and with the Ritchie Solid short under their belt, it's become even more clear that they're one of this generation's leading style icons. The Ritchie are truly all-purpose and boast a 100% cotton composition to ensure adequate comfort throughout the day. In true summertime fashion, these shorts can stand up to everything, from sandy beaches and mountains, all the way to the gym, making them a beacon for buyers who are looking for exceptional flexibility, movement, and comfort.
Purchase: $73
Buck Mason Black Twill Short
Buck Mason's Black Twill Short is a reconstitution of the company's iconic Broken Twill trouser; albeit, with a much more summer-friendly orientation. This stylish silhouette is the perfect choice for those who are looking to pair fashionable wear with dependable characteristics and boasts a durable, long-strand cotton construction that's been sanded on the interior, and exterior, for transcendental softness. They're even made with a bit of stretch, allowing the wearer to move freely throughout the day, without having to worry about restrictive tailoring.
Purchase: $85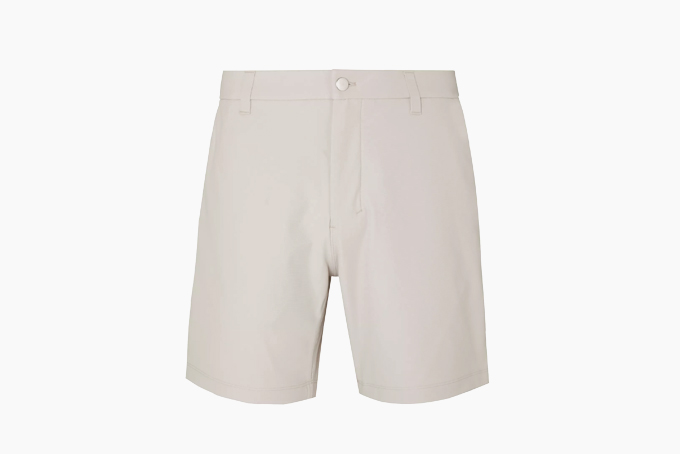 Lululemon 7" Commission Warpstreme
Lululemon has taken over the athleisure genre with comfortable, dependable offerings; so, it comes as no surprise that the company's transition into summer-oriented legwear was seemingly second-nature. The brand's chino-inspired 7" Commission Warpstreme shorts are as casual as they come but promote a lifestyle of athleticism through the implementation of four-way stretch fabric, sweat-wicking Warpstreme fabric, and a contemporary design principle. It's safe to say that, whether you're wearing them at the gym, or on a walk through downtown, these all-encompassing peripherals are going to keep you in the limelight.
Purchase: $88
Outerknown S.E.A Rugged
Outerknown's extensive catalog of sustainable offerings is one of the most conscious in the industry, and the S.E.A. Rugged short stays in-line with the company's ethical focus. These khaki-inspired shorts are a rugged take on the traditional style piece, enamoring would-be buyers with a durable twill construction, moderate stretch, and sustainable accents. Like most of Outerknown's products, the S.E.A. are made with 98% organic cotton, recovered ocean plastics, and ethically-sourced materials for the ultimate in comfort and composure.
Purchase: $88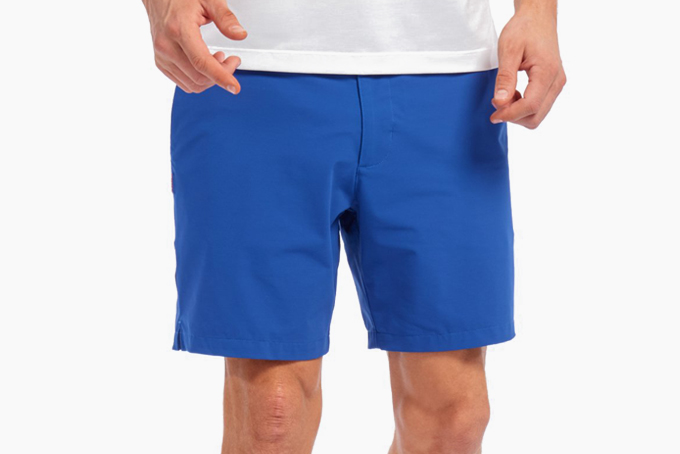 Rhone 8" Resort
Rhone's 8" Resort shorts are a testament to the company's high-end commitment, gifting buyers an exceptionally comfortable silhouette that doesn't fall short when it comes to tasteful implementation. The Resort boasts a progressive four-way stretch fabric, moisture-wicking qualities, and a breathable design orientation that's among the industry's most renowned. Pair these attributes with a slew of pockets, and even a proprietary media stow, and you have an essential short that'll fit in well with any guys fashionable wardrobe.
Purchase: $88
AllSaints Cobalt Chino
AllSaints Cobalt Chino shorts bring the company's unique vision to the forefront. They're crafted from a lightweight 100% cotton fabric, and boast one of the most classic cuts on our list. While they're still relatively slim, the Cobalt's hem sits directly above the knee and features a straight-cut design that lends itself to styles from decades past. Pair these with a basic tee and a pair of slip-on shoes for the ultimate summer style.
Purchase: $95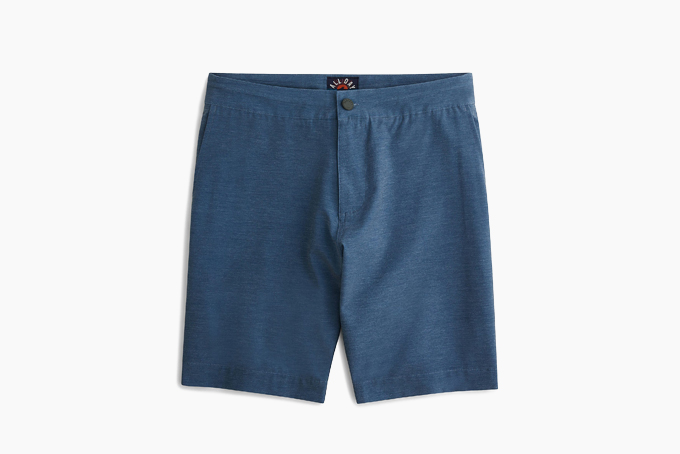 Faherty Brand 9" All Day Short
Faherty Brand broke the mold with the 9" All Day Short, thanks to the company's staunch focus on high-quality tailoring. Not only do the All Day feature a unique flat front orientation that's both quick-drying and comfortable, but they also boast an eco-friendly fabric construction. Each pair is made from recycled plastics, a hint of cotton, and stretchable materials for exceptional fit, feel, and function. These shorts draw massive inspiration from their swimwear brethren, and thanks to an inner drawstring, mesh-lined side and back pockets, and attractive design, they act the part, too.
Purchase: $98
Todd Snyder Weekend Drawstring
Todd Snyder is no stranger to the men's style game, and with the Weekend Drawstring short, the prolific designer has proven, once again, that he's in-tune with what guys want. These fun, flexible shorts utilize a comfortable four-way stretch twill, pull-on styling, and tailored shape that make them the quintessential offering for summertime wear. Pair those qualities with an extensive palette of warm colors, and you've got yourself an essential piece of warm-weather attire that'll keep you feeling cool throughout the season.
Purchase: $98
MSGM Orchard Print
MSGM's Orchard Print shorts are a fun, artful approach to the basic summer style. They feature an elasticated waist, dual side pockets, and an intricate Orchard print that encompasses a few of our favorite fruits. While the MSGM Orchard aren't as complex as some of the other offerings on our list, we're confident that they're a darkhorse offering that will blow you away when it comes to comfort, fashionable wear, and dependable use.
Purchase: $112
Carhartt WIP John
Carhartt WIP is rounding out our list with the John short — a classic chino-style peripheral that harkens back to the industry's most classic cuts. This minimalist offering is comprised of the company's durable Midvale twill and boasts a regular, low-waisted architecture that's been reinforced by elaborate bartack stitching. If you're already well-acquainted with Carhartt WIP's commitment to exceptional quality, you won't be surprised to hear that the John feature the same time-tested detailing, making them one of the most revered offerings for summertime fun.
Purchase: $118
The 20 Best Men's Sneakers For Summer
Shorts and sneakers go together like peanut butter and jelly. Find the perfect pair to match with your bottoms of choice on our list of the best men's sneakers for summer.
HiConsumption is reader-supported. When you buy through links on our site, we may earn an affiliate commission. Learn more