Heading to the gym might seem like a straightforward affair. You throw on your favorite attire, a pair of socks, some sneakers, and you head to the church of iron, where you better yourself through fitness-focused regimens, workouts, and cardio. But what if we told you that your choice of footwear played a huge role in the success and optimization of your workout? Like any job, your workflow can become better with the right tools at your disposal. The same goes for shoes. They're your foundation for stability, traction, and comfort while taking on those heavy lifts, long miles, or rope climbs — so why wouldn't you invest in a pair that can take you the distance?
Since the utilization of the correct footwear might seem a bit unintuitive, we've taken it upon ourselves to provide you with a guide to some of the styles, variants, and models that you might acquire to enhance your fitness-focused experience. Below, we've introduced three different sections, each of which has been catered to a specific style of health and wellness. The first focuses on cardio, where we break down the shoes the embody all of the traits that you might need for those days at the track, on the treadmill, or anywhere in between. Next, we focus on cross-training, outlining the footwear that will give you the most bang for your buck when you're trying to straddle the line between lifting and running. And last, we dive into a small selection of gym-focused models that have been tailored to make your lifting experience a bit more optimized, thanks to their unique construction.
Cardio
Spring In Your Step
When it comes to cardio, you're going to want a shoe that's been built to emphasize its outsole. Most of the time, running-focused shoes don't innovate in the way of upper construction. Instead, they focus heavily on comfort and cushioning, introducing cutting-edge midsoles, outsoles, and full-length traction technologies that can aid in the betterment of your stance, posture, and stride. Below, we'll outline a handful of shoes that have been outfitted with hearty helpings of EVA foam, internal cushioning, sock-like liners, and all-terrain rubber, helping you to set aside discomfort and push that extra mile.
York Athletics 'The Henry' Mesh
When you're preparing to take on the world of cardio, you need to be well-outfitted. Of course, the most important component of your running ensemble is the sneaker. It provides a barrier between you and the terrain, promotes a better, more optimal stride, and looks great, to boot. That's why the York Athletics 'Henry' Mesh was created — to give you a pair of aesthetically-pleasing shoes that can be worn on and off the tarmac, without sacrificing style for support. Each example provides wearers with a natural underfoot feel, thanks to its lightweight, simplified upper, responsive EVA foam, and a proprietary last that's been formulated to strike the perfect balance between comfort, support, and balance.
Nike Air Zoom Pegasus 36 Trail
Nike's Air Zoom Pegasus 36 Trail was built for the cardio-focused athlete. Naturally, it adopts a plethora of the company's cutting-edge technologies, including a breathable, outdoor-savvy perforated mesh upper, two individual Zoom Air units for a more refined stride, and opposing lugs to provide wearers with unparalleled traction on a variety of different surfaces. The shoe's notable exterior also plays into its prominence. Each mesh and synthetic upper is adorned in a unique overlay that gives the Zoom Pegasus 36 Trail its own identity, while a traditional lacing structure provides all of the security you'll need for your next cardio endeavor.
Adidas Alphabounce+
Cardio isn't only confined to long-distance runs; it's also for the high-intensity athletes who want even more out of their everyday workout. To complement their day-to-day training, Adidas created the Alphabounce+ — a silhouette catered toward speed drills and agile optimization. They feature an ultra-supportive Forgedmesh upper, the brand's lauded Bounce+ energized cushioning midsole, and a grippy rubber outsole, allowing you to take on your agility training inside (and outside) of the gym. Tack on a sock-like interior construction that's both comfortable and cradling, and you've got a shoe that can look the part while you're running to the store, but perform at the utmost level whenever it's crunch time.
Allbirds Tree Dasher
When Allbirds burst onto the sneaker scene, they wanted to create footwear that was simple, meaningful, and adaptive. The Tree Dasher fulfills all of these benchmarks, offering cardio-focused individuals a sleek, lightweight shoe that's been crafted with renewable materials, and catered toward supplemental fitness. Each shoe boasts a flexible construction, technical inclusions, and a high-stability base that's been put to the test by over 50 amateur and professional athletes. A one-piece knitted upper comprises the shoe's overall aesthetic, calling upon FSC® Certified eucalyptus trees and the world's first carbon-negative green EVA to create a cutting-edge shoe that's both sustainable, and performance-focused.
HOKA ONE ONE Mens Clifton 6
When it comes to running in the outdoors, HOKA ONE ONE should already be on your radar. Not only does the brand produce some of the genre's most lauded trail-running shoes, but it's also fashioned some models for the avid urban trainer, as well. The Clifton 6, for example, brings all of the brand's trail-focused implementations to the forefront, while remaining true to its city-style roots. The relaxed silhouette boasts a form-fitting, embroidered design, a lightweight upper, and a modest sole that's been formulated to soak up (and improve) your stride as you put in the miles.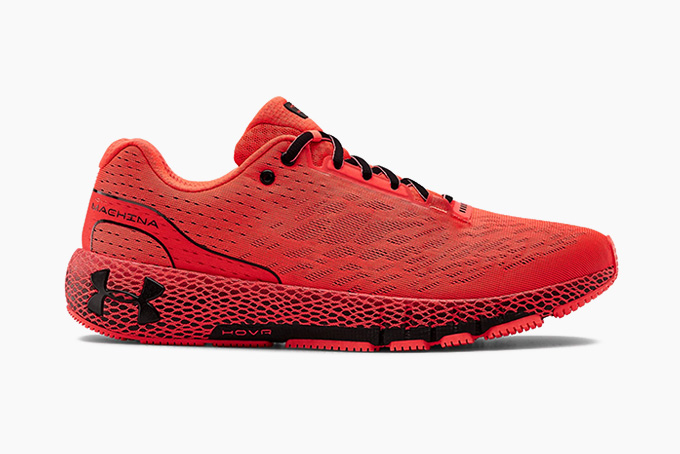 Under Armour Men's UA HOVR Machina Running
Under Armour has been a mainstay within the world of fitness for quite some time, and when it decided to focus on running and cardio, it wanted to do it in the right way. So, when UA announced its HOVR Machina Running shoe, it didn't come as a surprise that the brand pulled out all the stops to create "the best running sneaker" in its catalog. Calling upon a Pebax® propulsion plate for unparalleled energy return and speed, the Machina boasts a near "zero-gravity feel," thanks to its impact-eliminating design, compression mesh energy web, and an engineered upper that's been devised to keep things as light (and breathable) as possible. Pair those traits with a solid rubber outsole and a set of traction-focused carbon rubber pods, and it's safe to say that the HOVR Mahina is befitting of its title.
On Running Cloudboom
On Running is yet another transcendental brand that has capitalized on the cardio craze, and over the years, its evolutionary catalog has made it one of the foremost names in the industry. While its original models were certainly performance-focused, its most recent sneaker, the Cloudboom, is a testament to innovative design. This lightweight, carbon-infused shoe boasts the company's cutting-edge CloudTec cushioning, Helion super foam, and a Speedboard that adds explosive energy transfer to each and every stride. Since the majority of the shoe's tech lies in its sole and midsection, On has decided to keep its ultralight mesh upper as simple as possible, while still focusing on breathability, temperature, and responsiveness. At the Cloudboom's bottom, a new traction pattern has been introduced, providing runners with the perfect tread for dry and wet conditions.
APL Men's Techloom Wave
The cardio section wouldn't be complete without the inclusion of Athletic Propulsion Labs. The brand's TechLoom Wave has set a standard within the industry, and as such, it's become a prominent part of virtually every runner's vocabulary, thanks to its high-elastic 3D stretch rebound TechLoom upper, supportive internal cage, and seamless, slip-on upper. But what sets the TechLoom apart from its competitors is APL's Propelium® technology — a proprietary system that acts as an alternative to traditional EVA, and promotes increased energy generation, structural integrity, and comfort.
Cross Training
The Perfect Balance
In this section, we'll run through some shoes that strive to offer some of the best traits from every discipline of the athletic footwear world. Not only do these models focus on simplicity, lightweight design, and rigidity (for optimized support), but they're also built to deter common pitfalls that are associated with both the running and lifting genres. As such, they strike the perfect balance between cushioning, comfort, support, and stability, without elaborating on each aspect. At this point, you're probably asking why it would make sense to buy any other type of shoe. The truth is, cross-training shoes are often jacks of all trades — and the masters of none. They don't excel at any specific use, be it cardio or lifting, but provide a balanced mixture of traits that help you to meet the standards in each respective area.
Asics Conviction X 2
Asics' Conviction X 2 is a functional cross-training sneaker that's been built to bridge the gap between traditional, in-gym variants, and their more cardio-focused counterparts. This synthetic/mesh example boasts a perforated sock liner that allows for increased moisture deterrence and improved breathability, while a seamless upper ensures that things like irritation and friction are kept at an absolute minimum. As a result, you'll be able to train to your heart's content, without having to worry about uncomfortable rubbing during maneuvers. To round things out, Asics' Lace Garage technology brings secure, tuckable laces to the Conviction X 2, allowing you to stow them away for a clean, refined look.
Mizuno TC-01 Training Shoe
Mizuno's TC-01 Training Shoe is a model that doesn't inspire much confidence in the aesthetics department, but when it comes to function and purpose, it's second to none. This cross-training-focused model boasts a secure and comfortable low-top design, proprietary midsole technologies that adapt alongside your body's movements for increased awareness, and a three-dimensional knit construction that's been crafted with input from top athletes around the world. At their bottom, the inclusion of unique "sensor pod clusters" brings wearers unparalleled stability, support, and adaptable feedback, allowing them to push past that plateau that's been plaguing them for so long.
PUMA x FIRST MILE LQDCELL Hydra Camo
PUMA and FIRST MILE's LQDCELL Hydra Camo cross-trainer is an empowered model that's been built to take on every discipline of fitness. From sprints, jogs, and agility-focused cardio, all the way to the gym's various lifting stations and setups, the LQDCELL Hydra Camo brings wearers sustainable support, performance, and acuity while remaining completely conscious of its environment. Each pair is crafted using recycled plastics that have been sustainably-sourced, complementing the shoe's CELL technology, maximum-traction rubber outsole, and progressive silhouette. To round things out, EVA and rubber wrap-ups have been implemented to offer increased reinforcement and lateral support — a godsend for those intense workouts where you need your footwear to be as functionally-focused as possible.
New Balance Minimus Prevail
New Balance has always been a recognizable name within the world of fitness, and with shoes like the Minimus Prevail, we can see why. Not only does this shoe boast a sleek, lightweight silhouette that's been tailored to embody strength, style, and stability, but it's also been treated to an engineered knit upper, which calls upon specialized TPU fibers to improve and support your stance during weight training. Dive deeper, and you'll find an asymmetrical collar, external TPU heel counter, and an innovative REVlite midsole, which cuts more than 30% of the shoe's weight when compared to variants that use alternative foam styles.
Nike Free Metcon 3
Nike's Free Metcon 3 is a mainstay on any athletic guide, and with the looks, and qualities, to take it to the top, it's remained a trademark of the cross-training world. For those who care just as much about the look of the shoes on their feet as they do about their fitness goals, the Metcon 3 offers increased flexibility, rigidity, and stability, making them an attractive proposition for agility and weight training. To increase their standing among the genre's gym-approved models, each pair has been designed with a flat, wide heel, targeted flexibility, and softer foam, allowing them to provide a more noticeable foundation for heavy lifts. To round things out, a durable mesh upper provides ventilation and increased airflow, ensuring that you'll spend more time focusing on fitness, and less on moisture buildup.
Under Armour TriBase Reign 2
Under Armour's TriBase Reign 2 were designed to look like any other generic cross-trainer on the market, but if you were to lump them in with that same crowd, you'd be mistaken. From the get-go, these sneakers have been crafted to provide wearers with an experience that can't be replicated, thanks to their TriBase™ three-point contact technology, low-profile stability, and external heel counter. To provide wearers with unparalleled contact and traction, UA has raised the shoe's collar, while increasing heel lock-in, zonal flex, and mobility, thanks to the inclusion of a full-length Micro G foam midsole, outsole, and rubber toe-box. Since it's situated closer to the ground than other shoes, you'll be able to partake in greater tactile feel, power transfer, and responsiveness — areas where traditional trainers seek to excel, but often fall short of.
Nobull Trainers
Nobull burst onto the athletic scene relatively recently, but in their short stint, they've already become a notable brand that's worthy of inclusion on the industry's various fitness-focused lists. The company's Trainer is a perfect example of why that is. It's been built to run, jump, lift, and rest, thanks to its flexible, protective silhouette, lightweight upper, and one-piece SuperFabric construction, which provides wearers with abrasion resistance, breathability, and dependability during those long hours in the gym. Each shoe boasts the brand's functional (and flexible) mesh base, complementing its 360-degree shielding, all-terrain outsole lug pattern, and sleek appearance. If you're looking for a trainer that cuts away the fat and focuses on aspects of performance above all else, the Nobull Trainer is going to be your new favorite shoe.
Reebok Nano X
Reebok's Nano X is a trainer that stands at the top of its range, thanks to its elevated cross-training technology. Following the 10th anniversary of the original Nano, the X has arrived to revolutionize the company's gym-focused footwear line, offering wearers a Flexweave® woven textile upper, targeted support areas, ultra-light EVA cushioning, and a compression-molded midsole for a smoother stride. Since it boasts a minimal drop outsole, it's also closer to the ground, which means that stability and support are key components of its overall persona. To round things out, a high-density foam collar has been introduced to deter friction and rubbing during intense training sessions, meaning that you'll be able to focus on your fitness for longer stints.
Inov 8 F Lite 245
Inov-8's F-Lite 245 sneakers are a stylish, ultralight alternative to many of the cross-training genre's subdued offerings. They're crafted with a breathable mesh material upper, boast versatile ankle, midfoot, and heel support, and provide wearers with a widened toe box for increased comfort while exercising. Instead of utilizing a drab, disinteresting design like many of its peers, the F-Lite 245 features a distinctive knitted upper, a cleanly-tailored gum sole, and a refined lacing structure that help it to secure its own identity within the genre
Weight Lifting
Push & Pull
Last, but not least, we have our dedicated lifting section. Here, you'll find shoes that focus primarily on the preservation of form, offering wearers enhanced and widened heels, toes, and midsoles for increased contact; cushioning, for improved support while dealing with heavy weight; and elaborate strap closures, which promote adequate lockdown during said lifts. While the market for these types of shoes is certainly small, there are a handful of models that will help you to push past that daunting plateau and set you on the path to your next personal record.
Converse Chuck Taylor All Star '70 Hi
We know the Converse Chuck Taylor All-Star '70 Hi isn't necessarily a shoe that was built for in-gym use, but it contains as many (or more) redeemable qualities as its training-focused counterparts, earning it a spot on our list. For the guide's most obvious style pick, we've opted for the brand's high-top wonder, which looks great, provides enough stability for almost any lift, and boasts a fabric/synthetic upper that can take on the toughest activities that you can throw at it. Each shoe remains true to Converse's unique design principle, with a recognizable, cushioned rubber sole, toe cap, and logo patch at the ankle. If you're looking to head to the gym for some quick lifts, and want to look great while doing them, this is the shoe that'll get the job done in style.
Adidas Powerlift 4
Adidas' Powerlift 4 were built for that gym, and that's no understatement. From the beginning, these shoes were designed to offer an unprecedented experience within the church of iron, thanks to their ultra-stable, high-density, die-cut midsole wedge, open forefoot, and flexible toe, giving you the confidence you need to take your lifts to the next level. To round things out, the gym-specific models have been adorned with a wide instep strap for increased lockdown and security while mid-move, complementing their contact-focused rubber outsole for the ultimate in contemporary canvas design.
Nike Romaleos 4
To give Adidas' Powerlift 4 a run for its money, Nike created the Romaleos 4 — a stable, strength-focused model that's been tailored to provide an equally-as-enticing experience for gym-goers. It boasts a supportive midsole, widened outsole, and a rigid, heel-lifted silhouette that caters to those with an explosive athletic style. To compensate for heavier lifts, a widened heel has been implemented, providing a firm foundation — that pairs with the shoe's widened strap enclosure — to provide unprecedented lock-down during your most intense workouts.
The 12 Best Gym Shorts For Men
Need some new shorts to complement the gym-focused footwear you just picked up? Head over to your guide on the best gym shorts for men, where we break down the most versatile athletic models on the market today.