Motorcycle jacket design is driven by many factors – how the garment feels when on the bike, the look of the coat off the bike, but most importantly, the trusty tunic must provide protection in the event of having a close encounter of the pavement variety. Though many different materials perform well against abrasion and can stand up to hard impact, the true champion of the industry for riders all over the world continues to be jackets made from nature's own miracle material, leather.
Often thought of as the go to choice for bad ass bikers and tough guys everywhere, the leather motorcycle jacket speaks loudly for personal style, both on and off the bike. Though this has been a staple of the look for decades, progressions in material technologies have made leather riding jackets lighter, more ventilated, and better protectors during a crash, ensuring your chances of walking away from that unexpected brush with disaster are greater than ever before. Just like any type of motorcycle specific garment, leather motorcycle jackets are available with a wide range of features, styles, and colors that will be sure to fit perfectly with any aesthetic you are attempting to groom. Take a look at our following list of the eight best leather motorcycle jackets and find one that is the perfect fit for you.
Black Brand Fahrenheit KoolTeK Perforated
The traditional thought of a leather jacket is one that is heavy and runs hot unless you're realy moving. Perforated leather provides both the benefit of losing a little weight and allowing for more breathability, a nice combination for Spring and Summer riding. Black Brand's Fahrenheit KoolTeK Perforated jacket is designed to feel like you're wearing nothing at all while providing excellent abrasion and impact protection. They even throw in a removable windproof liner that fits into the pocket, perfect for those brisk early morning blasts.
Leather: Top-grain KoolTeK
Colors: Black
Liner: Removable full-sleeve, windproof
Sizing: M-2XL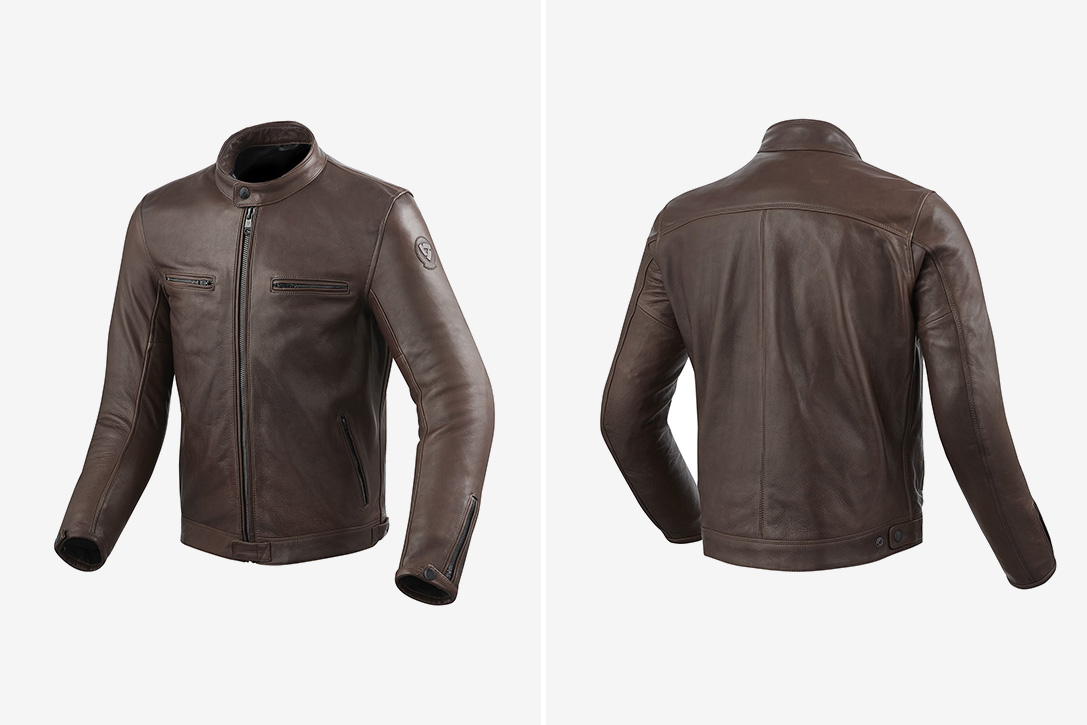 Rev'It Gibson
Having gear that matches you and your bike's personality is what we all strive for in making a purchase. The Rev'It Gibson is a tough jacket made from pull up cowhide, which is a soft leather that has been condition to break in faster than other grades, giving a unique wear to the jacket for a personalized touch. Four front pockets and the large front closure all display their chunky unhidden zippers, keeping with the rugged look cultivated by the slim fitting jacket. Interior pockets for armor are integrated throughout, accepting Rev'It SeeSmart inserts, and the included thermal liner is removable for warmer days.
Leather: Pull up cowhide
Colors: Black, Brown
Liner: Removable thermal
Sizing: 46-60
Spidi Tank
Designed with inspiration from the coats Allied tank soldiers wore while they plowed down Nazis, the Spidi Tank is a unique leather jacket that has style for miles. Trimmed with an olive knit on the neck, cuffs, and hem, the Tank goes over the top by including a removable felt vest for that true dapper look about town. An expandable back panel allows for the perfect amount of movement while on the bike and the collar buttons close tight in the popped position for an extra cozy feel.
Leather: Italian full-grain
Colors: Black
Liner: Removable felt vest
Sizing: 46-58
Roland Sands Ronin
Setting trends is what Roland Sands has been known for since their beginnings, and the Ronin sets the bar for the modern cafe racer style jacket. Built from .9-1.1mm thick leather that has been given their signature 'Airborne' finish, the Ronin has an aggressive riding style fitment that still feels great when having a latté off the bike. Curved arms and a dropped length back panel provide the perfect fit while gripping the fuel tank, and perforated panels on the sleeves provide just the right amount of ventilation. Roland Sands also incorporated stash pockets throughout, capable of carrying whatever party favors you deem appropriate.
Leather: Oiled/waxed top-grain
Colors: Black, Black/Oxblood, Black/Steel, Oxblood/Black, Tobacco
Liner: Satin poly
Sizing: S-2XL
Alpinestars Oscar Charlie Tech-Air Compatible
While looking cool may be what initially attracts us to any jacket, the true reason why we wear one is the protection they provide. Alpinestars has been tailoring fine leather motorcycle garments for over 50 years and their Oscar Collection combines their innate Italian fashion sense with their decades of motorcycle safety heritage. At the top of the line in the collection is the Charlie Tech-Air Compatible jacket that can be used with Alpinestars' inflatable airbag system that automatically deploys in a crash event. Including all the standard features you would expect from a modern riding jacket, the Charlie Tech-Air is where technology meets style.
Leather: Waxed full-grain
Colors: Black/Red
Liner: Removable thermal
Sizing: S-3XL
Dianese Bryan
Sometimes it is tough for motorcycle gear to safeguard in the event of a crash without looking like a suit of protective armor made for a superhero. Dianese is an Italian motorcycle gear brand that ensures you will look as good in the saddle as you do on the dance floor, and their Bryan jacket does just that. The soft, vat dyed leather has an easy time breaking in, while CE approved padding provides excellent cushion when needed. Three outside pockets keep the look of the jacket simple and adjusters at the waist allow for the perfect fit, with or without the removable thermal liner.
Leather: Full-grain
Colors: Black, Brown
Liner: Removable thermal
Sizing: 46-60
Icon 1000 Retrograde
The Icon 1000 line was created specifically to blend retro styling with futuristic material technologies, and their Retrograde jacket does exactly that. Designed to have the look and feel of flat track style race suits of yesteryear, the Retrograde's 1.1-1.3mm SelectGrain leather shell has a supple feel you won't find on that hand-me-down set of competition leathers. Perforated panels on the sleeves provide ventilation while accordion style stretch panels at the joints allow for excellent movement in all conditions. Capped with alloy plates on the shoulders and clad with D3O armor internally, there is plenty of reason why the Retrograde can take a lickin and keep on tickin.
Leather: Icon SelectGrain
Colors: Black, Brown
Liner: Icon insulated SatinCore
Sizing: S-3XL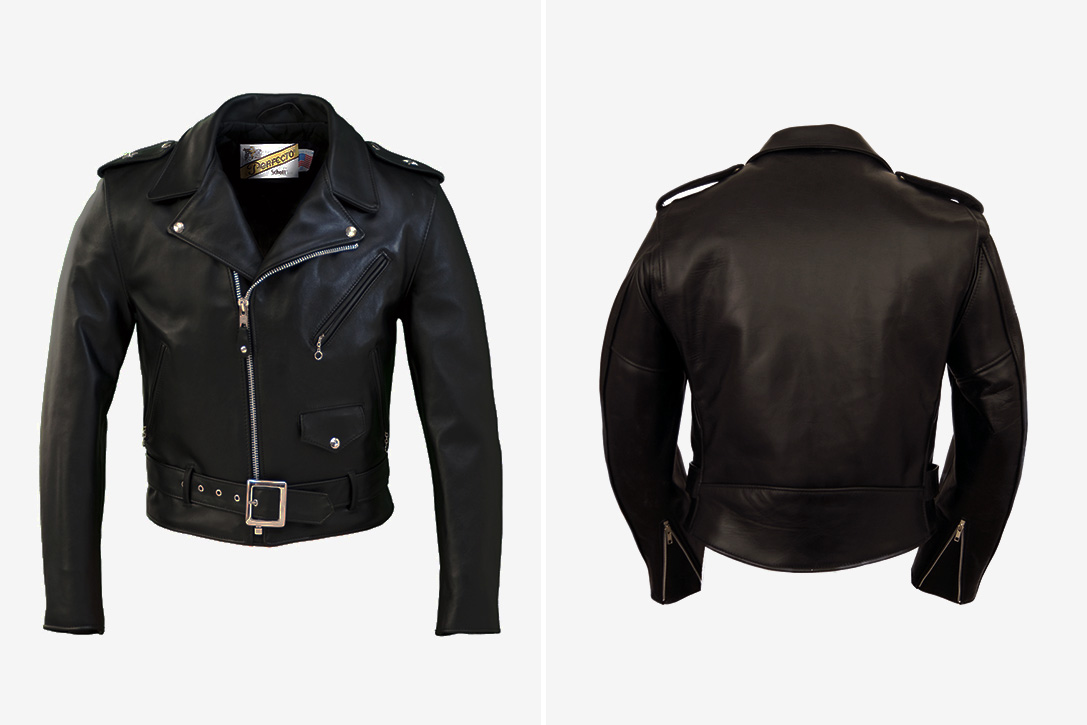 Schott 613 'One Star'
If there is a hands down king when evaluating leather motorcycle jackets the crown undoubtedly belongs to the Schott 613 'One Star,' otherwise known as the jacket that started it all. First produced in the late 40's and made hugely popular by Marlon Brando from his starring role in The Wild One, the 613 was the first jacket ever produced specifically for motorcycle riders. Still made in the USA to this day, the Perfecto's signature waist belt, asymmetrical front closure, and star crowned epaulets define the look so many attempt to emulate.
Leather: 3 – 3.5 oz. steerhide
Colors: Black
Liner: Insulated nylon poly quilt
Sizing: 32-54
BEST MOTORCYCLE JEANS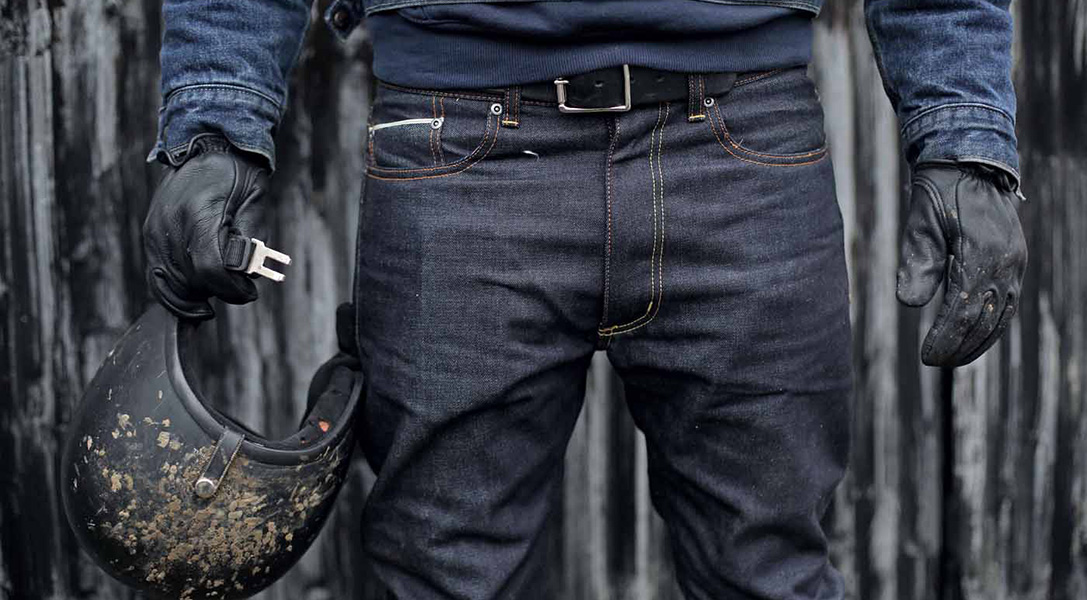 Remember, it is important to cover up your lower limbs in tough textiles as well. Take a look at our picks for the best motorcycle jeans before hopping on your hog for that next ride.