Jul 3, 2019
Category: Gear
Although commercial folding knives have existed for around a century with predecessors that date back as far as the height of the Roman Empire, their availability and range of options have changed vastly over just the last couple of decades. Once a limited space, pocket knives are now widely available all around the world and solid examples can cost as little as a few dollars to as much as thousands.
In the case of this particular article, we're hoping to focus on the lower end of the price spectrum, because you can actually find a huge variety of reliable, well-built everyday carry knives for less than a Benjamin. Whether you want a tough tactical cutting tool or a sleek and stylish gentlemen's folder, the following 15 blades will show you that you can get a superb EDC knife for less than $100.
Opinel Knives
Family-owned and -operated for over a century, Opinel has built their entire knifemaking business on the same beautiful, iconic silhouette that's still found on their knives today. They've also crafted a reputation for offering insanely reliable knives that cost a fraction of what you'd get from nearly any competitor of equivalent overall value. While there's no specific knife of theirs that deserves precedence over the others, we're particularly fond of their No. 8 for its ergonomic size — although they offer knives that are small enough to fit on your keychain and large enough that you might consider them more like a folding sword than a knife.
Blade: 12C27 Sandvik Steel
Handle: Wood, Fiberglass-Reinforced Polyamide
Blade Length: Varying
Kershaw Cryo
Rick Hinderer is a name you should know if you're interested in everyday carry knives, as he has designed some of the best out there — both under his own label and for a number of noteworthy brands. One of his most impactful designs, however, is undoubtedly the Kershaw Cryo. Possibly the most important knife Kershaw has ever made, this exceedingly budget-friendly folder far outweighs its cost in materials and lasting power — from the tip of its titanium carbo-nitride-coated 8Cr13MoV steel blade to the butt of its 410 stainless steel handle.
Blade: 8Cr13MoV Steel
Handle: 410 Stainless Steel
Blade Length: 2.75″
Ontario Rat II
While it isn't flashy or boastful, the Ontario Knife Company's Rat II folder is still one of the best everyday carry knives at any budget. It has a sturdy and reliable AUS-8 steel blade mated to a grippy textured G-10 handle that, when properly cared for, will last you far beyond what you might expect for its low price. We wouldn't go so far as to say that this is the best blade on this list, but we wouldn't scoff at anyone who did.
Blade: AUS-8 Steel
Handle: Textured Nylon
Blade Length: 3″
Buck Knives 110 Hunter
When it comes to folding knives, few are as legendary and iconic as the Buck Knives 110 Hunter. Thankfully, despite the fact that it has so much clout in the EDC and outdoor space, it's still well within the budget-friendly spectrum. And while there are special editions with ultra-premium materials that will cost you a good deal more, this one is still plenty well-built — featuring a Crelicam ebony and brass handle and 420HC stainless steel blade.
Blade: 420HC Stainless Steel
Handle: Crelicam Ebony & Brass
Blade Length: 3.75″
SOG Twitch II
SOG actually originated in the tactical and military space. In fact, a large portion of their business is still dedicated to hardcore cutting tools. But they also have more than a few excellent everyday carry-oriented knives. Our favorite, however, might be the sleek, simple, and handsome Twitch II. Both elegant and no-fuss in its design, this cutting tool boasts an anodized aluminum handle with a back lock and a versatile flipper-deployed drop point blade. There's even an additional safety lock built into the handle for extra security.
Blade: AUS-8 Steel
Handle: Anodized Aluminum
Blade Length: 2.65″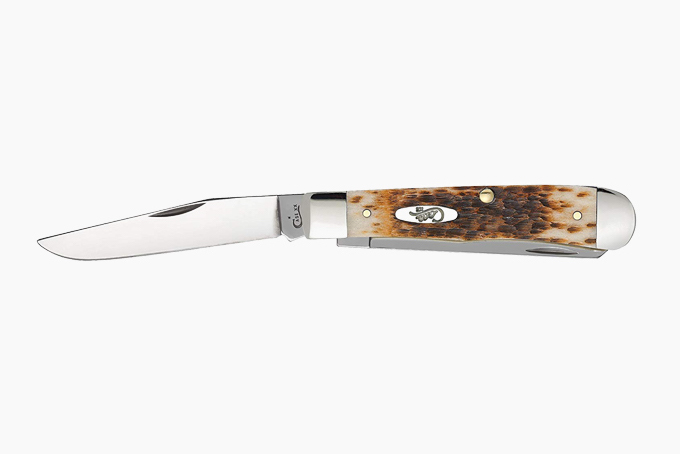 Case Trapper
Case is one of the oldest American knifemaking brands around and they still proudly craft their offerings in the USA. Their Trapper is an icon unto itself and simultaneously boasts classic heirloom-level styling and a bit more utility than your average knife. This is because it actually comes with two manually-deployed blades — both intended to be used in hunting and, as you probably guessed, trapping game. If you're looking for a retro-styled pocket knife, go no further than this one.
Blade: Chrome Vanadium Steel or Stainless Steel
Handle: Bone, Synthetic
Blade Length: 3.25″
Nagao Higonokami
With a design that has been largely unchanged for the better part of the century, the Nagao Higonokami is made by the descendants of the swordsmiths who used to craft weapons for the samurai. These non-locking friction folders are as gorgeous as they are simple, boasting your choice of either brass or iron handles mated to reverse tanto blades crafted from blue paper steel and they're a solid addition to any everyday carry loadout.
Blade: Blue Paper Steel
Handle: Brass or Iron
Blade Length: 3″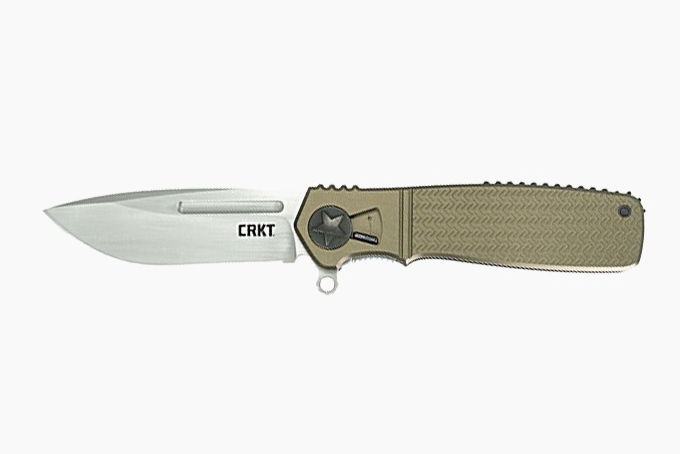 CRKT Homefront
Ken Onion is unquestionably a living legend in the knifemaking world, and his CRKT Homefront knife is a testament to just how prolific and inventive he is. This knife, you see, boasts something the brand calls Field Strip technology — a design that allows the knife to be disassembled and re-assembled entirely without the use of tools. That makes this perhaps the most ideal outdoor folding knife because it's remarkably easy to clean when it gets gunked up. Pair that with an easy-to-sharpen, durable AUS-8 steel blade and this formidable folder is worth its weight in gold.
Blade: 1.4116 or AUS-8 Steel
Handle: GRN or 6061 Aluminum
Blade Length: 3.5″
Kizer Mini Sheepdog
Butcher-style cleaver blade shapes have become fairly popular recently — with a few new examples popping up on the market in the last year. But Kizer's Sheepdog is one of the originals and still ranks amongst the best out there. But it's also a bit too beefy for most people to carry it as an everyday carry knife. However, the brand also makes a smaller version, with a G-10 handle and 154CM steel blade, that's a solid compromise. And, wouldn't you know it, it's a good deal less than $100 to get your hands on one.
Blade: 154CM Steel
Handle: Textured G-10
Blade Length: 2.63″
Spyderco Tenacious
Unfortunately, everyone's favorite Spyderco knife, the PM2, is too pricey to make it onto this list. But that doesn't mean that the brand doesn't have any comparable offerings that do. We'd like to direct any interested parties to the brand's Tenacious folder. It features many of the same styling cues — including a similarly-styled silhouette with the brand's signature leaf-shaped blade — but will cost you a fraction of the price of its bigger brother. Still, its 8Cr13MoV steel blade and textured G-10 handle are certainly nothing to scoff at and will serve you well for years and years with the right care and cleaning.
Blade: 8Cr13MoV Steel
Handle: Textured G-10
Blade Length: 3.375″
Cold Steel Recon 1
Proof positive that a hardcore tactical cutting tool doesn't have to cost you an arm and a leg, Cold Steel's Recon 1 isn't just a good knife — it's one of the best. On top of a wealth of excellent materials — like its DLC-coated S35VN steel blade or lightweight G-10 handle — it also boasts the brand's signature Triad locking system, which is a lot like a far-tougher back lock. All told, this super-sturdy tactical blade is more than worth its budget-friendly price, even if you plan to push it to its limits.
Blade: S35VN Steel
Handle: Textured G-10
Blade Length: 4″
Boker Plus Urban Trapper
Undoubtedly one of Boker's best-looking knives of all time, the Brad Zinker-designed Urban Trapper actually has a number of different iterations and a variety of price points. This one, however, sits well under the $100 mark, yet still boasts a superb and handsome construction. That includes a VG-10 steel blade and a gorgeous Cocobolo wood handle. A slender gentleman's knife with a top-tier construction, this folder is a tough one to beat.
Blade: VG-10 Steel
Handle: Cocobolo Wood
Blade Length: 3.5″
Benchmade 556 Mini Griptilian
Benchmade's Griptilian is a legendary folding blade. Some would argue it's the best that's even been made. Unfortunately, most of the standard versions are priced over $100. Fortunately, the 556 Mini — which is actually a bit more pocket-friendly — is under it enough to make this one a near-must-have for EDC enthusiasts. Boasting the same legendary styling (albeit in a more-compact format), along with an S30V steel blade and a glass-filled nylon handle, this American-made knife will serve you for a lifetime. And if it doesn't, it's covered by a lifetime warranty.
Blade: S30V Steel
Handle: Glass-Filled Nylon
Blade Length: 2.91″
The James Brand Folsom
The James Brand hasn't been around long, but their impact on the world of everyday carry far outreaches their short tenure in the space. And while many of their offerings land over the $100 price limit, one of our favorite creations of theirs — The Folsom — is just under it. Made specifically to be your go-to hard-use folder, this manual liner lock knife features a tough-but-lightweight G-10 handle mated to a Carpenter CTS-BD1 steel blade. If you want one EDC knife to last the rest of your life, this might just be it.
Blade: Carpenter CTS-BD1 Steel
Handle: Textured G-10
Blade Length: 2.81″
Gerber Fastball
Leave it to an intrepid brand like Gerber to come out with a sleek-and-stylish everyday carry knife that's somehow made in the USA from superb materials and still manages to keep their tactical edge. The Fastball is, by all accounts, worth a good deal more than its $100 price point — especially when you take into account its S30V Wharncliffe blade and anodized aluminum frame lock handle. If you like this knife, pick it up before Gerber realizes they've undervalued it.
Blade: S30V Steel
Handle: Anodized Aluminum
Blade Length: 3″
How To Find The Perfect Everyday Carry Pocket Knife
There are probably a lot more factors that go into choosing a folding blade than you might realize. But you can learn all about them on our helpful guide covering how to find the perfect EDC pocket knife.
HiConsumption is reader-supported. When you buy through links on our site, we may earn an affiliate commission. Learn more