Whether you see it as a physical exercise philosophy or a competitive workout cult, there's no denying that CrossFit has forever changed the way people work out. Though it started as a niche sport reserved for obsessive athletes, today it's something of a global fitness phenomenon. In fact, you'd be hard-pressed to find a city of any size that didn't have its own box (or several, for that matter). And it's for good reason. Despite its flaws, CrossFit is an excellent way to get strong and lose weight, all the while having fun and building camaraderie with those around you. It's not as specific as some more focused forms of training, but that's because it's not intended to be. What others view as compromise is really more of a holistic approach to health.
As with any activity, it's important that you equip yourself for success. Granted, you don't need to go out and buy a lifting belt, a speed rope, or some knee sleeves in order to go far in CrossFit, but it's to your advantage to invest in a solid pair of shoes. Runners won't do — you need something with a much more stable base to carry you in your compound lifts. And while lifters are great for squats and cleans, they're not really intended for efficient movement on the run. This brings us to CrossFit footwear. Designed to excel across a range of different exercises, functional fitness shoes should be able to go from a heavy deadlift one minute to a full-on sprint the next. And if that sounds like an impossible ask, well you're in luck. We've done the hard work so that you don't have to, bringing together a list of the best CrossFit shoes that are guaranteed to have you getting after that PR at your next WOD.
What Makes A Capable Crossfit Shoe?
Key Features To Look For
Stability: When it comes to Crossfit shoes, stability should be one of your first priorities. Models that are the most successful in this regard will typically have a firm sole to minimize the compression that occurs when working with heavy loads. However, rigidity alone isn't enough — it's also important that the shoe features a low drop (the difference in height from heel to toe) in order to keep you from pitching forward in the bottom of a clean or during the receiving position in a snatch. Some will even include an exterior strap to really snug things down and dial in the fit to your liking.
Flexibility: That being said, it's also advisable to get some footwear with a bit of give to it. Because although strength work is one of the main components of CrossFit, cardio is another (unavoidable) part of the equation. Come time to run, you'll appreciate a shoe that flexes and allows you to move naturally through your stride. Sure a stiff pair of shoes is ideal for deadlifting, but they're doing you no favors come time to put your foot on the gas and move.
Grip: These days, most CrossFit shoes come with a tacky rubber outsole to keep you feeling planted on the platform — when you're shooting for a squat PR, the last thing you want is for your feet to slide out from underneath you. But along with a good dose of grip, the shoe should also have plenty of space in the forefoot. In practice, this is because the extra room allows your toes to splay out and evenly distribute your weight. What's more, it ensures proper knee and hip alignment throughout the entire lift.
Durability: At the end of the day, a chain is only as strong as its weakest link, and when you're routinely putting yourself through punishment, you need a pair of shoes that can stand up to the task. Look for models with some added reinforcement, whether that comes in the form of some special fabrics, exterior overlays, integrated outsoles, or something else entirely. Regardless of what other features it has, a shoe should — at the very least — be able to last you from workout to workout.
Converse Chuck Taylor
The Converse Chuck Taylor has been kicking it for well over 100 years now, and it's been used in nearly as many applications. Fit for everything from barebones basketball shoes to retro-inspired skate sneakers, these classics come with a grip of performance qualities that make them particularly well-suited to CrossFit applications. For instance, the low-profile canvas upper gives your feet plenty of room to breathe during strenuous training sessions. And because of their firm, flat sole, Chucks provide for an incredibly stable point of contact when working with a lot of weight. Top it off with the fact that these are just pliable enough to run in without being too soft for squatting, and the result is a pair of CrossFit shoes that come with everything you need and nothing you don't.
Under Armour Charged Commit 2
Sure, the above pick makes for a great first foray into the world of CrossFit footwear, but for just a bit of extra coin, you can buy yourself a much more purpose-built pair of sneakers. Under Armour's Charged Commit 2 combines a lightweight mesh upper with exterior leather overlays, resulting in a shoe that's not just incredibly breathable but also plenty supportive. So whether you're standing out of the hole during a clean or swinging a kettlebell overhead during a snatch, rest assured knowing that your feet will stay securely grounded on the rubber below. But that's not all — the Charged Commit 2 also comes with grooves in its full rubber outsole for when flexibility is your first priority. And when you consider that Under Armour has given them its propriety Charged Cushioning for extra impact absorption, these shoes might be a budget buy, but they punch well above their weight.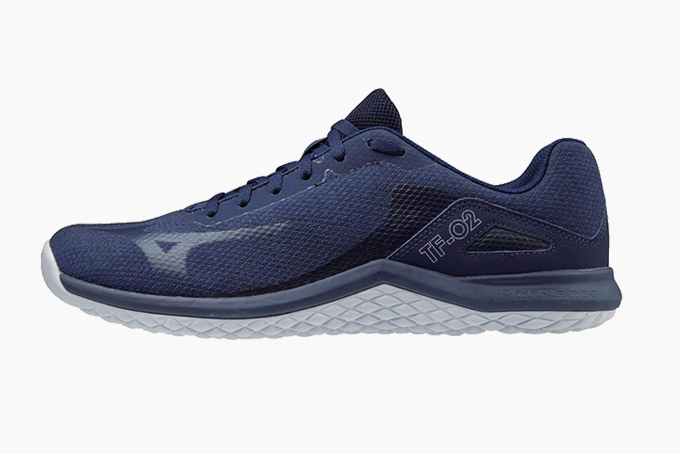 Mizuno TF-02
Since its founding in 1906, Mizuno has been making some of the highest-quality athletic gear on the market. Sure, the Japanese manufacturer doesn't boast the flash of some bigger names like Nike and Adidas, but its long history of running and baseball footwear leaves it well-prepared to make a capable pair of CrossFit sneakers. For starters, the TF-02 comes with Mizuno's textured COB outsole, an addition that makes for improved traction during speed and agility training as well as better balance when your weight is shifting from foot to foot. What's more, it's been seamlessly integrated with the shoe's midsole in order to maximize the ground feel transmitted to the bottom of your feet. In other words — these shoes give you the proprioception needed to get that good tripod toe placement during max-effort squat sessions. And thanks to their 2-layered mesh upper, they'll keep your feet feeling cool no matter how sweaty your session gets.
New Balance Minimus 20v7
Although New Balance is a brand best known for its bouncy running shoes, it also happens to make a crop of CrossFit-ready trainers, chief among those being the Minimus 20v7. Unlike its high-cushion counterparts, the Minimus comes with a 4mm drop and a low stack height. In practice, this makes for improved stability during deadlifts, squats, and any number of complexes the WOD might have in store for you that day. Add to that an Asym collar with molded heel foam and some in-built Meta arch support, and this is one shoe that will have you feeling confident and sure-footed. And as far as ventilation is concerned, the Minimus comes with temperature control qualities in spades. Take, for instance, the knit upper new for v7. Made from a nylon-infused yarn with monomesh windows, it provides plenty of lateral support with the added benefit of being extremely airy.
Nike Free Metcon 3
If you're after the most comfortable footwear in CrossFit, the Nike Free Metcon 3's are going to be your best bet. As the name suggests, they feature Nike's Free technology through the forefoot, ensuring that the shoe moves with your feet while in motion rather than stopping you in your tracks. At the sides, you'll find that the Free Metcon 3's include targeted rigidity zones in order to help with support during lateral movements. So, while they're comfortable enough for quick sprints during high-intensity efforts, they're not so soft that they'll leave you wanting for security come time to change direction. But the best part is that even with their added flexibility, the Nike Free Metcon 3's come with Metcon stability in the heel to help you get the most out of your Olympic lifts. Sure, a lot of the competition makes some pretty bold claims when it comes to their shoe's construction, but you'll be hard-pressed to find a better combination than these in terms of fit and feel.
York Athletics The Henry
While The Henry skews more towards cushioned runner than it does stability sneaker, it's still perfectly comfortable mixing it up at your local CrossFit box. Because although the sweatshirt upper makes it looks simple and understated on the outside, dig a little deeper and you'll find that the shoe packs performance provisions abound. York Athletics gave The Henry a perforated microfiber tongue to reduce lace contact with the tops of your feet, ensuring optimal comfort and protection against hot spots. What's more, the shoe rides on a full-contact slip-resistant rubber outsole, an addition that makes for maximum grip over any surface while also being incredibly durable. And thanks to its lightweight EVA midsole, The Henry is ready to tackle any WOD, no matter how chock-full of cardio it may be. If you're looking for a shoe with a stylish aesthetic and a slipper-like fit, this offering from York Athletics is a compelling pick.
Inov-8 F-Lite 235 V3
Inov-8's F-Lite 235 V3 uses a construction comparable to many of the other options included on our list, but that's where the similarities end — everything else about the shoe has been designed to deliver an exceptionally integrated foot experience. For starters, the upper uses a combination of protective overlays and elastic mesh liners in order to hug the foot and provide snug, well-fitting support. In practice, this keeps the F-Lite 235 V3 free of heel lift and other annoying slippages during training. And when it comes to the ride, Inov-8 spared no expense. In the midsole, it utilizes the brand's proprietary POWERFLOW+ geometry, an addition that promotes efficient movement patterns during jogging, jumping, and sprinting. Paired with Inov-8's Dynamic Fascia Band technology, it provides the shoe with a feel that's both plenty responsive and also impressively natural. Oh, and the F-Lite 235 V3 even comes with Rope-Tec throughout the midfoot to prevent burns when scrambling up ropes.
Reebok Nano X
Now in its 10th iteration, the Reebok Nano is a name that needs no introduction amongst CrossFit competitors. And it's for good reason — the shoe's design excels in just about every area of the sport, and you'd be hard-pressed to find a more purpose-built pick. Up top, it features a soft Flexweave woven textile upper with targeted areas of support and stretch. To put it another way — the Nano X is lightweight and breathable enough to keep your feet cool while still being secure enough to keep you strapped in tight. But that's not all — the shoe also comes with a low-drop cushioned EVA foam midsole. So, while it's plenty stable underfoot, that's not to say that it feels like a wooden plank when on the move. On the contrary — Reebok reengineered the X to be the most runnable Nano model yet. With its responsive cushioning, flexible forefoot, and firm heel, the Nano X is a versatile performer that's as at home squatting under the barbell as it is digging into the ground during a weighted sled push. If you want to reap the rewards of over 10 years of shoe design, grab yourself a pair of these puppies.
Nike Metcon 6
And where there's a Nano, a Nike Metcon is soon to follow. Although CrossFit implemented exclusive equipment regulations upon the release of the first Metcon model, that's done nothing to stop the big swoosh from contesting Reebok in the fight for the best functional fitness trainers. Besides, with Matt Fraser taking the last five CrossFit championship wins, it's become pretty evident that Nike knows what it's doing. Take, for instance, the Metcon 6's upper construction. Pairing lightweight mesh with a durable screenprint design, it's nearly 18% more breathable than its predecessor the Metcon 5. And when it comes to stability, Nike needed a shoe fit for the most demanding of its athletes. As such, it features a low, flat heel with a wide contact patch in order to create a solid foundation during strength exercises. Should your mobility necessitate more drop from your shoes, the included Hyperlift insert lets you instantly adjust the height under your heel in a matter of seconds. Top it all off with a zoned cushioning system for optimal movement during high-impact exercises and a thick rubber outsole for confident ground grip, and the result is a shoe that can go toe-to-toe with anything else on the market — Nano or not.
Nobull High Top Trainer
Although each of the shoes featured here on our list is designed to support your training sessions from the ground up, there are times when a bit of extra ankle bracing is in order. Enter the Nobull High Top Trainer. It comes with a high-cut collar that provides a plush and secure fit, enabling confident movement in any direction. What's more, NoBull has given the shoe a series of SuperFabric guard plates on top of its flexible mesh base layer, an addition that creates a 360-degree defense against unwanted wear. Underneath, you'll find an outsole lug pattern that was designed to provide the right balance of flexibility and support in any environment. In other words — whether you're accelerating on astroturf, scrambling up rope climbs, or pounding pavement in the parking lot, the High Top Trainer has your back. And when you consider that NoBull's offering also comes with a reflective element for visibility, a perforated microsuede tongue for comfort, and high carbon guards for sidewall protection, it makes for an understated alternative to the above picks from Nike and Reebok.
Vivobarefoot Primus Lite ii
Made using repurposed PET plastics and a sustainable plant material, Vivobarefoot's Primus Lite ii makes for a compelling option if you're after a pair of eco-friendly footwear. However, just because they're 100% vegan doesn't mean that they aren't a capable CrossFit trainer in their own right. Rather, with their robust recycled upper and their durable bio-based Bloom EVA performance insole, they may be easy on the environment but they're made to work hard and hold up throughout years of tough workouts. But the best part is that like all of Vivobarefoot's shoes, they're shaped for the foot to provide minimal interference with your natural movement patterns. While they don't come with all of the bells and whistles of the other options we've included in our guide, they're great for the athlete that wants to get back to the bare necessities and pay it forward in the process.
Adidas Adipower 2
Sure, the Adidas Adipowers are technically intended for weightlifting rather than CrossFit competition; however, version two received a number of changes that make the shoe particularly well-suited to functional fitness. Underneath, they feature a non-compressive TPU midsole for improved response under heavy loads. Sure, it's a bit softer than the stuff found on originals, but the bit of extra flexibility makes these much more manageable on the run. Add to that an effective heel height of 20.1mm (0.79in) and what results is a pair of trainers that perfectly positions you in everything from the start of your snatch to the bottom of your squat. But that's not all — up top, the Adipower 2's include a combination of inner reinforcements and a velcro strap in order to deliver a locked-in fit and feel. If you're looking to get a biomechanical advantage in your Olympic movements, look no further than these Adidas lifters.
A Beginner's Guide To CrossFit
Now that you know what goes into a good pair of functional fitness sneakers, be sure to check out our beginner's guide to CrossFit. It's chock-full of helpful information regarding getting started, best practices, and common slang.