For millions of people around the world, the impending end of summer also means that the school year is kicking back into high gear. Thankfully, however, there is still plenty of time to prepare and ensure that you're fully geared up for success in all your academic pursuits. And while that starts, perhaps obviously, with your schoolwork and textbooks (and the like), there's a lot more ground to cover if you really want to stack the deck in your favor.
The concept of everyday carry can really help in this regard. And while most EDC loadouts are comprised of gear you can fit in your pockets, your own everyday carry is only limited by what you need on a day-to-day basis. A college-focused EDC loadout might include everything you bring with you to class to get you through the day. And while each and every one is going to be unique to the individual that builds it out, the following collection of 20 items can all make your experience in academia simpler, more convenient, more organized, etc. Pick and choose or buy it all — either way you'll be better off for it.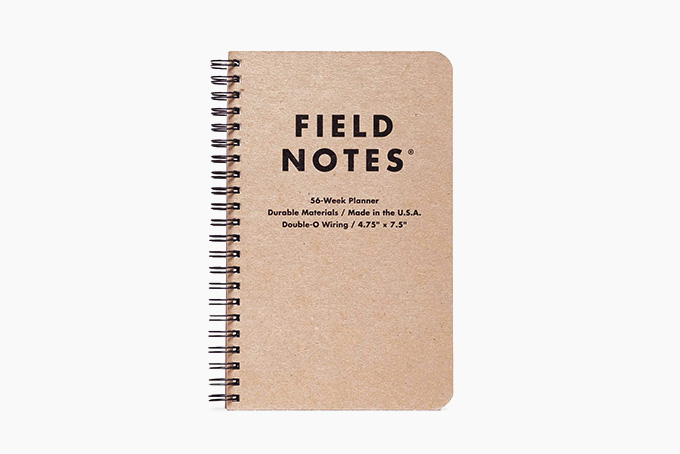 Field Notes 56-Week Planner
Organization can be the difference between success and failure in college, and the Field Notes 56-Week Planner can help you keep your schedule in check from day one. It's also made in the USA with sturdy wire binding, pre-formatted pages, and heavy-duty covers.
Cocoon GRID-IT! Accessory Organizer
As mentioned, organization is one of the biggest keys to success in academia — and that goes for your tech and accessories, too. Keep them all in order with the handy Cocoon GRIT-IT! Accessory Organizer, which can be stashed in just about any backpack and offers a tremendous amount of personalized storage and organization, courtesy of a host of elastic stash bands.
Fisher Space Pen Bullet
Studies show that people retain information better when they take notes by hand, even when compared to typing notes. As such — and for any occasion where you might not have your tech handy — we suggest everyone carry an EDC pen at all times. And you can do no wrong with the Fisher Space Pen Bullet which is compact and can write upside-down, underwater, and/or in zero gravity.
CamelBak Chute Mag Water Bottle
Did you know that being properly hydrated can actually increase your brain functions and have a positive impact on your mental acuity and critical thinking skills? Well, it can. As such, everyone should bring a water bottle with them pretty much everywhere they go, especially at school. This leakproof option will keep your water contained, cold, and portable.
Native Union Key Cable
There's a fairly good chance that, at some point, one of your pieces of tech (likely your smartphone) will run out of battery when you're not near your charging cable. But that's a small worry if you have the Native Union Key Cable attached to your keychain, which can charge up anything with a Lightning connector super quickly and takes up virtually no room at all.
mophie Powerstation Plus XL Portable Battery
The above is handy if you have an outlet. If you don't, however, there's the mophie Powerstation Plus XL you see here with its whopping 10,000 mAh battery, built-in USB and Lightning connectors, and Qi-enabled wireless charge capabilities. For those that utilize tech on a daily basis on the go, this can be a lifesaver.
Satechi Aluminum Type-C Pro Hub Adapter
For whatever reason, computer manufactures appeared to all collectively decide that a pair of USB hookups was plenty. If you, like us, have found that to be untrue, you can expand your options with the Satechi Aluminum Type-C Pro Hub Adapter, which increases the USB ports and adds on a few others — like a pair of card readers.
adidas Ozelia Sneakers
Though you'll be spending a lot of time sitting down, it can be a bit exhausting to walk from one side of campus to the other (and possibly back again). But you can do it in comfort and, perhaps more importantly, style with the adidas Oxelia sneakers you see here. They look great in every colorway, but they're also extremely comfortable thanks to the Adiprene cushioning found inside.
Penny 22″ Skateboard
We've all been the victim of poor planning at one time or another — which, in college, might mean planning classes at every corner of campus with very little time to get from place to place. Well, you can manage that seemingly impossible scheduling issue by hopping on a Penny cruiser to get from place to place. Just make sure you avoid campus security, as they probably won't take a liking to your skateboarding, even though it's definitely not a crime.
Kindle Paperwhite
You can save a lot on your daily load, at least regarding weight, if you pick up some of your required reading in a digital format and stash it on the Kindle Paperwhite. This handy ereader can hold literal thousands of books and, as an added bonus, it is waterproof. That means you could study by the pool without worry if you're so inclined.
Leatherman Charge+ Multi-Tool
Regardless of your status as a student, you should have a multi-tool at your disposal. Truly, they are wildly useful, especially when you need to make a DIY fix on the go. And they just don't get better than Leatherman's offerings, including the tech-focused Charge+ you see here. It's made from solid steel and boasts a whopping 19+ functions in a format that can be stashed in your pocket between uses — and that's not half bad.
Warby Parker Blue Light-Blocking Glasses
Though the verdict is still out on the true impact of blue light on your focus and circadian rhythms, it can't hurt to consider the possible benefits of blue-light-blocking glasses and their impact on your eye strain and focus. That's especially true if you get a pair that are as stylish as Warby Parker's glasses — which can be made with your prescription or as sunglasses for just $50 over the $95 intro price.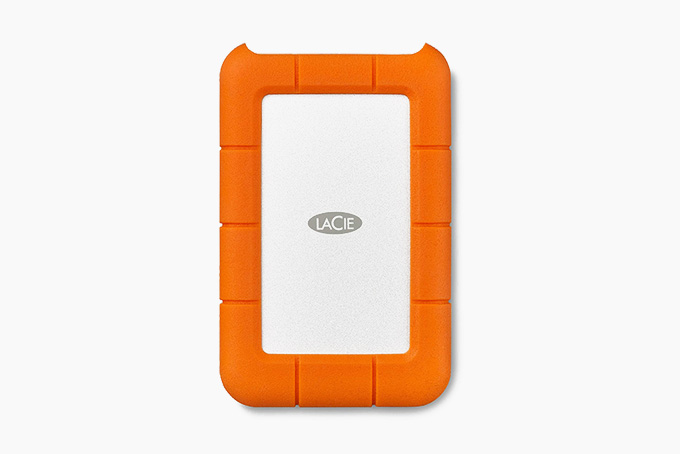 LaCie Rugged Mini External Hard Drive
Long gone are the days of physical media, at least for the most part. And that means that modern college students need different ways to haul along all their assignments and whatever else you might need to truck from place to place. Keep all your files safe and secure anywhere and everywhere you go with the rugged LaCie external hard drive you see here — which can be bought with anywhere from 1-5TB of storage space.
Patagonia Nano Puff Jacket
Even in the middle of summer, it can be a good idea to bring a jacket with you to class, as some college classrooms are downright frigid. Well, Patagonia's Nano Puff Jacket will keep you toasty warm even in the chilliest of rooms. And it packs down super small for when you don't need it — or if you want to just use it as a pillow to catch some Zs until your next class.
Aer Tech Pack
If you're going to haul all this gear with you every single day, especially along with your textbooks, you're going to need a bag that can handle all of it. Well, the technology-focused Aer Tech Pack is exactly what you need with its sturdy weatherproof construction, outstanding organizational scheme, 18.5L capacity, and drop-dead-gorgeous minimalist appearance.
Sony WH-1000XM4 Wireless Noise-Canceling Headphones
Staying focused can be quite a task in a crowded college quad, cafeteria, or even your dorm. As such, you should absolutely have a pair of noise-canceling headphones as a part of your everyday carry. And they just don't get better — especially from a noise-canceling perspective — than Sony's current-gen tech, which can be found in the WH-1000XM4 wireless over-ear headphones you see here.
Apple Watch Series 6
No existing smartwatch comes close to the popularity and functionality of the Apple Watch. Truly, it's the most user-friendly option on the market and it just keeps getting better. Well, the Series 6 (the current generation) can now measure your blood-oxygen levels, will take an ECG anytime and/or anywhere, and it still has tons of other spectacular features that have carried over and been improved from previous versions.
Steam Deck
All work and no play makes Jack a dull boy, right? Well, that goes for college, too. For the moments when your brain needs a breather, you can't find a better distraction than the upcoming Steam Deck, which is pretty much a fully functional gaming PC pared down into a portable format, not unlike the Nintendo Switch but with a lot more functionality.
Apple iPhone 12 Pro
Pretty much since the first iteration, Apple's iPhone has set the standard for smartphones around a fairly large chunk of the world. If you don't already have one, it might be a good idea to update to the 12 Pro or even the Pro Max with its exceptional camera array, beautiful display, and so much more. You really don't need us to tell you how great the iPhone is.
Apple MacBook Pro
Especially now that it comes equipped with the revolutionary M1 chipset, Apple's MacBook Pro is one of the hands-down best folding computers around. That goes double if your college experience includes any measure of design — graphic or otherwise — or visual arts. For college, we're fans of the easily packable 13″ version, but both size options are phenomenal and stand head and shoulders above the competition.
The 20 Best College Backpacks For Men
With all of this new gear, you're going to need something in which to haul it. Lucky for you, we've already rounded up 20 of the best college backpacks currently available — so you can ace your higher education pursuits from day one.