Feb 21, 2019
Category: Gear
Even if you're camping at a designated and groomed campsite, there are unenviable risks that come along with it. For starters, you're stuck with finding a patch of ground suitable for laying upon that doesn't have too many bumps or divots. Secondly, you're at the mercy of mother nature when it comes to weather and wildlife — meaning you could wake up in a puddle of mud or have a late-night visit from a nocturnal predator. The list just keeps going on and on. Of course, if you're going on an adventure with a capable off-road vehicle, there's another option: rooftop tents.
There are a huge number of benefits to rooftop tents that just aren't found with ground-ready counterparts. For instance, many of them are designed to pop right up in minutes or less, so you can set up your sleeping area with little-to-no effort. Similarly, they elevate you off the ground and out of the reach of the effects of flooding and wandering woodland creatures. Finally, they can offer views of the landscape you might not otherwise be able to appreciate. Whatever your reasoning for getting one, the following are the ten best rooftop camping tents you can buy.
Yakima Skyrise Rooftop Tent
Known for their rooftop racking systems and cargo gear, Yakima also offers one of the best budget-friendly rooftop tents on the market. Actually a series, the Skyrise — depending upon the size you purchase — can fit up to three people inside comfortably (with a weight limit of 600 pounds). It's designed for 3-to-4-season camping, has a 2.5″ thick foam mattress built-right-in, and can be attached or removed from your vehicle's roof simply — thanks to compatibility with the brand's SpeedClamp Universal Roof Rack. It's also compatible with a wealth of the brand's accessories, including an annex expansion room, their kayak rack, and so much more.
Sleeps: 2-3
Type: Softshell
Smittybilt 2883 Overland Tent
An impressive budget-friendly option, the Smittybilt 2883 Overland Tent is less like a compact sleeper and more like a massive on-the-go loft, as it can fit up to a family of four inside with room to spare. And that's not including the space beneath the waterproof awning. Pair that with the fact that it also comes complete with its own high-density foam mattress, telescoping ladder, universal rack-mounting system, rain fly, LED lighting strip with a cigarette lighter power adapter, and more, and this is one of the best bang-for-your-buck options we've ever seen.
Sleeps: 3-4
Type: Softshell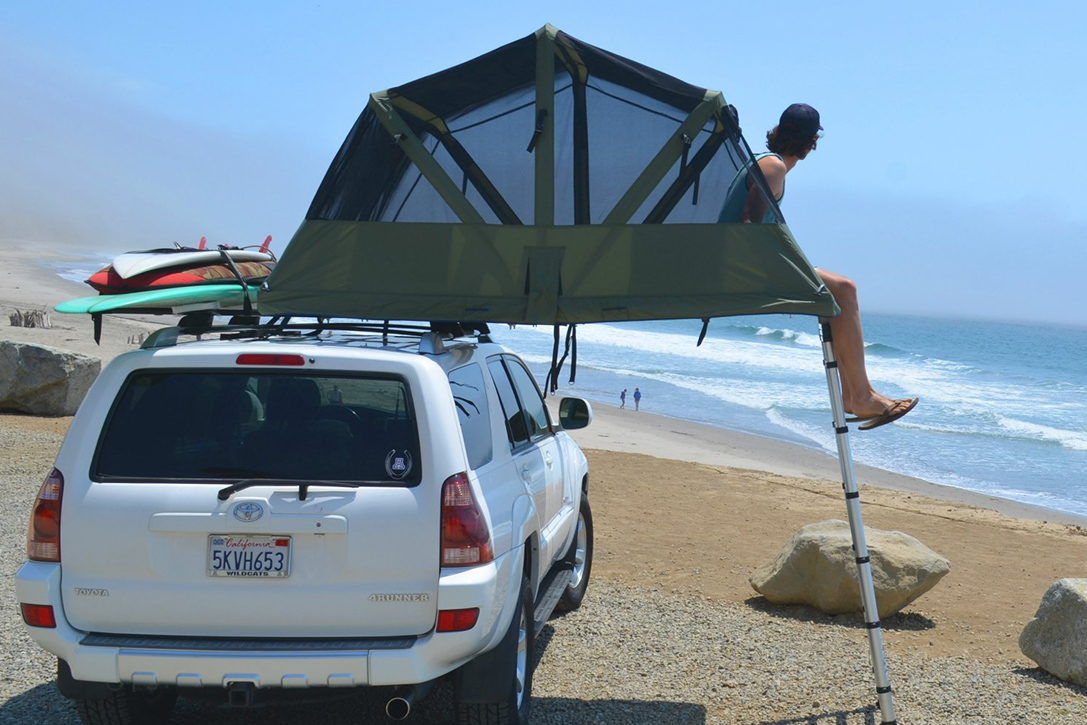 Tepui Baja Series Kukenam 3 Tent
Tepui's Baja Series rooftop tents stand apart from the rest of their offerings based on one included technology: a patented Zipper Gimp that attaches the canopy to the base which can be interchanged to suit the conditions you're set to face. And that lends quite a bit of versatility to this offering. It comes with a mesh shade canopy, perfect for hot and humid weather, and a detachable rainfly for when the weather turns foul. Other canopies can be purchased for an additional cost. This tent also houses up to three people, comes with a universal roof rack system, a high-density foam mattress, a telescoping ladder, and mosquito netting on all windows and doors.
Sleeps: 3
Type: Softshell
Tuff Stuff Ranger Overland Rooftop Tent
Another spacious and relatively-inexpensive option on our list, the Tuff Stuff Ranger rooftop camping tent is the only one that comes standard with an annex room add-on, so you've got your sleeping space and a changing room without having to shell out any extra cash. Of course, it also comes with a 2.5″ high-density foam mattress, a folding ladder, an all-aluminum frame, and its own universal roof racking system. And the whole package is water-, mold-, and UV-resistant, so you can stay safe and comfortable in any weather. It's not the fanciest option on our list, but the long list of features and ease-of-use make it a bargain at this price.
Sleeps: 2
Type: Softshell
CVT Mt. Rainier Rooftop Camping Tent
One of the most expandable soft-sized options on our list, CVT's Mt. Rainier rooftop camping tent boasts a baseline format that's good for 3+ sleepers at any given time. And even the cheapest model comes with an included annex/changing room, so you can get dressed out of the view of other campers while staying safe from the weather, as well. The exterior is also resistant to mold, UV rays, and boasts weatherproofing to keep you dry in the rain or snow. That weatherproofing is bolstered by an included rainfly that features taped-seams and a PU coating to keep the water out entirely. And with an overall capacity of 750 pounds matched by a total weight of just 195, this tent is perfect for a whole overlanding party.
Sleeps: 3+
Type: Softshell
Feldon Shelter Crow's Nest Rooftop Tent
Designed to fit on everything from full-sized SUVs, to small hatchbacks, to classic 4x4s — like the Land Rover Defender — Feldon Shelter's Crow's Nest is an impressive specimen to behold. Available in two sizes, one for smaller-cabbed vehicles (like hatchbacks and pickup trucks) and one for those with full-length roofs, this rooftop tent is resistant to weather, bacteria, wind, and whatever else Mother Nature might try to throw at you. Mate that to a built-in ErgoCell memory foam mattress and a honeycomb cell proprietary aluminum cantilevered frame that's five times stronger than traditional rooftop tent bases, and you've got yourself one of the beefiest and most comfortable rooftop camping tents ever imagined. Of course, there's also plenty of available upgrades, as well — if you can afford them.
Sleeps: 2+
Type: Softshell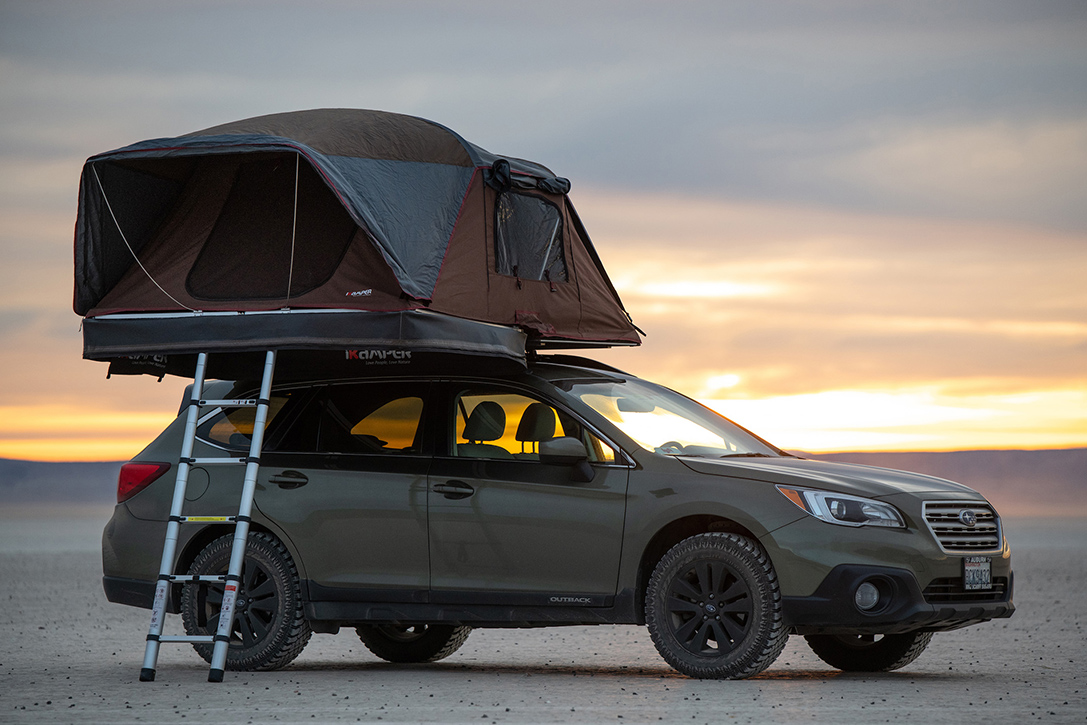 iKamper X-Cover Rooftop Camping Tent
iKamper's newest offering, the X-Cover rooftop camping tent, is a bit unique when compared to its softshell and hard-sided siblings. That's because it's the closest thing to a hybrid we've ever seen. It manages this by incorporating its cover into its construction, giving it the ability to pack down as easy as soft-sided options while maintaining the protection of hardshell options. It also boasts its own optional racking system (for an extra $140) so, when in transit, you can carry other gear atop it. Then, once you get to your campsite, you can just unstrap that gear and pop up your tent with room enough for up to four people.
FSR Adventure Series A49H Rooftop Tent
Our first true hardshell offering, the FSR Adventure Series S49H rooftop camping tent is a hell of a lot of convenience and simplicity built into a sleeping structure that's large enough for two. Granted, it's a bit smaller than most of our other options, but that comes with some pretty major benefits. For instance, set up is completely automated — all you have to do is push a button and the tent pops up on its own. And that's a huge boon to those who know how exhausting a long day of being out on the trails can be. Perhaps more impressively, this tent weighs only 140 pounds, making it perhaps the lightest hardshell option on the market. If you don't need the extra space, this 30-second-setup option is definitely worth the scratch in convenience alone.
Sleeps: 2
Type: Hardshell
Roofnest Sandpiper Camping Tent
A complete redesign of the brand's Sparrow X, Roofnest's Sandpiper camping tent has a super durable ABS-fiberglass exterior that's made to take a pounding and keep right on performing. It even features a more aerodynamic silhouette to keep driving with it mounted atop your vehicle manageable. It also boasts another big benefit: its own rail rack system that can hold another 100 pounds of gear on top of it — perfect for a kayak, snowboards, or bicycles. It offers room for two, side or backside entry, a high-density mattress, a ladder, and much more.
Sleeps: 2
Type: Hardshell
James Baroud Evasion Rooftop Tent
The cream of the crop when it comes to rooftop tents, the James Baroud Evasion rooftop camping tent is definitely an investment with its $3.8K entry price, but the benefits are almost immediately apparent. They include — but are not limited to — a gorgeous and aerodynamic hard shell, a simple no-fuss pop-up structure, a universal mounting system, a telescoping ladder, plenty of internal room (enough for most adults to sit up fully and comfortably), and some of the best internal circulation of any offering available. The one downside: this tent is in such high demand that there are wait times of up to four weeks — so if you want one for spring or summer, now is the time.
Sleeps: 2
Type: Hardshell
10 Best Roof Racks For Adventure
Whether you're attaching a tent to the top of your vehicle or you just need some extra storage for your overlanding trip, you'll probably need a roof rack. And you'll find all the best options on our list of the best roof racks for adventure.
HiConsumption is reader-supported. When you buy through links on our site, we may earn an affiliate commission. Learn more