There's no shame in trying to protect your back when sleeping outdoors. It's why investing in a good camping cot is important, not only for comfort but for your overall health. Preferring to get a good night's sleep might make you sound high-maintenance, but no one wants their body to hurt. Every other aspect of the camping trip is to aid you in your health and safety, so why not help out your back as well?
A good camping cot will not only aid your posture but will give you a better night's sleep overall, which will improve your immune system and mental health. Plus, being higher off the ground in a cot will prevent you from getting hurt in the mornings when your muscles and tendons aren't ready to do the kind of work that comes with maintaining a campsite. So before you head out on your next outdoor adventure, be sure to check out this guide to the best camping cots on the market.
KingCamp Oversized Heavy Duty Camping Cot
Getting a good night's sleep doesn't always have to cost you a ton of money. That's why we love KingCamp's Oversized Heavy Duty Camping Cot, which falls under $100 and is built much better than its price would suggest. It's made from 1000D tear-proof Oxford cloth and a corrosion-resistant steel tube frame with a ten-leg structure. Equipped with a side pocket to hold things like your cell phone and keys, the cot is slightly curved to support your head and neck when you're lying down and folds up easily into a storage bag for travel.
Teton Sports Outfitter XXL
Stretching up to 7ft long and capable of holding up to 600lbs, Teton's Sports Outfitter XXL is the best big-and-tall option out there — it just so happens to be quite affordable. The patented S-leg design of the steel frame keeps this thing sturdy and the (also patented) pivot arm allows for a super-tight canvas without any of the hassle of getting that stubborn fourth corner locked into place, or needing a second person to help. The 600D Oxford canvas is positioned so the weight of your body is suspended away from the frame and you feel like you're floating on air — or at the very least lying on your own mattress at home.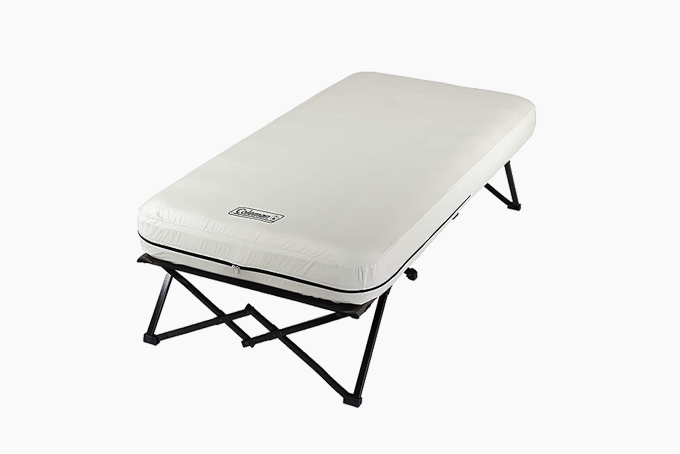 Coleman Airbed Cot
Coleman makes some of the best camping equipment on the market, especially when it comes to your sleeping arrangement. With several cot options that will improve your shut-eye, the company's Airbed Cot is our favorite. Simply inflate the mattress with the included battery-operated air pump and then easily unfold the steel frame and put the mattress inside the sewn-in cover. Factory-tested to be leak-free thanks to the Double Lock valve and AirTight system, the cot also comes with a built-in side table with a cup holder.
REI Co-op Kingdom Cot 3
Perhaps the coziest camping cot on the market is REI's Co-op Kingdom Cot 3, which looks just as comfortable as it feels. With a plush padded and quilted polyester top made from water-resistant polyester for those sweatier nights, this bed utilizes three sets of sturdy aluminum/steel legs with oversized feet for uneven ground. The twist knob on the back lets you adjust the incline to your liking and the frame folds up breezily for travel. Stretching nearly 7ft long, the Kingdom Cot 3 will make you feel right at home.
Therm-A-Rest LuxuryLite Mesh Cot
There are some benefits to being close to the ground when camping. For one, your cot doesn't shake every time a car revs its engine or the kids are running amok or a tree falls. And sometimes your tent doesn't allow for you to be much higher. At mere inches above the hard dirt, Therm-A-Rest's LuxuryLite Mesh Cot is a great low-profile sleeper. The stretch-free mesh offers solid support, as does the unique BowFrame design that contours to your back. Durable, yet lightweight, the cot sets up easily thanks to the shock-corded poles that make up its frame. The bed comes with a carrying case for easy travel as well.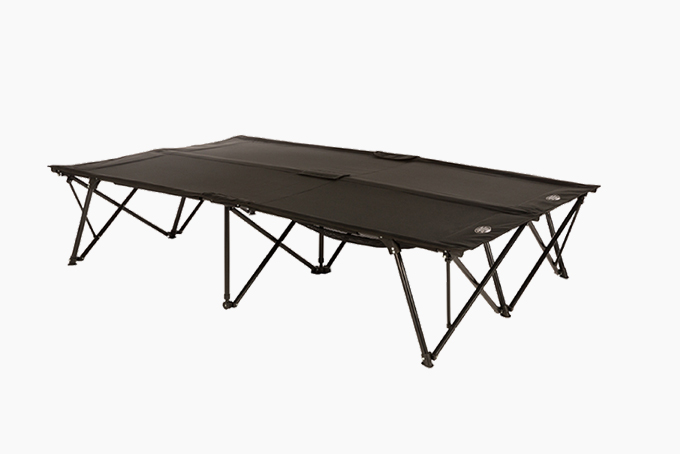 Kamp-Rite Double Kwik Cot
Just because you're sleeping outdoors doesn't mean you and your loved one can't nestle together on the same bed. Kamp-Rite had lovers in mind when it made the Double Kwik Cot, as it's perfect for two people, each with their own side with a subtle divider in the middle. With a weight capacity of 500lbs, this two-person cot is made from heavy-duty fabric and is equipped with padding built into the head area. While the powder-coated steel frame is extremely sturdy, the taut canvas can be implemented with a pad to go on top for extra comfort for both of you.
Helinox Cot One Convertible
Another low-to-the-ground cot, the Helinox Cot One Convertible has a 320-pound weight capacity, yet weighs just barely 5lbs when packed (under 5 when set up). Resting less than 7in off the dirt, this bed is perfect for backpackers or power hikers who want to get the best night's sleep for the long days ahead of them. If you desire to be higher off the ground, extensions can be added to the DAC aluminum frame. This is a great pick from Helinox, who's become one of the best camping gear brands out there.
Disc-O-Bed Cam-O-Bunk
It's understandable if you're averse to trying a bunkbed cot, but if you're curious, Disc-O-Bed's Cam-O-Bunk is the best one you can buy (and one of the only ones). Structured using steel rails all around, the bunk-cot has a low profile (32in) for added safety and the ability to fit inside some smaller tents. The rounded frame prevents it from digging into the ground since each cot, alone, has a 500-pound weight capacity (i.e., 1,000lbs total). Your kids will love this, but adults can definitely use it as well. Separate the beds during the day to have a pair of sitting benches for reading or hanging out.
Snow Peak Campfield Futon Starter Set
Snow Peak has its hands in every corner of the outdoor gear industry, so it makes sense that the Japanese heritage brand makes one of the best sleepers in the game. This Campfield Futon Starter Set is part couch, part cot (we know you know what a futon is), but what makes it unique is that the couch portion comes apart to be two separate chairs with a small table pulling out from underneath. Fold it down at night for an unbelievable sleep thanks to the nylon- and polyester-constructed canvas that covers the urethane foam cushion. Due to the company's dedication to making heirloom-quality products, Snow Peak offers a lifetime warranty with everything it sells.
The Best Solar-Powered Camping Gear Essentials
If you want to go green and save some energy, check out our guide to the best solar-powered camping gear for your next excursion.