If you've had the fortune to get out into nature and partake in camping over the course of more than just a single evening — or you've just watched some shows on TV like Survivorman, Man vs. Wild, or Naked and Afraid — you're probably aware that the natural world can often be unforgiving. However, the wild places so many of us have come to appreciate can be more easily tamed by a person with the right set of tools. And while there are a lot of functional pieces of gear to consider, one of the first and most important on your list should be a knife.
Keep in mind: the knife you choose will also largely determine its usefulness. A folding pocket knife might seem like a good idea at first for its compact nature, but extended use in the great outdoors might result in it getting jammed and, therefore, broken and potentially made useless. As such, a fixed blade is probably a better option. Even then, there are still a number of different styles — some better for the outdoors than others. If you want something that's going to be the most widely useful and versatile, we suggest picking up one of the best bushcraft knives that appear on the following list below.
The Purpose Of Bushcraft Knives
Versatile Tools
As mentioned, there is a very wide variety of knife types around — and that doesn't change when you narrow it down to fixed blades, either. Bushcraft knives are fairly special, however, in that they are one of the more purpose-driven blade types around and largely lack the flash found elsewhere. Take, for instance, a combat-focused fixed blade like the USMC Fighting Knife made by KA-BAR. This legendary knife, which is a standard-issue piece of tactical gear, is beefy, intimidating, formidable, and is comprised of relatively inexpensive materials. And that makes sense since it is primarily intended for use in combat and is manufactured in large quantities for the USMC.
Take that knife into the great outdoors with the intention to use it as a versatile survival blade, however, and you might start to see the shortcomings. Yes, it might get the job done in a pinch, but it has a format, construction, and heft that could be looked at as fairly major drawbacks. Furthermore, the relatively inexpensive construction materials will wear down and/or break with repeated hard use. By contrast, bushcraft blades — which are expressly constructed for a variety of hard-use purposes in the great outdoors, are built to be streamlined and useful over greater periods of time and usage, and often come with pricier and more sturdy materials — typically aren't quite as intimidating in their appearance and format, but make up for that with better balance, durability, etc. In short: fighting fixed blades are made to cut through soft flesh, whereas bushcraft knives are meant to chop, chisel, carve, and strip tougher materials, like wood.
It should be made clear: just because a blade is not called a bushcraft, camp, or outdoor knife, that does not mean it cannot be used for that purpose. That being said, bushcraft knives were designed and constructed specifically for that usage and, as a result (and when properly crafted), will almost always perform better when it comes to survival- and/or camping-focused tasks. Having a bushcraft knife is not an absolute necessity when trekking into the wilderness, but it can give you an edge (pun intended) over mother nature when you need it most.
The Best Bushcraft Knives of 2022
Morakniv Bushcraft Knife
Proof positive that you don't have to spend a tremendous amount of cash in order to get a worthwhile bushcraft knife for all your camping and survival needs, Morakniv has been making reliable outdoor-focused blades for people on a budget for 15 years. And while their bargain-basement Companion knife definitely has garnered the most recognition, we're particularly amped on their Bushcraft Knife you see here. This one and the Companion share some similarities — including the iconic silhouette — but this carbon steel fixed blade also comes with its own multi-purpose sheath that has a diamond sharpener and a fire-starting ferro rod that's good for a whopping 7,000 strikes and 3,000-degree sparks. Pair that with a lifetime warranty and this is one of the most widely useful outdoor fixed blade knives around.
Blade: DLC-Coated Carbon Steel
Blade Length: 4.3″
Handle: Friction Grip
Total Length: 9.1″
Ontario Knife Company 8696 Bushcraft Knife
OKC might not sound like a household name (unless you're a military family, perhaps), but there's still a pretty good chance you've heard of them before; they've actually been making hard-use military-issue knives here in the USA for years. As it turns out, they also trade heavily and masterfully in bushcraft knives, like the OKC 8696 you see before you. The difference with this one and their military-focused offerings, however, is plain to see. This blade has a streamlined, more versatile, minimalist silhouette marked by a beautiful American walnut handle and a drop point 5160 steel blade that's both well-balanced and easy to maintain. Furthermore, this 10.3″ knife comes with a handy and durable lightweight nylon sheath, so you can attach it to your belt and wear around camp, out on treks, and even in your travels (so long as it is legal to do so). It doesn't boast, but this knife has it where it counts.
Blade: 5160 Steel
Blade Length: 5″
Handle: American Walnut
Total Length: 10.30″
Boker Arbolito Bushcraft Knife
The creation of a blade that doesn't quite fit in amongst a brand's most famous and/or popular styles can be a way of flexing those versatility muscles — but it isn't always a successful endeavor. Lucky for us, that's not an issue with the Boker Arbolito Bushcraft Knife you see before you, as Boker — the German knifemaker most well known for their everyday carry folders — absolutely nailed it with this one. From its balanced silhouette to its Bohler N690 steel blade and Micarta handle scales, this knife is begging to be used out in the great outdoors. Furthermore, its flat spine is superb for ferro rod strikes — making this a great fire-starting accessory — and it comes with a genuine leather sheath that's both handsome and durable for years of faithful usage.
Blade: Bohler N690 Steel
Blade Length: 4″
Handle: Micarta
Total Length: 8.875″
TOPS Knives B.O.B. Brothers of Bushcraft Knife
If there's an American knifemaking brand that knows how to make a hard-use outdoor-focused fixed blade, it's TOPS. Time and time again, they've proven their prowess with exceptional and, often, aggressive and iconic designs. However, while they've been known to get a bit over-the-top, they also know when to tone down their silhouettes for more versatile, purpose-driven tools. Such is the case with their Brothers of Bushcraft-designed knife you see here. Made in the USA, this 9.75″ bushcraft fixed blade boasts a reliable, easy-to-maintain, and versatile 1095 steel blade mated to a handsome Micarta handle that offers superb grip in just about any conditions. What's more is that this knife also has a large lanyard hole in the base of the handle that's perfect for attaching a ferro rod for fire-starting or can be used to feed a bow drill through it for a more primal, survivalist kind of fire-starting. A Kydex sheath is also included with each sale.
Blade: 1095 Steel
Blade Length: 4.75″
Handle: Micarta
Total Length: 10″
Benchmade 202 Leuku Knife
There is actually quite a large number of traditional knife styles that are still very relevant, especially when it comes to outdoor usage. One of the most immediately recognizable and time-tested is the Scandinavian puukko. Marked by a gradually-curved edge, straight back and flat spine, hidden tang, and an ergonomic handle, this Finnish knife silhouette has been in circulation for generations. Of course, just because the basic design is timeless, that doesn't mean it can't be improved, as Benchmade has illustrated with their take on this classic outdoor cutting tool, the 202 Leuku. What sets this particular blade apart is its 5.19" CPM-3V steel blade and its matching handle crafted from durably synthetic Santoprene, which is just as grippy in dry climates as it is in wet ones. This knife doesn't reinvent the wheel, so to speak, but it definitely functions as a major modern upgrade.
Blade: CPM-3V Steel
Blade Length: 5.19"
Handle: Santoprene
Total Length: 9.69"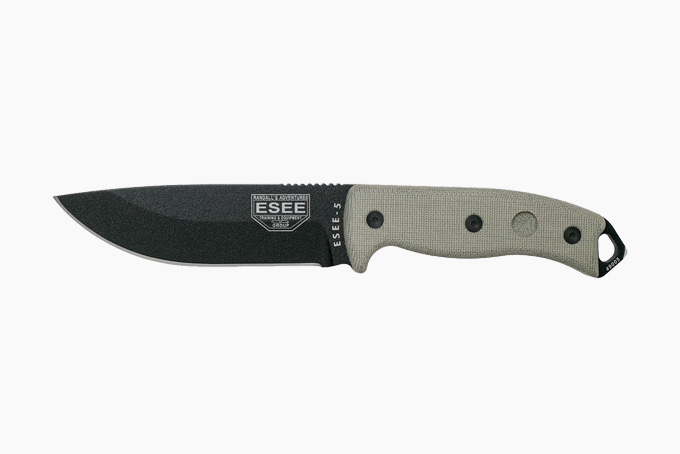 ESEE 5P Knife
Offering a wide range of fixed blades of varying sizes well-suited to any need and/or preference, ESEE is a major player in the bushcraft knife world and, thusly, is favored by outdoorsman around the world. And while it's exceedingly difficult to pick out a single knife of theirs, we've settled on the legendary 5P when it comes to this guide. You see, many of the brand's offerings share similar silhouettes and materials but vary in size. And the 5P you see here might just be the most well-balanced between its usefulness and its ability to be comfortably and efficiently carried. Of course, that well-balanced silhouette is only complemented by its black-finished 1095 carbon steel blade — which is reliably useful and easy to maintain — and its grippy Micarta handle — good for use in both dry and moist climates. As an added bonus, the butt of this knife serves double duty as an emergency glass-breaker and a lanyard attachment point. Finally, it comes with its own nigh-indestructible Kydex sheath for simple hauling anywhere.
Blade: 1095 Carbon Steel
Blade Length: 5.25″
Handle: Micarta
Total Length: 11″
Helle Knives Temagami Field Knife
Sometimes, when it comes to picking out the perfect tool for the job, turning to something with a more traditional lean can be the right way to go. Of course, it also helps if that more-traditional approach is the work of someone who absolutely exemplifies trustworthiness in a given industry. That's exactly the case with the Helle Knives Temagami Field Knife. This traditional Scandinavian bushcraft blade, which boasts a curly birch wood handle mated to a triple-laminated stainless steel blade, was penned by none other than the Survivorman himself, Les Stroud. His involvement — paired with the fact that Helle has remained a trusted collection of craftsmen since they were founded all the way back in 1932 in Holemdal, Norway — makes for an exceptional and especially trustworthy bushcraft cutting tool. It doesn't hurt that it also comes with its own premium leather belt sheath, either.
Blade: Triple-Laminated Stainless Steel
Blade Length: 4.3″
Handle: Curly Birch
Total Length: 12″
Fallkniven A1 Knife
If you have even a passing interest in outdoor-focused fixed blade knives — which we assume you do if you've made it this far down the list — you should know the name Fallkniven. They're not the most famous brand, especially Stateside, but that should absolutely not be considered a reflection of their quality and craftsmanship, as this brand has been quietly making some of the best hard-use bushcraft blades since their founding back in 1987. In fact, the brand's crowning achievement might still very well be their very first in-house design, as well as those that were based on the now-legendary F1 — which includes the slightly oversized A1 you see here. Hinging on a laminated VG-10 blade and Kraton handle, this knife ranges on the pricy end of the spectrum, but brand faithfuls will tell you that the investment is absolutely beyond a shadow of a doubt worth the money you'll be giving up.
Blade: Laminated VG-10 Steel
Blade Length: 6.3″
Handle: Kraton
Total Length: 11.02″
Bark River Knives Aurora Bushcraft Knife
It would be blasphemy to try and pinpoint which single knife on our list is the best all-around, but we wouldn't argue with you if you were to suggest that the honor belongs to the Bark River Aurora you see before you. This bushcraft knife was carefully crafted to be useful in all conditions — aided by its ergonomic canvas Micarta handle — and comfortable with any handgrip and from any angle. Less like a tool you haul around and more like an extension of your body, this bushcraft knife also boasts a CPM-3V steel drop point blade that's as versatile as they come and it comes with a sheath, so you can stash it away between uses. Really though, you'll probably want to keep this bad boy in your hand between uses because it just feels so good to hold in your hand.
Blade: CPM-3V Steel
Blade Length: 4.5″
Handle: Micarta
Total Length: 9.375″
Spyderco Zoomer Bushcraft Knife
If you really want to get your hands on a top-notch survival and bushcraft fixed blade, maybe you should seek out one that was designed by a world-renowned survivalist. At least, that's what Spyderco's thought process must have been when sourcing a design for their Zoomer, as they called on none other than the blade's namesake, Thomas Zoomer, to pen the design. And while its certainly a pricy offering, especially for a knife meant to be used and abused, it has the materials and craftsmanship to back up its cost. That includes things like a high-end drop point CPM-20CV steel blade with a convex grind, a pair of solid machined G-10 handle scales, and a premium leather sheath for easy hauling and transport. Most people probably aren't going to feel comfortable spending so much money on a hard-use tool, but those that do are certainly going to be pleased with the results for years and years to come.
Blade: CPM-20CV Steel
Blade Length: 5.2″
Handle: G-10
Total Length: 10″
The 15 Best Camping Knives
For those who don't need something quite as hardcore and survival-oriented as bushcraft knives, you may still want something that's capable around the campfire. As such, we've gathered together what we believe to be the 15 best camping knives available now.