Presented by
American-made isn't just about geography; it's a proud generations-old celebration of care and craftsmanship for products that can't be replicated anywhere else. It's a culmination of years of tirelessly pursuing excellence that's supported by an undying dedication to quality and craft.
Most American-made products don't just solve a need, they tell the story of the people who made them. They're made with pride; they're made to last; they're made to be special. On this list, we've curated some of the best American-made gifts on the market to show the patriot (or anyone else) in your life that you care for them this holiday season.
Leatherman FREE P2
Designed for unmatched comfort, durability, and ease of use, the P2 is the ideal EDC tool. Integrated FREE technology means all 19 tools are easily accessed with one hand, open smoothly, and click into place with a confident snap.
Field Notes Work Station Calendar
We may live in a digital age, but a good print calendar is hard to beat. The Field Notes Work Station features a 15-month calendar as well as a comprehensive of "real big days" on its back with entries like World Press Freedom Day, Book Lovers Day, and, of course, Whoopi Goldberg's birthday.
Tec Accessories Retreev Mini Grappling Hook Retrieval Tool
Setting aside every man's childhood desire to scale buildings with a bonafide grappling hook (don't try that with this), this EDC tool has real-world practicality and a stylish aluminum finish.
Zippo Slim High Polish Lighter
Lighters really don't get a whole lot more iconic than Zippos, and this particular lighter dons a classy, matte black finish as well as the classic wind-proof ignition to make it as useful as it is stylish.
Buck Mason Slub Curved Hem Tee
If you're going to get a great t-shirt that goes with practically anything, then Buck Mason is the right place for you. Their Slub Curved Hem Tee features ultra-soft, 100% slub cotton construction and their signature curved hem.
Dango A10 Adapt Wallet
Why go for a textile wallet when you can get one made of 6061 aerospace-grade CNC-machined aluminum? The A10 Adapt Wallet is lean, holds up to five cards, and has an aggressively cool design.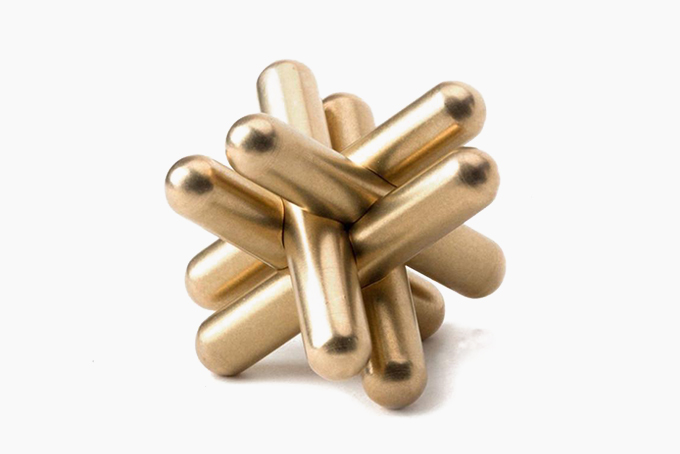 Craighill Jack Puzzle
3D puzzles are perfect for the friend who can't stop fidgeting. This particular puzzle has a solid cartridge brass construction that doubles as a cool desk decoration once you solve it.
FLIKR Fire Personal Concrete Fireplace
A personal fireplace is one of those inventions that you never knew you had to have until the moment you find out about it. FLIKR's personal concrete fireplace is the ultimate statement piece and runs on clean-burning isopropyl alcohol.
Muir Way 1932 USA Geological Relief Map
What better addition to the American-made list than a map showing the rugged nation of our gorgeous country? The 42″ x 24″ map is printed on archival, museum-quality paper with archival inks that never fade.
Filson Rugged Tool Roll
Let's face it: trying to find storage for tools can be a nightmare. Thankfully, Filson's stylish offering will conveniently store many of the EDC essentials you have without taking up space like a regular toolbox.
Flint and Tinder Flannel-Lined Waxed Trucker Jacket
This handsome jacket is made of New Jersey-sourced waxed, weather-resistant Martexin 7 oz. sailcloth for warmth and insulation. It features a rugged silhouette and will age like a fine wine the longer you wear it.
Pendleton National Parks Blankets
The great thing about Pendleton blankets is that they're as comfy to snuggle up with as they are beautiful to look at. This particular blanket is made of pure virgin wool that's napped for added warmth and comfort.
Smithey Ironware Co. Carbon Steel Farmhouse Skillet
Carbon steel is the superior cousin to cast iron, and Smithey Ironware offers a lifetime warranty, which is really something companies do when they know their products will last that long. You won't find a better skillet.
Purchase: $275
Easymoc Cozymoc
With work from home here as well as the cold winter weather approaching, it's more important than ever to have a comfy pair of slippers. Easymoc offers an array of cozy slippers, with the Cozymoc being a brand favorite.
Best Made Painted American Felling Axe
When it comes to axes, you really can't beat Best Made. As their name suggests, these are top-of-the-line axes, featuring a 5160 American alloy steel axe head and a 35″ fine-grain Appalachian hickory handle.
Lamson 3 Piece Premier Forged Cook Set
The Lamson name caries a lot of weight. They've been making expertly crafted knives since the 1800s, and this forged steel set of kitchen knives is a prime example of their excellence.
GORUCK GR1
The GR1 is synonymous with Special Forces quality rucksacks, and one look at its tough silhouette will tell you why. This offering sports a literally-bombproof Laptop Compartment next to your back with a false bottom so that when you set your ruck down, your laptop stays perfectly still.
White's Foreman Lace-to-Toe Boots
These handsome boots embody White's charge to alchemize form and function. They have a water-resistant full-grain leather upper and a comfortable Vibram Cristy crepe sole with a low arch for an easier break-in period.
Timex American Documents Watch
A simple yet elegant design from a classic American brand. Aside from being a wonderful watch, the American Documents Watch is interesting in that it is inspired by Timex's 1854 stamped brass clocks.
Taylor Stitch Moto Jacket in Whiskey Steerhide
The folks at Taylor Stitch and their collaborators at Golden Bear made a masterpiece of a jacket when they handmade the premium 3.5-oz. full-grain leather Moto Jacket. This gorgeous jacket looks better the longer you wear it, which is hard to fathom since it looks stunning off the rack.
The 10 Best American-Made Chef Knives
If you enjoyed this wishlist and want to continue your patriotic kick, then check out our list of the best American-made chef's knives for more great American-made products.