Very few inventions and items have managed to stand the test of time quite like cast iron cookware, going almost entirely unchanged since becoming a household staple in the 1700s. Despite countless new technologies and production methods coming and going, the classic cast iron skillet remains a must-have essential for everyone from five-star chefs to overlanding enthusiasts. Having now existed for hundreds of years, cast iron skillets are manufactured by a wide variety of outfits including age-old heritage brands as well as newer fledgling foundries and firms.
As a must-have item that every guy should own, we wanted to take the time out to unpack the intricacies of cast iron skillets, delving into their unique benefits and history. And while every skillet crafted using cast iron construction will afford tremendous strength and durability, there are a handful of specific brands and models that objectively stand above the rest, and it's this celebrated group of offerings that we'll be highlighting today in this guide to the best cast iron skillets.
Turning Back The Cookware Clock
A Condensed History of Cast Iron Construction & Cookware
Though cast iron skillets are typically associated with American heritage brands, the oldest known cast iron cookware can in fact be traced back to China's Han Dynasty in 220 A.D. These hardwearing pieces of cookware were eventually introduced to parts of Western Europe via Silk Road trading before reaching other parts of the globe in the centuries that followed. By The 1500s cast iron cookware had become common in most households, though would become even more popular and widespread after Abraham Darby patented the sand casting method in the early 1700s, making skillets, pots, and pans markedly easier to produce and substantially more cost-efficient.
The vast majority of the first cast iron skillets to reach American shores were manufactured back in Europe, though eventually as the country grew a myriad of small, albeit noteworthy companies began sprouting up. Two of the most historically significant brands to emerge were the Griswold Manufacturing company and Wagner Manufacturing, the former of which was founded in Erie, Pennsylvania in 1865 while the latter came into being in Sidney, Ohio in 1891. In 1896, one Joseph Lodge would bring cast iron manufacturing to the American south, opening Tennessee's answer to its northern competitors with the Lodge Manufacturing Company — which has since become the most iconic cast iron cookware brand in the country.
Unpacking Casting
What Exactly Is Cast Iron?
Without going too into the weeds, cast iron is a type of iron-carbon alloy with a carbon content of at least 2% (and usually no more than 4%). Unlike regular steel — which has a smaller carbon content percentage — cast iron is extremely hard and non-malleable but, above all else, insanely strong and durable. Coupled with its low melting point and resistance to oxidization and wearing, these attributes make cast iron ideal for industrial applications such as in the automotive sector for engine parts, or for producing extremely rugged cookware.
While metallurgy technology has seen enormous leaps and bounds since the 1800s, the process of creating — or "casting" — cast iron cookware has gone largely unchanged. The process starts with a combination of pig iron, recycled steel, scraps, and other bits from leftover and throwaway castings being cooked in a furnace at around 2,800℉ until the metals have liquified. The impurities — known as "slag" — are then skimmed off after rising to the surface. From there, additional ingredients such as mineral vermiculite and silicon are added to the molten iron alloy, before being poured into molds made from sand, clay, and water.
Once removed from their individual casts, each skillet — or whatever type of cast iron cookware — is then tumbled with bolts and other small pieces of metal before finally being bead-blasted with metal pellets. Last, each skillet has its rough edges ground smooth, it's thoroughly cleaned with soap and water, and then it's sprayed with vegetable oil and baked at a high temperature — a process known as "seasoning."
Cast Iron Qualities
The Benefits & Strengths Of Cast Iron Cookware
Cast iron skillets are objectively antiquated technology, though there's good reason to explain their continued widespread use and popularity, as they possess a slew of unique traits and benefits. Below, we'll be briefly touching on several of the more significant qualities pertaining to cast iron skillets and cookware in general.
Unlimited Shelf Life: The immensely heavy-duty and rugged nature of cast iron construction skillets allow them to serve their owner for several lifetime's worth of use. You'd really have to go out of your way to destroy or even damage an heirloom-quality cast iron skillet, and even then your efforts may be to no avail. This ridiculously rugged quality is an enormous part of what makes cast iron skillets unique and so highly sought after, plus the immense heft also bestows cast iron skillets with a much greater thermal mass than regular pans, thereby giving them superior cooking properties.
Chemical-Free: A good deal of modern pots and pans are treated or lined with chemicals to give them non-stick properties. And, while admittedly effective, coatings like Teflon can be scraped off of pans with metal utensils and will start to break down if exposed to temperatures exceeding 570°F. When released into the air and inhaled or consumed with food, these chemicals can be extremely toxic and can lead to illnesses including certain cancers.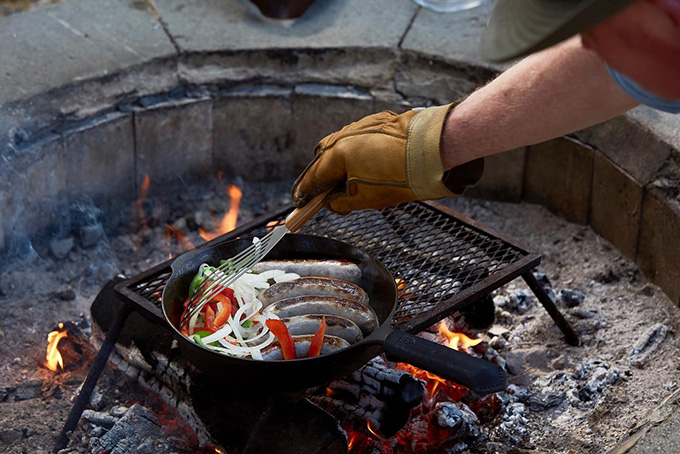 The Antique Aesthetic: There are numerous utilitarian advantages offered by cast iron construction, though there's also no denying the visual appeal afforded by these unmistakably old-world items. Whether you fancy a traditional heirloom-style cast iron skillet or a more contemporary interpretation of the cookware, the charming appearance of cast iron skillets is undoubtedly one of their many selling points.
Renewable: Cast iron cookware is immensely durable and long-lasting, though if not cared for probably, time will slowly ravage the exterior of the carbon-infused alloy. Fortunately, even if a skillet does get worn down — or even riddled with rust — cast iron can be professionally resurfaced and brought back to its former glory — giving an already bulletproof item even more longevity.
The Environmental Factor: Cheap steel and aluminum pans are only built to last at most a few years before needing to be tossed in the bin and replaced. Cast iron items, on the other hand, can be used practically forever, serving you for a lifetime before being passed down to repeated future generations. This eliminates an enormous amount of waste involved in the manufacturing and delivery of budget-friendly cookware.
Versatility: You really would be hard-pressed to find a piece of cookware that's more utilitarian or versatile than a quality-made cast iron skillet. Not only do these items serve as must-have staples to have in the kitchen at home, but cast iron skillets are also perfect for camping, road trips, or just about any other cooking application you could imagine.
Barebones Kitchen 12" Cast Iron Skillet
Though offerings from the more iconic heirloom brands don't come cheap, the reality is you don't have to spend a lot to get your hands on a quality cast iron skillet that will last you a lifetime, as evidenced by Barebones Kitchen's exceedingly affordable 12" model. Despite its price, this skillet is no less hardwearing than any of its more costly competitors, plus, in addition to being pre-seasoned and triple-sanded, this skillet is also backed by a lifetime warranty.
Lodge 12″ Pre-Seasoned Cast Iron Skillet
Lodge's 12" skillet is almost certainly the best-selling American skillet of all time. And aside from the company starting to season its skillets just after the turn of the millennium, Lodge otherwise makes this piece of cookware today just as it did over a century ago. This particular model is also now sold with a Lodge-branded silicon potholder.
Lodge Blacklock Line 12"
Taking its name from Lodge's original foundry location, the Tennessee brand's Blacklock line offers the immense durability and versatility of Lodge's regular cast iron wares, in a lighter, redesigned package that uses a thinner cast and a proprietary iron recipe. First released in 2019, the Blacklock Skillet also sports a unique triple seasoning finish, affording excellent non-stick properties, exceptional flavor, and an easier cleanup process. And, on top of the skillet, Lodge also produces a full line of accompanying Blacklock cookware.
Stargazer 10.5" Skillet
Tipping the scales at just 5.2lbs, Stargazer's 10.5" skillet is a modern, no-frills interpretation of a traditional skillet. Its manufacturer offers this skillet in both seasoned and bare versions, though both sport a satin-smooth interior surface that provides natural supplementary non-stick qualities as well as an intentionally flared rim to prevent grease drips. Stargazer also stands behind this product with a generous "Infinite warranty," should you somehow manage to damage this American-made skillet.
Field Company Field Cast Iron Skillet
The Filed Company's Field Cast Iron Skillet is about as minimalistic as contemporary skillets get, being completely devoid of any logos or branding — aside from the bottom of the skillet — and sporting a lightly textured finish. Whether cooking in the kitchen or from a basecamp in the backwoods, this seasoned skillet will afford a lifetime of dependable service — and will only get better with time (assuming it's been cared for properly).
Fiskars Norden Cast Iron Skillet
In typical Fiskars fashion, the Norden cast iron skillet sports an unmistakably Scandanavian-influenced design language and top-shelf constructions. On top of its unique industrial design and its removable wooden handle. this 2018 Red Dot Design Award-winning skillet also features a special thermium mineral treatment that affords excellent non-stick properties and won't cook-off or degrade even under extremely high heat.
Smithy Ironware No. 12 Cast Iron Skillet
With dual pouring spouts, an ergonomic handle, and a satin-smooth polished interior surface, the No. 12 cast iron skillet is one of the more unique modern American-made heritage-grade skillets. Because of its 8lb weight and somewhat delicate interior surface, the No. 12 skillet admittedly isn't the best choice for camping and off-grid use, though is undoubtedly one of the better options for a dedicated indoor kitchen cast iron skillet.
Le Creuset Enameled Cast Iron Signature Skillet
Like the previous entry on this list, Le Creuset's beautifully-enameled cast iron skillet lineup isn't the most conducive to cooking duties outside your home's kitchen though it undeniably makes for a stellar item for at-home applications. The French manufacturer also offers this skillet in a wide variety of sizes, and enamel colors, plus sells a massive range of matching enameled cookware including Dutch ovens, braisers, and a variety of other essentials.
Finex 12" Skillet W/ Lid
Finex currently produces heritage-grade skillets that are destined to be beloved antiques and family heirlooms in a century's time. These iconic pieces of cookware sport an idiosyncratic eight-sided shape with a machined cooking surface and a spring handle that's wound from 300 series stainless steel rod stock before being polished by hand. This future classic is also sold with an included lid that boasts a Finex-branded lid knob, basting rings, steam vents, and rim rests.
Butter Pat Industries Joan 12" Skillet
Butter Pat Industries' Joan skillet is the result of what happens when you set out to deliver the ultimate modern-day heirloom-quality cast iron skillet without any concern for cost. This means an entirely American-made item that's been given a vintage-inspired design, ultra-pure construction, and a beautifully-polished finish. The Maryland-based manufacturer's company's "100-Year Warranty" should also tell you everything you need to know about its durability and dependability.
The 8 Best Pieces Of Cast Iron Cookware
Now that you've got your skillet situation all sorted out, why not upgrade the rest of your kitchen's pots and pans with items from our guide to the best cast iron cookware.