Presented by

For many of us, no one individual person has had a more profound impact on shaping the men that we've become more so than our fathers. Our sense of morality, work ethic, and passions can often be traced back to dear old dad. And while the best gift is undoubtedly leading a life that they can be proud of, it's still important to take the opportunity to express your gratitude for all that he's done for you when Father's Day rolls around every summer.
Even if you maintain a close relationship, it can still at times be difficult to shop for a man of a different generation. And with only a matter of days before the June 20th holiday, there isn't much time left to make your purchase(s). So, with this in mind, we've thoroughly scoured a variety of product spaces to deliver this diverse list of items that are sure to resonate with just about any dad. From gadgets to EDC items to camping gear, to workout garments no matter what your old man is into, we've got you covered with this curated guide to the best Father's Day gifts.
lululemon Surge Short 6" Linerless
Offered in six different solid, heathered, and camo color options, lululemon's Surge Short 6" Linerless is a lightweight pair of athletic shorts that allow for a completely unrestricted range of movement. Crafted from 100% recycled polyester, these shorts boast the brand's SwiftTM fabric, and as such offer both quick-drying and four-way stretch properties.
Flaviar Whiskey Subscription Service
Flaviar is an online alcohol delivery service that requires users to take a test in order for the company to develop a flavor profile which is then used to select bottles of whiskey (or other liquors) that will jive with said user's unique and specific taste. The company offers a wide range of products and shipment frequencies, and starts from as low as $20.
Dissim Inverted Lighter
Backed by a lifetime warranty, the DISSIM inverted lighter is a modern take on a traditional lighter with a unique patent-pending circle grip design, an angled flame port, a trigger ignition, an adjustable butane-powered flame, and a visible fuel-level window. Whether added to an EDC loadout or utilized as a table lighter, the DISSIM makes a fantastic gift.
Purist Mover 18oz Bottle
We've tried dozens and dozens of vacuum-insulated water bottles over the years, though few if any even come close to the level of overall quality possessed by the Purist Mover bottle. Boasting an unmistakably top-shelf feel with a premium matte finish, this double-walled bottle is made from surgical,-grade stainless steel and features an unbreakable glass-lined interior, thereby affording the durability of metal, without the metallic taste.
The James Brand Cache River Bit Driver
An ultra-pocketable yet thoroughly utilitarian EDC item, The James Brand's Cache River is a compact bit driver crafted from anodized 6061 aluminum, weighs only 1.2oz, and measures just under 4" in length (and 0.53" in diameter). Designed in Portland, this EDC tool sports a magnetic bit attachment, a ball bearing pivot, and is sold with included Phillips #2, Torx T6, and Wiha Slotted 4.5 bits.
Whiskey Peaks International Mountains Set of 4
Aiming to let whiskey enthusiasts enjoy the majesty of some of the world's most formidable peaks and summits from the comfort of their home, this four glass set was designed in San Francisco and is blown entirely by hand. This particular "International" set includes 3D models at the base of the whiskey glasses of Japan's Mount Fuji, Tanzania's Mount Kilimanjaro, Switzerland's Matterhorn, and the highest peak on the planet, Nepal and Tibet's Mount Everest.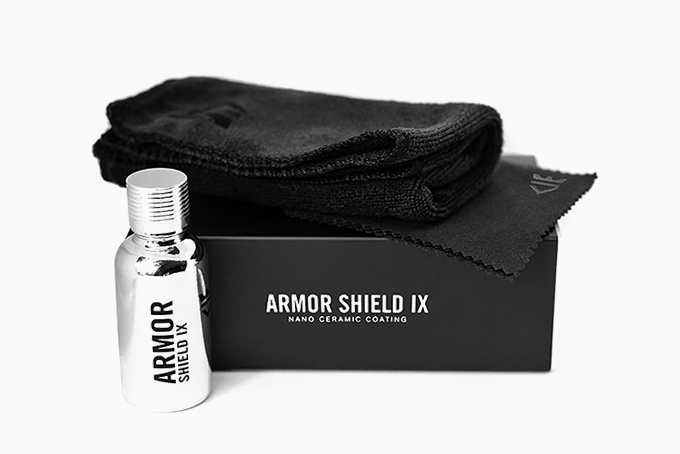 Avalon King Armor Shield IX DIY Kit
If your dad happens to be an automotive enthusiast or collector, you can help him preserve his fleet and keep his stable looking its best with this wildly effective nano-ceramic coating kit from Avalon King. This kit includes everything needed to apply the armor coating, and once put on, this thin film will fortify a vehicle's paint and finish, and allow dirt, mud, and grime to simply bead and roll off of a vehicle's bodywork.
Pioneer Carry Altitude Billfold Wallet
Pioneer Carry's Altitude Billfold will likely be the last wallet your dad will ever need. Though it boasts a rather minimalistic and unassuming appearance, these American-made EDC wallets are made from a proprietary high-density 3PN DWR nylon with a FutureForm heat-fused structure that boasts ten times the strength of steel in an incredibly lightweight, 10x ripstop package.
WESN Henry
An unmistakably modern and top-shelf interpretation of a traditional fraction folder, WESN's Henry Knife features a 2.35" Sandvik 14c28n steel spear-point blade paired with elegant 3" Grade 5 Titanium scales decorated with genuine cherrywood inlays. Weighing just 1.6oz, this heirloom-quality pocket knife is also backed by a lifetime warranty. Thanks to its heritage-quality construction, this blade can be passed down to future generations.
Deus Luftgekühlt Book
Created by Patrick Long and Howie Idelson, Deus' Luftgekühlt coffee table book is a highly curated look into the world of classic, modified, and custom Porsches. Produced in limited numbers, this 250-page book includes cars from Porsche tuning icons such as Jeff Zwart, Rod Emory, Bruce Meyer, and Rob Dickinson, just to name a few. Measuring 12.2" x 12.2" x 1.37", each book is sold with a hard screen printed slipcase and a dust sleeve that folds out into a poster.
Rumpl x Iron & Resin Last Ride Blanket
Born out of a collaboration between camp blanket experts Rumpl and noted lifestyle and moto brand, Iron & Resin, the Last Ride Blanket is odor, stain, and water-resistant and measures 50" x 70". Decorated in an exclusive desert-inspired pattern and colorway, the exterior of the blanket is made from a 20D ripstop nylon fortified via a DWR shield and stuffed with 240-grams of 3D hollow fiber synthetic insulation.
Filson x Estwing Fireside Friend Splitter
Founded in 1923, the Estwing Manufacturing Company is one of the most respected American tool brands, so when Filson was recently looking to produce a traditional camp firewood splitter, the Northwestern heritage brand turned to the Rockford, Illinois outfit, ultimately resulting in the Fireside Friend Splitter. Sold with an embroidered Filson-branded nylon sheath, this outdoor axe features a single-piece steel construction, a 2 3/8" edge length, and a symmetrical poll that can be used for hammering.
REI Co-op x West Elm Outward Day Shelter
Whether fishing on the banks of a local river, spending a day at the beach or a night under the stars, this shelter from REI Co-op and West Elm provides a minimalistic means of protection from the sun and/or elements. Using a 75D polyester that won't stretch when wet, this item is made from a waterproof, seam-sealed, DWR-finished construction that's paired with a set of aluminum poles. The entire kit neatly stows away in an included stuff sack, too.
Fjällräven Canada Shirt
Another decidedly premium take on a men's wardrobe staple, Fjällräven's Canada Shirt is a robust, thick, and immensely durable and warm flannel that can be worn as a button-up or an over-shirt. Produced in a myriad of flannel patterns as well as in solid color options, this flannel is crafted from Fjällräven's cotton-poly G-1000 material and is decorated with a leather Fjällräven logo patch and Fjällräven-logoed metal snap buttons.
Triple Aught Design Edition Neomag EDC Tray
Give dad a stylish means of organizing his EDC loadout with this special Triple Aught Design edition vallet tray from NeoMag. Built around a precision-machined and Cerakoted 6160 aluminum chassis decorated in NeoMag and TAD logos, this dual-section catch-all packs a pair of NeoMag slots, a removable brass handgun rod, and brown leather inserts adorned in TAD's signature topographical map pattern.
Sig Sauer MCX Canebrake Air Rifle
Since the start of the global pandemic last year, ammunition prices have dramatically spiked, making it more and more expensive to get some target practice in. A more affordable alternative to even .22LR shooting, this newly-relaxed Canebrake air rifle from Sig Sauer offers the authentic experience of plinking in a more budget-friendly package that accepts classic .177 pellets. Powered by CO2 cartridges, this pellet gun boasts full metal construction, a removable clip, and flip-up front and rear sights.
Tactile Turn Mokume Gane Bolt Action Pen
Tactile Turn already produces our favorite EDC pens, though the boutique Texas brand has taken its top-shelf bolt-action writing instrument to the next level with the ultra-limited edition Mokume Gane editions, which feature a Mokume Gane metal sections — a traditional Japanese metalworking technique of forge welding and folding to achieve a wood grain appearance. On top of being offered in Mini (4.4"), Short (5.1"), and Standard (5.6") sizes, the Mokume Gane Bolt Action Pens also come in copper, bronze, zirconium, or titanium constructions.
Freestone Cloth Traduce Classic Straight Leg 15oz Jeans
It's hard to go wrong with a classic pair of American-made denim jeans, and very few do it better than the crew over at Freenote Cloth with the brand's Traduce Classic Straight Leg. Cut from high-end 15oz selvedge denim and sewn entirely in the USA, these jeans feature a Bourbon fly, a two-piece waistband, flat-felled seams, Japanese herringbone pocket bags, custom rivets and button tacks, and one-eighth inch needle accents.
FINEX 12" Cast Iron Skillet W/ Lid
Tipping the scales at 13lbs, this modern take on a cast iron skillet sports an idiosyncratic octagonal shape accented via a domed lid with a FINEX-branded grip. Seasoned with organic flaxseed oil, this heirloom-quality skillet is admittedly pricier than more traditional items, though was designed to last several lifetimes of regular use.
Shinola Runwell Desk Clock
This desk clock from the American horologist at Shinola is built around a 6" zinc case set atop a genuine oak wood base stand. Kept ticking via a (AA battery-powered) quartz movement, this clock is assembled by hand in Detroit and sports raised indices, luminous hands, and a case-back with an individualized serial number.
Master & Dynamic MW08
Inspired by the premium watch sector, Master & Dynamic's new flagship MW08 true wireless earbuds feature ceramic construction earbuds paired with a stainless steel wireless charging case that affords a whopping 42-hours of collective battery life. Other highlights include connectivity to the M&D app, a proprietary novel six microphone setup, Bluetooth 5.2 connectivity, a proprietary machined aluminum nano-bonded external antenna, and some of the best active noise cancelation tech that money can currently buy.
Porsche Design PDS50 Wireless Speaker
Combining the elegant design language of Porsche with genuine high fidelity sound, the PDS50 wireless Bluetooth speaker is IPX4-rated, packs roughly 20 hours of music playback time, a customizable RGB LED display, and an integrated wireless charging station. Booming sound quality comes through a 3" main driver delivering clear mid and low frequencies that are supplemented via a 1" dome tweeter for ultra-crisp highs.
Traeger Ranger Portable Grill
Despite its diminutive 13" x 20" x 21" form, Traeger's portable Ranger model offers a cool 176 square inches of mobile cooking space — allowing users to take the brand's pellet-powered grilling practically anywhere. Boasting a 36,000 BTU output, this portable grill features a "Digital Control Ark" that allows the temperature to be adjusted in five-degree increments, a generous 450-degree maximum temperature, and a built-in meat probe that can monitor the internal temperature of a cooking protein without having to lift the lid.
Benchmade Auto Fact
Benchmade's newly-released Auto Fact is an insanely premium interpretation of a top-shelf automatic Stiletto, with an auto version of the brand's signature AXIS locking mechanism, a top-of-the-line CPM-S90V steel blade, and carbon inlays in the knife's aluminum milled handles. And, as beautiful as this blade looks in photos, it's even more impressive in person — a fact furthered by the smooth yet powerful deployment of the automatic AXIS lock and top-notch fit and finish.
Vollebak 100 Year Sweatshirt
Though it looks like your average sweatshirt, the Vollebak 100 Year Sweatshirt is a fire-resistant and ultra-warm crewneck that offers four times the wind protection of regular fleece and, as its name implies, is engineered to legitimately last a century of use. Almost certainly the most weatherproof sweatshirt on the planet, this item also features four-way stretch properties.
Roland Sands Design x White's Foreman Boots
Made by hand in America in extremely small numbers, this heirloom-quality moto riding boot was created through a special collab between Roland Sands Design and White's Boots and is crafted from oxblood Chrome-Excel leather and boasts Ortholite padded insoles, stitched-down leather shanks and mid-soles, and 6" full grain, uppers, a stitched shift toe pad, and is built atop one of Vibram's Cristy Crepe soles.
YETI V Series Hard Cooler
Unequivocally one of, if not the finest hard cooler currently on the market, the YETI V Series is a cutting-edge amalgamation of its Rambler drinkware and its Tundra cooler, bestowing the hard-sided item with vacuum-insulated, double-walled sides that afford extraordinary thermal retention properties. Made using kitchen-grade stainless steel throughout, this cooler also boasts a stainless steel latch loop, a recessed gasket design, and is highly resistant to rust.
Amalgam Collection Porsche 911 RSR 2.8 1:18 Model
Limited to a run of just 200 units, this 1:18 scale replica of a 1973 Porsche 911 RSR 2.8 racer done up in a Brumos livery in the exact spec used at that year's running of the 24 Hours of Daytona. What's more, this wildly detailed replica of the 280hp air-cooled 2.8L flax-six racer also comes signed by Hurley Haywood, who in 1973, won the first of his five wins at the iconic motorsport event.
Revival In-House Palo Duro Pannier Briefcase
Meticulously made by hand in small batches using some of the finest materials available by one of the most celebrated custom motorcycle shops currently in operation, Revival Cycles' In-House Palo Duro bag is a hybrid briefcase that can double as a pannier. Produced in three color options, this bag features American-made Tasman leather construction, a 6" leather-warped handle, blacked-out 1.25" Austrialpin Cobra buckles, and a black 1.5" removable strap with Italian ribbed cotton webbing.
BMW M Driving Experience
Rather than giving a tangible gift, it's never a bad idea to consider giving a memorable experience, such as getting behind the wheel at the race track with the aid and help of top-notch professional constructors at one of BMW's Driving Experiences. Held all over the world — including at the iconic Nürburgring circuit — these half-day, one-day, or two-day sessions allow driving and racing enthusiasts to helm BMW's sportiest offerings, such as the M4 Competition, as well as race-spec rides like the M4 GT4.
Rolex Submariner
First released in 1953, the Rolex Submariner is almost universally considered to be one of the finest gifts a man can receive, standing as a symbol of luxury, a design icon, and what's almost certainly the best-known watch in the world. The latest iteration of this self-winding mechanical movement watch features a 41mm case that's available in a plethora of colors and constructions including Oyster Steel and regular and white gold.
20 Everyday Carry Brands You Should Know
Want to brush up on the product space before buying dad's gift? Then head over to our guide to the most reputable everyday carry brands that you should know for the lowdown on twenty of the most esteemed companies currently operating in the space.