Since the debut of the first-ever TWS earbuds at the tail-end of 2015, these tiny fully-wireless personal audio devices have quickly become the most sought-after style of headphones on the market, prompting manufacturers to pour an increasing amount of resources into the research and development of new TWS models. This has ultimately given way to an array of incredibly advanced earbuds that afford world-class audio quality along with a host of other noteworthy amenities.
The now immensely competitive nature of this space does mean that it advances at a staggering rate, making a cutting-edge pair from only a year or two ago appear relatively long in the tooth. To help you differentiate the latest and greatest pairs from yesterday's old news, we've thoroughly scanned the product space to deliver this guide to the best true wireless earbuds that money can currently buy.
Liberated Lobes
The 10 Main Factors To Consider When Buying New TWS Earbuds
Having now had the benefit of more than half-a-decade to evolve, the latest wireless earbuds not only offer genuine high-fidelity sound and ever-growing battery life, but also boast a slew of impressive features and abilities to enrich the listening experience all in increasingly rugged, compact, and elegantly-designed packages. Because TWS earbuds have evolved so much themselves, so too have the areas one should consider when shopping for a new pair. In an effort to get you up to speed, we've compiled this abbreviated guide on what factors to take into account before pulling the trigger on a new pair of true wireless earbuds.
Drivers & Components: Just like with full-size speakers, one of the biggest factors that will determine the overall quality is the transducers being used. Thanks to some of the tremendous advancements in this sector, today's more premium TWS earbuds boast ultra-advanced custom-engineered drivers that are capable of delivering phenomenal sound despite their ridiculously compact size.
Audio Quality: While audio quality will largely boil down to the drivers being utilized, it can be difficult to get a sense of how a pair of earbuds sounds just from reading about the size, type, and construction of its transducers. For this reason, it's incredibly helpful to look to a pair's spec sheets which will reveal elements such as frequency range/response, driver sensitivity, and impedance — all of which give a much better idea of an earbud's overall audio quality. It also never hurts to read reviews from experts in this space for even greater insight.
Noise Cancellation: Though a fairly novel feature only a few years ago, noise cancelation has increasingly become standard fare on more high-end TWS earbuds. Active noise cancelation has essentially become the standard in the space and has become markedly more effective as of late, though several manufacturers have also opted for hybrid (active and passive) noise cancelation. In addition to being the new standard, many of the models that use integrated microphones to afford ANC abilities can also utilize these supplementary transducers to create an active EQ.
Materials & Construction: The incredibly diminutive size of wireless earbuds — which are only growing smaller with each new generation — means that they are susceptible to being dropped, stepped on, or crushed. And considering the admittedly steep prices of the latest premium TWS models, it's immensely reassuring to have a durable pair that won't easily break. Plastic constructions are still fairly common, though some brands have opted to employ aluminum, polycarbonate, acetate, ceramic, stainless steel, and several other materials for both the earbuds themselves and/or their wireless charging case.
Durability & Waterproofing: To give a more objective sense of how rugged a given pair of earbuds are, most manufacturers will cite an IP (or "Ingress Protection") rating that conveys how resistant a model is to water, sweat, dust, dirt, and debris. On top of boasting some impressive IP ratings, there are even premium sport earbuds that come in wireless charging cases with special moisture-removal systems.
Battery Life: Battery life is another area within the TWS earbud space that's seen some incredible advancements over the last couple of years. Apple initially set the standard with a collective 24-hours of battery life — between the earbuds themselves and the wireless charging case — upon the release of the AirPods Pro in late 2019, though this figure has been trumped by markedly more potent cells and battery packs that are capable of delivering as much as 150 hours of music playback on a single charge (again, between the earbuds themselves and the charging case).
Wireless Charging Compatibility: Just like with pretty much every other modern electronic gadget segment, wireless QI-charging has increasingly permeated the true wireless headphones space. While unimportant to some, being able to place your earbuds case directly onto a wireless charging pad is incredibly convenient and makes even more sense if you've already invested in a robust wireless charging pad and station setup. If this is an area of significance to you, you'll definitely want to look into whether or not the case of the pair you're considering supports wireless charging.
Earbud Shape & Design: Over the last five years the wireless earbud space has been witness to an increasingly diverse array of shapes. Not unlike wired earbuds, TWS models come in a wide variety of styles, constructions, and colors. What's more, the latest wireless earbud models have not only gotten smaller in size but now protrude even less from the ear. There are also a handful of audio brands that have teamed up with other noteworthy outfits and individuals on special edition versions of premium earbud models with special constructions, colorways, and/or designs.
Latency: Few things are more annoying than trying to watch a movie with the audio playback being a quarter-second behind the video. Luckily, low-latency earbuds have become more and more commonplace on high-end TWS models — an area that's been helped along by the proliferation of ultra-low-latency gaming-specific earbuds.
App Support & Connectivity: Factors like latency and range are determined by the type and generation of codex and Bluetooth, with the newer versions obviously offering the best performance and connectivity. Connectivity to a dedicated smartphone app is another element that's become standard fare, allowing users to enable GPS tracking, download software updates, and manually adjustable the EQ, among numerous other features.
TWS MVPs
The 15 Best True Wireless Earbuds
Now that you're good and privy to the elements to keep an eye out for while shopping for a new pair of TWS earbuds, let's jump into our picks for the best models currently in production.
Soul SYNC PRO
While you can't normally acquire a pair of genuinely high-end TWS earbuds for under $150, SOUL's SYNC PRO model is an exception. Compatible with Siri and Google Assist, this relatively affordable pair of earbuds packs an AAC Codec, Bluetooth 5.0 connectivity, tap-and-swipe-style controls, and a selection of included silicone and memory foam ear tips. Best of all, the SYNC PRO's USB-C-rechargeable, leather-bound wireless charging case packs an enormous 150 hours of battery life on a single charge.
Total Battery Life: 150 Hours
Noise Cancelation: Passive NC
IP Rating: IPX5
Frequency Range: 20Hz – 20KHz
Drivers: 6mm Dynamic Drivers
ODDICT TWIG
The ODDICT TWIG earbuds punch well above its weight with stellar sound quality afforded through what's almost certainly an industry-leading 12mm dual-layered carbon TPU film and paper drivers that can be manually adjusted through ODDICT's accompanying app. The use of genuine aluminum construction for the earbuds themselves and the bulk of the circular wireless charging case makes the TWIG incredibly conducive to EDC use.
Total Battery Life: 9 Hours
Noise Cancelation: Passive NC
IP Rating: IPX4
Frequency Range: 20Hz – 20 KHz
Drivers: 12mm Dual-Layered Carbon TPU Film Drivers
Technics EAH-AZ70W
Since its inception in 1965, Technics has consistently delivered high-end envelope-pushing offerings in the audio gear space, from the Japanese brand's standard-setting SL-1200 turntable to the release of the Panasonic subsidiary's first-ever true wireless earbuds model with the EAH-AZ70W in July of last year. Unrivaled connectivity is afforded through the use of the Osaka audio outfit's own proprietary integrated Bluetooth antenna while specially developed ear tips and a cutting-edge algorithm allows for (what at least upon the earbud's debut was) industry-leading hybrid passive and active noise cancelation.
Total Battery Life: 19.5 Hours (w/ ANC On)
Noise Cancelation: Hybrid ANC
IP Rating: IPX4
Frequency Range: 20Hz – 20 kHz
Drivers: 10mm Graphene-Coated Drivers
Cambridge Audio Melomania Touch
Representing Cambridge Audio's flagship pair of TWS earbuds, the Melomania Touch delivers a decent amount of tech and an incredibly potent battery at a fair price (even more so after a recent price drop). The leather-adorned wireless charging case and the earbuds themselves both possess a premium feel to them, though the Melomania Touch's primary selling point is undoubtedly its absolutely stellar audio quality, easily rivaling that of some of the most expensive Hi-Fi pairs on the market.
Total Battery Life: 50 Hours
Noise Cancelation: Passive NC
IP Rating: IPX4
Frequency Range: 100Hz – 8kHz
Drivers: 7mm Dynamic Drivers W/ Graphene-Enhanced Diaphragms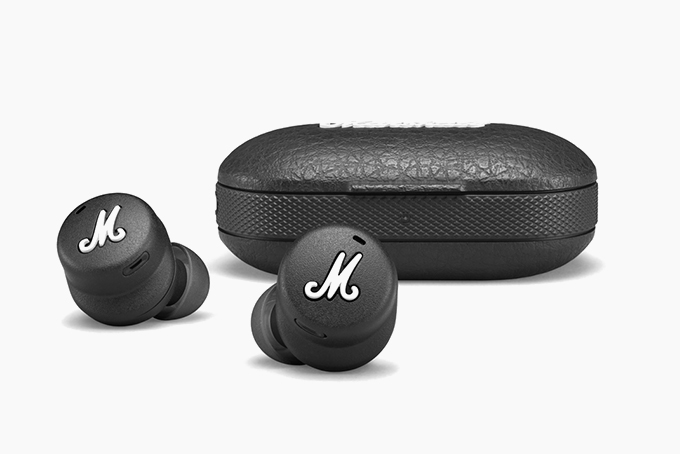 Marshall Mode II
Marshall was admittedly a bit late to the TWS party, though it was more than worth the wait when it debuted its Mode II model at the begging of March of 2021. The earbuds boast Marshall's iconic sound through custom-tuned 6mm dynamic drivers, 5.1 Bluetooth connectivity, connection to a dedicated smartphone app for adjusting the EQ, Transparency mode, and the British brand's distinctive signature vintage-inspired industrial design.
Total Battery Life: 25 Hours
Noise Cancelation: Passive NC
IP Rating: IPX5
Frequency Range: 20Hz – 20kHz
Drivers: 6mm Dynamic Drivers
Klipsch T5 II Sport McLaren Edition
Born out of a collaboration between American audio outfit, Klipsch and legendary British hypercar manufacturer, McLaren, these upgraded TWS earbuds come paired with a wireless charging case crafted from genuine carbon fiber that features a unique moisture evaporation system. In addition to fantastic-sounding audio quality and call clarity, the T5 II Sport McLaren Edition offers some of the most precise fitments of any earbud model, sold with an included set of memory foam tips plus half-a-dozen pairs of color-coded oval silicone tips and a trio of snug-fit ear wings.
Total Battery Life: 32 Hours
Noise Cancelation: Active NC
IP Rating: IP67
Frequency Range: 10Hz — 19kHz
Drivers: 5mm Custom Drivers
KEF Mu3
Penned in collaboration with designer Rose Lovegrove, KEF's Mu3 TWS earbuds forgo the majority of today's high-tech bells and whistles in favor of ultra-crisp and clear audio quality. This pair is equipped with active noise cancelation, though this feature appears to be present largely to aid in what's already stellar sound. And while its collective 24 hours of battery life is nothing to write home about, the same can't be said for its charging rate, which affords a full hour of music playback in just five minute's time.
Total Battery Life: 24 Hours
Noise Cancelation: Active NC
IP Rating: IPX5
Frequency Range: 20Hz – 20kHz
Drivers: 8.2mm Dynamic Drivers
X By Kygo Xellence
After spending several years touring the planet, Norwegian DJ, Kyrre Gørvell-Dahll — better known as "Kygo" — launched his own premium audio brand. The fledgling outfit's flagship TWS earbud model packs pretty much all the same high-tech features as the Airpods Pro, though also features toggle-able LED lights and a lower-profile design. What really sets the Xellence apart, however, is its personalized audio, which is achieved by having listeners take a hearing test through a phone app in order for the earbuds to deliver sound tailored to your specific hearing.
Total Battery Life: 30 Hours
Noise Cancelation: Digital Hybrid ANC
IP Rating: IPX5
Frequency Range: 20Hz – 20kHz
Drivers: 10mm Dynamic Drivers
Apple Airpods Pro
Since hitting the market at the end of 2019, Apple's Airpods Pro has stood as the benchmark in the premium TWS industry, and even more than a year after their debut they remain a decidedly competitive offering. Armed with Apple's low-latency-delivering H1 chip, the Airpods Pro is equipped with automatic-pausing upon earbud removal, transparency mode, an adaptive EQ, an IPX4 rating, and a Qi-compatible wireless charging case. Also, more so than any other TWS earbud model on the market (by an absolutely enormous margin), a myriad of third-party companies produce a massive range of aftermarket cases and accessories for the Airpods Pro.
Total Battery Life: 24 Hours
Noise Cancelation: Active NC
IP Rating: IPX4
Frequency Range: N/A
Drivers: 7.5mm High-excursion Apple Drivers
Sennheiser MOMENTUM 2
Taking aim at the Airpods Pro, Sennheiser's MOMENTUM 2 offers the same cutting-edge array of tech as its Apple-made counterpart while delivering noticeably superior sound. Automatic pausing, transparency mode, customizable tap-and-swipe style controls, and voice assistant support are all worth mentioning, though what really the second generation MOMENTUM earbuds apart is its top-notch transducers, comprised of bespoke constructed and tuned 7mm dynamic drivers backed by built-in equalizers that adjust sound based on your surroundings to ensure audio is optimized at all times.
Total Battery Life: 28 Hours
Noise Cancelation: Active NC
IP Rating: IPX4
Frequency Range: 100 Hz — 10 kHz
Drivers: 7mm Sennheiser Dynamic Drivers
Grado Labs GT220
Since 1953 Grado Labs has been hand-building premium headphones and cartridges from its family-owned and operated Brooklyn-based headquarters, and though tossing its hat in the TWS earbud ring did mean venturing outside of its comfort zone, the GT220 maintains the traditional qualities of the high-end American audio brand. With 36-hours of battery life Bluetooth 5.0 connectivity, and aptX, AAC, and SBC codecs, the GT220 is by no means dated in terms of technology, though the central focus (and selling point) of these wireless earbuds are unquestionably their incredibly rich and clear sound quality.
Total Battery Life: 36 Hours
Noise Cancelation: Passive NC
IP Rating: IPX4
Frequency Range: 20Hz – 20kHz
Drivers: 8mm Dynamic Drivers
Bose QuiteComfort
Whether you're shopping for tower speakers, over-ear headphones, portable Bluetooth speakers, or TWS earbuds, Bose is a brand that's always worth considering whenever you're in the market for audio gear. The Massachusetts-based manufacturer's QuietComfort model offers a stellar combination of high fidelity audio and amenities, as well as some of the most powerful and effective hybrid active noise cancelation systems on the market. The QuiteComfort's battery pack is also fairly high-end, with a Qi-compatible wireless charging case that affords two hours of playback after only 15 minutes of charging.
Total Battery Life: 18 Hours
Noise Cancelation: Hybrid ANC
IP Rating: IPX4
Frequency Range: 10Hz – 20kHz
Drivers: N/A
Master & Dynamic MW08
Taking inspiration from the high-end watch sector, Master & Dynamic's brand-new MW08 earbuds are beautifully-crafted from an ultra-hardwearing amalgamation of ceramic, stainless steel, and machined aluminum and feature an all-new, custom-designed, larger set of 11mm beryllium drivers. Other highlights include up to 42 hours of battery life, the latest Bluetooth 5.2 connectivity, excellent hybrid noise cancelation, and a proprietary machined aluminum nano-bonded external antenna. Just like with the ceramic earbuds themselves, the heft and overall fit and finish of the polished stainless steel wireless charging case give these earbuds an unmistakably top-shelf feel.
Total Battery Life: 42 Hours
Noise Cancelation: Hybrid ANC
IP Rating: IPX5
Frequency Range: 20Hz – 20kHz
Drivers: 11mm Beryllium Drivers
Devialet Gemini
For diehard hi-fi aficionados and hardcore audiophiles who are simply concerned with the best possible sound quality and little else, the Devialet Gemini is a great choice. Truly incredible audio quality is made all the better through the use of a proprietary active noise canceling system, an adaptive EQ, and multiple listening modes. The Gemini earbuds also pair with Devialet's smartphone app that allows for a wide array of precise audio adjustments, and their state-of-the-art ANC tech is also applied to its microphone during calls, drowning out any and all unwanted ambient background noise.
Total Battery Life: 24 Hours
Noise Cancelation: Active ANC
IP Rating: IPX4
Frequency Range: 5Hz – 20kHz
Drivers: 10mm Custom High-Excursion Drivers
Bang & Olufsen Beoplay E8 3rd Gen
A stunning Scandinavian-designed set of earbuds with Bang & Olufsen's signature world-class sound, the latest (third) generation of the Beoplay E8 benefits from Bluetooth 5.1 connectivity and a sleeker Qi-compatible wireless charging case that can be juiced up speeds of up to 10W. Produced in five color options, the Beoplay E8 earbuds and their wireless charger are made from a combination of leather, aluminum, polymer, and silicone and come equipped with B&O's EarGels tips and a collective 35 hours of battery life. Just like with M&D's MW08, the Beoplay E8 possesses a top-shelf quality that you can literally feel.
Total Battery Life: 35 Hours
Noise Cancelation: Passive NC
IP Rating: IP54
Frequency Range: 20Hz – 20kHz
Drivers: 5.7mm Electrodynamic Drivers
The 12 Best Work From Home Headphones
If you aren't a fan of in-ear-style items, then be sure to head over to our guide to the best work-from-home headphones for a dozen of the best pairs of feature-laden in and over-ear models that money can buy.