Buying that very first Rolex is a milestone only afforded to the hard working, successful, and driven denizens of this world — and if the road to that success wasn't hard enough, there's a significant amount of research that goes into the buying process when you finally decide to take the leap. While the majority of people set their sights on the most valuable looking watch in the Rolex lineup, we know that the more fashion-forward gentlemen in our audience are all about true, undeniable pedigree.
The fact is, almost anyone with the slightest hint of success can go pick up a Rolex watch, with a plethora of authentic models that have become more and more affordable over the years. But with this shift in cultural acceptance, it's become all the more clear that knowledge surrounding the Rolex line, the heritage of the company, and the intricate admiration one has for the luxury watchmaker will always ring true. Don't worry — we're here to make sure you're in "the know" when it comes to buying your new Rolex watch — so whip out that pen and paper, throw on some jazz, and join us as we ferry you through the land of impeccable Swiss craftsmanship.
Understand The Classic
Peruse informational articles and forums online — get a feel for the community around the brand and understand the legacy behind the storied company. If you develop a general understanding of the watchmaker and the offerings that they present, as well as the history and defining characteristics of the timepiece, you're much more likely to make an informed decision based on your OWN knowledge. Learn everything you can about what makes a Rolex, a Rolex.
Why Are You Buying?
Always make sure you're buying the Rolex for the right reason — if you're only buying the watch as a fashion statement, it might be time to reevaluate where you're placing your hard earned cash. You can pick up an expensive timepiece if you wish, if even for the sole fact of flexing your gratuitous money muscles, but we'd advise a clear-minded approach when identifying what it is you're looking for in the watch, and why. Rolex are associated with a wide range of emotional and personal variables that make some models more attractive than others to certain individuals — figure out what your style is, and why you're oriented in that direction.
What Style Fits You Best?
What type of style are you looking for? A good thing to know when moving forward with your watch purchase is whether you want to wear it periodically for important events, every day for casual and formal applications, or if it's something that you want to wear to the local country club. Rolex has a wide variety of sporty, luxurious, and versatile offerings that will have more prominent aesthetics in select models. Understand what type of watch you could see yourself getting the most use out of — after all, this IS your first Rolex, you want it to be versatile and compatible with a variety of outfits, conditions, and other applications — that "one-time wear" can come at a later date.
A Type Of Watch For Every Occasion
Dictate the event or milestone in your life for which the watch is purchased — if you're celebrating something rare, such as a graduation, an advancement at your job, a child, or some other prominent life event, then it's advised you go for a new Rolex. A used timepiece can be a perfect vintage pickup, but keep this in mind — someone owned that specific watch before you, and they've likely purchased it for their own celebratory purposes. A large portion of the allure that's synonymous with Rolex is the story behind the piece — you want it to represent your own, personal milestone achievement, not the coattail of someone else's important life event. Again, the vintage timepiece can wait, but you should be the one to decide whether or not the purpose for buying the watch will dictate whether the story has yet to be written, or if you'd like something that already has a story to tell.
Can You Actually Afford Your Dream Watch?
Take your discretionary income into account — it might seem insanely obvious, but many watch experts stress the importance of purchase at a point in your life when you're monetarily ready. If you're already buried in debt, you might want to reconsider your purchase or prolong your search while waiting for the perfect watch to emerge within your price range. If you just can't wait, be sure to look for exclusive holiday deals via reputable sellers around Father's Day, Christmas, and the like. Although you'll never find a Rolex at a supremely discounted rate (this is a red flag common in fake or counterfeit watches), you'll be able to spend less money than you normally would, should you have picked one up during a period outside of the holidays.
Buyer Beware
As with everything else, remain wary of counterfeit watch distributors. We have a pretty handy guide that deals with all the in-depth knowledge surrounding these, but a few things to look for are misplaced logos, low-quality peripherals, mismatched fonts, and the easiest tell-all, a ticking movement. A real Rolex should never make a ticking noise, as it utilizes a smooth movement that rotates effortlessly within the timepiece. Another rule of thumb is, if it's too good to be true, follow your instincts and look somewhere else — your gut is almost always right.
A Type Of Watch For Every Application
Incidentally, there are three specific genres of watch connoisseur that Rolex caters to — the casual sport crowd, which makes up a vast majority of modern buyers, office or formal watches, which are the comfortable middle ground between the least expensive and most expensive offerings, and high-end dress watches, which are usually limited in run and utilize the most precious metals, adornments, and interesting traits. We'll cover the specific models in each category.
Sport And Casual
For sport and casual offerings, the first time buyer should focus on more prominent watches like the Submariner, Daytona, GMT Master II Explorer, and Explorer II. These watches are the entry-level offerings for Rolex, and start at price points as low as $5,000.
Explorer and Explorer II
A Rolex that straddles the line between dressy and casual. It's similar to the Oyster Perpetual in the sense that it bares a classic silhouette and timeless pedigree. It's the perfect middle ground between the more luxurious, serious Rolex offerings, and the sporty casual crowd.
Submariner
The Submariner is an unabated classic, and one of Rolex's most popular watches. While the sporty design and heritage name give it a ton of credibility as "the watch" that most entry-level Rolex owners flock to, the fact that a substantial population of people own the watch might be a turnoff to most buyers. Either way, the Submariner is a classic timepiece for a reason — it's one of the most iconic watches to ever be built.
GMT Master II
The GMT Master II is a classy take on the sport and casual space. It features a timeless style that uses Rolex's patented Cerachrom ceramic for its BLNR split-color bezel, and represents the higher range of the sporty and casual watch offerings from company.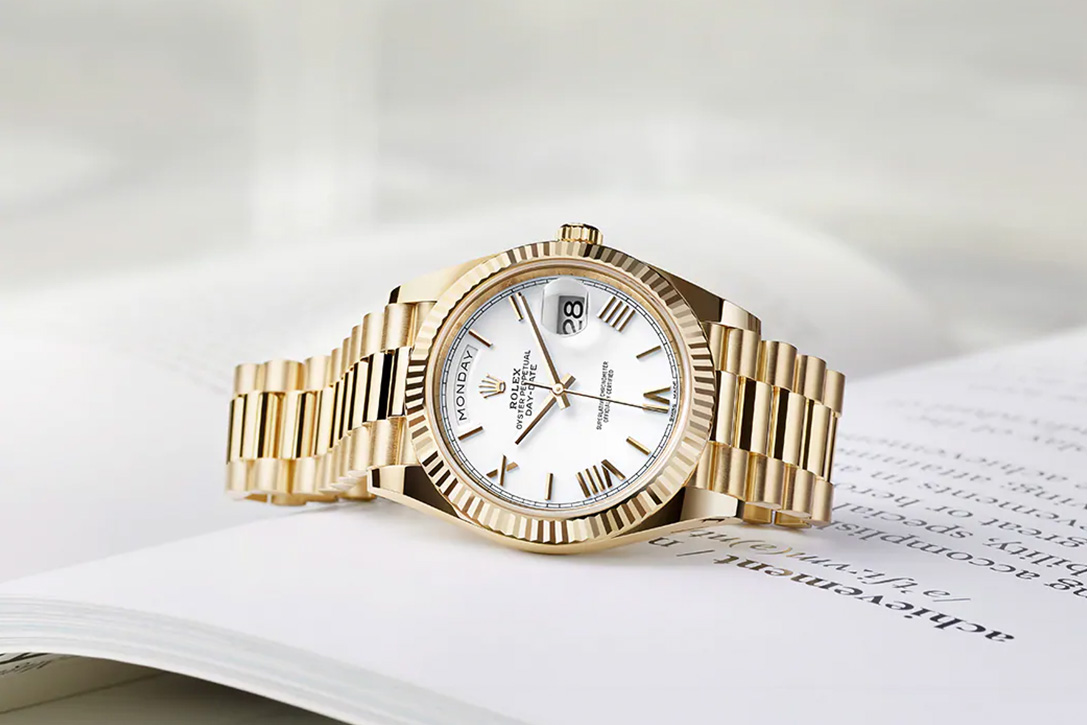 Luxury And Business
For dress and business watches, the Rolex Air King, Datejust II, and Day-Date II are the perfect offerings. They pair well with any suit and tie application, look classy enough to give you just the right amount of clout and retain their beautiful, mature designs. These are the perfect status watches that will give you an air of respect just by entering the room.
Air King
The Air King is a great entry level dress watch that utilizes a classy, slim silhouette that's perfect for pairing with a dapper suit and tie. Although the slim design is sought after by many individuals, it's commonplace to understand that, at least among connoisseurs, the small diameter and minimal case make the watch less desirable to those with large wrists and arms. Proportions aside, the Air King is a great watch with a classic look that's sure to turn some heads.
Datejust II
The Datejust II is considered the "hallmark" of Rolex and features the perfect blend of style and grace. It's a little bit larger than the Air King, and also pairs with suits and professional wear with ease. Although conservative in stature and a little on the drab side, the watch's surprisingly simplistic silhouette has brought it to prominence when compared to other models due to its widespread versatility. This watch is the quintessential timepiece for someone who wants to show status, as well as retain a sense of un-gaudy style.
Day-Date II
The Day-Date II is one of the most sought-after Rolex offerings and represents the best of the best when it comes to respectable horology. Although it shares some of the Datejust line's style and sizing preferences, the Day-Date includes the day and week complication that Rolex is known for. This watch is known as the "President" among Rolex connoisseurs, partly due to its insane price tag, and also because of its extensive lack of steel offerings — meaning that most of the Day-Date watches will utilize some sort of precious metal.
Vintage Voodoo
Vintage Rolex offerings are the last thing we're going to cover in this guide. Although it might seem that a used, vintage, or pre-owned Rolex would be a good route to take, there's a lot of responsibility and research that comes with the purchase. In order to ensure you're getting a tried and true Rolex watch, it's vital that you understand the need for a professional watchmaker, repairman, or analyst to check the watch out prior to purchase. Aside from the obvious fact that the watch has already been owned for a substantial amount of time by someone else, has been purchased to represent another individuals successes, or, in the worst case scenario, has received botched repairs, vintage watch hunting is a process that requires an immense amount of knowledge, background, and expertise. We'd recommend joining a respected Rolex forum online for inquiries about vintage watches, the history behind them, and whether or not they would be a worthy buy — especially for your first dive into the world of the Rolex watch.
10 Best Rolex Watches For Every Budget
Now that you've spent the time learning how to purchase your first Rolex, it's time that you actually start exploring what's on the market. Our list of the Best Rolex Watches For Every Budget is sure to have something that'll catch your eye.