Whiskey drinking and collecting is no longer the affordable hobby it used to be. The good news for you is that, despite its mounting interest, quality bourbon can still be had for less than a single Benjamin. And because of the ever-growing industry, the market is more diverse than ever before, with everything from blends to single barrel expressions to time-tested Kentucky recipes ripe for the picking. Admittedly, at times, it can be a lot to digest, but thankfully you don't have to go it alone. On the contrary — with the help of our handy guide, you'll be well on your way to finding a new favorite. So sit back and have a look to see what we've picked for the best bourbons under $100.
Best Sub-$100 Bourbons
Four Roses Single Barrel Bourbon

W.L. Weller Special Reserve Bourbon

Woodford Reserve Double Oaked Kentucky Straight Bourbon Whiskey

Henry McKenna Single Barrel Bourbon 10 Year

Russell's Reserve Single Barrel Bourbon

Noah's Mill Small Batch Bourbon

Old Forester 1920 Prohibition Style Bourbon

Knob Creek Small Batch 12 Year Bourbon

Jefferson's Ocean Aged At Sea Bourbon

Garrison Brothers Small Batch Bourbon

Eagle Rare 10 Year Old Kentucky Straight Bourbon
The Ups And Downs Of Whiskey Prices
Up until the mid-1970s, bourbon was one of the most popular spirits sold in the United States — the country's southern sweetheart so to speak. However, once drinkers began jonesing for lighter, un-aged alcohols like vodka and tequila (in part thanks to a certain steely-eyed British spy) it quickly fell out of favor, and distillers were left with a supply that far exceeded that of the existing demand. Bottles lined the shelves like suspect potato chip flavors — undesired, untouched, and thus, unopened. Talk about a complete 180 for what Congress had once declared "America's Native Spirit" in order to protect it from overseas trade.
However, over the last decade or so, bourbon has experienced a boom in popularity not seen since 1972. Between upscale marketing, global exports, cocktail culture, and distillery tourism, it's gone from an unloved alternative to an opportunity for investment. And then when you consider the ability to "nerd out" over the whiskey-making process, the category has garnered a whole new level of enthusiasm and awareness, and, in turn, demand.
It's undoubtedly a more preferable reality, but it's one that's wreaking havoc on what whiskey enthusiasts pay per bottle. For instance, a fifth of Weller 12-Year may have only run you some $30 in 2016, but, you'd be lucky to find it for anything less than 10 times that price these days. Fortunately, there are still some solid picks out there that won't break the bank.
Four Roses Single Barrel Bourbon
Even prior to winning gold at the 2008 San Francisco World Spirits Competition, Four Roses Single Barrel Bourbon was held in high regard by whiskey enthusiasts far and wide. And it's not without good reason — despite its otherwise subtle nose, the palate is a flavor bomb that goes heavy on the rye only to be followed up by maple syrup, peaches, and a subtle mix of brown sugar and light oak. Buyer beware though — because it's of the single barrel variety, each bottle could very well be a different experience altogether.
ABV: 50%
Tasting Notes: Cherry, chocolate, oak, pear, spice, vanilla
W.L. Weller Special Reserve Bourbon
As the Weller name has grown in popularity over the years, so too has the price on the bottle, making the Antique 107 and 12-year varieties virtually impossible to find for under $100. Thankfully, the Special Reserve expression can still be readily had for around 70 bucks, and while some may discount it as the "next best thing," it's very much a respectable whiskey in its own right. Think plenty of sweetness throughout, with just the slightest bit of heat for the finish.
ABV: 45%
Tasting Notes: Honey, caramel, vanilla, fruit
Woodford Reserve Double Oaked Kentucky Straight Bourbon Whiskey
Woodford Reserve's Doubled Oaked Kentucky Straight Bourbon Whiskey is essentially their Distiller's Select, re-barreled for a year in a second charred oak barrel. As such, it makes for a much more interesting sipper, with a sweet-yet-oaky nose, a full-bodied palate promising vanilla and leather, and a clean, peppery finish that leaves one wanting more. If you're a regular Woodford drinker and you're looking for an upgrade, be sure to give this one a try.
ABV: 45.2%
Tasting Notes: Vanilla, leather, black pepper
Henry McKenna Single Barrel Bourbon 10 Year
Back in 2019, Heaven Hills Distillery's Henry McKenna Single Barrel Bourbon 10 Year won "Best in Show" at the San Francisco World Spirits competition. What followed was a whirlwind of events in which bottles flew off the shelves and fetched 3-4 times their worth despite the internet decrying the decision as misguided. Don't let the keyboard warriors fool you though — with its pleasant nose and caramelly palate, it's more than deserving of its acclaim.
ABV: 50%
Tasting Notes: Caramel, vanilla, honey, oak, spice, herbal
Russell's Reserve Single Barrel Bourbon
As part of Wild Turkey's Russel's Reserve line, this single barrel bourbon comes named after father-son master distiller duo Eddie and the late Jimmy Russell. In practice, this means that despite using the same time-trusted mash bill as other Wild Turkey offerings, it's exclusively comprised of hand-selected barrels, with each one being aged for 10 years or more. What results is an expression that offers the ultimate bourbon experience — vanilla and caramel eventually replaced by tobacco and oak.
ABV: 45%
Tasting Notes: Vanilla, caramel, tobacco, oak, pecan
Noah's Mill Small Batch Bourbon
Willet has long operated as a non-distilling producer, meaning that it sources its mash bills from other whiskey outfits and ages them in its own warehouse. Noah's Mill is one such bourbon, combining a blend of different barrel-sourced varietals for a unique taste unto its own. As such, there's a lot at play, with both rye grain and wheated components giving it a warm honey brown pour, a respectable 114.3 proof, and a flavor profile that includes everything from toasted pecan to black currant.
ABV: 57.15%
Tasting Notes: Toasted pecan, black currant, honey, spice
Old Forester 1920 Prohibition Style Bourbon
During the dry days of 1920s-era Prohibition, only three Kentucky distilleries were granted permits to continue producing whiskey for "medicinal purposes" — one of them being Brown-Forman, the brains behind Old Forester. Inspired by the high-proof bourbons of old, they've released this 1920 Prohibition Style Bourbon as the third expression in their Whiskey Row series. It's a stiff drink presented at barrel proof, but that's not to say that it overpowers the dark chocolate and barrel char that start on the nose and linger for a nice smooth finish.
ABV: 57.5%
Tasting Notes: Nutty, graham cracker, green peppercorn, caramel, coriander
Knob Creek Small Batch 12 Year Bourbon
Let's face it — with the bourbon boom back in full swing, these days, getting your hands on a quality double-digit expression for under $100 is a pretty tall order. However, Jim Beam's Knob Creek Small Batch 12 Year Bourbon should do just the ticket, spending some 12 years maturing in white oak barrels for an extra smoky sip. It begins with a creamy bakery-heavy nose, but it quickly shows its age in the form of a refined palate rich with vanilla and white pepper. Don't sleep on this one though — it was once a limited release, and who knows how long it'll be part of the regular rotation.
ABV: 50%
Tasting Notes: Caramel, vanilla, smoke, spice, dried fruit
Jefferson's Ocean Aged At Sea Bourbon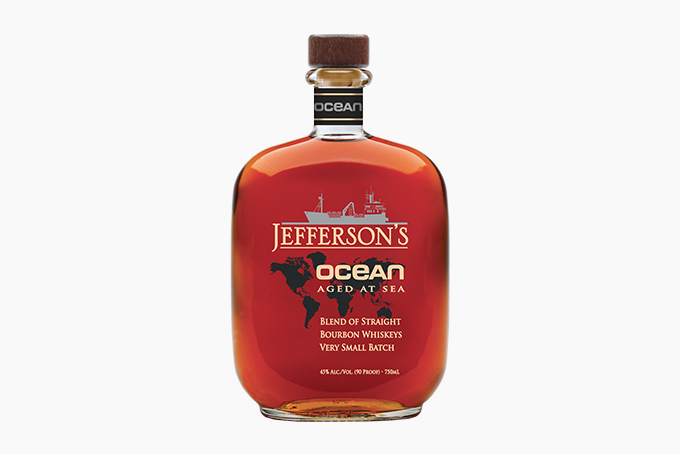 While most whiskeys will spend their days in oak barrels before they reach full maturity, this one was aged for 5-10 months in a specially-designed shipping container on the bow of a boat. And the thing is — it's much more than a marketing gimmick; it actually delivers. As you'd expect, it's well-steeped with salty subtleties, welcoming you with a tingle in the nostrils and quickly countering with flavors of caramel, vanilla, raisins, and citrus. For those who want a bourbon boasting a unique production process, it doesn't get much better than Jefferson's Ocean Aged At Sea.
ABV: 45%
Tasting Notes: Oak, vanilla, caramel
Garrison Brothers Small Batch Bourbon
Upon its founding in 2006, Garrison Brothers became the sole licensed bourbon distillery in Texas. In the years that followed, the family-owned business quickly made a name for itself with its industry-first Texas distilled and aged whiskeys, quickly selling out upon the announcement of a new batch. That being said, their Small Batch Bourbon is readily available and it's no less of a standout performer. Because of the intense Texas heat, the oaky char from the barrels is much more present than in those from Kentucky. Complemented by a palate heaped with apple and spice, it makes for a whiskey well worth every dollar.
ABV: 47%
Tasting Notes: Caramel, cinnamon, char, apple
Eagle Rare 10 Year Old Kentucky Straight Bourbon
Eagle Rare is essentially the older, more upscale brother to Buffalo Trace Bourbon, so it goes without saying that it'd make for a solid expression — especially for under 100 bones. Approachable enough for novice whiskey enthusiasts yet still complex enough for more discerning bourbon drinkers, it offers a very distinctive nose as well as a flavorful palate and a finish featuring notes of bubble gum and toffee. It's worth noting that because of its popularity, Eagle Rare 10 Year isn't always easy to find in-store; assuming you can, be sure to grab a bottle — you won't regret it.
ABV: 45%
Tasting Notes: Chocolate, almonds, melons, raisins, dried fruit, vanilla
Barrell Bourbon Vantage
Cask finishing may upset many bourbon purists, but the process presents a unique way of delivering a given whiskey without resorting to dreadful flavoring. Given the title of Whiskey Advocate's 3rd-best whiskey of 2022 (and best bourbon overall), Barrell's Vantage blends straight bourbons from Kentucky, Indiana, and Tennessee, which are individually finished in Japanese mizunara, French, and toasted American oak barrels. It's bottled at a scorching 57.22% ABV but this expression is so nuanced in flavor, you definitely need to drink it straight from the cask.
ABV: 57.22%
Tasting Notes: Espresso, maple, baking spice, strawberry
The Absolute Best Bourbon Whiskey
There was once a time when whiskey enthusiasts were hesitant to pay more than $100 for a bottle. These days, however, it's not uncommon to see drinkers forking over a small fortune for their druthers. If you're after the cream of the crop and price is no object, be sure to check out our guide to the best bourbons you can buy.