First established by Rolex founder Hans Wilsdorf in 1926, Tudor Watch unequivocally stands as one of the most respected and celebrated horological outfits on the planet. With a rich and illustrious, nearly-century-long history — and an indelible connection to Rolex — Tudor routinely looks to its expansive archives for inspiration when designing and developing novel references and collections. Coming on the heels of its Heritage Chrono series — a collection of Oysterdate chronograph-inspired timepieces first released in 2010 — Tudor introduced its Black Bay range two years later in 2012, which not only helped to redefine the brand's modern image, but has also played a pivotal role in its return to form and recent rise in popularity.
The immense success of the collection has also prompted Rolex's sister brand to expand the range to include over 100 references to date thus far — one of the latest of which to break cover is the all-new Tudor Black Bay Pro. With this new model taking the lineup in a different direction, we were eager to try out and unpack this new vintage-inspired four-hander, ultimately giving way to this hands-on review of the Tudor Black Bay Pro Watch.
At A Glance
Tudor Black Bay Pro Specs
Case Size: 39mm
Lug to Lug: 47mm
Case Thickness: 14.6mm
Lug Width: 20mm
Case Material: Stainless Steel
Water Resistance: 200m
Movement Type: Automatic
Power Reserve: 70 Hours
Movement: Tudor Caliber MT5652 
Lume: Super-LumiNova
Crystal: Domed Sapphire
Strap: Three-Link Stainless Steel Bracelet
Looking To The Past
The Black Bay Pro's Relevant History & Lineage
As one may have assumed based on the range's maritime monicker, the Black Bay collection has traditionally been modeled after Tudor's dive watches, more specifically its first dive watch from 1954, the 7922 Submariner — a reference that was extremely similar to the Rolex Submariner that had debuted just one year prior, and even shared several of its components including the case. The Black Bay Pro, however, is an addition that sees the BB range deviate from its existing design language while still remaining rooted in Tudor/Rolex DNA.
Unlike the existing Black Bay GMT — which sees the basic Black Bay platform gain a GMT hand — the BB Pro takes a vastly different approach, having been designed around the Rolex Explorer II 1655 from 1971. From the slab-sided case to the fixed 24-hour bezel to the three-link bracelet to the black dial and yellow GMT hand, the Black Bay Pro takes ample and obvious inspiration directly from the Crown's Explorer II Mk1. With that said, the Black Bay range's latest GMT not only manages to heavily modernize the original Explorer II's design while still remaining faithful to the 1971 reference, but it also sees a myriad of hallmark Tudor details, traits, and design elements integrated into the watch — which we'll be unpacking in greater detail later on below.
Out Of The Box
First Impressions Of The Black Bay Pro
In typical Tudor fashion, the Black Bay Pro has an unmistakably premium feel to it that jumps out at you before you even get it on wrist. Boasting a nice bit of heft to it without being overly cumbersome, the BB Pro also sports a level of fit and finish that one would expect from a world-class horological outfit like Tudor, with every millimeter of the watch having been meticulously considered — a fact that, when combined with Tudor's ultra-exacting quality control standards, has resulted in a gorgeous combination of evenly-brushed and perfectly-polished surfaces. When held side-by-side next to an Explorer II, the Black Bay Pro's resemblance to the Rolex is even more noticeable — as is the fact that the design of the Tudor's bracelet has been completely overhauled, further modernizing this vintage-inspired timepiece.
What's more, with its trademark snowflake handset, circular hour markers, domed sapphire, unprotected crown, and three-link steel bracelet, the Black Bay Pro is still readily identifiable as being a member of the Black Bay lineup, despite its fixed bezel and other key deviations from the existing members of the family like the Black Bay 56, Black Bay 58, and the recently-unveiled Black Bay 54 — the latter of which is a throwback to Tudor's first dive watch from 1954. As soon as you slide the watch on your wrist, it's impossible not to notice how immensely comfortable the thing is, with the brushed and polished three-linker's T-Fit micro-adjustment system affording ultra-precise sizing.
A Slab-Sided Staple
The Black Bay Pro's Case
Like other members of the Black Bay lineup, the BB Pro is constructed around a slab-sided stainless steel case with an unprotected crown. Measuring 39mm — extremely close to the Rolex Explorer II Mk1's 40mm item — the Black Bay Pro's case features 20mm non-drilled lugs, a 47mm lug-to-lug, and a thickness of just under 14.6mm, making it thicker than the BB58. Capped off with a domed sapphire crystal, the case is also equipped with a steel screw-down caseback and an unprotected knurled crown decorated in a Tudor rose relief logo — a setup that helps the watch to achieve a very healthy 200 meters of water resistance. Adorned in a largely satin, brushed finish juxtaposed by some small polished areas, the case also sports a steel 24-hour graduated fixed bezel with monobloc numerals. Even with its fixed bezel, the case can still clearly be traced back to the Submariner.
Explorer II-Inspired
The Black Bay Pro's Dial
The Black Bay Pro features a particularly interesting dial that perfectly balances old and new. Employing a four-hand setup, the matte black dial boasts a date window at 3 o'clock, an applied triangular hour marker at 12 o'clock, and applied rectangular markers at 6 and 9 — just like the original Explorer II. All the dial's markers are also of the luminous ceramic variety. The 1971 Rolex's alternating square and rectangular minute markers have been jettisoned in favor of the Black Bay range's traditional Submariner-style circular markers. Tudor has also put a unique spin on the Explorer II's handset. While utilizing a nearly-identical minute hand, the company injects some of its classic flavor into the timepiece via the addition of snowflake hour, seconds, and GMT hands — the latter of which sports the same shade of yellow as the oversized arrow-style hand used on the Explorer II. The handset also has a fully matte finish as well as matte surrounds. Also of note is the fact that the Black Bay Pro is a "true GMT," meaning you can adjust its hour hand independently for quick time zone adjustments — a feature that's very seldom seen on a sub-$5,000 watch.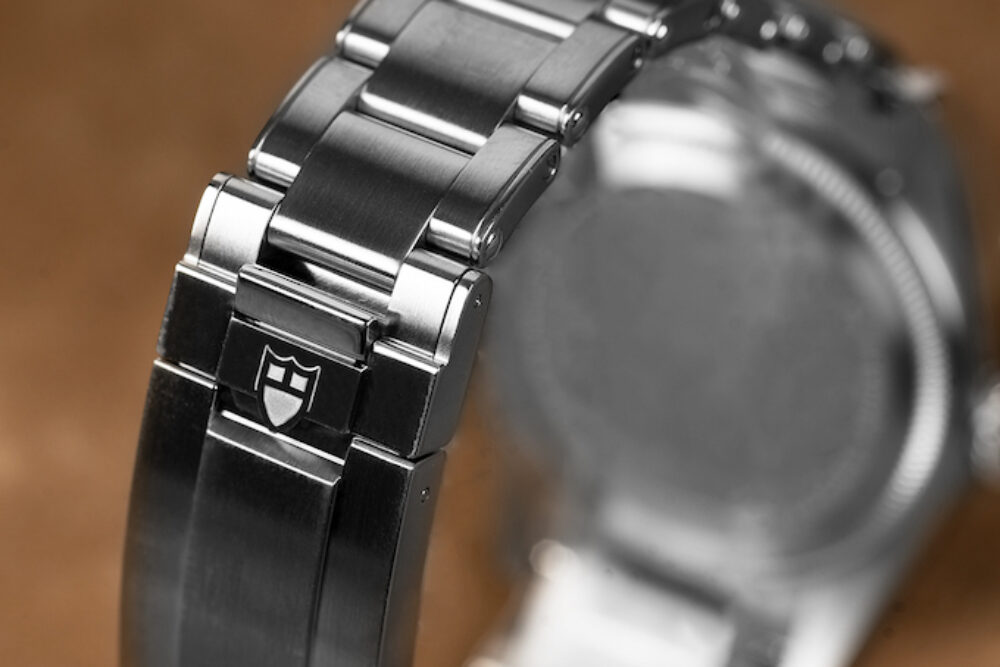 Faux-Riveted Three-Link
The Black Bay Pro's Bracelet
Mated to the case is an equally well-finished three-link stainless steel bracelet with contrasting brushed inner and outer links. Thanks to the use of a redesigned version of Tudor's T-fit clasp, the watch offers 8mm of adjustment across five steps. As previously touched on above, this bracelet not only looks fantastic, but it also makes for an incredibly comfortable watch, even when worn all day. The entire watch's — if not the entire Black Bay lineup's — most controversial detail is undeniably the faux rivets present on its bracelet. This throwback design choice isn't functional, though for sure adds some unique flavor to the mix. With that said, Tudor also offers the BB Pro with a wide variety of other straps and bands that instantly remedy this sticking point.
True GMT Status
The Black Bay Pro's Movement
The Black Bay Pro is the culmination of more than a decade of in-house research and development. At the heart of the watch is Tudor's Caliber MT5652 automatic movement. Equipped with 26 jewels and a 28,800 beat rate, this GMT movement is produced by Kenissi — an in-house outfit Tudor established in 2016. The movement also packs a generous 70-hour power reserve. Additionally, this movement's "true GMT" nature is a major part of what makes this watch so special — especially considering its sub-$5K price point. It's also worth pointing out that, while undeniably impressive, the Caliber MT5652's thickness plays a major role in the BB Pro's hefty case thickness. And, as one would expect from a world-class timepiece, the Black Bay Pro's movement also boasts COSC certification.
Elevating A Flagship Collection
Final Thoughts On The Black Bay Pro
Breathing fresh air into the lineup, the Black Bay Pro perfectly encapsulates what enthusiasts and collectors have grown to love above the Black Bay range since it first debuted just over a decade ago. Backed by a five-year transferable warranty, the watch keeps one foot firmly planted in the past, paying tribute to its historical predecessors, while still looking to the future. Regardless of its lineage, the Black Bay Pro's stellar construction and finish coupled with its true GMT movement make for one seriously compelling value proposition — even more so when one considers how much the BB Pro lends itself to everyday wearing.
Watch Review: Tudor Black Bay 36
Interested in checking out another one of our favorite members of the Black Bay lineup? Then be sure to head over to our review of Tudor's Black Bay 36 for a hands-on look at the Swiss-made GADA watch.