It's true that sometimes, work can be a drag — there's often no way around it. And to make matters worse, you may be one of the unlucky few who has to spend hours preening in front of the mirror each day before heading in, just to keep up with your fellow "businesswear" mavens. While there is a small selection of modern companies that thrive upon the idea of casual clothing being worn to the workplace (Facebook, Google, etc.), there's no doubt that until a few decades ago (and possibly even later), dressing down was synonymous with a lack of self-esteem, a subscription to laziness, and figuratively "throwing in the towel."
The meaning of "business casual" is about as defined as most people's taste in music — it's either classically inclined, immovable, and no longer susceptible to influence; or it's entirely malleable and open to reformation. If you're a denizen of the modern workplace, you've been indubitably exposed to the advantageous team-building/marketing trend known as "Casual Fridays," during which, a majority of the world's workforce throws on the most comfortable article(s) of clothing they can find for a day of rest, relaxation, and debatable productivity. If you're fortunate enough to be one of the lucky employees who isn't forced to dress to the nines, each day, then this guide is for you — a synopsis of the greatest marketing ploy to ever grace the white-collar world, and a historical rundown of how our favorite Friday function came into prominence as the most recognized workday, the world over. Below, we'll touch on what casual workwear is, what it isn't, and augment your understanding with a healthy dose of history regarding the business world's transition into the realm of lackadaisical attire. Then, we'll guide you through a few tailored scenarios that will give you a better understanding of what to look for when picking up a head-turning set of fashionable workplace essentials. So throw on a pair of your favorite denim pants, tuck that polo in, and let's dive headfirst into the most attractive day of the week.
The Background
A Brief History Of Business Casual
The term "business casual" has seen an unprecedented amount of popularization in the recent decade. While it wasn't until the late 1980s that the idea of dressing down began to infiltrate the bloodstream of white-collar businesses everywhere, the history of the trend is surprisingly abstract — spanning the entirety of the 1900s and hitting the cusp of its conceptualization sometime around the middle of the century. In an anachronistic attempt to "stick it to the man," tech startups and successful firms that had been birthed in California's tech hub, Silicon Valley, began to reject the bland normality that had been etched into the annals of history by their 18th century progenitors — plaid shirts, disheveled khakis, and Adidas sneakers demarcated the realm of America's new working class.
"Aloha Fridays," as the movement would come to be known, were likely the first iteration of standardized casualization within the white-collar workspace.This idealistic trend painted a picture of successful individuals who didn't need a suit and tie to change the ideals of the American workplace. But these firms and startups weren't the first to adopt the idea of casualized workwear. Years earlier, the Hawaiian Fashion Guild implemented a similar train of thought. "Aloha Fridays," as the movement would come to be known, were likely the first iteration of standardized casualization within the white-collar workspace. Instead of cashmere blazers and sharp-creased slacks, workers were encouraged to wear their favorite button-up, Hawaiian-style shirt alongside other streamlined attire in an effort to boost team morale, provide an informal end to the workweek, and promote camaraderie within the workplace. Eventually, news of this phenomenon spread to companies that were looking to provide a similar work experience, and after being nominally adopted by Silicon Valley's most influential businesses in the 1980s, the trend began to redact what history had emblazoned as formal, professional attire.
The Rules
A Casual Approach
No, jeans and a t-shirt are not an acceptable form of casual workplace attire — and no, you won't impress the girl at the coffee shop by wearing your favorite striped polo and Asics shoes.Let's put this out there — the first rule of business casual is to abstain from literalization. As with anything, moderation is key, and with a term as loosely defined as "informal workplace attire," it's helpful to understand that there's a lot of room for misunderstanding. The goal here is not to reject the world of formalized business wear — instead, we'll begin with a collective embrace of a foundation that has already been established, utilizing a number of minor tweaks and changes to make it more personalized, comfortable, and efficient. Tasteful dress is still the name of the game. What once was a suit and tie is now a well-tailored, tieless, button-up shirt. Where pleated slacks were once illustrated as a significance of professionalism, a pair of form-fitting chinos now serve to exemplify fashionable compromise. Blazers are no longer isolated into the realm of thick, padded, bulky garments, opting instead for a slim, streamlined version that pairs well with colorful accessories like socks, shoes, and wristwear. No, jeans and a t-shirt are not an acceptable form of casual workplace attire — and no, you won't impress the girl at the coffee shop by wearing your favorite striped polo and Asics shoes — "dressing down" is just that: an effort to retain the qualities of traditional offerings, but promoting a dignified, tasteful alternative.
At its foundation, the idea of casual attire cannot be confined into one single, preconceived notion — that kind of attitude is a rebuttal of the movement's original concept. Always remember: business casual was created to promote individuality, self-expression, and creativity — but you should always err toward a professional style. Stay sharp, dress to impress, and dominate the world of casual business wear — below, we'll cover three different style choices that you can mix, match, or elaborate on for the ultimate Friday fitment.
The Creative
Efficient And Economical
TOPMAN Navy Textured Skinny Fit Suit Jacket
TOPMAN always has the fashion-forward guy in mind, and this Navy Textured Suit Jacket shows that a sharp appearance is easily attainable. A slim, tailored fit and single breasted opening keep you looking well put together, while a Notch lapel, two button fastening, and a tastefully textured fabrication work cohesively to bring you one of the best multipurpose blazers on the market.
BELSTAFF Slim-Fit Ribbed Cotton Zip-Up Cardigan
Belstaff's Slim-Fit Ribbed Cotton Zip-up Cardigan is an essential piece of workplace attire. Whether you're administering it for casual or professional occasions, this tasteful black cotton cardigan features a style-conscious funnel neck, an appliquéd designer emblem, well-placed zip fastening, and a 100% cotton construction that puts comfortability at the top of its list of priorities.
J.CREW Slim-Fit Pima Cotton Oxford
J.Crew has your back if you're looking for ultra-fine style at an affordable price point, and their Slim-fit Pima Cotton Oxford is the quintessential shirt that's in reach for any casually dressed man. Utilizing a cotton construction, button-down collar, and a finely-sourced American Pima Cotton, this mechanical stretch garment provides its wearer with the ultimate in Ivy League heritage.
CLUB MONACO Connor Slim-Fit Cotton-Twill Chinos
Club Monaco's Connor Slim-fit Cotton-Twill Chinos are unquestionably refined. They're made with a crisp, mid-weight cotton and feature an elastane and cotton mixture for an increasingly slim fit. Business-style belt loops adorn the waistband, alongside classic slash pockets and button-through welt pockets on the rear of the pant — providing wearers with an adaptable pair of tailored alternatives to the traditional slack.
TO BOOT NEW YORK Concord Cap Toe Boot
Shoes are an essential piece of any guy's wardrobe, and To Boot New York's Concord Cap Toe Boots are the perfect complimentary accessory to tie together any would-be outfit. Featuring a lace-up front, functional side zipper, burnished leather detailing, and a pull tab at heel, these boots aim to combine comfort and accessibility for a simple, all-encompassing menswear solution. A full leather upper, leather lining, and rubber sole are all made in Italy — so you know you're getting the highest-quality workmanship paired with a great looking silhouette.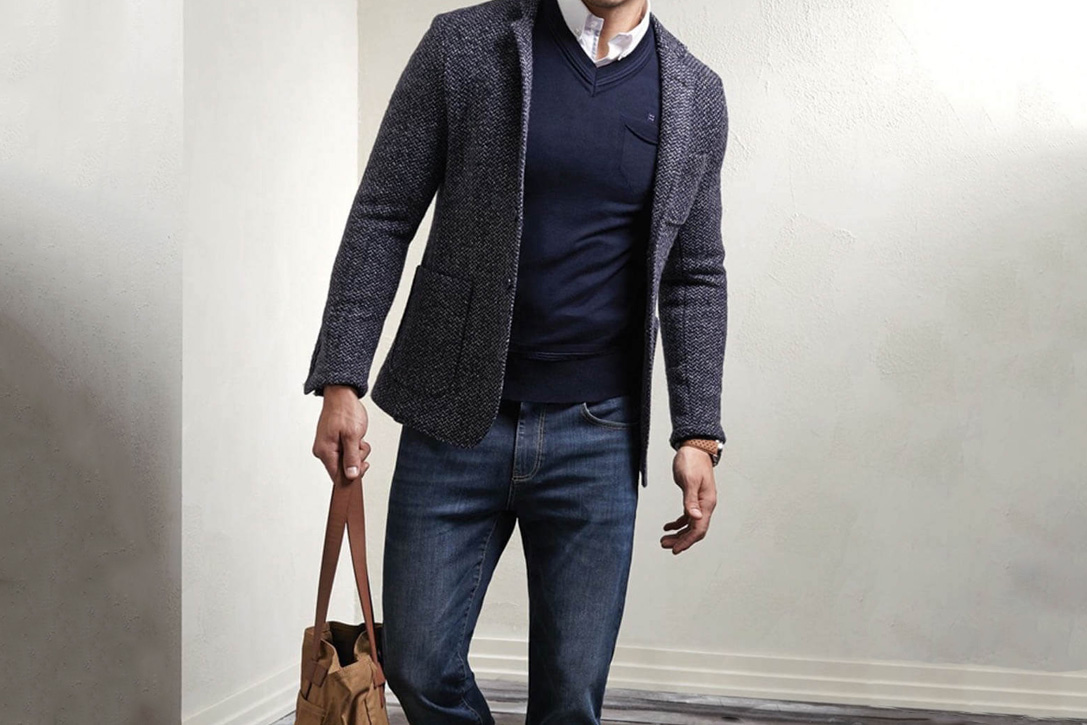 The Marketer
Middle Of The Road
PAUL SMITH Grey Wool And Cashmere-Blend Suit Jacket
Paul Smith's designs have helped to reshape the way the world sees casual workwear, and the Grey Wool Suit Jacket is a prime example of well-made attire. A wool and cashmere-blend provide a comfortable, form-fitting silhouette, while contrasting green stitching, Notch lapels, functioning buttons, and a diverse selection of welt/patch pockets define this perfect mid-range coat.
Burberry Cable-Knit Mélange Cashmere Cardigan
Burberry has the casual style sphere in the palm of their hand, and their Cable-Knit Melange Cashmere Cardigan is an essential piece of any guy's workplace wardrobe. Built with a comfort-conscious charcoal mélange cashmere, wool, and mohair-blend, this ribbed trim, zip fastened offering sports a luxurious middle-weight build that's perfect for layering and solo-wear.
Mr P. Selvedge Cotton-Chambray Shirt
Mr. P is committed to supplying men with the best clothing around, and the Selvedge Cotton-Chambray shirt provides the perfect middle ground between stylish tailored attire, and casual comfort. Made with a high-quality blue selvedge cotton-chambray, this tasteful torso piece features a classic collar, buttoned cuffs, chest patch pockets, and a refreshing design that straddles the line between denim-looks and cotton construction.
OFFICINE GENERALE Charcoal Slim-Fit Cotton-Corduroy Trousers
Officine Generale might have struck gold with these Charcoal Slim-Fit Cotton-Corduroy Trousers, which provide a near-perfect fit and quintessential style at an attractive price point. Classic styled belt loops, four external pockets, unfinished hems, and traditionally placed button fastenings come together to create the perfect pair of casual office pants.
COMMON PROJECTS Chelsea Boot
Common Projects' primary interest with the Chelsea Boot is the creation of a durable, stylish, and classic piece of footwear that can be worn anywhere from the office to the bar. These tasteful trademarks feature suede uppers, elasticated side panels, a leather lining and midsole, and a rubber Crepe outsole for an exceedingly handsome look. To top it all off, they're built and crafted in Italy by the most talented shoemakers around.
The Executive
Looks And Luxury
THE ROW Navy Julian Virgin Wool Blazer
The Row prides themselves on top-of-the-line peripherals, and their Julian Virgin Wool Blazer is as stylish as it gets. Utilizing a Notched collar, double-breasted front, four-button cuffs, and a welted pocket on the left chest, this trendy piece of outerwear pairs well with your finest tailored getups, all while retaining a sleek, simple silhouette.
TOM FORD Steve McQueen Shawl-Collar Ribbed Cashmere Cardigan
If you want the finest cardigan the industry has to offer, look no further than Tom Ford's Steve McQueen Shawl-Collar — an iconic silhouette that symbolizes tasteful craftsmanship and impeccable style. Constructed from 100% Merino Extrafine, this five-gauge garment offers a classic fit and fully fashioned construction that personifies the designer's commitment to tasteful, functional menswear.
Eye/Loewe/Nature Button-Down Collar Brushed-Cotton Oxford Shirt
Eye/Loewe/Nature prides itself on producing the highest-quality attire around, and their Brushed-Cotton Oxford is the perfect example of their quality commitment. Utilizing an impeccably realized Indigo brushed-cotton, button-down collar, buttoned cuffs, a number of finely-placed button fastenings, and an art-adorned collar inlay, this stylish shirt is sure to turn a few heads at the workplace.
BURBERRY Slim Fit Cotton Chinos
Burberry's Slim-fit Cotton Chinos are an exercise in lavish legwear that provides wearers with a tasteful alternative to traditional slacks — all while catering the wonderful world of professional menswear. They've been tailored for a comfortable, slim fit, and feature buffalo horn buttons, a zip fly closure, side slip pockets, and two back button-through welt pockets — adhering to the age-old standard set forth by their formalized counterparts.
GEORGE CLEVERLEY William Cap-Toe Horween Shell Cordovan Leather Boots
George Cleverley is a renowned name in menswear and the William Cap-Toe Horween Shell Leather Boots are a testament to well-fashioned footwear. Featuring an impeccably sourced black polished calf leather, pull tabs, leather linings, and Dainite rubber soles, these lace-up classics fit the bill for any and all casual/professional applications.
The 27 Best Dress Shoes For Men
Now that you've got a solid idea of how to dress down for a casual day on the job, take a look at our guide on the best dress shoes for men to spruce back up for the other four days of the week.