Commerce isn't what it used to be. Spending hours at the mall. Hunting down brick-and-mortar hideaways in the hip areas of town. Hoping, praying, and betting that mom-and-pop shop hasn't run out of your size, your color, or your style. Yeah, those days are long gone. And rightfully so, because with the birth of online shopping habits came a rat race of sorts to be noticed, flavorful, classy, and the ultimate curators of cool — as the saying goes, when businesses compete, you win. Welcome to the 21st-century model of online shopping.
There is, however, always too much of a good thing. And with a seemingly endless expanse of online mechanisms comes an equally untamed and unruly marketplace full of knock-offs, facades, and cons in a space where authenticity should reign supreme. Catering to the copycats, therefore, is not what this guide to the best online men's shops is about. Instead, we've filtered through this complex world to uncover the true movers and shakers of the style world. So without further ado, here's our guide to the best online clothing stores for men
Best Online Men's Clothing Stores

how we selected Our Favorite Men's Clothing Stores
While we're big fans of DTC (direct-to-consumer) brands like Buck Mason and Taylor Stitch, and their high-quality in-house products, we'll be focusing on online clothing stores that sell the best stuff from trusted designers and up-and-comers through quality curation. Some shops may cater to the guy who has an affinity for streetwear; others may focus on more designer clothing, and still more make outdoor attire and gear their bread and butter. We assembled a list of what we see as the best online shops in the game that covers a variety of styles in order to guide you through this new hyper-specialized world.
American Rag
Why It Made the Cut
Vintage style meets modern California fashion with American Rag's output.
Here's what happens when a few fashion-forward devotees ship a few containers of vintage clothing from Marseille to Los Angeles with the intention of rebooting American clothing with a bit of a European push into modernity. What's left, more than 30 years later, is the actualization of that dream and empirical evidence of continued American adoption of European flavor. American Rag, in their efforts of world curation, works no matter what to pay homage to their California roots — because that is, at its core, the vibe American Rag is after.
Founder: Mark Werts
Year Founded: 1984
Locations: Los Angeles
Styles: Designer, denim, footwear
BlackBlue
Why It Made the Cut
From humble beginnings in Minnesota, BlackBlue has made a name for itself as an expert curator of denim and leather goods, among other things.
Just over a decade ago, BlackBlue's flagship store was opened with charm in the historic Cathedral Hill neighborhood of Saint Paul, Minnesota. Since those humble beginnings, they've notably expanded into curators of a wide selection of tried and true pieces of clothing. Their mediums of choice? Canvas, denim, leather, and wool (this is the upper Midwest, after all) are presented in their more natural and iconic states that will only grow more handsome with age.
Founder: Steven Kang
Year Founded: 2009
Locations: Minnesota
Styles: Denim, leather, casual
Bodega
Why It Made the Cut
Bodega is a streetwear-centric store that was founded by artists, and continues to value independent creators.
Starting in 2006, Bodega was founded by struggling artists who finally decided they could do it themselves. They're dedicated to empowering young artists and highlighting independent creators with unique clothes and accessories. Through pop-ups, collabs, and other creative endeavors, Bodega is one of those streetwear stores that's truly down to earth.
Founder: Jay Gordon, Dan N., and Oliver Mak
Year Founded: 2006
Locations: LA, Boston
Styles: Streetwear, casual
Canoe Club
Why It Made the Cut
This Colorado-based company does the basics perfectly, and prides themselves on premium customer service and community.
Hailing from Boulder, Colorado, Canoe Club started back in 2017 with a love of good clothes and community. They believe that your clothes should be just as artistic as they are functional and that the conversations we have about fashion and design are just as important as the end product. It may be an online store, but they're run by people who take great care in making sure customers are satisfied (and looking good).
Founder: Timothy Grindle and Sarah Halvorson
Year Founded: 2017
Locations: Colorado
Styles: Casual, streetwear
Dover Street Market
Why It Made the Cut
Dover Street Market always has its finger on the pulse, and has been selling high fashion to high profiles since the early aughts.
If you've had your ear to the fashion world ground, it's likely you've already heard of the legendary Dover Street Market. This high-fashion label has been a mainstay in the industry since starting in the early 2000s, and is a popular choice for many musicians, artists, and creatives. The label focuses mainly on high-fashion apparel but is no stranger to streetwear, and has been ramping up its output over the last few years especially.
Founder: Rei Kawakubo and Adrian Joffe
Year Founded: 2004
Locations: London, LA, NYC, Tokyo, Beijing
Styles: Designer, streetwear, high-fashion
END. Clothing
Why It Made the Cut
Started by a duo of friends who loved small clothing brands, END highlights both industry legends and promising up-and-comers.
Christiaan Ashworth and John Parker met as a couple of university kids in the early half of the 2000s and bonded over a love of small clothing brands. That shared interest, paired with their own specialties in IT and Economics, led them to both identify a gap in the market for smaller, more niche brands and then build a brand around stocking and supplying them. Now, years along, END is the go-to store for a huge number of people who are looking to get their hands on some of the hottest releases of the season. An industry leader, they've even taken on the task of beating robot sneaker buyers who immediately turn around and resell rare kicks for wild markups.
Founder: Christiaan Ashworth and John Douglas Parker
Year Founded: 2005
Locations: UK headquarters
Styles: Streetwear, designer, luxury
Farfetch
Why It Made the Cut
When it comes to luxury, Farfetch is a true leader in the space, hosting a variety of high-fashion from around the globe.
Jose Neves is a true lover of all things luxury, so he started Farfetch in 2007 to bring that passion to the world. Since then, the label has reached over 190 countries providing them with one of the most extensive collections of luxury brands and products in the game. So if you're in the market for any high-fashion (especially if it's from another country), then Farfetch is the way to go.
Founder: Jose Neves
Year Founded: 2007
Locations: London headquarters
Styles: Luxury, boutique
Grailed
Why It Made the Cut
This online retailer is a popular streetwear hub where fans keep track of what's hot.
If you're a sneakerhead, you've probably been lowballed on this site already, because Grailed is one of the most popular sites for not only buying streetwear but selling it as well. Because of the unique layout of the site, it's become a popular hub for streetwear fans to congregate and keep tabs on the latest trends in the industry. The focus is mostly on streetwear, but there's no shortage of designer and casual-friendly apparel and footwear if that's more your speed.
Founder: Arun Gupta, Jake Metzger, and Julian Connor
Year Founded: 2013
Locations: NYC headquarters
Styles: Streetwear, casual, designer
Huckberry
Why It Made the Cut
As one of the leaders in the menswear space, Huckberry partners with and hosts clothing brands that are making durable gear with a story.
The inspiring story of a small but scrappy web-based startup out of San Francisco may be one of the more clichéd narratives a person can draw up about a business in 2016, but it's hard to do anything but talk about Huckberry in those terms. In 2011, a couple of good friends decided to ditch their comfy jobs and do something they hadn't quite seen anyone else do up until that point – mix the thrilling and engaging storytelling of quality outdoor journals and magazines with well-crafted menswear and gear. As even the briefest look at their site would suggest, their combination was a winning one. Totally bootstrapped and free of the craziness of VC funding that so much of Silicon Valley is caught up in, they're building one of the most interesting and engaging stores on the internet.
Founder: Richard Greiner and Andy Forch
Year Founded: 2011
Locations: Texas, California, and Ohio headquarters
Styles: Menswear, outdoor gear, casual, denim, leather
Haven
Why It Made the Cut
This Canadian company sells internatioanlly, but their roots shine through in the techwear and streetwear offered on the site.
For those who love some of the more hard-to-find offerings from brands like Acronym, Common Projects, Junya Watanabe, and others – Haven is much more than just the name of this Vancouver-based shop, but an honest to god descriptor. While the shop has a good deal of brick-and-mortar stores, one in Vancouver, Edmonton, and Toronto, respectively, they've taken real advantage of the ability to sell internationally by setting up one of the more striking and influential retail portals online.
Founder: Daniel and Arthur Chmielewski
Year Founded: 2006
Locations: Vancouver, Edmonton, Toronto
Styles: Cold weather clothing, streetwear, designer, techwear
Hatchet Outdoor Supply
Why It Made the Cut
Hatchet Outdoor Supply hosts modern outdoor gear that's just as comfortable on the streets as it is on the trails.
City-to-summit is a phrase we hear often these days. Some would argue, however, that the good folks over at Hatchet Outdoor Supply are perfecting this blend of styles, building apparel that's sleek, functional, and not strictly limited to either the outdoors or the boardroom, but rather both. A tough undertaking without a doubt, but after nearly a decade, this reliable brand that owns up to its high-quality jackets, base layers, shirts, pants, sweatshirts, bags, and gear continues to live on and thrive in an ever-changing and demanding landscape.
Founder: Gene Han
Year Founded: 2013
Locations: NYC and LA
Styles: Outdoor, casual
Matches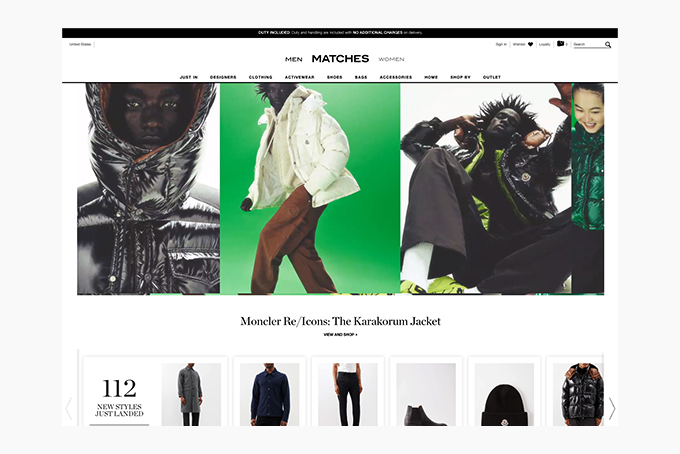 Why It Made the Cut
As one of the oldest brands on this guide, Matches is a trusted expert at curating the latest designer fashion.
Since 1987, the London-based Matches has been curating the latest designer fashion from only the best. They have three shops in London, and whether you're online or in person, you have a selection of the latest and greatest curated by true industry veterans. they deliver to nearly two hundred countries and even offer fashion advice through its fashion-concierge team MyStylist (and in person if you can make it to London).
Founder: Ruth and Tom Chapman
Year Founded: 1987
Locations: 3 stores in London
Styles: Designer
Mohawk General Store
Why It Made the Cut
This Los Angeles-based label hosts both casual and designer fashion that's oozing with California style.
You Los Angeles residents may already be familiar with this one, as Mohawk General Store is somewhat of a Silverlake staple. It's run by a couple, Bo and Kevin Carney, who host a variety of both men's and women's apparel and accessories. The label's Cali roots shine through in the curation, with the latest from luxury brands, as well as highlights from lesser-known labels that still produce high-quality goods.
Founder: Bo and Kevin Carney
Year Founded: 2008
Locations: Los Angeles
Styles: Casual, designer, denim
MR PORTER
Why It Made the Cut
MR PORTER is a premium menswear outlet that hosts high-fashion picks and the latest from designer brands.
A lot of ink has been spilled on the struggles of new media in this new era of screen-first publication, and a lot of our natural inclination to tell stories has found solid footing in online retail stores like Mr. Porter. As much a fashion publication as it is a store carrying some of the more talked about and desired designers of the day like Raf Simons, Alexander McQueen, and A.P.C., it's quickly become one of the most highly regarded retailers in the men's fashion space. Esquire referred to them as a powerhouse – and with offices in both London, New York, and up to 2.5 million unique visitors a month – it's hard to argue with that phrasing.
Founder: YOOX Net-a-Porter Group
Year Founded: 2011
Locations: London and NYC headquarters
Styles: Menswear, designer, high-fashion
Stag Provisions
Why It Made the Cut
Stag Provisions combines modern, city-friendly style with classic Americana, offering durable gear from American heritage and contemporary brands.
Take rural Americana, and city living, and let them spin out of control in a wonderful tango of two, and you'll have Stag Provisions. With several brick-and-mortar locations across the country and a highly sufficient online presence, these individuals know how to curate gear and apparel that checks off both virtues of form and function. From boots to jean jackets to Stetson hats, if it's in muted vogue and well-made, you'll find it here. Happy hunting.
Founder: Don Weir and Steve Shuck
Year Founded: 2009
Locations: California and Texas
Styles: Menswear, Western, outdoors, denim
Standard and Strange
Why It Made the Cut
Standard & Strange perfectly captures the blend of Western style and Bay Area roots, providing both durable menswear and unique pieces.
In a world where less is more, Standard & Strange champions the idea that comfort surpasses flair. It's this pared-down western vibe that strikes a chord with us so dearly. Well, that, and the fact that their lineup of gear and apparel is one that we hold near and dear to our hearts. Meaning, if you're into work boots, well-crafted denim, leather goods, and outerwear, you'll feel right at home landing on this online men's shop.
Founder: Jeremy Smith and Neil Berrett
Year Founded: 2012
Locations: Oakland, Santa Fe, NYC
Styles: Denim, casual, streetwear, workwear
SSENSE
Why It Made the Cut
If there's one online clothing store that comes to mind, SSENSE is probably high up on the list, because they've been doing it right since 2003.
Based in Montreal, Canada, SSENSE is known not only for carrying the cutting edge in independent and luxury brands, but for its content-commerce strategy. While the website may look humble from the outside, it has a good deal of power and influence in the fashion community and a serious global reach. To get a sense of what that means in real terms, back when Kanye West released his first capsule collection, the site did half a million in sales in under an hour. Yeah. Whether you just want to browse offerings or read their articles – visiting SSENSE (pronounced "essence") is a great way to keep your fingers on the pulse of high fashion.
Founder: Firas, Rami, and Bassel Atallah
Year Founded: 2003
Locations: Montreal, New York
Styles: Designer, active, casual, street
Self Edge
Why It Made the Cut
As true lovers of denim (particularly Japanese selvedge denim), Self Edge curates unique pieces and denim goods that you just can't find on other sites.
Kiya and Demitra Babzan are truly passionate about high-quality denim, and are especially passionate about Japanese selvedge denim. This is a mostly jeans-focused site, but they also offer a variety of accessories like wallets, eyewear, and jewelry. Also, many of the Japanese picks the site includes are a lot harder to get elsewhere, making this a great stop for any fans of not just Japanese selvedge denim, but of Japanese apparel overall.
Founder: Kiya and Demitra Babzan
Year Founded: 2006
Locations: SF, NY, LA, Portland, Mexico
Styles: Jeans, selvedge denim, casual, streetwear
Slam Jam
Why It Made the Cut
As one of the OG streetwear curators, Slam Jam is a legend in the space, and continues to innovate.
Started in 1989 by Luca Benini, this Italian streetwear label is one of the first to really understand streetwear, and is a true legend in the space. They continue to push the envelope with collaborations and highlighting unique fashion in a way that no other label seems to do. It may be an Italian brand, but Slam Jam perfectly captures city styles from around the world and curates them for modern fans, with over 40 years of experience doing it.
Founder: Luca Benini
Year Founded: 1989
Locations: Italy
Styles: Streetwear, designer
Tres Bien
Why It Made the Cut
This independent Swedish brand blends sportswear with high fashion, with unique in-house collections and collaborations
Hailing from Sweden, Tres Bien is working to combine sports apparel with high fashion, curating a collection of both in-house collabs and the latest from designer and streetwear brands. The interplay between high fashion and streetwear has been very popular in the fashion scene, and Tres Bien has been there since 2006, making it one of the first brands to understand the blend of styles. Although the only brick-and-mortar stores are overseas, they ship to a variety of countries, including the States.
Founder: Simon and Hannes Hogeman, Björn Lindén, and Jakob Törnberg Altewai
Year Founded: 2006
Locations: Malmö, Sweden, London
Styles: Menswear, designer, streetwear, activewear
Union Los Angeles
Why It Made the Cut
Placing an emphasis on counter culture and lesser-known brands, Union has their finger on the pulse, and only curates apparel they can confidently wear themselves.
Although the first Union store was opened in NYC, Union Los Angeles still has a city-centric lens, working to shine a light on counter-culture and the youth. This label works to find up-and-coming designers from California, Japan, and the UK, while also including trusted designer streetwear brands and lesser-known ones that are worthy of some more attention. Chriss Gibbs, who worked at the original Union shop in NYC, runs the LA shop, and abides by the company-wide goal of only curating apparel that they would wear themselves.
Founder: Chris Gibbs
Year Founded: 1989
Locations: Los Angeles
Styles: Streetwear, casual
The Best Japanese Denim Brands
Looking for more of the best? Our best Japanese denim brands guide is a good next stop.