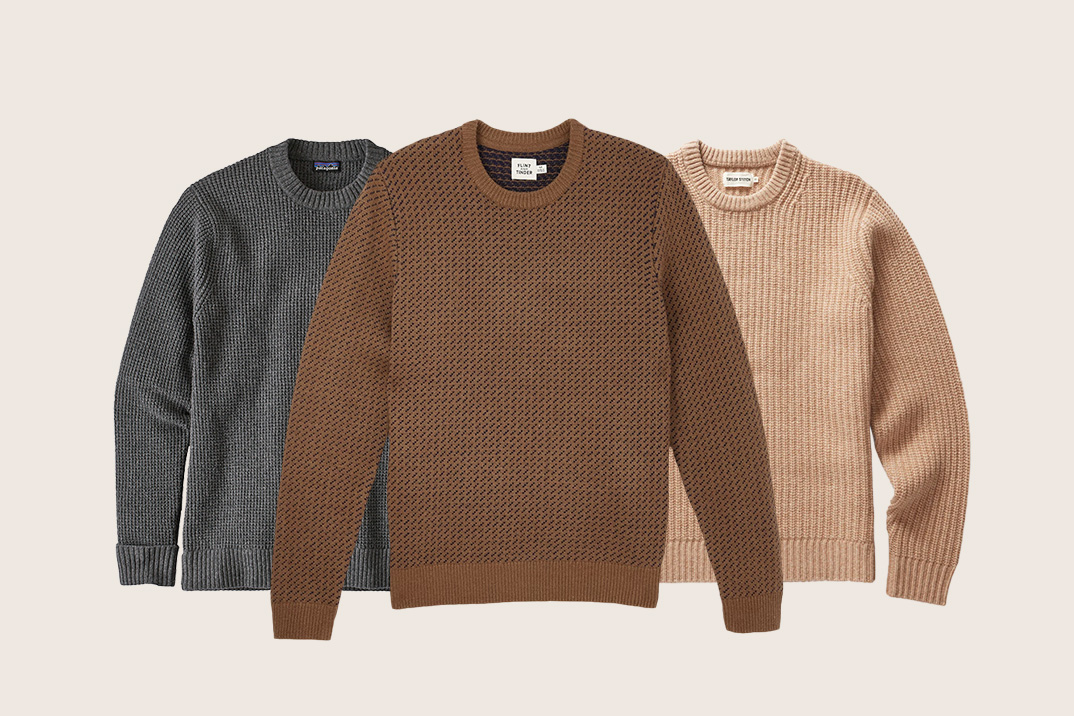 As far as seasonal garb is concerned, the wool sweater is one of the classiest yet under-appreciated garments in a man's wardrobe. Many see the wool sweater as an overly heavy piece of outerwear that exists to be an agent of heatstroke and a harbinger of itchy discomfort. However, we argue the opposite. Like any piece of clothing, wool sweaters can be stylish, comfortable, and versatile; and there are even many that are lightweight and breathable — not to mention completely absent of any itchiness.
This guide is a celebration of the wool sweater, as well as a curated list of our favorite examples on the market. Before we get into it, however, it's worth noting the different types of wool used to make a sweater, as wool itself is a broad term that comes in a variety of different forms from a spattering of different animals.
Best Wool Sweaters Breakdown
Best Full-Zip Sweater

L.L.Bean Classic Ragg Wool Sweater

Best Hoodie

Everlane The Felted Merino Hoodie

Best Quarter-Zip Sweater

Orvis Merino Wool Quarter-Zip Sweater 2.0

Best Sustainable Sweater

Patagonia Recycled Wool-Blend Sweater

Best Cardigan

J.Crew Rugged Merino Wool-Blend Cardigan Sweater

Best Crewneck

Flint and Tinder Nordic Merino Wool Crewneck Sweater

Best Fisherman Sweater

Taylor Stitch The Fisherman Merino Sweater

Best Premium Sweater

Canada Goose Patterson Merino Wool Sweater
L.L.Bean Classic Ragg Wool Sweater
Pros
Soft and insulating
Lined with flannel
Comes in regular or tall fits
Best Full-Zip Sweater: L.L.Bean is a brand that needs no introduction. If you're looking for a great-looking and casual sweater that'll keep you warm, then their Classic Ragg Wool Sweater is right for you. It is made of 100% lambswool, which is as soft as it is insulating, and for an added layer of warmth, the sweater even features a flannel lining to keep you warm, cozy, and stylish all winter long.
Wool Type: Lambswool
Lining: Flannel
Fit: Traditional
Everlane The Felted Merino Hoodie
Pros
Pre-washed
Super soft
Can easily be dressed up ordown
Best Hoodie: Everlane just does outerwear right. Their felted Merino hoodie features a Merino wool construction that employs pre-washed and boiled yarn so it softens and shrinks to create a denser fabric with all of wool's upsides. Its streamlined silhouette parallels the no-frills design that the folks at Everlane used while designing this effortlessly cool and versatile hoodie.
Wool Type: Merino
Trimming: 93% wool, 6% nylon, 1% elastane
Fit: See size guide
Orvis Merino Wool Quarter-Zip Sweater 2.0
Pros
Sustainably sourced Merino wool
Eco-suede details
Best Quarter-Zip Sweater: We try not to be sensational when writing product descriptions, but Orvis' Merino Wool Quarter Zip is a dangerously comfortable sweater. This soft pullover gets its crafted-at-home feel from Merino wool, with eco-friendly construction details for sustainability. It also sports a gorgeous quarter-zip closure with an eco-suede binding that makes it as beautiful to look at as it is comfy to wear.
Wool Type: Merino
Fit: Classic
Patagonia Recycled Wool-Blend Sweater
Pros
Made with sustainable materials
Great layer
Double-layer cuffs
Best Sustainable Sweater: Leave it to Patagonia to design a gorgeous sweater that's also good for the planet. This particular Patagonia sweater features a construction that contains 70% recycled wool and 26% recycled nylon. The blend is also finished with hand-linked trims so the sweater can hold its shape. It's a phenomenal choice when looking for a lightweight base layer to wear.
Wool Type: Recycled wool
Fit: Regular
J.Crew Rugged Merino Wool-Blend Cardigan Sweater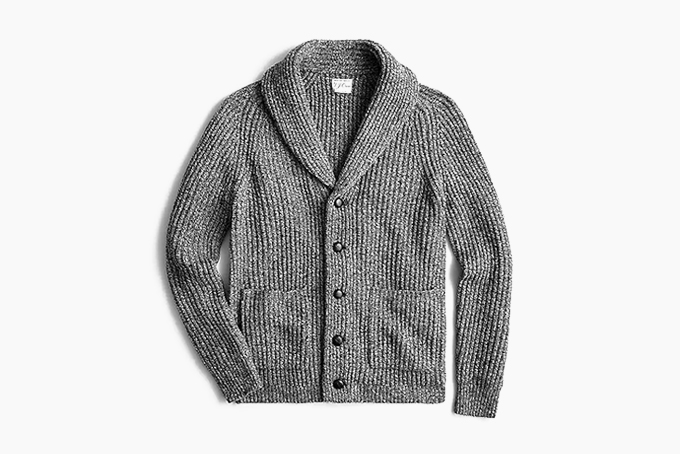 Pros
Made in a Fair Trade Certified facility
Soft yet durable
Best Cardigan: Anyone who isn't a fan of cardigans needs to look up J.Crew's rugged offering. Their cardigan sweater is a wonderful outer layer for those looking to add a casual yet stylish punctuation mark to their everyday ensemble. It features a wool and nylon blended construction that emphasizes form, function, and comfort. Even better, it was crafted in a fair-trade facility.
Wool Type: Merino
Fit: Regular
Flint and Tinder Nordic Merino Wool Crewneck Sweater
Pros
Unique textured look
Nylon reinforcement
Best Crewneck: One of our favorite brands is back at it again, this time with a beautiful crewneck sweater made with chunky Merino wool yarn that will regulate your temperature well into the dead of winter. This sweater features an understated yet elegant silhouette and a Lycra ribbing design that's visually striking and stylish. It's a classy, dressed-up sweater that can be worn virtually everywhere for almost any occasion.
Wool Type: Merino
Ribbing: 100% Lycra
Fit: Regular
Taylor Stitch The Fisherman Merino Sweater
Pros
Classic style
Nice heavy weight but still breathable
Best Fisherman Sweater: It'd be an act of sartorial sacrilege to make a "best outerwear" list of any kind without the inclusion of Taylor Stitch's The Fisherman Merino sweater. This sweater features a hardy 1.5-gauge wool construction that's soft to the touch, but heavy enough to keep you warm in the bitter cold. It's constructed with merino yarn that has also been rounded in a fisherman's rib for added comfort and softness.
Wool Type: Merino
Fit: See size chart
Canada Goose Patterson Merino Wool Sweater
Pros
Made in Italy
Thermal mapping technology
Best Premium Sweater: It only makes sense for a company that's known for making stellar outerwear to design a fantastic sweater. Canada Goose's Patterson sweater is made in Italy using pure Merino wool that's soft to the touch and provides you with enough insulation to tackle Canada-cold winters. Furthermore, its sleeves feature ribbed trim, which offers a fun textural contrast to its streamlined silhouette.
Wool Type: Merino
Fit: Not listed
the most common types of wool
There is a multitude of different types of wool out there, however, you can really pare them down to 11 major types. Not every wool type is represented in this list, however, it's important to know that the wool world is a vast one that sports many different weights, textures, and price points.
Alpaca: Alpaca wool comes from the alpaca, which is native to Peru, Argentina, Bolivia, Ecuador, and Chile. Their wool is some of the most luxurious on the planet, and it is extremely soft due to the small diameter of each fiber strand. This small diameter within their hair fibers makes alpaca wool warmer, stronger, and more water-repellent than sheep's wool.
Angora: Angora wool comes from the Angora rabbit (not the Angora goat, which produces mohair wool). Angora wool is a soft and fluffy fiber that retains the most heat and has incredible moisture-wicking ability. Due to its silky softness and fragility, Angora wool is often compared to Camel hair wool.
Camel Hair: Camel hair is exactly what you think it is. This wool is a luxurious and fine wool with fantastic heat retention abilities. It sports a natural golden-brown color and is typically combined with other more accessible types of wool to make it softer and more economically practical.
Cashmere: Cashmere comes from the cashmere goat, which is native to Tibet, Mongolia, Myanmar, Bhutan, Nepal, India, and well, the Kashmir region. It is incredibly soft and lightweight, making it a luxurious choice for constructing garments. Cashmere is famously expensive to source because the cashmere goat produces a small amount of wool per year, and the scarce wool it does produce can't be sheared directly; it must be combed out.
Lambswool (AKA Virgin Wool): Lambswool comes from a baby sheep's first shearing when it's only several months old. Due to its nascent age, this is the softest, lightest wool the sheep will make in its life. Lambswool is lusciously smooth, soft, hypoallergenic, and has anti-wrinkling properties.
Melton: One of the toughest and warmest wools in the world. It comes from sheep and usually has a small amount of nylon blended into it in order to augment its strength and durability. Melton contains thick wool fibers, which adds to its wind-resistant and water-resistant capabilities, making it one of the most versatile wools out there.
Merino: Merino wool comes from the Merino sheep, and as far as versatility is concerned, Merino ranks among the best types of wool to use. The Merino fibers produce fine, shiny wool that is soft to the touch and great for regulating body temperature in both cold and hot weather, making it a popular option for performance wear.
Mohair: Mohair wool comes from the Angora goat. It is far tougher and more durable than the wool produced by the Angora rabbit, and it is far more lustrous and easier to dye, making it a go-to fabric for textiles. Despite being relatively lightweight, Mohair wool provides surprisingly good insulation.
Shetland: Shetland wool comes from the undercoat of sheep native to Scotland's Shetland Islands. It is a popular choice for knitting due to its durable but soft nature. Aside from being lightweight and warm, Shetland wool offers one of the widest ranges of natural colors of any breed of sheep.
Vicuña: The vicuña is an animal related to the alpaca and llama. It's the rarest, finest, and most expensive wool in existence as not only are the vicuña limited in quantity, but they also produce very little wool per year. In ancient Andean civilization, vicuña wool was so lauded for its softness and warmth that it was reserved for royalty.
Qiviut: Qiviut wool comes from the undercoat of the Arctic muskox. Despite its superfine texture and near-unrivaled softness, qiviut is eight times warmer than sheep's wool but stronger than Angora wool, making it a popular choice for those in the textile industry to work with it.
is synthetic wool good?
Synthetic wool and Merino wool are two of the most popular choices for wool sweaters, and while Merino wool is certainly soft and convenient (thanks to its natural moisture-wicking and temperature-regulating properties), it comes at a higher cost compared to synthetic options. Synthetic wool is just as capable of providing warmth, but you'll be missing out on the natural odor-resistance and quick-drying properties that Merino wool naturally has. So, to put it simply: if you're on a budget, synthetic wool is perfectly fine, but if you want a more convenient and longer-lasting sweater, Merino is the way to go (or another animal fur).
what to look for
Wool Type: Now that you know what wool types are out there, go for one that best suits your needs. For example, Merino wool is soft and lightweight, making it a great year-round pick. Cashmere, on the other hand, is better for colder weather.
Fit: You want a sweater that's not too tight or too loose, and if you want to use it as an outer layer, a relaxed fit might be for you.
Weight: Heavier sweaters are best for cold weather, and lighter sweaters will be easier to layer with and wear during the shoulder months.
The Best Beanies for this Fall
While sweaters certainly do a great job of keeping your upper body warm during the colder months, they won't do much for your head. So to help you out in that department, have a look at our guide to the best beanies.