Gift-giving is one of the most rewarding parts of the holiday season. The exhilaration of putting in critical thought on who your loved ones are, what they like, and what would be useful to them and then finding them a gift that actually meets those three criteria is second only to the feeling of accomplishment you get as they open their presents. Unfortunately, that can be a bonkers hard, time-consuming, and expensive task. Let's face it, we all want to give our loved ones the perfect gifts, but we often have neither the funds nor the time to do so.
Well, fret not because Santa isn't the only one in town who has the ultimate gift list. We know how valuable your time and hard-earned money are, so we curated a list of our favorite quick, easy, and budget-friendly gifts on the internet to save you. Whether you're buying on a budget, overworked from holiday hours, or you're just a classic procrastinator who just didn't "get to it tomorrow," we've got you covered. This list covers scores of great items under $20 for the gourmand, gearhead, gamer, and everyone in between. So without further ado, let's dive right in.
Rumpl Beer Blanket
Take a look at the puffer-blanket-inspired beer blanket from Rumpl and try not to smile. Made from 100% post-consumer recycled materials, Rumpl's beer blanket is something of a spiritual successor to its acclaimed nanoloft travel blanket, except, rather than insulating you on your travels, it keeps your beers ice cold. The beer blanket's materials have been tested and proven in harsh environments, yet specifically selected for comfort and durability.
Mike's Extra Hot Honey Squeeze Bottle
A marriage of sweet and spicy, hot honey is one of the most under-loved condiments in the culinary game. Mike's Extra Hot Honey was inspired by the titular brand founder's time studying abroad in Brazil. His offering is packed with a blend of chillis to give your dish an extra kick. Whether you add it to pizza, cocktails, wings, or you just want to have a spoonful, Mike's Extra Hot Honey is sure to add some razzle-dazzle to whatever you put it on.
Vargo Titanium Emergency Whistle
For the outdoorsman in your life, we recommend getting him the ultimate fail-safe for if the unthinkable happens. Vargo's titanium emergency whistle is a great addition to any survival or emergency pack. It features a pealess design that won't break or fail where other whistles will, and its lightweight yet durable titanium construction makes it weigh a tenth of an ounce. It can reach over 100 decibels and even comes with a reflective lanyard.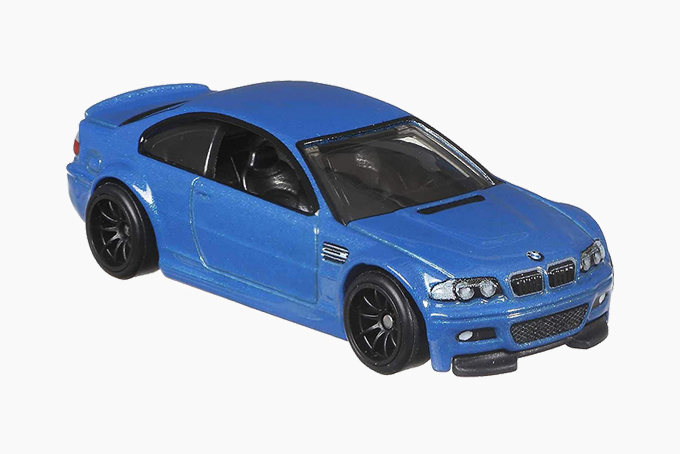 Hot Wheels BMW M3
Part collector's item, part cheeky gift, part childhood nostalgia, the Hot Wheels BMW M3 is an all-around great gift to give the gearhead or automotive lover in your life. This particular offering is part of the Hot Wheels Car Culture Circuit Legend line, which features 1:64 scale vehicles with realistic castings and authentic details. If you can't gift them a real M3, this is the 1:64th best thing.
Tec Accessories P-7 Keychain Suspension Clip
It's a sinister truth that while necessary, your everyday carry gear can, at worst, ravage the liner of your pant pockets and, at best, make them a jumbled and uncomfortable mess. Thankfully, the folks at TEC Accessories found a way to avoid that problem with the P-7 Suspension Clip. Its construction is made of tempered stainless steel, and its minimalistic design allows for you to carry your gear while also freeing up your pockets.
Field Notes Expedition Edition 3-Pack
It's hard not to love the products from Field Notes. Aside from looking gorgeous, they're printed on waterproof and tearproof Yupo synthetic paper, feature saddle-stitch binding, and are proudly made in the United States. Add in the super accessible price, and you have a bargain product without the bargain quality. The perfect gift for the writer, busy-body, or doodler in your life.
Jack Black Charcoal Body Bar Massaging Soap
Never sleep on giving someone soap as a gift for the holidays, especially if it's from Jack Black. The grooming brand's charcoal body bar massaging soap features world-renowned quality to clean, exfoliate, and even help massage muscles with its ribbed texture. Even better, it features only three major ingredients – charcoal, jojoba beans, and glycerin – making it a great alternative to other sulfate-heavy soaps.
TG Plasma Lighter
If you're looking to give a versatile lighter that also has a cool, tactical, futuristic edge to it, then we recommend the TG Plasma Lighter. It sports a durable waterproof casing, allowing you to use it in the rain, snow, or wind. Even better, one full charge from its USB cable will get you up to 300 uses. This is the ultimate EDC gift for anyone who smokes, camps, or just needs a reliable light.
Topo Designs Accessory Bag
Simply put, Topo Designs just makes fantastic products, and their accessory bag is a perfect example of their quality and attention to detail. This bag is ideal for keeping your small goods in order, be they pens, EDC essentials, maps, or snacks. It features a durable nylon construction, and it's Fair Wear certified, so you know that the folks who made this awesome bag were treated fairly and well.
Artisan Books The Martini
Coffee table books are great last-minute gifts because they're a functional decorative item, and alcohol is a great last-minute gift because it is guaranteed to be used and appreciated. It only makes sense that alchemizing them both to make a stellar coffee table book with great cocktail recipes and eye-catching photography would make a phenomenal gift to the designer or mixologist in your life.
Runamok Smoked Maple Old Fashioned Cocktail Syrup
In the spirit of the last entry, no pun intended, a gift that's as equally as appreciated as a bottle of hooch is a bottle of premium cocktail mixer. Runamok's smoked maple Old Fashioned cocktail syrup is American-made from pure, organic maple syrup that's been infused with pecan wood smoke and blended with orange essence. With the simple addition of whiskey, this cocktail syrup will transform into a deliciously smokey Old Fashioned.
Art of Play Eames Playing Cards
Everyone needs a good set of playing cards, and as far as playing cards are concerned, they don't get better-looking than this Eames set. Inspired by the iconic mid-century designer couple, these playing cards fuse form and function by featuring the Eames Office Starburst Logo on the backs. This iconic emblem was a recurring motif in the work of both Charles and Ray as it signifies their boundless creative energy.
DW Home Warm Tobacco Pipe Candle
A good candle is another thoughtful, last-minute gift as it not only acts as a decorative item but also serves the purpose of making your living space smell fantastic. DW Home's warm tobacco pipe candle features a handsome and understated black case and smells of "warm Tobacco and brushed suede melded with aromatic greens, soft weathered woods, earthy patchouli, and smoky leather." If that doesn't sound enticing, we don't know what does.
Aesop Cedar & Citrus Lip Salve
When it comes to self-care brands, you can never go wrong with Aesop, especially with the dry winter months upon us. In particular, the brand's Cedar & Citrus lip salve offers exceptional moisturization for dry or chapped lips. Its formula contains a blend of vegetable-derived emollients to smooth and hydrate your lips so you can avoid having painfully cracked lips. This lip salve is a lifesaver for anyone preparing to do winter sports or outdoor activities.
Bellroy Micro Pen
The perfect add-on for the Field Notes we mentioned earlier, Bellroy's Micro Pen is a great, easy-to-carry addition to your EDC rotation. It sports a handsome-looking gunmetal patina, a compact build for easy transport, and a metal clip to slide onto notebooks or inside folders. Even better, it comes with a supplied refill to last you longer.
Artisan Books Land Rover Puzzle
Quarantine and winters equate to more time spent indoors. Pass the time with this awesome-looking puzzle from Artisan Books. This 500-piece puzzle features a 1964 Land Rover Series IIA Short Wheelbase with a handsome patina that comes from over 50 years of thumping around the United Kingdom. The pictured Series IIA is owned by journalist, author, and all-around living legend, Simon de Burton.
Gentlemen's Hardware Close Shave Kit
In an era where your likeness can be uploaded to the internet for countless people to see in a matter of seconds, being well-groomed is a necessity. Gentlemen's Hardware will cover all face-related needs with their close shave kit. It includes a face wash, shaving cream, and shave balm for the perfect three-step process. Moreover, it comes with a sleek metal tin for easy storage.
MecArmy CMP Keychain Compass
As we become more and more reliant on GPS, the population of people who can't find their way out of a paper bag also increases. MecArmy's CMP Keychain Compass is great for the survivalist or outdoorsman in your life. It boasts fluorescent glow-in-the-dark markings that stay illuminated for up to 6 hours, an IPX5 water-resistant treatment, and weighs about 1/3 of an ounce. Even better, its brass construction elevates its style and durability.
Gerber Wingtip Knife
Gerber's Wingtip is a high-quality in-pocket EDC knife with a slip joint open and closing mechanism designed to open and close with ease. Its 2.5″ 7Cr blade is mirror-polished, while its handle scales feature a durable aluminum construction. This fool-proof, minimalist blade is well-made, great-looking, and small enough to keep on you at any given moment.
YETI Rambler 10oz Tumbler
Another gift that's always appreciated and sure-to-be-used is a great coffee mug. As far as coffee mugs go, YETI just does them right. Their 10oz Rambler tumbler is the perfect travel mug for the on-the-go coffee drinker in your life. It features a splash-resistant, smooth-sliding MagSlider Lid to prevent scalding liquid from splashing on you or your car, as well as double-wall vacuum insulated construction to maintain your drink's temperature for as long as possible.
The Best Stocking Stuffers Under $25
If you're still in the buying mood and are looking to give someone a little something extra, then check out our list of the best stocking stuffers under $25 for more budget-friendly ideas.