Dec 16, 2020
Category: Gear
Presented By

Although it's easy to get tunnel vision when you're trying to knock it out of the park with a big-dollar buy, you can't forget the all-too-important peripherals: stocking stuffers. Sure, these items are often relegated to gag gifts or left to the last minute, but by doing so, you're only doing yourself a disservice. Because let's face it — just because you're limited in form factor, it doesn't mean that you should limit yourself in terms of creativity.
However, the sheer variety of these smaller Christmas essentials can throw even the best gift giver into a panic-stricken spiral. Whether you're not sure how much to spend, or you're at a loss for something they'll actually use, it's often easier said than done when picking a successful stocking stuffer. Well, you're in luck, because we've put together just the list for you, including everything from quality camp socks to pull-string fire starters. So have a read to see what we've picked for the best stocking stuffers under $25.
Flint and Tinder Wool Camp Socks
Sure, socks aren't usually something to get excited about come Christmas morning, but then again, Flint and Tinder's Wool Camp variety isn't your average pair. Made from naturally moisture-wicking and temperature-regulating wool with a classic double strip design, these socks keep your feet comfortable and look good while they're at it.
Combat Wipes Commando
These wipes are an ideal stocking stuffer for anyone who likes to get out there and get after it but wants a quick way to clean once it's time to head inside. In addition to being made with aloe vera and vitamin E, they're 100% biodegradable.
Kershaw PT-2
Just because you're limited in what you can fit in a stocking, doesn't mean that you have to give them a gift any less impactful. Kershaw's PT-2 multi-tool comes with eight useful features, including everything from a bottle opener to a wire scraper.
Cocktail Picks
Although we won't be entertaining guests anytime soon, it's never a bad time to brush up on your bartending skills. These picks are guaranteed to take your cocktail presentation to the next level.
Opinel No4 Keychain Pocket Knife
It may be small in stature, but this pocket knife is no less impressive. With its Sandvik stainless steel blade and beechwood handle, it features the same quality construction you'd expect from any Opinel offering.
Areaware Minim Playing Cards
A pack of playing cards makes for a stocking stuffer that'll continue to bring cheer all year long. This minimalist option from Areaware offers a different take on the traditional deck, with geometric designs and little other adornments to distract you from the game at hand.
TEC Accessories P-7 Keychain Suspension Clip
When your daily carry can't be contained by the confines of your clothing, grab this convenient clip instead. Easily attaching to the outside of your pants, it's a welcome alternative to the uncomfortable lump of keys at the bottom of your pockets.
WHOOSH Screen Cleaner
With personal hygiene being a more pressing concern than ever, it pays to be properly prepared. Give them the gift of a clean phone (and some peace of mind to boot) with a bottle of WHOOSH Screen Cleaner.
Craighill Wilson Keyring
This hook-and-eye style keyring from Craighill Wilson offers a fresh approach to conventional organizational essential, giving you all of the security with none of the fuss.
Duke Cannon Bloody Knuckles Hand Repair Balm
With handwashing having become something of an international obsession this year, you'll need some help if you want to keep your paws feeling supple and smooth.
LEGO 1974 Porsche 911 Turbo 3.0
LEGO sets are always a welcome feature in any holiday haul. With its whale-tail spoiler and other authentic details, this 1974 Porsche 911 Turbo 3.0 isn't just some kid's toy; it's an incredibly accurate scale model.
Field Notes 56-Week Planner
Although 2020 has made preparing for the future a nigh-on impossible task, this planner from Field Notes can make keeping track of indistinguishable daily life a bit more manageable.
Kodak FunSaver 35mm Disposable Camera
A disposable camera is a great way to give a gift with a lasting impact. Not only does it encourage you to get out there and make some memories; it also leaves you with a physical record of the experiences you've shared.
Mystery Ranch Street Facemask
While we would have preferred not to have had a masked Christmas, it's better to be safe than sorry. This option from Mystery Ranch comes with a bendable nose piece and a tailored fit to keep it in place and on your face.
Pull Start Fire Pull-String Fire Starter
There's no better way to get in the holiday spirit than with some time spent 'round the fire. Tested for use in 200+mph winds and capable of burning wet logs, these pull-string starters are great for some frustration-flee flame.
Nomad Key Micro USB
With this handy little keychain, you'll always be packing some sort of charging provision. Kiss the days of dead smartphones goodbye (provided that you have a power source, of course).
Dango Waterproof Storage Capsule
It pays to be prepared on any outdoor excursion, and this handy little waterproof storage capsule from Dango will do just the ticket. An ideal option for keeping emergency pills and other small essentials safe and secure.
Elastic Precision PPK Rubber Band Gun
If you're after some Bond-grade fun but you're lacking a license to kill, this rubber band gun will do just the ticket. It features a 5-band capacity and it can even shoot up to 20 feet through the air.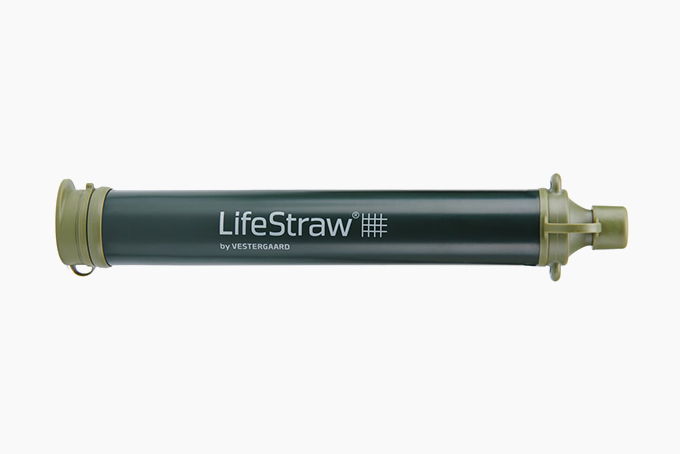 Lifestraw Personal Water Filter
This water filter from Lifestraw is great for folks who often find themselves off the beaten path. With 99.999% effectiveness against bacteria, parasites, and particulates, it's an essential piece of kit for self-sufficient adventuring.
Pappy Bourbon Nib Brittle
Tasty treats are the prototypical stocking stuffer, and this bourbon brittle is no exception. The product of a collab with Oliver & Sinclair, it was made with organic cacao bean nibs aged in used Pappy barrels.
TEC PicoPen
While conventional pens can be too cumbersome to carry on a daily basis, this tiny TEC model is unobtrusive and easy to forget about. Whether it's on your keychain or in your pocket, you can keep it with you at all times.
Topo Designs Watch Cap
A staple part of any winter wardrobe, the beanie is a gift that'll continue to give all season long in the form of a toasty head and some warm ears.
Bomber & Co Mini Bomber Dopp Bag
Whether you're an avid traveler or you're in need of some everyday organization, this mini dopp bag makes for a stocking stuffer that'll be with you for years to come.
Goodr OG Sunglasses
Sure, most shades at this price are novelty items at best. However, with their polarized lenses and enhanced silicone inserts, Goodr's OG Sunglasses are an exception to the rule.
Handgrey Bauhaus Mo.25 Bottle Opener
Despite the ubiquitous nature of drinking culture, a friend with a bottle opener is few and far between. This minimalist mini opener is a great pick if you're looking for an option that won't clutter your keyring.
Sunshine Products Mini Stash Cash Can
With cash experiencing something of a scarcity, it can never hurt to keep a spare bill tucked away. This stash can is machined from solid brass and is fitted with two o-rings, making it completely waterproof.
The 25 Best Everyday Carry Gifts Under $50
If you're looking for another budget-minded approach to small-item stocking stuffers, be sure to check out our guide to the best everyday carry gifts under $50.
HiConsumption is reader-supported. When you buy through links on our site, we may earn an affiliate commission. Learn more