It goes without saying that boots are one of the most timeless and important pieces of any man's wardrobe, and while one or two pairs can get you by in this day and age, a well-rounded collection of colors, styles, and cuts can do wonders for your everyday arsenal. Despite this, we also understand that buying multiple pairs of premium boots might not be in the cards for many people. Luckily, there's a shade that will pair nicely with (almost) every article of clothing that you own: black. Below, we've aggregated a handful of our shadowy favorites, laying the groundwork for your next multi-purpose purchase in our guide to the best all-black boots for men.
Best All-Black Boots
Best Starter Boots

Dr. Martens 1460 Smooth Leather Lace Up Boots

Best Waterproof Boots

Timberland Premium 6-Inch Waterproof Boot

Best Matte Boots

Thursday Boots Captain

Best Boots Overall

Blundstone #510 Black

Best Classic Boots

Red Wing Shoes 8137 Heritage Work 6-inch Moc

Best Rugged Boots

Wolverine 1000 Mile Plain-Toe Rugged Boot

Best Hiking Boots

Danner Mountain Light II

Best English-Made Boots

Tricker's + Todd Snyder Stow Boot In Black Scotch Grain Leather

Best French Leather Boots

Viberg Service Boot 2030 BCT

Best Chelsea Boots

Church's Suede Chelsea Boot Black
Are all-Black Boots Timeless?
The all-black boot is likely the most diverse in its respective genre, allowing you to wear it with virtually any other color. This opens up many doors for people who are trying to build multiple outfits without having to worry about matching them with unique footwear pieces. Since black boots are lauded for their styling capabilities, the industry's largest names spare no expense in terms of darker hues. Oftentimes, even flagship models can be found in pure, all-black colorways.
When Can You Wear Black Boots?
The saying, "black goes with everything," is a good rule of thumb for any black apparel, but especially for black boots. They truly do go with everything, and can easily be dressed up for a formal outfit, or used to elevate a casual outfit. So if you're in the market for a pair of shoes that can do anything, a pair of black boots is a safe bet.
What to Look For
Material: More often than not, all-black boots will come in a mostly leather construction, so you'll be deciding between leather types. Full-grain leather is high-quality and durable, while suede and nubuck will give you a softer look and feel. If you're on a budget, there's nothing wrong with synthetic leather, but it won't last as long as the real deal.
Fit: You want good arch and ankle support so you can wear them for a while without discomfort. Keep in mind that some boots may have a break-in period where they won't be comfortable, but just power through, and you'll be fine.
Outsole: For everyday use, a typical rubber sole is perfectly fine and gets the job done. However, if you're using them for hiking or work, then an outsole with more traction is advised.
Waterproofing: If you plan on hiking in your boots or commuting on foot in a rainy climate, then a waterproof construction can be very helpful.
Dr. Martens 1460 Smooth Leather Lace Up Boots
Pros
Iconic style
Cushioned insole
Flexible and durable outsole
Cons
Takes some time to break in
Best Starter Boots: Dr. Martens is known primarily for its militaristic, punk-inspired footwear, and their boots are some of the most iconic black shoes, period. Dr. Martens 1460 Smooth Leather Lace-Up Boots is one such offering, bringing ankle-high premium leather, an eight-eye lace-up closure, and logo webbing pull-loop to the table for wearers who want something a bit more modern. To keep comfort and capability at the forefront of the 1460s, the brand has incorporated its signature Air Cushion rubber sole, which features a grippy, texturized tread for increased efficiency.
Upper: Leather
Outsole: Rubber
Waterproof?: No
Timberland Premium 6-Inch Waterproof Boot
Pros
PrimaLoft insulation
Removable footbed
Padded collar
Best Waterproof Boots: Like Dr. Martens, Timberland dwells within its own niche when it comes to capable outdoor footwear. While some of the brand's most notable offerings have been inspired by the urban landscape, the 6-Inch Basic amplifies its standing through a slim, high-profile architecture, premium leather materials, and a utility-approved, seam-sealed waterproof construction. Better yet, the Basic also incorporates 400 grams of PrimaLoft insulation for those cold winter days, working along the shoe's padded leather collar, recycled nylon laces, and rust-proof hardware to provide wearers with a stylish, long-lasting silhouette.
Upper: Leather
Outsole: Rubber lug
Waterproof?: Yes
Thursday Boots Captain
Pros
Antimicrobial shock-absorbant insoles
Water-resistant
Dully-lined glove-leather interior
Best Matte Boots: Thursday Boots has carved a large swathe through the boot industry, and we're not complaining. As fans of the brand, we're often enamored by its expansive catalog of tasteful models, and the Captain is no exception. This staple essential is crafted from resilient leather and features a ruggedized black matte to make it a perfect addition to your all-black list. On top of that, it's got all the great inclusions that we've come to expect from Thursday, including a capable Goodyear Welt construction, fully-lined, glove-leather interior, and Poron shock-absorbing insoles that have been treated with antimicrobial properties. Kevlar laces and reinforced eyelets round out the boot, prolonging its life, and supplying wearers with years of stylish companionship.
Upper: Leather
Outsole: Studded rubber
Waterproof?: Water-resistant
Blundstone #510 Black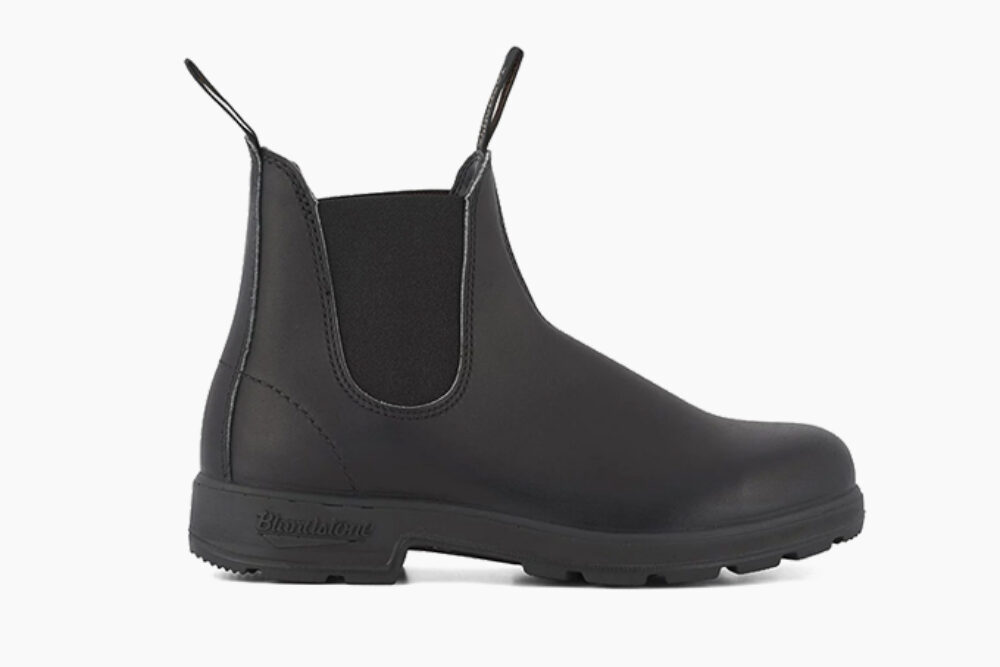 Pros
Removable footbed
Water-resistant
Durable and grippy outsole
Best Boots Overall: Blundstone's minimalist approach to footwear is one of our favorites. As such, one of its simple, understated boots was bound to make its way onto our list. While it might not be as dark as the other offerings in this guide, the #510 boot is a formidable opponent thanks to its sleek black upper, which has been crafted from premium leather. Dive deeper, and you'll find a contoured EVA insole, a removable footbed, a TPU outsole for improved traction on a variety of surfaces, and a pull strap to make donning and doffing a more intuitive process.
Upper: Leather
Outsole: TPU
Waterproof?: Water-resistant
Red Wing Shoes 8137 Heritage Work 6-inch moc
Pros
Made in USA
Heritage brand
Water-resistant upper
Best Classic Boots: Like Danner, Red Wing is an immediate entry on any boot-focused guide. This is due to the brand's unwavering commitment to quality construction and craftsmanship, and the 8137 Heritage Work 6-inch Moc — one of its premiere models — is a testament to that fact. Over the years, the boot has reprised its role as one of the brand's foremost offerings. This all-black edition, which features a formidable Traction Tred outsole, Skagway leather, and Goodyear Welt, is yet another aesthetic upgrade that holds true to the brand's timeless design principle.
Upper: Skagway leather
Outsole: Traction Tred
Waterproof?: Water-resistant
Wolverine 1000 Mile Plain-Toe Rugged Boot
Pros
Great work boots
Handmade in the USA
Leather sourced from a famous Chicago leather company
Best Rugged Boots: Wolverine errs on the edge of utility for many of its boots, but that doesn't mean that it can't stand alongside the industry's more stylish proprietors. The brand's 1000 Mile Axel is a perfect example of its fashionable chops. Calling upon a handcrafted upper that pays homage to the original 1914 model, and is made from premium Horween leather, this unique offering incorporates a variety of rugged, long-lasting traits, including a versatile Vibram outsole, and a set of flat waxed laces. As a result, this time-tested staple is durable, flexible, and awe-inspiring, placing Wolverine's valuable (and technical) knowledge at the forefront.
Upper: Horween leather
Outsole: Vibram
Waterproof?: Water-resistant
Danner Mountain Light II
Pros
GORE-TEX lining
Solid arch support
Year-long warranty
Best Hiking Boots: No boot list is complete without Danner, and that means that we had to find the perfect all-black boot for the masses. Our mission didn't take long to complete, thanks to the Mountain Light II. This gentlemanly offering is a more contemporary play on the brand's iconic heritage boots and features a robust, full-grain leather upper with a waterproof GORE-TEX lining. To improve the shoe's internal standing, the entirety of its footbed is crafted from open-cell polyurethane, promoting the expulsion of uncomfortable heat. Like many of the proprietor's other models, the Mountain Light II features a Vibram 148 Kletterlift outsole, legendary stitch-down construction, and classic appeal that's rarely matched.
Upper: Full-grain leather
Outsole: Vibram 148 Kletterlift
Waterproof?: Yes
Tricker's + Todd Snyder Stow Boot In Black Scotch Grain Leather
Pros
Stylish look
Watertight seal
Made in England
Best English-Made Boots: Tricker's + Todd Snyder Stow Boot In Black Scotch Grain Leather boot is a personal favorite, and, perhaps, one of the most aesthetically pleasing models on our list. It takes a more tasteful approach to the genre, incorporating more stylistic cues than utilitarian principles. That being said, it's still one of the more capable fashion-focused offerings, thanks to its pull-up leather construction and durable commando outsole. To ensure that your feet stay dry throughout every season, the boot has also adopted a watertight seal thanks to the storm welt construction
Upper: Black Scotch grain leather
Outsole: Commando
Waterproof?: Water-resistant
Viberg Service Boot 2030 BCT
Pros
Great dress shoe option
Made with French leather
Crafted in British Columbia
Best French Leather Boots: Usually, it would be difficult for a footwear offering to follow one of Todd Snyder's tasteful models. Not for Viberg, however. The brand's Service Boot 2030 BCT is in a league of its own in terms of aesthetic acuity, thanks to its simplified lace-up front, black ridgeway, and annonay French vocalou upper, which calls upon whole-cut premium leather to do its bidding. To keep it within your arsenal for a prolonged period of time, Viberg has also introduced a black Ridgeway sole and French binding, allowing you to provide some TLC whenever they're looking worse for wear.
Upper: Annonay French vocalou
Outsole: Ridgeway
Waterproof?: No
Church's Suede Chelsea Boot Black
Pros
Versatile look
Goodyear construction
Diamond rubber outsole
Best Chelsea Boots: Church rounds out our list with this suede Chelsea boot, and that's a tough thing to do with so many prominent competitors. Despite the fact that many of the footwear world's most iconic providers dabble in all-black boot variants, these are still a surefire hit, thanks to their timeless Chelsea styling. It comes complete with a suede upper, Goodyear construction, and a cotton pull tab, allowing it to maintain its sleek, stylish appeal. As with many of the company's boots, subtle branding marks its inclusion into the outfit's lauded catalog.
Upper: Suede
Outsole: Diamond rubber
Waterproof?: No
The Best Sneakerboots for This Fall
All-black boots can amplify any outfit that you put together for a night on the town, but what happens when colder weather becomes the norm? Head to our guide on the best sneakerboots to find the perfect alternative.