Whether you're a ranch worker, the lead singer in a rock band, or simply a connoisseur of the venerated Canadian tuxedo, every guy needs a good denim jacket in his closet. The best denim jackets for men offer the same timeless style, casual ruggedness, and easy-going coolness that have made the garment a menswear essential for more than a century. And while the style may be old, it's anything but outdated, as the latest crop of jean jackets is filled with an outstanding blend of classic and modern coats to suit every taste.
The Dawn of Denim
A Brief History Lesson
On May 20, 1873, Levi Strauss and Jacob Davis obtained a U.S. patent on the process of utilizing rivets in the construction of men's denim work pants — marking what's widely viewed today as the birth of modern blue jeans. Though they were originally aimed at cowboys, railroad workers, and miners, blue jeans would later be widely adopted by a huge percentage of the planet, with half of the world's population now wearing jeans at any given point in time — making it difficult to overstate how significant and game-changing of an invention Strauss and Davis introduced.
Recognizing the immense potential of riveted denim construction and spurred on by the success of blue jeans, Strauss would later repurpose the material and construction technique into America's first jean jacket in 1880. Garnering nearly as much success as his pants, Levi's jean jackets instantly took off, with orders flooding in and units flying off of the shelves. This design went largely unchanged for close to 80 years, with Levi's introducing a lightly-modified second-generation jean jacket. In the 1960s, however, the jean jacket saw its most significant update to date with the introduction of the Levi Strauss & Co. Type III denim jacket in 1962.
Sharing its denim construction with Levi's pants, the Type III — or "trucker jacket" as it became unofficially known as — distinguished
itself from its first and second-generation predecessors with a more tapered cut and the addition of welt hand pockets and bar tack construction at the chest pockets and sleeve openings. Over the subsequent years, the Type III's design has been widely emulated by a slew of different companies. Today, the jean jacket has become a men's wardrobe staple and is available in a wide variety of colors, washes, styles, and cuts — our favorite our which we'll be counting down below.
What to Look For
Finding The Perfect Piece
Shape: Several silhouettes swarm this boundless space of outerwear, but it would be a genuine disservice to overlook Levi's contributions to making the garment what it is today. The heritage brand's timeless Type-I, Type-II, and Type-III designs have served as respective archetypes for how countless clothiers design their denim jackets. Unsurprisingly, this has been the case since the initial iteration's first release sometime between the late '40s and early '50s.
Wash and Color: As countless brands have shown us, jeans don't have to come in standard shades of blue and black; the same goes for their outerwear counterpart. There are several washes and colors to account for, each adding a different personality to your look. As a result, the versatile variety of options to choose from deem the denim jacket ideal for several seasons, as it's easy to dress it up or down, á la the aforementioned Canadian Tuxedo.
Weight: Like with any piece of clothing, just because it's heavier doesn't mean it's necessarily better — after all, you won't catch any of us rocking heavy-set coats in the dead of summer just to look cool. Unlike other elements you should look for in this department, this doesn't come down to personal preference as much as it does flat-out common sense. While most options weigh somewhere along the lines of 12 and 15 ounces, there are lighter options out there, too, some of which are ideal for warmer weather. All in all, denim jackets are no different from other jackets in that they are meant to keep you warm when necessary, and weight obviously plays a big part.
Japanese Denim vs. American Denim
Finding The Perfect Piece
The best part of buying a new jacket is the sense of character it gains over time. As a result, Japanese selvedge denim has since been touted as one of the world's most precious textiles. This is courtesy of countless Japanese brands utilizing unique dyes to promote a similarly unique aging process, among several other particular care guidelines to account for that will assist its look in the long run.
Although American brands are heralded for bringing jeans to the forefront, Japan's innovation in the field has deemed selvedge denim an art form of sorts due to its more sophisticated, meticulous construction method. When it comes to buying jeans, Japanese selvedge will typically take more time to break in than the oft-softer brand of American-made bottoms; that said, you don't necessarily have to worry about something like this when buying a jacket, considering it's often easier to dictate the proper size for outerwear than it is any pair of pants. All in all, this by no means comes down to a form of competition, but more your personal preference, as either material you choose will bode well in the long run, albeit each having its distinct look, feel, and fades. If you're still eager to learn more about each country's history in the denim world, check out our guide comparing each iteration.
We took a look at a range of brands, styles, and price ranges, casting a wide net but only keeping the best of the best. Our search led us to American heritage brands that were outfitting cowboys and miners at the turn of the century, high-end boutique purveyors of Japanese selvedge denim, and style-forward designers who are putting their own unique spin on this well-worn icon of Americana.
The Best Denim Jackets To Buy Right Now
Levi's Trucker Jacket
The Starter: If it's a true icon you're after in a denim jacket, then Levi's should realistically be the only brand on your radar. The American heritage brand's founder literally invented the style in the 1880s, and Levi's has been churning them out in their famed trucker form since the 1960s. This forward-thinking version of the classic garment includes soft and breathable Tencel in the blend and is made using sustainable manufacturing practices and materials. And while the clothier's modern-day catalog couldn't hold a candle to its archival offerings, it's still the perfect place to start.
Levi's Trucker Jacket
The option that started it all.
Pros
Available in as many washes and colors as you can count
Touch of Tencel for breathability
Cons
Levi's construction is not what it used to be
Taylor Stitch The Long Haul Jacket
The Safest Bet: We love a good pun, so we've got to give Taylor Stitch some credit for calling this trucker jacket "The Long Haul." But we're obviously not going to recommend a garment based purely on its name, and thankfully, the San Francisco-based brand doesn't let us down with the quality of this coat. The Long Haul features 100% organic cotton selvage denim construction that's been given a thorough wash for a lived-in vintage look, plus unexpected extras like a pair of front welt hand-warmer pockets.
Taylor Stitch The Long Haul Jacket
A jacket built for the long haul — all pun intended.
Pros
Made of 100% organic cotton
Finished with stylish zig-zag reinforcements
Cons
Pockets are oddly placed, making it hard to access at times
Lee 101 Rider Jacket
The Upgrade: With the exception of Levi's, no brand is more associated with America's long-running love affair with denim than Lee. Founded in 1889, Lee has a longstanding reputation for making hard-wearing workwear, and their classic Rider Jacket has been favored by legitimate cowboys since it debuted in 1948. This modern recreation of that post-war original is part of the brand's high-end heritage 101 imprint and features trademark zigzag stitching on the placket, cat eye waistband adjusters, and premium Japanese selvedge denim construction.
Lee 101 Rider Jacket
A modernized classic that's as stylish as ever.
Pros
An equally iconic alternative to the Levi's Trucker Jacket
Japanese selvedge construction
Cons
Pricier than our starter pick, but you get what you pay for
Filson Denim Short Cruiser Jacket
The Premium Pick: Speaking of brands that are known for making hardwearing workwear, Filson first began outfitting America's outdoorsmen in 1897. Their products have been keeping the country's builders and sportsmen warm and safe for more than a century, and there's no better denim jacket we can think of for braving the elements than the brand's Lined Denim Short Cruiser. The cozy, flannel-lined piece is sewn in the heart of the states using sturdy raw denim from the iconic Cone Denim Mills, a North Carolina-bred textile innovator that's been doing its things since 1891.
Filson Denim Short Cruiser Jacket
A sturdy pick made of a legendary material.
Pros
Raw denim courtesy of Cone Denim Mills
Signature flannel lining
Carhartt Relaxed Fit Sherpa-Lined Jacket
Best Sherpa-Lined Denim Jacket: Odds are you've come across the ubiquitous, relatively similar option from Levi's at least once or twice in the past year, so we decided to switch things up a bit. Carhartt's take on the matter still stays true to the timeless garment's blue-collar roots, all the while serving as a stylish choice for people who can't stop buying into the workwear craze — realistically, it's a win-win for all parties involved. The enviously soft piece is composed of 12.5-ounce washed denim, then finished with a fuzzy lining, several roomy pockets, and a zipped closure, so there's no need to worry about buttoning up.
Carhartt Relaxed Fit Sherpa-Lined Jacket
A rugged jacket with a softer side.
Cons
Deviates from typical button closure
Pangaia Nettle Denim Jacket
Best Sustainable Denim Jacket: Purchasing any form of clothing from Pangaia is one of several ways to lower your carbon footprint and is arguably the most voguish way to go about it. The brand's Nettle Denim Jacket is constructed using PANettle, a proprietary blend of plant-based materials like Himalayan wild nettle, a naturally renewable resource that grows sporadically and in abundance, assuring it's as eco-cognizant a textile as you could imagine. Additionally, the brand uses organic cotton and a PPRMINT treatment to ensure it lasts quite some time — remember to recycle it when all is said and done.
PANGAIA Nettle Denim Jacket
A jacket as beneficial for you as it is the ground you walk on.
Pros
Made from a unique blend of eco-conscious materials
Arrives in bio-based packaging
Cons
Has a slightly cropped fit
Acne Studios Black Denim Jacket
Best Oversized Denim Jacket: Sure, denim would exist without Acne Studios, but the Nordic fashion house wouldn't exist without the material, deeming this oversized piece one of the space's ideal options through and through. The brand's blacked-out selection institutes an easy-going, relaxed fit, albeit a cropped length for trendy dressers to find their perfect proportions — we know we can't stand the word either. Regardless, the stylish Italian-made jacket is finished with a standard button closure and roomy welt pockets for keeping gear safe.
Acne Studios Black Denim Jacket
An oversized-fit that's still fit for any season.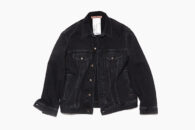 Pros
Oversized but not too heavy
Primarily made with organic cotton
Made in Italy
Cons
Pricey for what it is — a plain black jacket
Hiroshi Kato The Blade
Best Selvedge Denim Jacket: This insanely unique choice from lowkey designer Hiroshi Kato takes after '30s-era denim jackets, which is why its plethora of details and finishes may seem off-kilter when laid next to a plain old silhouette. Nevertheless, these final touches make it much more striking, notably its orange accent stitching and sturdy button closure. But, for this to be the best selvedge jacket in a fashion world chock-full of them, it needs to offer something special; that said, how do 14 ounces of four-way stretch denim sound? This heavy-set piece is built for colder days and provides more freedom of movement than meets the eye, deeming it one of the more appropriate pieces for winter's bitter end.
Hiroshi Kato The Blade
A vintage-inspired piece with a new-age feel.
Pros
Undeniably cool, '30s-era design
Made in the U.S.A.
Four-way stretch material
Ginew Thunderbird Jacket
Best Western-Styled Denim Jacket: At first glance, no one would blame you for saying this jacket and the previous American-made pick are one and the same. This selvedge-constructed jacket weighs 12 ounces compared to the last pick's weight of the 14-ounce composition, deeming it a bit lesser in that category. As a result, the Los Angeles-bred clothier garners the top spot for Western-styled denim jackets thanks to its traditional silhouette, chic corduroy collar, and meticulous, cowboy-approved detailing. It's all finished off with custom-branded hardware and under-collar embroidery.
Ginew Thunderbird Jacket
A lighter selvedge-made piece fit for a cowboy.
Pros
Made in Los Angeles
Smooth corduroy collar
The perfect amount of detail
Cons
Considering the quality for the price, we have no complaints
Sacai Nylon and Grosgrain-Trimmed Indigo-Dyed Denim Jacket
Best Japanese-Made Denim Jacket: While the first thing that comes to mind when you think of Japanese denim would be sturdy selvedge material, we already showcased that with previous picks. Instead, we're highlighting the country's consistent sense of fashionable innovation, which few brands display as much as sacai. The high-end streetwear label's patchwork-adjacent trucker is constructed using a faded shade of blue denim, then touched up with a military-inspired, army-green-colored nylon and grosgrain leather for a luxurious look and feel inside and out. Best of all, it's finished with snap, button, and zip fastenings, so you can fully dictate how it fits.
Sacai Nylon and Grosgrain-Trimmed Indigo-Dyed Denim Jacket
The bridge between patchwork denim and premium leather.
Pros
Various closures offer a personalized fit
Snap fastening pockets for easy gear access
Ralph Lauren Purple Label Denim Jacket
Best Designer Denim Jacket: When Ralph Lauren's name is mentioned, the first diffusion line that comes to mind is usually Polo by default. In other cases, it might be RRL, especially regarding American staples like this. And while both imprints are still mighty fine options that serve their purpose, only so many designer labels can hold a candle to the style icon's premium Purple Label. The sub-brand's jacket is made in Italy from Japanese left-hand twill and then rope-dyed with authentic indigo before being hand-distressed, resulting in a handsome piece of timeless outerwear built to last a lifetime — that said, consider it an investment.
Ralph Lauren Purple Label Denim Jacket
An overseas affair courtesy of an American icon.
Pros
Made in Italy using Japanese fabric
A true investment piece
Cons
The price
Fits on the slimmer side
The Best Western Shirts for Men
White tees are cool, but what better way to tackle the All-American get-up than with a proper shirt beneath your new denim jacket? Luckily, our guide to the best Western shirts is here to help.