Originally operating under the banner of Helmut Sinn Spezialuhren — German for "Helmut Sinn Specialty Watches" — Sinn is a German watch brand that was founded by ex-WWII pilot and flight instructor Helmut Sinn. With Helmut's personal ties to military service and aviation, it's frankly unsurprising that the ex-Luftwaffe pilot's watch company developed a particular affinity for churning out tough-as-nails timepieces that boast an unmistakable vintage military-inspired aesthetic and dial designs that can easily be read upon only a quick glance — not unlike many of the pieces of aircraft instrumentation that influenced Sinn's watches.
Though relatively young in age compared to many of its more established, Swiss counterparts, having only been established in 1961, Sinn is now widely recognized as being a leading horological outfit, with an ever-growing catalog of timepieces that almost all sport some level of inspiration from Helmut's service as a pilot. And the brand's signature DNA very much lives on in one of its most popular watches, the Sinn 556i — a lauded GADA model that first hit the market in 2008 and saw Sinn take things in a more modern direction. Ever on the hunt for our next favorite go-anywhere, do-anything, everyday watch, we've gotten a hold of one of these low-pressure-resistant references to put it to the test in this hands-on review of the Sinn 556i watch.
At A Glance
Sinn 556i Specs
Case Size: 38.5mm
Lug to Lug: 45.5mm
Case Thickness: 11mm
Lug Width: 20mm
Case Material: Stainless Steel
Water Resistance: 200m
Movement Type: Automatic
Power Reserve: 38 Hours
Movement: SW200-1
Lume: Super-LumiNova
Crystal: Boxed Sapphire
Strap: Leather Strap Or SS Bracelet
Aviation-Inspired Everyday Wear
First Impressions Of The Sinn 556i
When we think Sinn, we tend to think about aviation and military-inspired timepieces — rugged tool watches that typically favor raw utility and form over function. With the 556i, however, Sinn manages to retain its hallmark dose of military-influence while delivering what can best be described as a handsome, thoroughly refined, and unmistakably elegant aesthetic. Borrowing design cues from both field and pilot's watches as well as from military aircraft instrumentation, the 556i also delivers on a premium appearance that even casual watch and style enthusiasts will be able to recognize is markedly more high-end than a Timex or Marathon field watches.
Unlike many of the watches we've had the pleasure of reviewing, there isn't really anything that reveals itself in person that wasn't fully conveyed or done justice by in photos, with the 556i very much being a case of "what you see is what you get." With that said, what you get is an excellent-looking everyday wear-ready timepiece that that sports a wonderfully minimalistic yet versatile design, fantastic build quality, and an overall level of fit and finish and engineering that have made the Germans just as renowned in the horological space as they are the automotive one. The dial's light aviation gauge-inspiration is also classic Sinn through and through — an element that's particularly easy to appreciate when buying a reference from a brand with roots line Sinn.
A Masterclass In Minimalism
The Sinn 556i's Case
As the watch's main component, the case is always of extreme importance, and the Sinn 556i is no exception in this regard. Representing the element that really allows this watch to shine, the 556i's case is crafted from satin-finished stainless steel and sports a spartan design that manages to look dignified and sophisticated at the same time. These qualities ultimately afford the 556i a certain timeless aesthetic that we feel places it in the pantheon of legendary designs alongside other iconic grail products like the Porsche 911.
What's more, in addition to looking a lot more refined than many of its full-on tool watch counterparts, the Sinn 556i also features a case that's markedly less chunky than them as well, with the 38.5mm item boasting a thickness of just 11mm. Weighing in at just 2.30oz (or 65 grams), the 556i is also low pressure resistant as well as being water resistant down to a generous 200 meters (or 660') — a dive-capable figure that's more than substantial enough to take on anything you'll ever run into on your daily grind. Equipped with a standard 20mm lug width and a 45.5mm lug-to-lug, the case also features a transparent case-back, a fixed bezel with a brushed finish, and a knurled Sinn "S"-logoed screw-down crown. The way Sinn has capped off the 556i's lugs also enables the case easily pair with a wide range of different straps and bands while still looking incredibly natural.
Aircraft Instruments Meet Field Watches
The Sinn 556i's Dial
Like all of the i-spec models in Sinn's 556 lineup, the 556i features a dial adorned with indices in lieu of numerals — though the German brand does offer variants with Arabic numerals at 3, 6, 9, and 12 o'clock. Protected beneath a double-coated anti-reflective sapphire crystal, the 556i's dial consists of a a glossy deep-black item overlaid with a marker about with with large indices at every hour that are separated by four smaller rectangular markers in between each hour's indice.
Aside from a date window at 3 o'clock, the dial is completely devoid of any numerals or text — save for a Sinn logo between the hand-set and 12 o'clock and the word "Automatik" occupying the space between the dial's radius and 6 o'clock. Framed by a fixed bezel with a brushed finish, this entire layout sees an equally minimalistic hand-set float above it — though the seconds hand has been decorated in a red finish that adds a dash of color to the equation. Additionally, both the hour marker indices and the dial's hour and minute hands have also been hit with light blue-green-glowing Super-LumiNova.
Complementing Its Case
The Sinn 556i's Strap
For our test period with the watch, however, we opted for what appeared to be the most comfortable choice win the form of Sinn's available leather bracelet. Crafted from cowhide leather, this vintage-inspired strap sports a black finish that's juxtaposed via pairs of red accent stitches near where it connects to the lugs. Also found on the inside of the end of the strap, these red accent stitches not only add a very minor dash of color to this otherwise all black, white, and steel timepiece, but the red also perfectly matches the red-finished seconds hand which provides the same effect for the watch's dial.
Alongside numerous available horsehide, calfskin, alligator leather, cowhide, Alcantara, canvas, and textile straps and bands, Sinn also offers the 556i with several other options to pair with the watch's case. This includes a staggered five-link stainless steel bracelet, as well as the more iconic stain-finished 316L stainless steel H-link bracelet — the latter of which features solid end links and hex-bolt screws. Additionally, with a fairly universal 20mm lug width and the presence of sets of drilled-out lugs, finding aftermarket and third party straps, bands, and bracelets for the 556i is not only pretty effortless, but changing out bracelets or brands is also just as easy — both facts that makes this already versatile watch that much more so.
An 'Automatik' Workhorse
The Sinn 556i's Movement
Though it may be Sinn's cheapest watch as of present, the 556i wouldn't be described by anyone as a "cheap watch" — short of maybe the world's top one-percent. As such, the Sinn 556i features the caliber of movement one would expect from a $1,000+ timepiece from an iconic brand— in this case a Swiss-made Sellita Caliber SW200-1. Ticking at 28,800 semi-oscillations per hour, the SW200-1 at the heart of the 556i is a 26-jewel, self-winding automatic — or "Automatik" — movement that's accurate to +/-12 seconds per day.
Stamped with a Sinn logo, the movement's rotor also oscillates to afford it a healthy power reserve of 38 hours. Measuring just 4.5mm thick, the movement is also on full display via the watch's exhibition case back. So, while it may not boast any noteworthy or fancy in-house modifications, the 556i's use of the SW200-1 is a safe — and objectively premium — choice for Sinn, as this automatic workhorse of a movement has a proven history of keeping a plethora of different luxury watches ticking.
German GADA Greatness
Final Thoughts On The Sinn 556i
We will stop and acknowledge that inflation has pretty substantially impacted the price of this watch, and it's MSRP (at least in the west) has gone up to around $1,500. And while this is a major bump since its pre-COVID price, we'd still argue the 556i ultimately still offers decent value, not to mention is still a markedly more affordable — and in our opinion cleaner-looking — and more minimalistic alternative to the Rolex Explorer. Even at this price, it also remains Sinn's most affordably-priced watch (at least as of the time of writing). On top of wishing the watch's warranty ran past two years, this was one of the only gripes that we had with it, though it's hard to blame the timepiece for the factors and geo-political happenings that lead to this reality. Additionally, the only other minor complaint we had was that, for just over $1,500, we wouldn't mind seeing Sinn include both a leather strap and a stainless steel bracelet with each unit straight from the factory in Frankfurt.
With that out of the way, let's move on to what we did like about this pilot-inspired tool watch, and, spoiler alert: there's a lot to unpack here, starting with the masterclass in minimalism that is the 556i's design. With such a spartan, uncluttered design that features so few elements, the ones that are left present on the dial matter that much more . And the 556i is not only a great reminder of this, but the watch also manages to deliver a perfectly balanced and brilliantly-minimalistic industrial design that sports an understated elegance and a certain timeless nature to it.
What's more, with its subtle but unmistakable military influence, the 556i ultimately stands as a watch that's as attractive and rugged as it is versatile, looking right at home in just about any setting imaginable — especially when paired with the right bracelet or brand — which makes it incredibly conducive to everyday wearing. Couple this with the Sinn's stellar build quality and terrific fit and finish, and it's not hard to see why the 556i has gained something of a cult following as one of the best everyday watches that money can buy — a belief we subscribed to within only a few days of wearing the watch, though the feeling only grew and compounded the longer the 556i spent on our wrist.
The Best Everyday Watches You Can Buy Right Now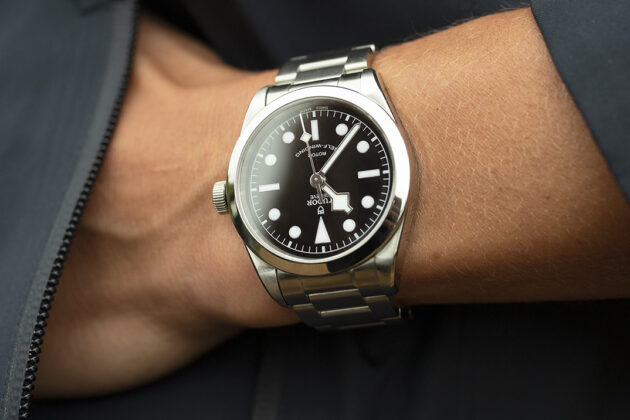 Interested in checking out an additional selection of stellar GADA timepiece options? Then be sure to head over to our guide to the best everyday watches for a curated look at our favorite highly-versatile, everyday-wearable references.