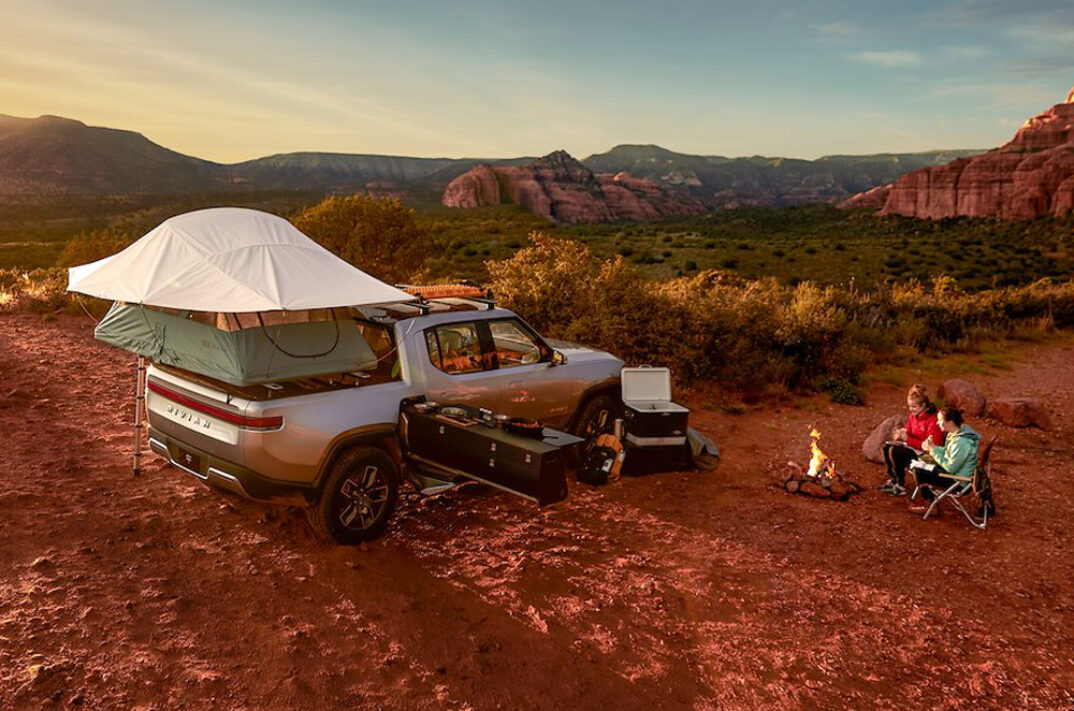 The electric vehicle renaissance is upon us, and it's no longer just commuter cars and family SUVs that run the risk of being outperformed by the rise of battery-powered vehicles. Over the last few years, one of the most exciting EV brands has been Rivian, with its all-electric R1T pick-up truck and R1S utility vehicle, with their adaptable drive modes that make them more than optimal for daily commutes, off-road adventures, and everything in between.
To go along with its whopping 8 modes of capability — including All Purpose, Sport, Off-Road Auto, Off-Road Rock Crawl, Off-Road Rally, Off-Road Drift, Converse, and Tow Mode — Rivian just announced the upcoming inclusion of Camp Mode. Available in both the R1T and R1S, Camp Mode can be accessed, like the others, via the center display screen. While the existing modes are tailored towards driving capabilities, Camp Mode is expressly made for enhancing the experience when your car is parked.
The biggest news from this new update is the new leveling feature, which uses a combination of air suspension, algorithms, and sensors to adjust your vehicle to be level if you're parked on an uneven surface. This will help improve the experience of cooking, with the included Camp Kitchen, and sleeping in a rooftop or tailgate-equipped tent. Not to mention, if you're just sitting in the car for an extended period, leveling the suspension also takes the strain off your back and neck. Other features include flood lights built into side-view mirrors for nighttime activities, energy optimization when idled and parked, and timers for charging ports and outlets.
Camp Mode will be equipped with new Rivian vehicles and is available for existing owners through the new software update.